Varanasi is one of the most attractive destinations in India and this place is the city of Moksha for Hindus for centuries. The beauty of this city is well explained by several great people who have given us amazing quotes of Varanasi. People from different parts of India visit this enticing destination to attain salvation; it is believed that those who die and get cremated in the soil of Varanasi get an instant getaway to heaven. With the quotes of Varanasi, one can also feel the charm which this city holds since years.
Popular as an abode of Lord Shiva, Varanasi is situated on the banks of River Ganges and attracts end number of Shiva Bhakt every year. With end numbers of temples and ghats this place is one of the best places in India to spend some time in serenity and to get that much need peace for mind and soul.
The scenic aura and the charm of this city have been a motivation of writers and hence we've got numerous quotes of Varanasi. This place has always been famous among the authors, poets, and photographers. Varanasi worked as an inspiration for some people and for others it is the best place to seek solace. There were many great people who have spoken about this historic city, its mystic spirituality, its winding alleys, its gorgeous ghats, and its spectacular aura. Below is the list of some beautiful quotes on Varanasi which perfectly describes the charm of this popular holy city of India.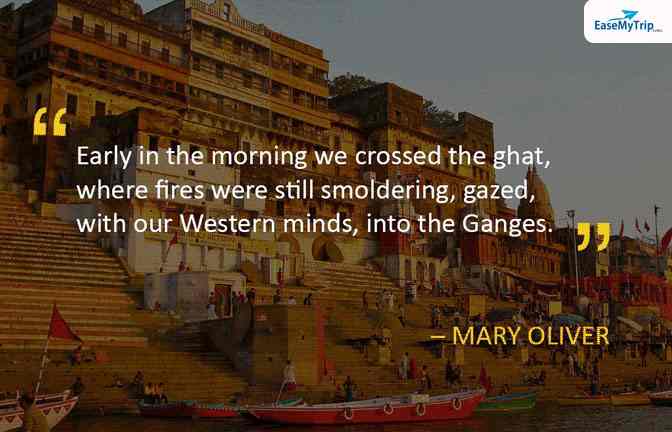 "Early in the morning we crossed the ghat, where fires were still smoldering, gazed, with our Western minds, into the Ganges." – MARY OLIVER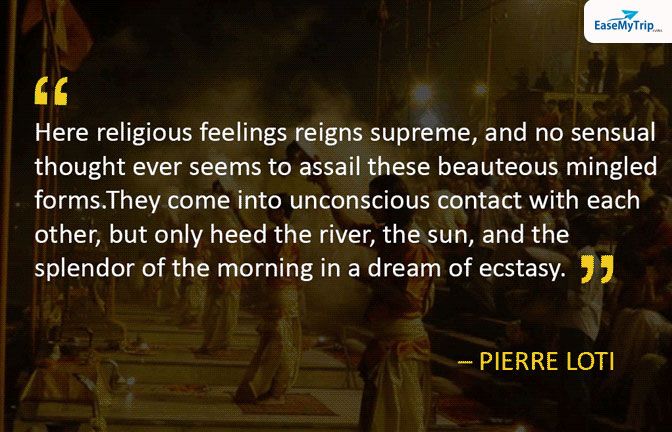 "Here religious feelings reigns supreme, and no sensual thought ever seems to assail these beauteous mingled forms. They come into unconscious contact with each other, but only heed the river, the sun, and the splendor of the morning in a dream of ecstasy." – PIERRE LOTI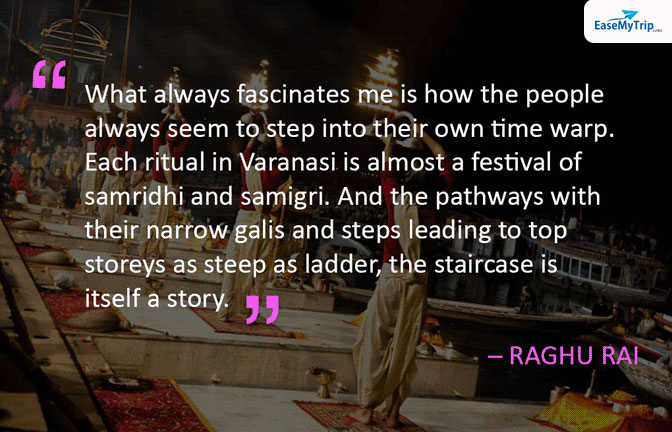 "What always fascinates me is how the people always seem to step into their own time warp. Each ritual in Varanasi is almost a festival of samridhi and samigri. And the pathways with their narrow galis and steps leading to top stories as steep as a ladder, the staircase is itself a story." – RAGHU RAI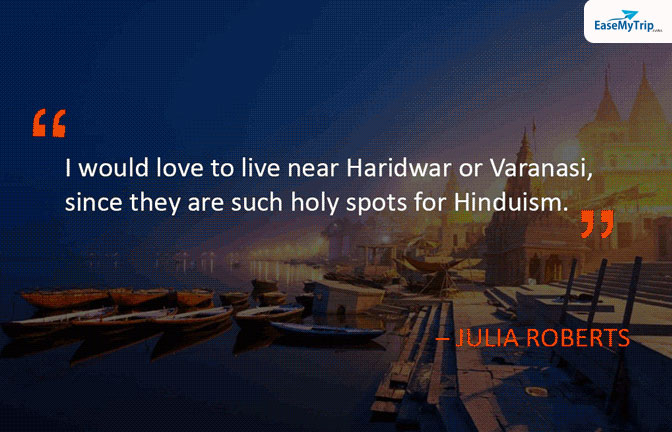 "I would love to live near Haridwar or Varanasi since they are such holy spots for Hinduism." – JULIA ROBERTS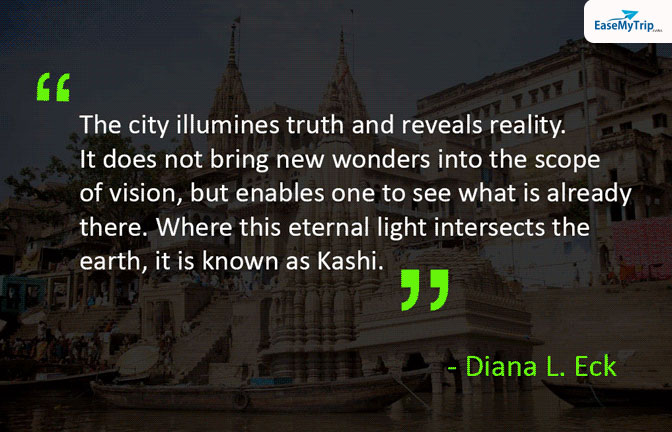 "The city illumines truth and reveals reality. It does not bring new wonders into the scope of vision but enables one to see what is already there. Where this eternal light intersects the earth, it is known as Kashi." - Diana L. Eck
"I found Varanasi absolutely staggering. I have never seen anything like it before. The city just spills into the river Ganges…It's really really extraordinary!" – BRAD PITT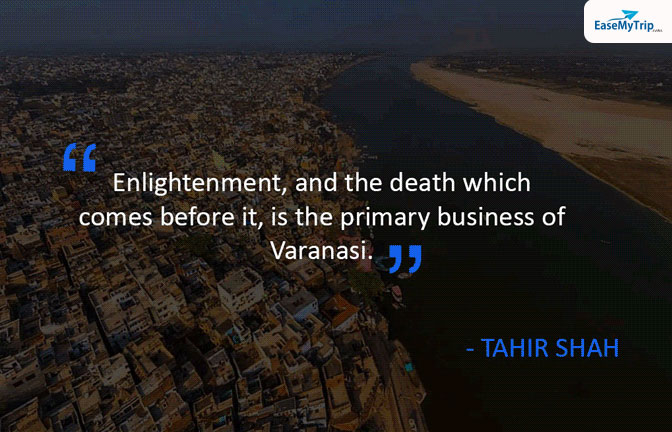 "Enlightenment, and the death which comes before it, is the primary business of Varanasi." - TAHIR SHAH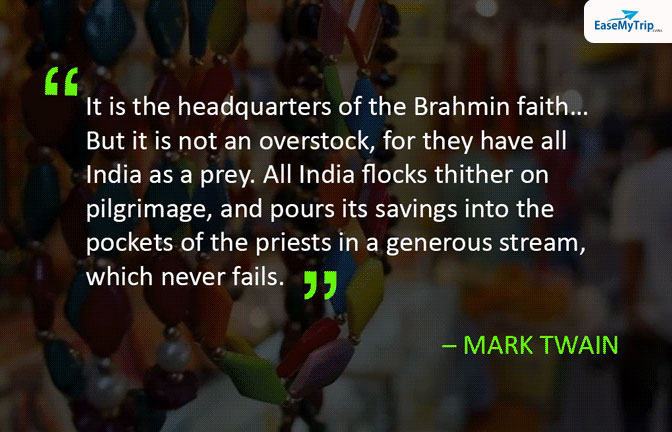 "It is the headquarters of the Brahmin faith…But it is not an overstock, for they have all India as prey. All India flocks thither on pilgrimage, and pours its savings into the pockets of the priests in a generous stream, which never fails." – MARK TWAIN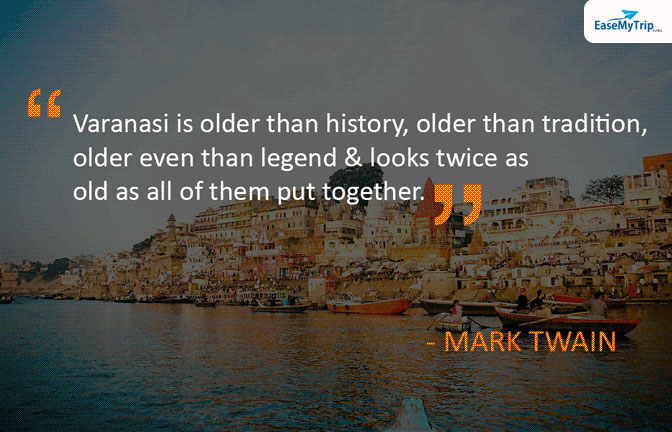 "Varanasi is older than history, older than tradition, older even than legend & looks twice as old as all of them put together." - MARK TWAIN