You are learning about other cultures and other civilisations. Many of us love history, art and heritage. If you are someone like that, you should consider the city of Sharjah for your next vacation. This city of the United Arab Emirate has earned the Cultural Capital of the Arab World due to its rich history. It still proudly carries the traditional values of Islamic civilisation. The city has well-restored houses, beautiful mosques and awe-inspiring museums as the bearers of the cultural heritage of the Arabic world. You could spend your entire days admiring the elegant artefacts and neat architecture.
However, Sharjah is not only about art and history. Sharjah has an exciting side, too, with its plethora of outdoor activities, fantastic street food and vibrant shops. The best time to visit Sharjah is the winters (December to February) when the temperature remains comfortable (around 20 degrees). On the other hand, in the summers (May to August), Sharjah's weather is generally scorching (40-43 degrees) and dry. The cost of living in Sharjah is modest and affordable. Several options like shared rental are available if you want to cut your expenses short. For accommodation, you can find affordable Sharjah hotels very easily. The cheapest time to visit Sharjah is early November.
Now, without delaying further, let's dig into the best places in Sharjah to visit and things you should do while in Sharjah:
1. Sharjah Museum of Islamic Civilization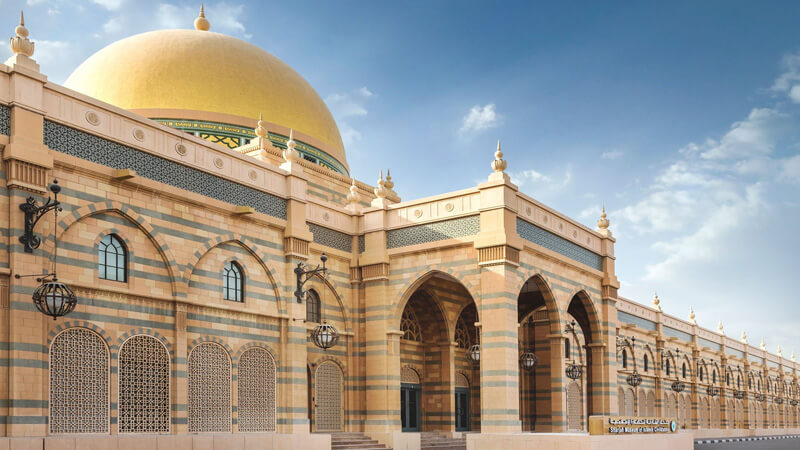 If you are at the heart of Islamic history, your first destination should be the Sharjah Museum of Islamic Civilization. Located on the shore of Sharjah Creek, this museum will take you to the roots of Islamic culture throughout the world.
The museum exhibits more than 5,000 artefacts from the Islamic world. The upper floor of this museum is dedicated to woodworks, ceramics, clay, glass, jewellery, handicrafts and pottery. The temporary exhibitions are bound to attract any enthusiast of history and culture. At the same time, the beautiful galleries and the giant mosaic under the central dome will leave you spellbound.
2. Al Qasba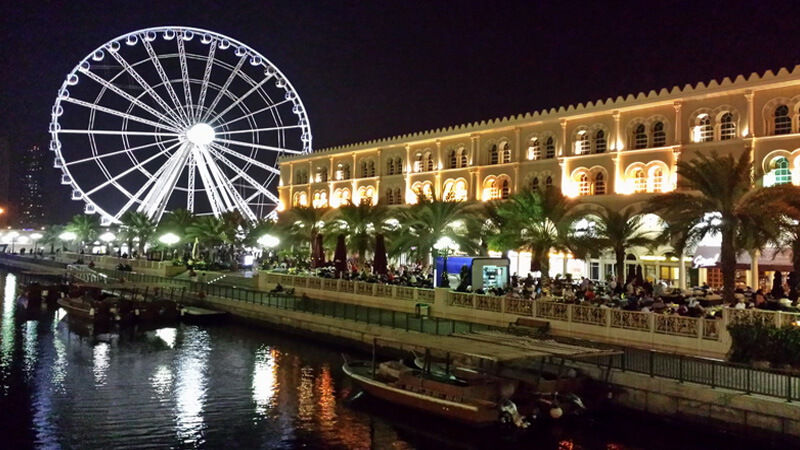 Al Qasba is both a commercial plaza and a cultural hub. This waterfront community is famous for the various entertainment packages and outdoor activities it offers. It has an art centre, music centre, restaurants, theatres and also fun zones. If you want to spend some leisurely, there are also gardens, fountains and canals. You can visit Maraya Art Centre, Al Qasba Theatre, Golden Fountain and Eye of the Emirates ferries wheel.
Al Qasba has plenty of restaurants to enjoy good food. Besides the famous fast-food giants like Starbucks, Dunkin Doughnuts and London Dairy, it also has restaurants like Beit Setti and Shababeek for those who love traditional cuisine. Rossovivo is the best sought-after by pizza lovers.
You can also spend your time taking an Abra ride at the Canal or experiencing the mesmerising view from the Eye of the Emirates ferries wheel.
3. Sharjah Desert Park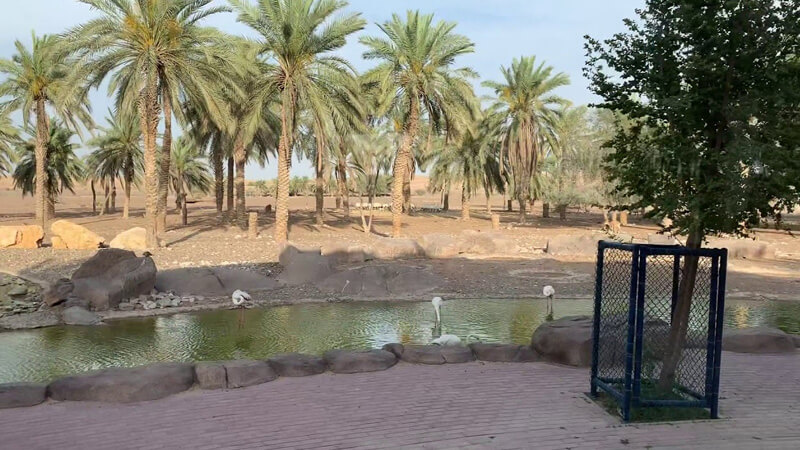 Apart from preserving the art and culture, Sharjah also preserves the region's endangered wildlife through the Sharjah Desert Park. This desert park has three sections: Sharjah Natural History and Botanical Museum, Arabia's Wildlife Centre and Children's Farm.
The museum gives you a good insight into flora and fauna of this region. The wildlife centre is a nature reserve and home to diverse animals living in the Arabian area. At the Children's Farm, your kids can feed and pet domestic animals like cows, goats, sheep and camels. This can be a perfect way to bring the young members close to nature. It also organises several awareness workshops for the children and has a library for them. The desert park also has a botanical garden and the Breeding Centre for Endangered Arabian Wildlife.
4. Al Majaz Waterfront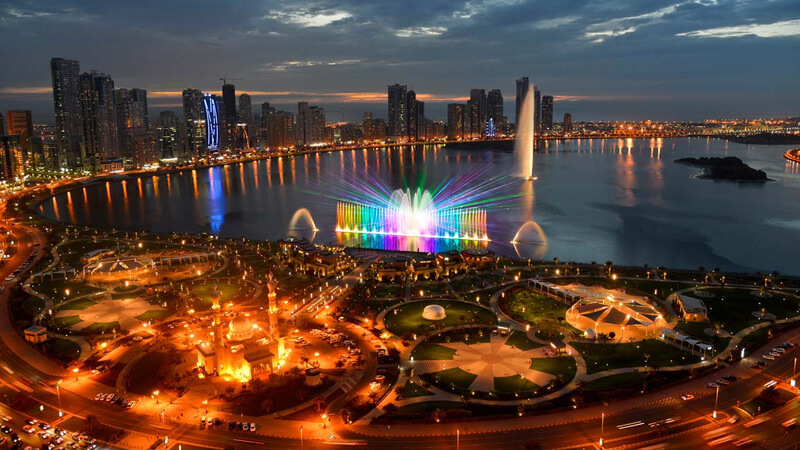 Situated in front of Lake Khalid, Al Majaz Waterfront Park is a perfect blend of entertainment and scenic beauty. The park has a mini-golf course, musical fountain, Art Park, and a creative centre. It also offers walking and jogging tracks to exercise enthusiasts. You can have your walk among the lush greenery and chirping birds. The park also has a cycling track around the lake and a bike rental service. While you have quality time beside the lagoon, your kids can have theirs at the Al Majaz Splash Park. This aquatic park is for kids up to 12 years of age. It also has wheelchair access for kids with special needs.
This park also has exotic restaurants like Zahr El Laymon (Lebanese and Arabic), Levantine (Lebanese), Emirgan Sutis (Turkish), Bangkok Town (Thai), Al Fanar and Shakespeare & Co. Visitors can also go for a train tour around Al Majaz or Abra ride at Khalid Lagoon.
5. Sharjah Aquarium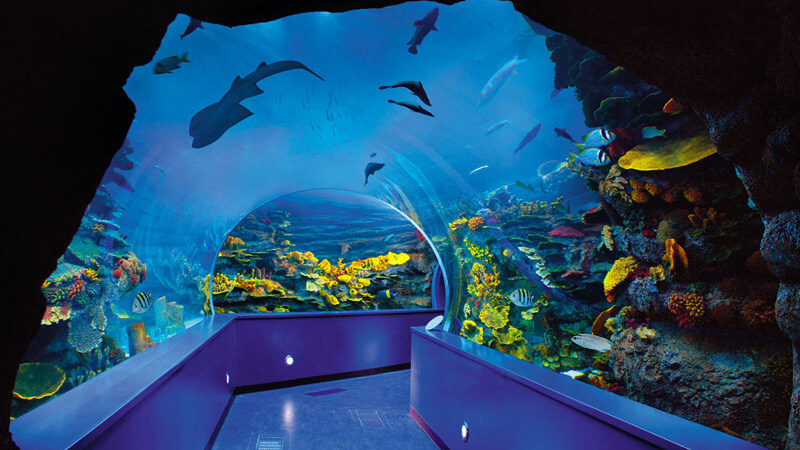 Sharjah Aquarium is a great destination for having a glimpse at the deepwater wildlife of the locality. The aquarium has 20 large tanks, home to over 250 species of marine creatures, including reef sharks, seahorses, sea rays and clownfish. Your kids will love to get to know the underwater ecosystem and the importance of preserving that.
This aquarium also offers free Wi-Fi, a cafe, a mother's room, a prayer room, a gift shop and a restroom. People in wheelchairs can also access this facility.
6. Al Noor Island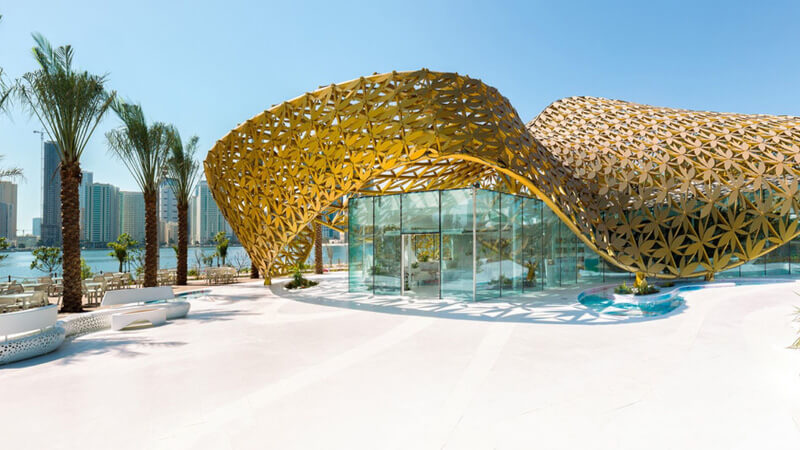 Al Noor Island is a beautiful oasis at the heart of the Khalid Lagoon. It is ideal for those people who want to spend some quality time with their families. The Butterfly House, Art Park, Literature Pavilion, and beautiful garden are another world altogether.
The nightlife at Al Noor is another experience to look forward to. In the Butterfly House, there are over 500 butterflies of over 20 species. The island also has a kid-friendly playground and Al Noor Cafe. At night, the whole island looks enchanting with the bright neons and fairy lights. The luminescence is used to light the buildings, bridge, trees and walkways up.
7. Blue Souk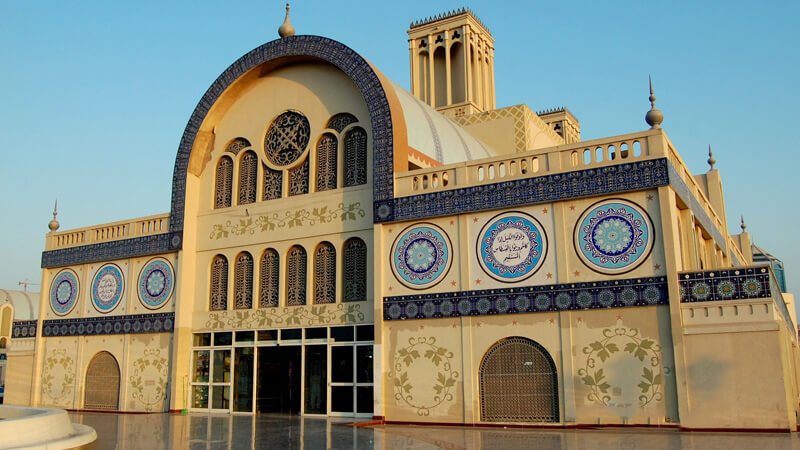 The Sharjah Central Souk or the Blue Souk was established in 1978 and is a perfect destination for shopaholics. This market has two stories and over 600 shops. From antiques to electronics, you can find anything in this traditional market. This market is famous for Kashmiri shawls, carpets, customised pieces of jewellery and perfumes. Some of the items are directly imported from the local needs of India, Syria, Pakistan, Indonesia, Morocco and Iran.
For exquisite carpets, you can visit Sheba Iranian Carpets or Carpet World. The Bedouin jewellery of RB Jewellery and Al Abyad Jewellery are equally famous. You can also try attars from Junaid perfumes and Qarya Perfumes.
8. Sharjah Heritage Area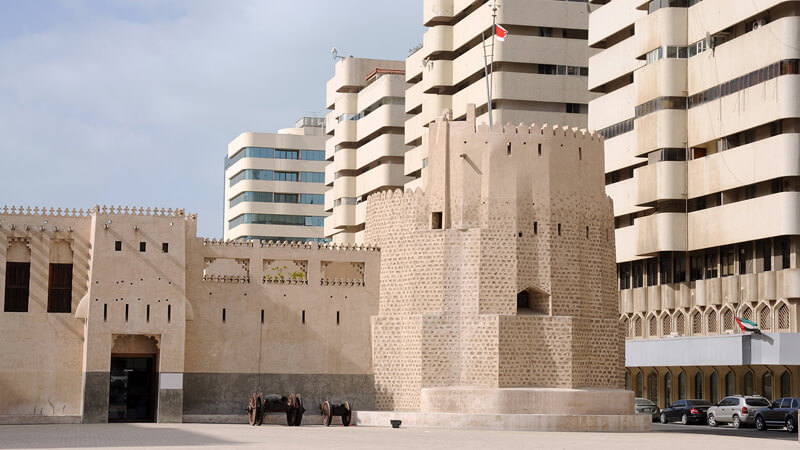 If you want to learn more about the history of Sharjah, you have to go exploring the Sharjah Heritage Area. The area with all its old houses, souks and Arabian architecture can transport you through time. This heritage area houses several sites with historical importance, like Hisn Fort/ Al Hisn Museum, Sharjah Calligraphy Museum, Al Midfaa House, Bait al-Naboodah and Al Eslah School Museum.
Souk Al Arsah is one of the oldest souks in the entire country. It is an open courtyard market where people sell wooden crafts, traditional garments and jewellery, among other things. The traditional coffee houses also attract many tourists.
9. Sharjah Art Museum
The most significant art museum in the country, Sharjah Art Museum, successfully preserves the region's art and culture. This art instalment showcases the artworks by local and regional artists. The paintings and culture in this art museum will give you a taste of Middle-Eastern history. This art museum also holds temporary exhibitions regularly to encourage the artists. The museum also has a library with over 4,000 books in various languages. The Sharjah Art Museum also has a café and a gift shop for the convenience of its visitors.
10. Sharjah Rain Room
Rain Room in Sharjah is a unique experience of getting through the downpour without even getting wet. This installation is curetted by the Sharjah Art Foundation located in the Al Mujarrah region. You can book a slot at this facility, and you will get 15 minutes to explore this marvel. Do you love silhouettes? This place will give you that perfect silhouette effect while standing in the rain. Take as many photos as you can to upload on your Instagram. However, any commercial photoshoot or videography is prohibited at this installation.
11. Souk Al Jubali/ Sharjah Fish Market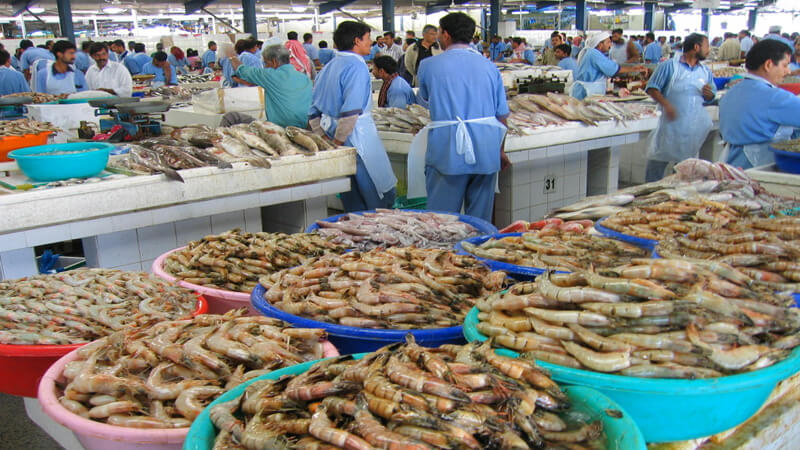 I know it sounds odd to visit a fish market during the vacation. However, it would be best if you gave Sharjah Fish Market a try. Souk Al Jubail or the Sharjah Fish Market is where you can get to see an elaborate selection of freshly caught fishes.
This is no regular fish market. It is a two-storey building with Islamic architecture with almost 162 shops dedicated to selling fresh seafood, meat and groceries. The fun fact is that you do not have to tolerate any foul odour in this market owing to the daily sanitisation and deep cleaning. Also, be ready to get some cooking tips from the super-friendly salesmen of this market.
12. Khor Fakkan Shees Park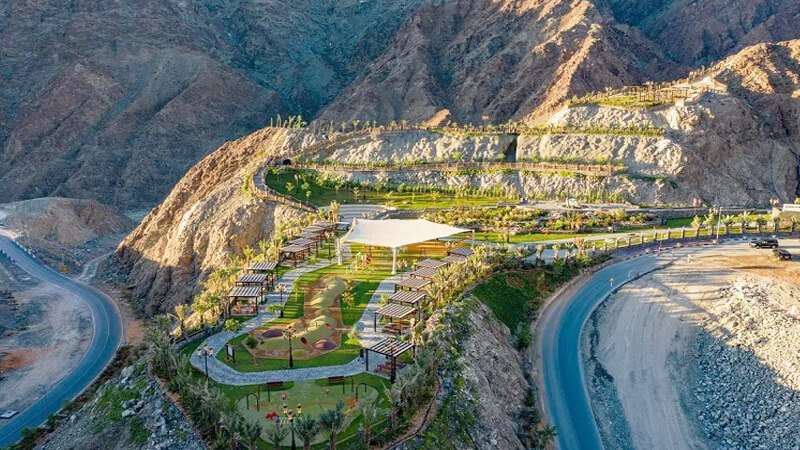 Situates on the banks of the Gulf of Oman and the Bay of Fakkan, and surrounded by the Hajar Mountains, Khor Fakkan is one of the most beautiful Sharjah tourist places. Although Khor Fakkan has mountains, beaches, mosques and parks, Sheets Park attracts tourists.
The artificial waterfall in this park is one of its kinds. You can also try the 506 m. long mountain walkways. This park has a unique barbeque area where you can enjoy a picnic with your family. The kids will love the playgrounds in this park.
13. Kalba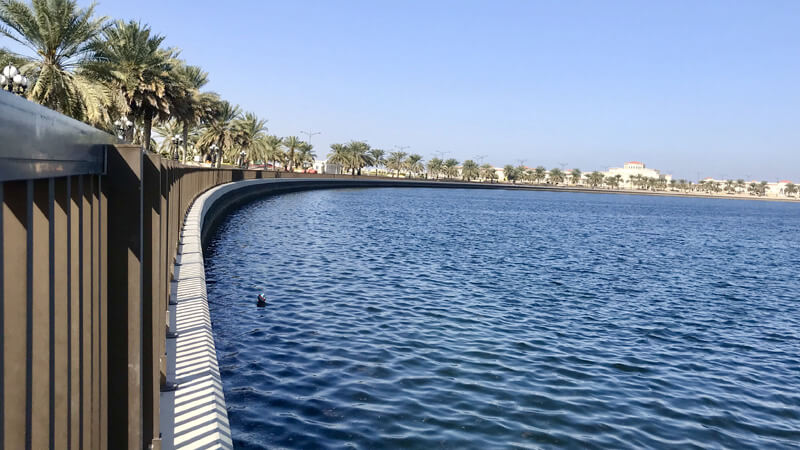 Klaba is an exclave of Sharjah and surrounded by the Gulf of Oman. It has Arab's the oldest mangrove forest which is also known as Khor Kalba or Kalba Creek. Kalba is famous for its rare flora and fauna, especially for the beautiful birds.
Kalba Bird of Prey Centre is home to predator birds like falcons, owls and eagles. It also features live demonstrations, cafes and beautiful landscapes, allowing you to interact with birds at this place. The Bait Sheikh Saeed Bin Hamad Al Qasimi is a royal residency as well as a museum. While the museum can give you a historical trip, you can also enjoy beaches with your family at Kalba Corniche Park.
14. Sharjah Classic Cars Museum
The vintage car lovers will be left speechless after visiting Sharjah Classic Cars Museum. The cars in this museum belong to the top car manufacturers like Rolls Royce, Mercedes, Chevrolet, Ford and Bentley. It has hundreds of vehicles from the early 20th century.
This car museum will give you a perspective of the growth of the automobile industry throughout the years. It has several sections like Early Auto; Automobile Redefined, New Heights of Innovation, and Large Vehicle and UAE Motoring.
15. Al Noor Mosque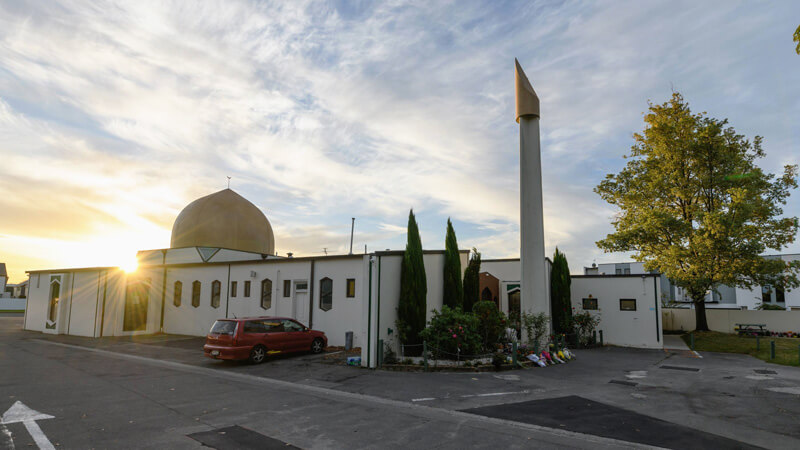 Being the only mosque in Sharjah accessible to non-Muslims, Al Noor Mosque has always been a tourist destination. With domes and minarets, this mosque truly represents the Muslim culture in the Middle East. It can accommodate almost 2,000 people and offers a free mosque tour to visitors in English. It also has a separate section for women. It would be best if you visited this place at its mesmerising sunset.
Conclusion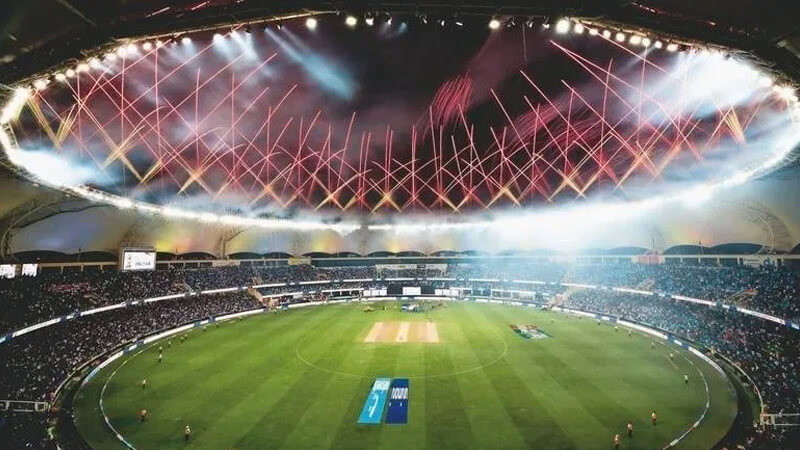 Even though Sharjah is more conservative than its neighbours like Dubai, it does not hesitate to embrace modernity. There are a host of shopping malls, shops, fun zones and restaurants to have fun. Sharjah Stadium, both cricket and football, is also something you can pay a visit to. You can also try Sharjah tour packages like personalised mosque tours, museum tours, architecture tours or wildlife tours. Moreover, the city is well connected with Sharjah airport and is considered safe for the locals and tourists.
If you are looking for a convenient flight booking option or searching for some exciting tour packages, you should try EaseMyTrip. We offer unbeatable discounts and offers on travel. You should check our website to find out more and yes, don't forget to share this article about must visit places in Sharjah if with someone who is planning to visit there. Happy Travel!