The land of sunshine and siestas, Spain is a preferred backpacking destination for all the right reasons. Spain's custom is influenced by multiple cultures and dynasties that ruled the country in the past. From the intricate Islamic architecture to the Gothic, Christian quarters, you will find traces and remains of the glorious past of various religions. Known for its rich heritage, perfect architectural vistas, sunny beaches, and blooming vineyards, Spain tourism contributes nearly 14.6% to the nation's GDP.
1. Seville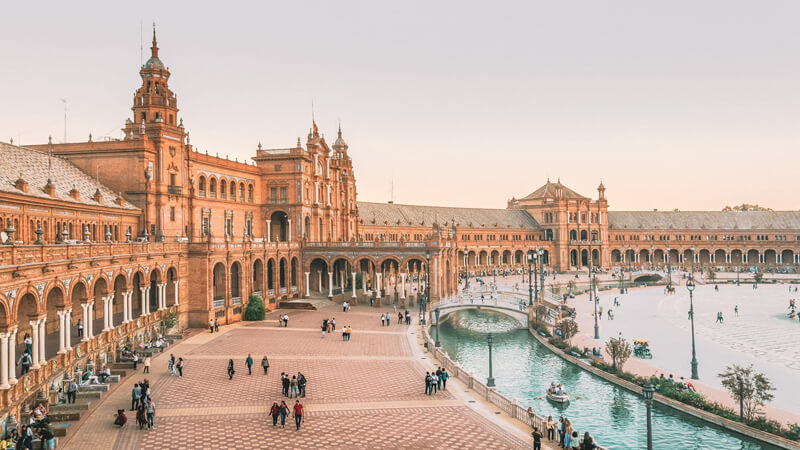 Nothing beats the romantic charm of Seville with its warm weather, elegant Mudéjar architecture, winding alleyways, tapas bars, and orange-scented courtyards. Located in the Andalusia region, Seville is one of the biggest and most influential cities in Southern Spain. Due to its energetic Flamenco spirit, this city is known for hosting the biennial 'Bienal de Flamenco' festival in the month of September. The Real Alcazar is a UNESCO World Heritage Site that will steal your heart in the blink of an eye with its detailed artistic elements, ornate archways, coffered ceilings, and exotic royal charm. Catch the bird's eye view of the entire city at the Torre Giralda. And this is just the starting, you will find countless ancient buildings to satiate your passion of being a wanderlust.
2. Alicante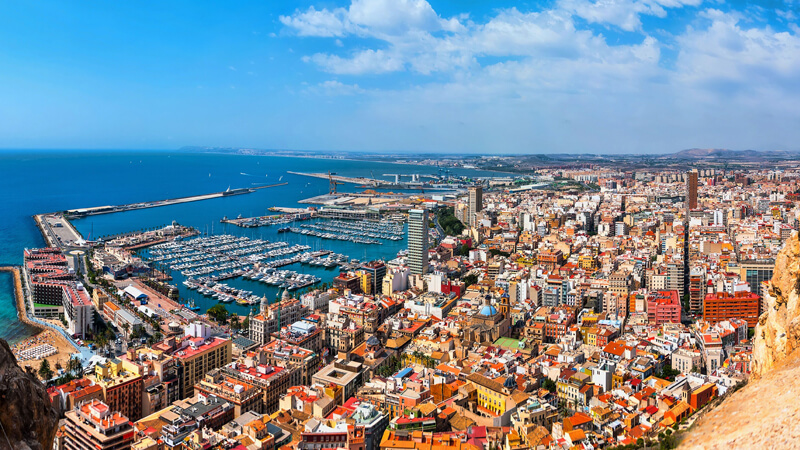 Experience the deep turquoise waters of the Mediterranean crashing at the sandy shores of Alicante. Situated on the Costa Blanca coastline, this destination is sure to enchant you with its waterfront promenade, pleasant weather, leisure activities, and the whole expensive bay saga! From its renowned art museums, palm-edged boulevards, aesthetic boutiques, and lush gardens, Alicante screams culture and vacation out loud. Satisfy the foodie inside you with the Tapas and flaky pastries in Mercado Central. If you're craving an intimate stay on the island, head on to Tabarca, a quaint town with a historical church and whitewashed houses. Take part in the Fogueres de Sant Joan Festival that is celebrated by burning useless objects in a bonfire on the arrival of the summer solstice.
3. Barcelona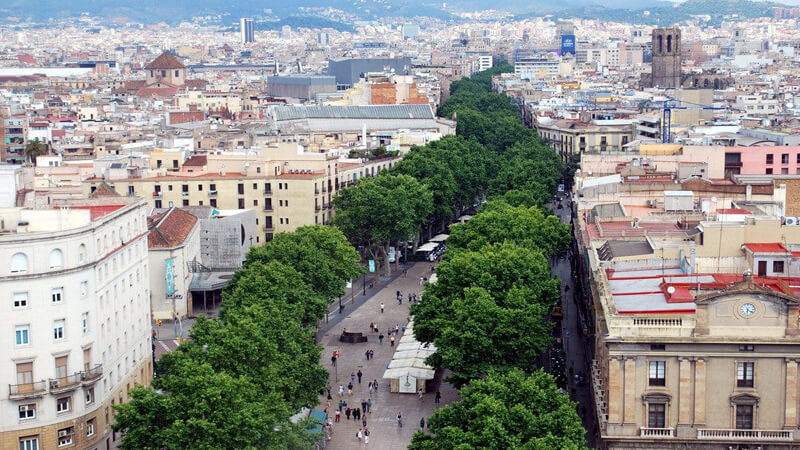 Visit the capital of Catalonia and immerse yourself in the allure of majestic architecture, gorgeous city views, peaceful town squares and the hidden streets with tiny cafés. Barcelona has something to offer for everyone. Whether you are a quiet, serene person or a club-hopper, this city will give you a bundle of memories like no other. Along with Barri Gòtic, a Gothic medieval quarter with its world-class ambience, Antoni Gaudí's innovative buildings are sure to catch your eye. Stroll down La Rambla, a tree-shaded avenue and witness flower stands, bird sellers, street performers and much more. And don't forget to join the Football craze and visit Camp Nou for the official tours led by the members of FC Barcelona.
4. Granada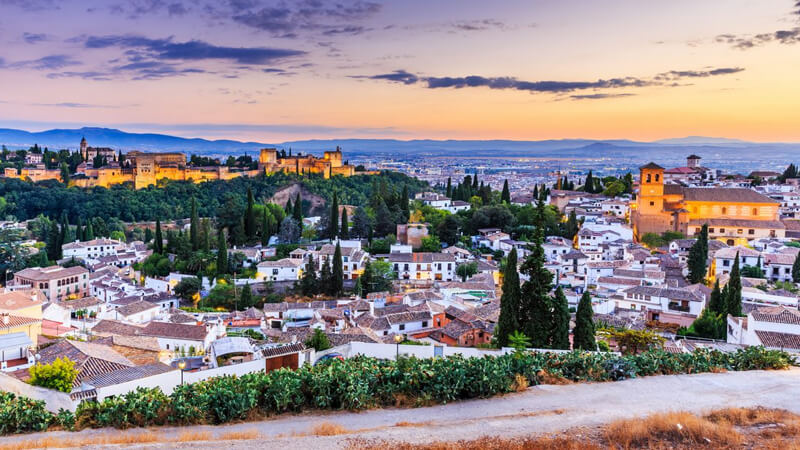 The heart of the Andalusia region, Granada is a breathtakingly beautiful city located at the base of the Sierra Nevada mountains of southern Spain. From the renowned Alhambra fortress to the old Moorish neighborhood of Albaicín, this city has much to offer. Snow-capped peaks, intricate stone carvings, the Renaissance Catholic cathedral, and the Alcaicería (spice market) are some of the destinations that will remind you of Spain's Islamic period along with the Jewish and Gypsy influences.
5. San Sebastián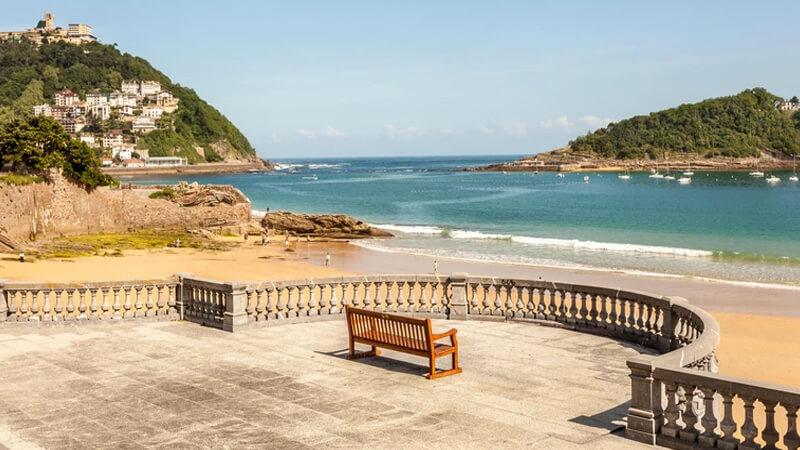 One of the top tourist places in Spain, San Sebastián is a must-visit place for all the foodies. Also known as the Basque country's culinary capital, this city is an ideal location for postcard-worthy beach views. San Sebastián's other name in the local Basque language is Donostia. Settled on the crescent-like Bay of Concha, this city is famous for its royal gardens, terraced seaside promenade, expansive historic sites and an exquisite 18th-century Baroque church. A serving of pintxos, Basque's version of Tapas, is mandatory to mark the visit. For people who prefer surfing, Zurriola Beach is where all the charm's at.
6. Córdoba
Córdoba used to be one of the biggest cities and control centres of the Iberian peninsula over a thousand years back. Home to the Mezquita, a UNESCO-listed mosque built from the 8th to the 10th century, this Andalusian city holds a Moorish atmosphere and is popular for its artisan crafts and gastronomy. There is a beautiful orange grove just outside the Mezquita that is a perfect spot to just slow down and take in the serene surroundings. The Judería (old Jewish quarter) is a myriad of colours with its flower-adorned patios and whitewashed houses. Local delicacies like Naranja con Aceite y Bacalao, Salmorejo, and Pastel Cordobés are sure to leave a lasting impression on your tastebuds.
7. Madrid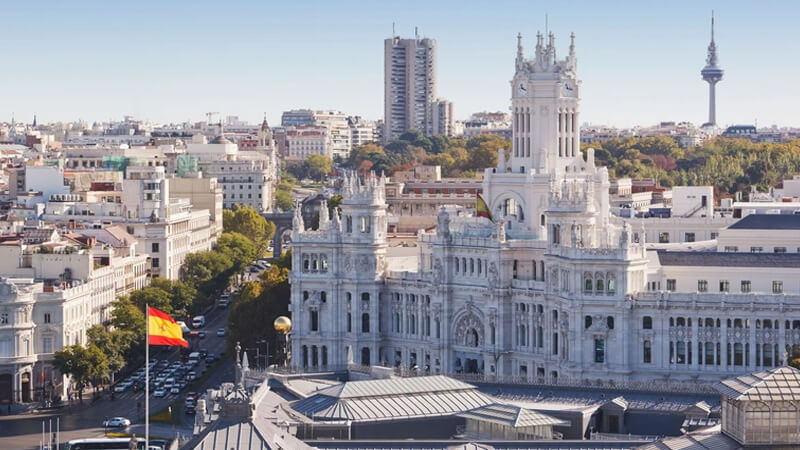 Spain's national capital and the largest city, Madrid is the bustling corner of the country. This place has diverse ethnicity, energy, historic sites, culture, world-class art, and architecture dripping all over. Where you might find yourself in the traffic lane on vast avenues, another side will wholeheartedly welcome you to the peaceful, lush green parks. Notoriously famous for its uber-active nightlife, this city also houses numerous universities, multicultural districts, and historic quarters. Estadio Santiago Bernabéu, stadium to the city's home team - Real Madrid, is another must-visit spot for all the Football enthusiasts. And if you're into Bullfighting, San Isidro is a cultural festival that commences on 15th May.
8. Valencia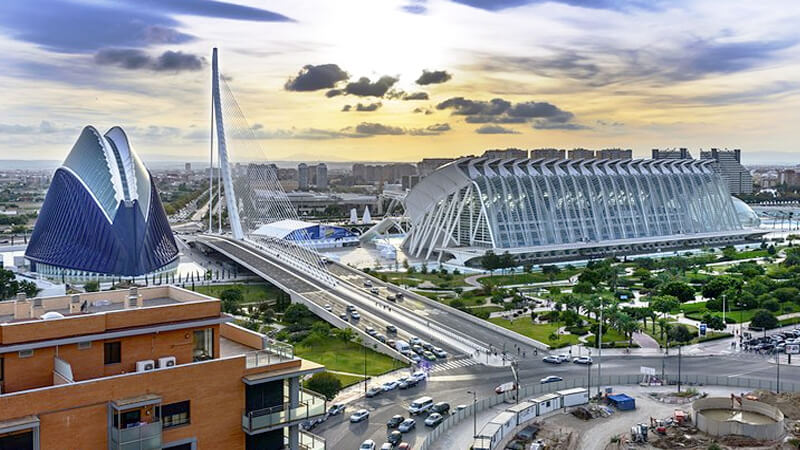 Valencia is one of the largest cities in the Eastern part of Spain that holds the capability to transform you back to the medieval era. At the same time, it will show you one of the most brilliant contemporary architecture structures as well. Along with several museums and art venues, Europe's largest oceanographic aquarium, L'Oceanogràfic is also located here. Fiesta de San José is a local festival celebrated in March and includes exemplary art exhibits, fireworks, a parade, and a taste of the authentic Paella, a dish originating from Valencia itself. Cherry to the cake, La Tomatina takes place in Buñol, a tiny village near Valencia.
9. Toledo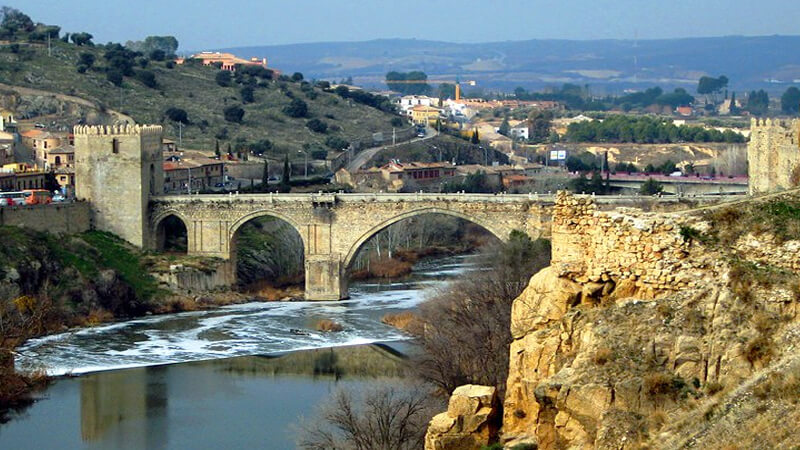 The heart and soul of Spain, this old city has stood tall through the rule of multiple dynasties and wars. Declared as a UNESCO World Heritage Site, Toledo is essential to Spanish culture. The glorious streets are an amalgamation of Jewish, Islamic, and Christian influence in this "city of three cultures." From its damascene metalwork and antique swords to its traditional crafts, this city is an essential destination for your Spain tour package. There's much to learn and experience here, including the handmade marzipan, a version of sweet almond candies.
10. Ibiza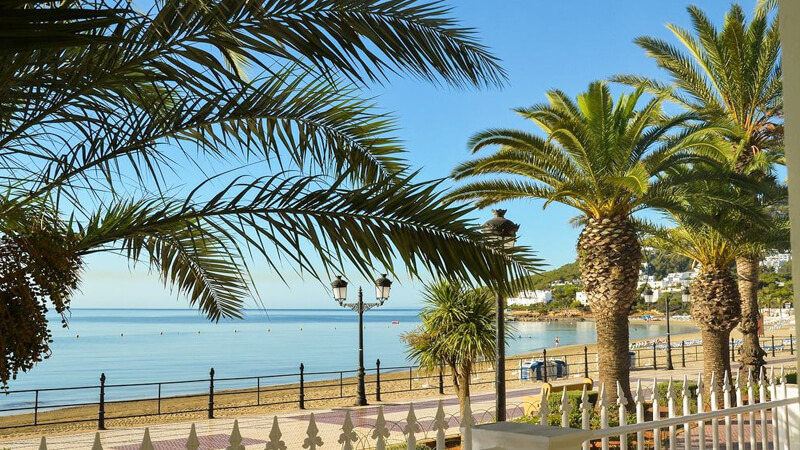 Ibiza, the white Island of Spain is renowned as one of the top party destinations in the world. With its delicious fresh seafood, secluded beaches, gorgeous landscapes, and super-clubs, Ibiza warmly welcomes people of all kinds and offers them a laidback lifestyle. Dalt Vila is a UNESCO Site with massive fortifications, to fend off Berber pirates, built by Charles V in the 16th century. Watch the sunset at the Cafe del Mar and drown yourself in background lounge music. When you hit the world-class holistic spas, all of your Spain tour costs will seem worth the value.
11. Galacia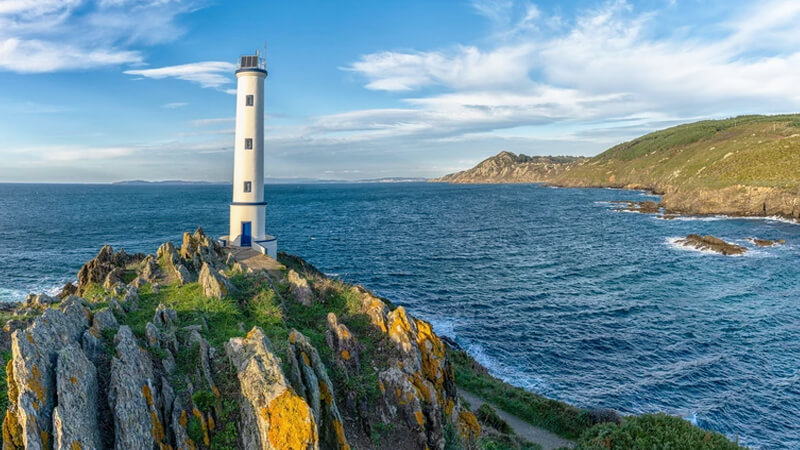 Experience Spain like never before in this exotic location where people wear kilts, speak a distinct language called Gallego (guy-eh-go), play bagpipes, and dine till their hearts are filled with seafood and wine. If you want to get away from the sunny beaches and look for a place that will make you think of Ireland, or perhaps Scotland, Galacia is where you must land, or shall I say float? In the northwestern region of Spain, this place will enchant you with its rich Celtic heritage, roadside vineyards, exorbitant cow population, and unexpected rains.
12. Salamanca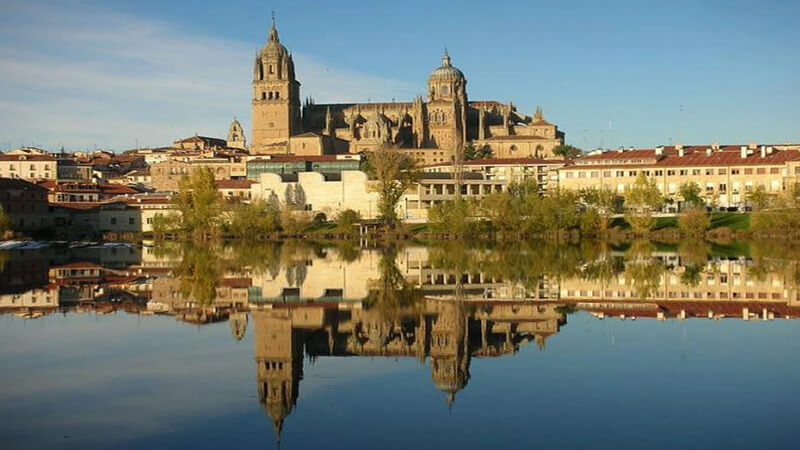 Spanning Spain's Northern Plateau, Salamanca is settled on the banks of the Tormes River. With the architectural treasures, ancient universities, awe-inspiring cathedrals, and quiet convents, this place is the unrivaled Renaissance city in Europe. The buildings take on a golden hue during the sunlight and are beautifully illuminated by the night. From September 7-18, celebrate the harvest festival Fiesta de la Virgen de la Vega and experience the Salamanca fair with its concerts, street shows, medieval markets, food stalls, and much more.
Conclusion
Spain is a warm place that will enthrall you with its sunshine coasts, deep forests, friendliest of the locals, vibrant art, and savory meals. If you are also planning a trip to this majestic country and looking for a Spain tourist visa from India, EaseMyTrip is an ideal platform that can help you get acquainted with Spain tourism and finalize all the travel details. Viajes Felices, mi amigos!