With various charms ranging from the French Riviera to the rugged French Alps, from pastoral regions to glamorous locales- France is truly the jewel of Europe. Apart from being an important seat for medieval history, the country is blessed with a vibrant culture and excellent cuisine. From the more well-known destinations to the less explored ones, here's a lowdown on the top 12 France tourist places.
Romancing in Paris and Versailles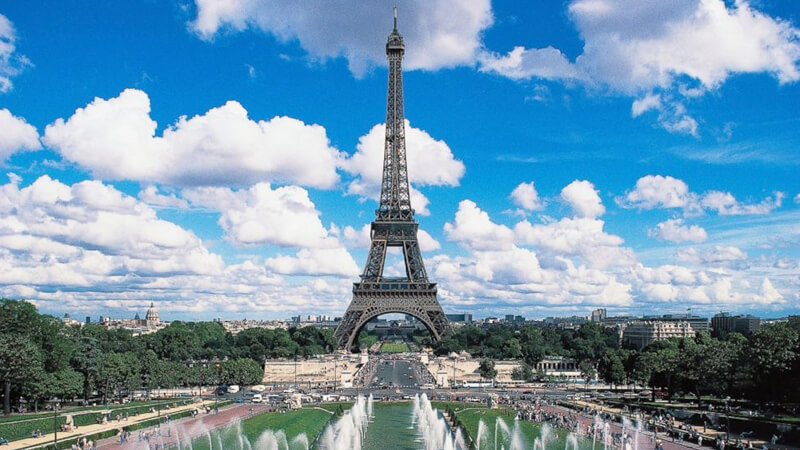 How many times have we seen the Eiffel Tower in romantic scenes and wished we could go there? Apart from being a dream destination for couples, the Eiffel Tower and Notre Dame Cathedral are architectural masterpieces.
Art lovers would love the Louvre Museum. Not only that, there are medieval pockets in parts of Paris that will instantly transport you to an era gone by. Shop at bookshops in the Latin Quarters, take a stroll at the Champs-Elysees and then grab a bite at a sidewalk café terrace on the Boulevard Saint-Germain-de-Pres.
A short train ride will bring you to the UNESCO-listed Chateau de Versailles. This 17th-century palace with its elaborate façade and dazzling halls will leave you in awe.
1. Experience country at Provence
Welcome to the rustic French Provence! With ample sunlight, Provence is a far cry from modern civilization and has an earthy appeal. Rows and rows of olive and sunflower plantations and lavender fields welcome you as you enter Provence. The local cuisine is further enriched by the fragrance of rosemary, sage, thyme, and other herbs which grow in abundance here. Picture-perfect medieval towns and traditional cafes are the star attractions here.
2. Enjoy the glamour at Cote d' Azur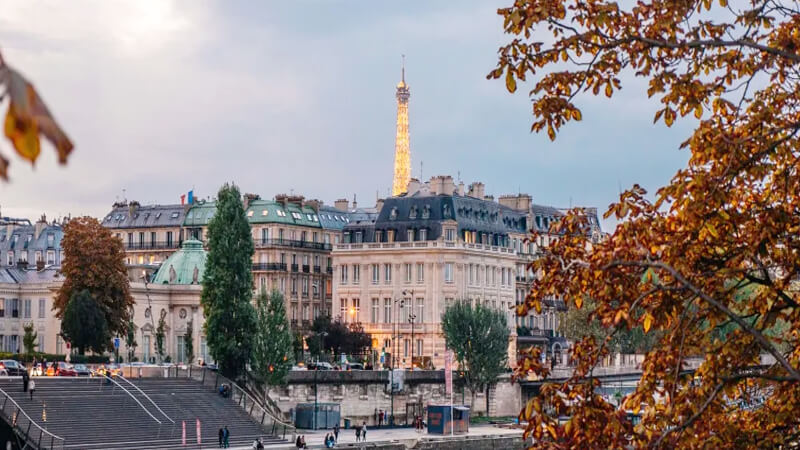 This glamorous stretch at the Mediterranean coastline is blessed with sunny weather and deep crystal blue waters. This seaside resort destination has something for everyone. Enjoy the fine life at Nice, visit art museums and take a stroll on the cobbled paths and boulevards dotted by greens. Other star attractions here are the city of Cannes and Monaco both of which are the epitome of luxury and glamour. Five-star hotels and restaurant chains are common here.
Not interested in the high life? Enjoy a calm vacation at Saint-Tropez and Antibes, both of which are dotted by medieval and exclusive private beaches. Wonderful, ain't it?
3. Take a spiritual journey to Mont Saint-Michel, Normandy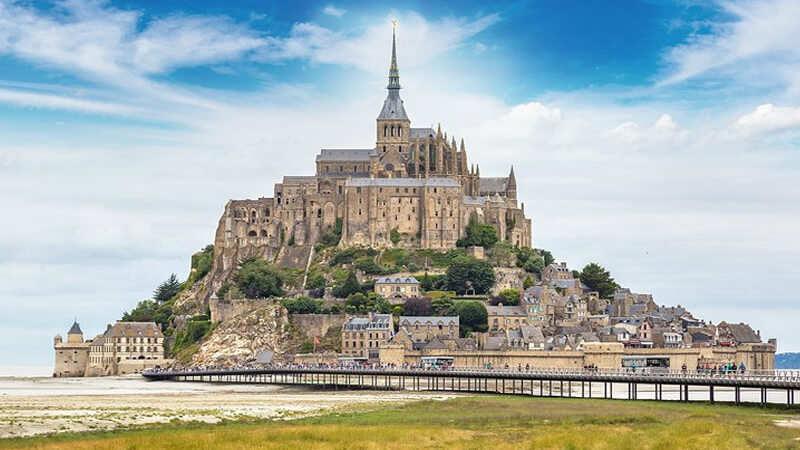 Enjoy the French countryside as you visit Normandy. If good old apple pies and freshly baked bread is your thing, pay a visit to this place dotted by woodlands, cow pastures, and apple orchards.
The Mont Saint-Michel church is one of the highlights of France tourism places. This UNESCO historical site is a perfect example of excellent Gothic architecture. Perched upon a hilltop, this Abbey Church is sure to take you back to medieval times.
4. Vacation like a king at beautiful Loire Valley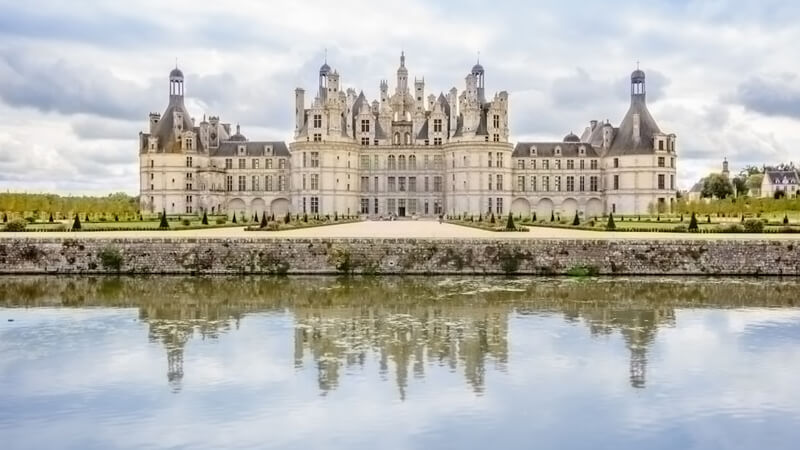 The Loire Valley with its innumerable manor houses and magnificent castles looks just like a scene from a Disney movie. This is the largest UNESCO site in France and is the wine capital of the country. Dine and wine in glee as you hop from castle to castle soaking in the somber atmosphere. Some major attractions like the Château de Chambord and the Château de Chenonceau offer a glimpse of the opulent Renaissance -era French courts.
5. Brittany- A picturesque coastal abode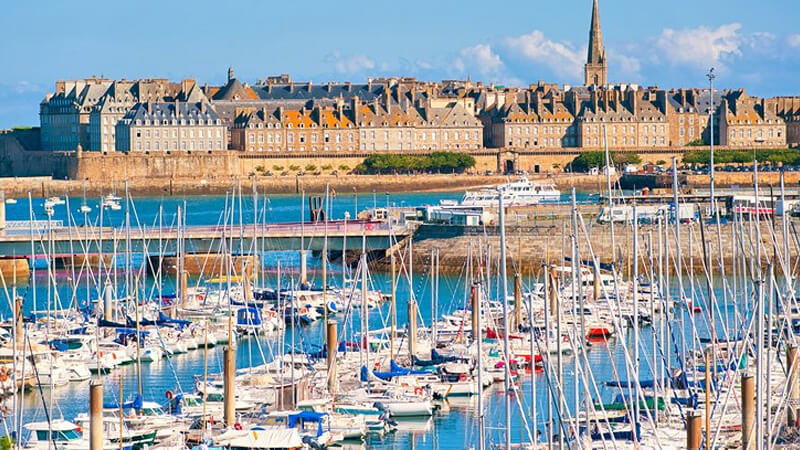 Fresh seafood, secluded beaches, and quaint villages- what more do you need for a relaxing vacation? As you roam around the century-old coastal villages of Saint-Malo and Concarneau, you will get to witness various maritime traditions that have been passed down through generations. If you are time, you can see the traditional Breton festival where everyone dresses up in regional costumes. Don't forget to try the fresh seafood and buckwheat crepes here!
6. Revisit the painful history of Joan of Arc in Chinon, Rouen, and Orleans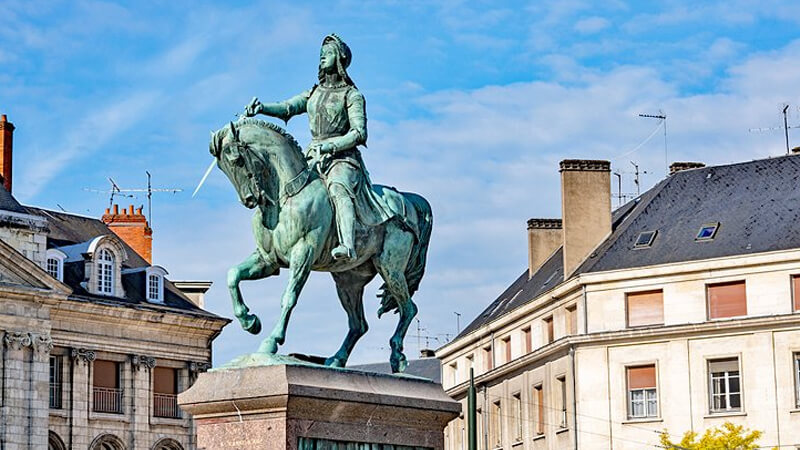 Deemed as France's national heroine, Joan of Arc led France to victory against England at the tender age of seventeen years. Her struggles and sacrifices are still an inspiration to believers. If you are interested in history, then you must visit Place Jeanne d'Arc. The place boasts of a monumental bronze statue of Joan of Arc as a heroic fighter.
Joan of Arc spent the later days of her life praying at the Cathedrale Sainte-Croix, Orleans. The church bears her memory to this day. Know more about this national hero as you roam around the historic town of Rouen. The Eglise Jeanne d'Arc bears proof of her patriotism and martyrdom to this day. There is also a museum that depicts her whole life and highlights her contribution to French history.
7. Go hiking/cycling in the French Alps
A perfect summer retreat for the city people, French Alps combines natural beauty and exciting mountain sports. If you are an adrenaline junkie, you will love hiking, cycling, and mountain climbing. Not only summer, but winter also attracts a lot of tourists who come for snowboarding, skiing, and even sleigh rides!
Want a relaxing vacation? Visit the quaint alpine villages of Chamonix and Annecy both of which look like scenery out of a postcard. The region also boasts of a lot of spa towns that provide you with the best thermal spa experiences.
8. Visit prehistoric caves at Dordogne and Pyrenees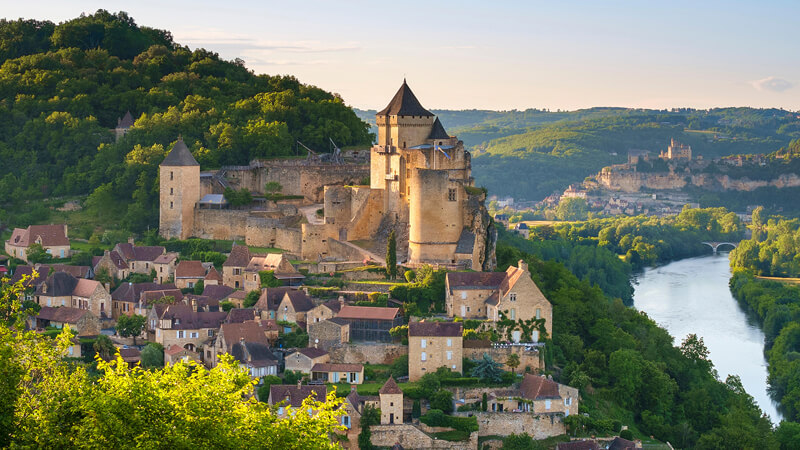 Lascaux cave in the Dordogne region bears relics of prehistoric cave paintings and has been declared a UNESCO World Heritage site. Roam around the caves and revisit prehistoric times. The Grotte de Niaux boasts of several remarkable Paleolithic arts and you can reserve guided tours for a better understanding of these paintings.
9. Satisfy your taste buds at Lyon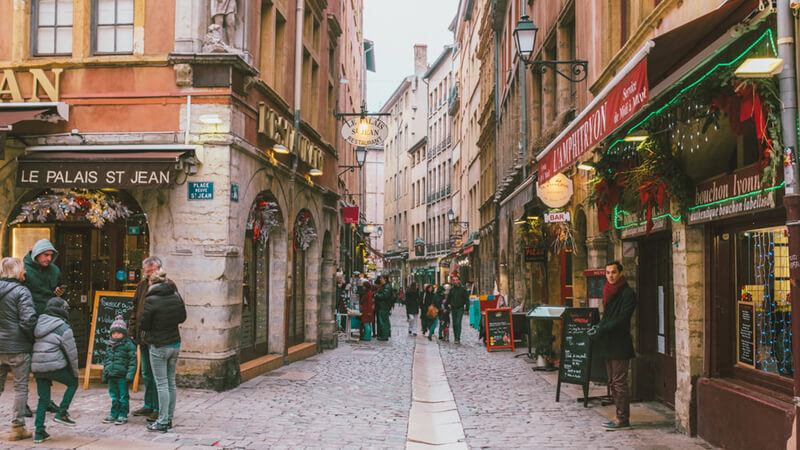 Any France tour package is not complete without a stop at the gastronomic and cultural capital of France. If you love good food, Lyon will surprise you with a wide variety of local cuisines. Enjoy a selection of fish dumplings, exotic chicken and salads at the traditional bistros on the sidewalk. If you prefer fine dining, Lyons has some of the best restaurants in the world at your service. But that's not all. Lyon is a UNESCO world heritage site and boasts several ancient Roman ruins and elegant Renaissance houses. Lyon's Musee des Beaux-Arts has a wide variety of paintings from the 14th to the 20th centuries.
10. Enjoy wildlife at Camargue, France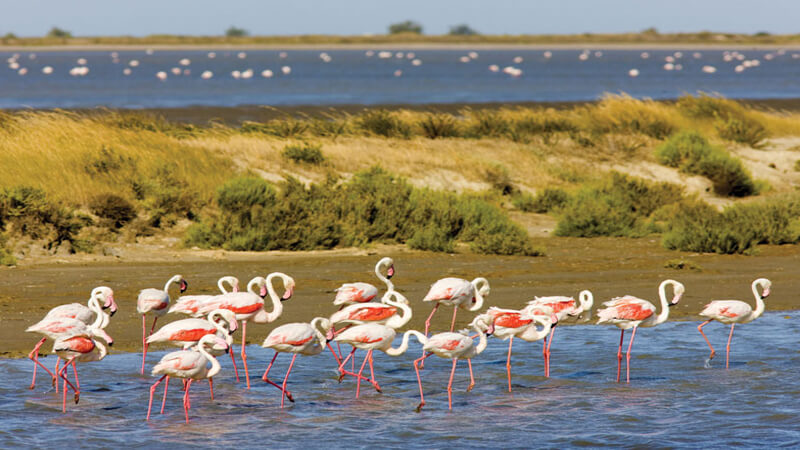 A UNESCO declared Biosphere reserve, this natural region is home to wild, white horses and pink flamingoes. About 300 species of birds thrive in this region. A must activity is bird-watching. Enjoy nature to her fullest with marshlands and grass meadows stretching across acres
11. Go snorkeling and scuba diving at the coastal Corsica
Pristine forests and dramatic coastal landscapes are the focal points of attraction. Lots of fishing ports and chirpy coastal towns dot this region. You will feel like being in a time warp as the local culture bears the stamp of medieval practices and traditions. The crystal-clear water and the wide stretch of shoreland give you an immense opportunity for snorkeling and scuba diving.
12. The Quintessential Burgundy region
Experience the rich cultural heritage of France amidst woodlands and hillocks. The whole region is dotted by Roman chapels and quaint medieval towns. The historic city of Dijon boasts of elaborate palaces and bears stamps to the Gothic culture. Besides all the historical monuments, this region has several lip-smacking dishes to offer the traveler. French specialties such as escargot and Coq au Vin are believed to originate here.
Here's a list of documents you will need to get a France tourist visa from India
A valid Passport with at least 3 months validity

2 recent passport size photos

Cover letter

A duly filled visa application form

Travel insurance policy copy

Flight reservation details

Proof of accommodation

Proof of financial sufficiency
Conclusion
Flight and hotel bookings are a big hassle, especially for international travel. You can book hotels and flights at any France tourist place online using the EaseMyTrip mobile app. Book verified hotels safely from the comforts of your home at attractive prices and discounts. So, what are you waiting for? Go for it!