Capital of the United Arab Emirates, Abu Dhabi is a well-ordered, industrious and a vibrant city known for its spectacular infrastructures, adventure activities, luxury hotels, extensive deserts, rich heritage and beautiful beaches with a pretty waterside location. A piece of knock-knock advice to all the travellers who wish to experience the best of the Middle East – do not return till you have explored all of the below-mentioned places to visit in Abu Dhabi, the prized jewel of the United Arab Emirates.
1. Sheikh Zayed Grand Mosque
The Sheikh Zayed Grand Mosque being one of the largest mosques in the world and the biggest mosque in the United Arab Emirates, is one of the most beautiful places to visit in Abu Dhabi. This marvel of modern Islamic architecture was built by Sheikh Zayed Bin Sultan Al Nahyan in the remembrance of his father. A key feature worth noticing is the world's largest loomed carpet in one of the prayer halls. The mosque is not only a religious site but also serves as an educational and cultural hub. Glamorous architecture combined with exquisite design and pattern of the mosque makes it highly popular among the foreign travellers.
Timing: 9 AM to 10 PM
Entry Fee: FREE
2. Louvre Abu Dhabi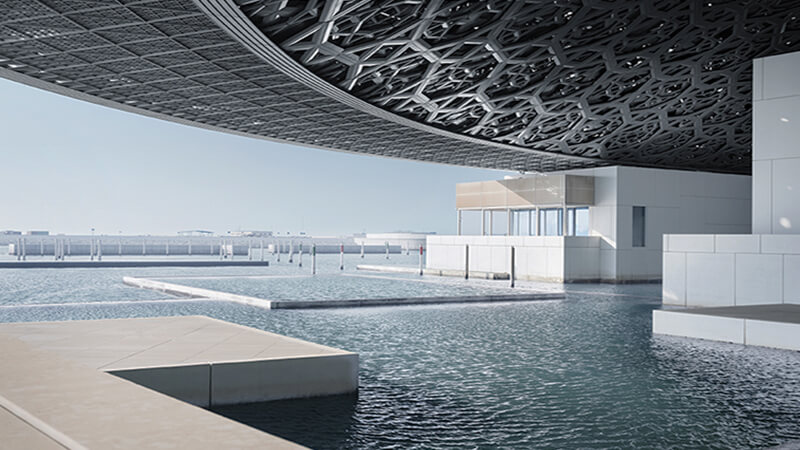 Opened in 2017, Louvre is an exquisite museum of Art and Civilisation situated in Saadiyat Island Cultural District is one of the must-see tourist places in Abu Dhabi. This largest museum in the Arabian Peninsula showcases artwork from across the globe. The museum also has a very impressive architecture consisting of a web patterned dome which is designed to give the 'rain of light' effect in the museum. The wealth and diversity of art on display, from ancient Egyptian statuary to famous paintings by Picasso, is mind-boggling. The Louvre is the first of three planned major museums to open on Saadiyat Island.
Timing: Saturday - Wednesday: 10:00 AM - 8:00 PM, Thursday - Friday: 10:00 AM - 10:00 PM, Monday: Closed
Price: AED 63, INR 1199
3. Ferrari World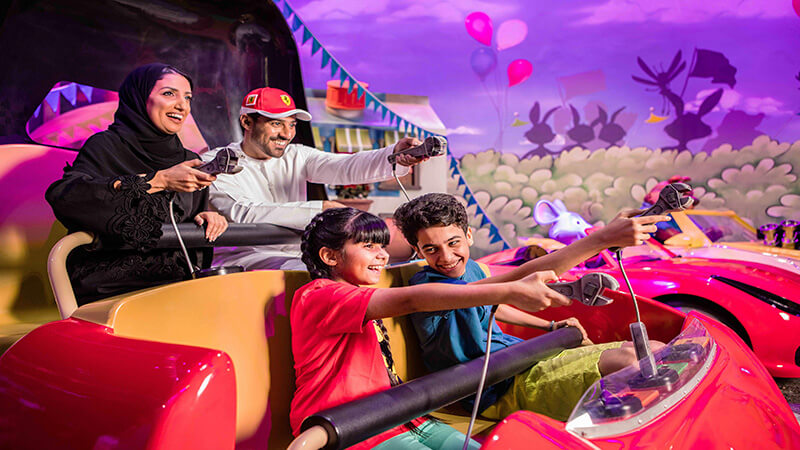 This Ferrari themed park is located in Yas Island for thrill seekers and car lovers & is the biggest indoor amusement park around the world. The Ferrari World also houses Formula Rossa which is the World's fastest roller coaster ride. It has a spectacular gallery showcasing a unique collection of various Ferrari car models, Ferrari factory tour and Ferrari knowledge game show for true car nerds. Other than rides, Ferrari World is also known for hosting various events, having a number of top-notch eateries and restaurants, and a grand shopping space where visitors can buy a vast array of Ferrari products.
Timing: 11 AM to 8 PM
Price: AED 249.97, INR 4700
4. Etihad Towers Observation Deck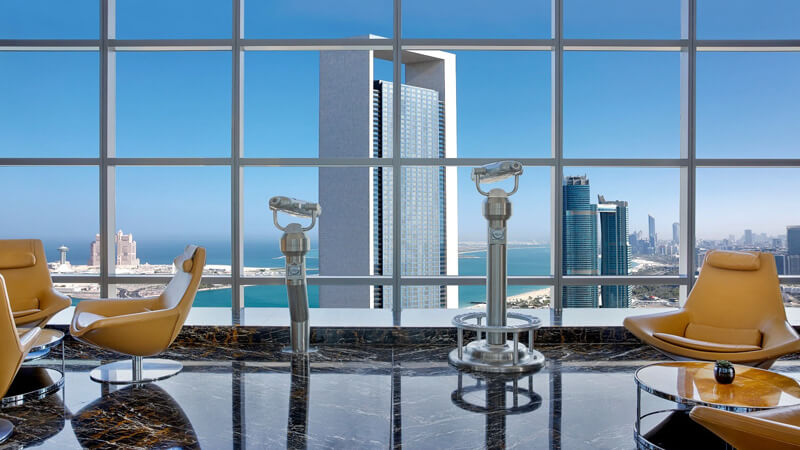 The Observation Deck is a major attraction in Abu Dhabi that offers a 360° panoramic sight of the city. Located on the 74th floor of the second tower of the Jumeirah at Etihad Towers, the deck boasts a seafront site. You can use binoculars to get a better and closer view of the skyline and the Arabian Gulf. The Observation Deck is situated 300 metres above ground, making it the highest vantage and city sightseeing point in Abu Dhabi. One of the towers of the complex, tower 2 is the tallest building in Abu Dhabi.
There is an entry fee for non-guests of the hotel.
Timing: Always Open
Price: AED 81, INR 1522
5. Yas Island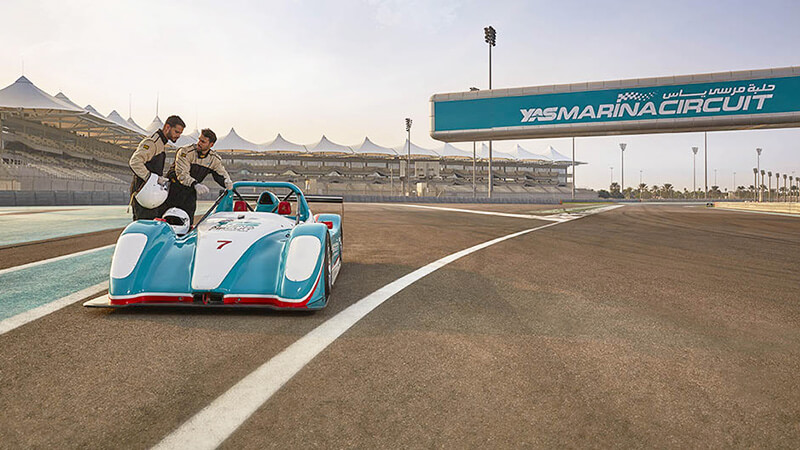 Yas Island is one of Abu Dhabi's top luxury hotel destinations, with stretches of sandy beach that are perfect for spending the day sunbathing. This area is also home to the Yas Marina Circuit, which is where Abu Dhabi's Formula One racing takes place every year. Sun seekers should beeline straight to Yas Beach; and shoppers should head straight to Yas Mall, the city's premier shopping destination. If the heat is grinding you down, head to Yas Waterworld which is a water theme park featuring over 40 rides & slides. It has the world's largest surfable sheet wave and the Jebel Drop, a free-fall speed water slide and many more.
Yas Marina Circuit: Timing: 9 AM to 11 PM, ( Price: Starts from AED 65, INR 1223 )
Yas Waterworld : Timing: 10 AM to 7 PM, ( Price: AED 210, INR 3950 Per Person )
6. Warner Bros World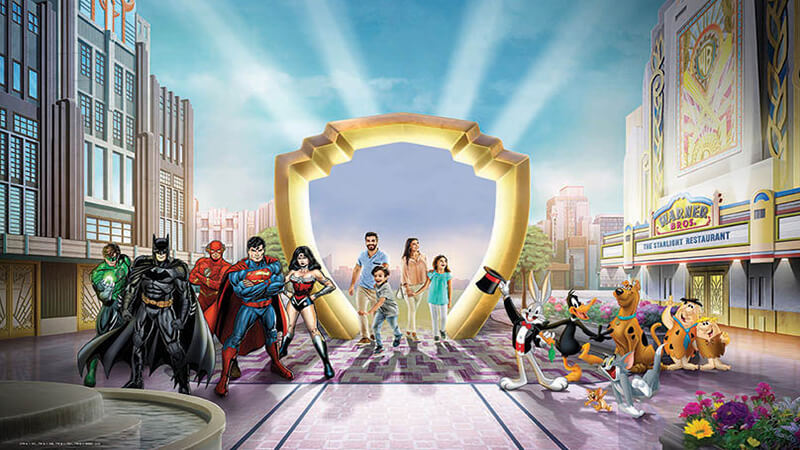 Yas Island's latest theme park addition, The Warner Bros. World is an indoor amusement park featuring 29 rides, live interactive shows, action packed activities, fascinating attractions, variety of food eateries and shopping outlets. It's dedicated to its cartoon, movie, and comic book heroes and villains with all rides based around these characters. The park is designed with six themed zones; Bedrock, Dynamite Gulch, Metropolis, Cartoon Junction, Warner Bros. Plaza and Gotham City, making it an exciting place to visit in Abu Dhabi.
Timing: Saturday - Wednesday: 10:00 AM - 8:00 PM, Thursday - Friday: 10:00 AM - 10:00 PM
Price: AED 250, INR 4700
7. Desert Safari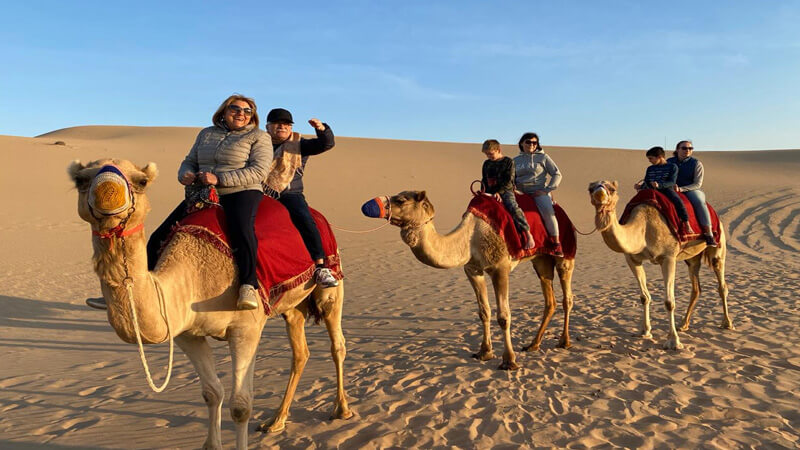 Desert Safari is one of the most adventurous, thrilling and fun things to do in Abu Dhabi. The most popular day trip or overnight trip from Abu Dhabi city is a desert safari to the south of the Emirate of Abu Dhabi. You can go for Sand Boarding, visit a camel farm, try quad biking, Dune Bashing, camel riding or dining at the desert under the twinkling stars and enjoy some entertaining shows right at the middle of the desert. Try the mesmerizing and enthralling Wadi bashing or Dune driving in a 4×4 wheel Drive for 20-30 minutes.
Keep in mind that these safaris are not advisable for aged people and weak-hearted ones.
Price: Starts from AED 155.37, INR 2900
8. Heritage Village
Want to witness a typical Emirati life? Visit the heritage village which is one of the few tourist places in Abu Dhabi where you can actually take a glimpse into the pre-oil life at the gulf. It is a reconstructed village complex which is walled from all sides and has a fort, a souq for goat trading and a mosque. It contains several attractions to keep you entertained that include carpet weaving displays, a spice shop, a campfire, pottery, a falaj irrigation system and metal workshops. The village also has a narrow strip of beach to sit and relax. It is an excellent place to learn and know more about the history of Arab traditions.
Timings: 9 AM to 4 PM. (everyday)
Price: Free
9. Emirates Park Zoo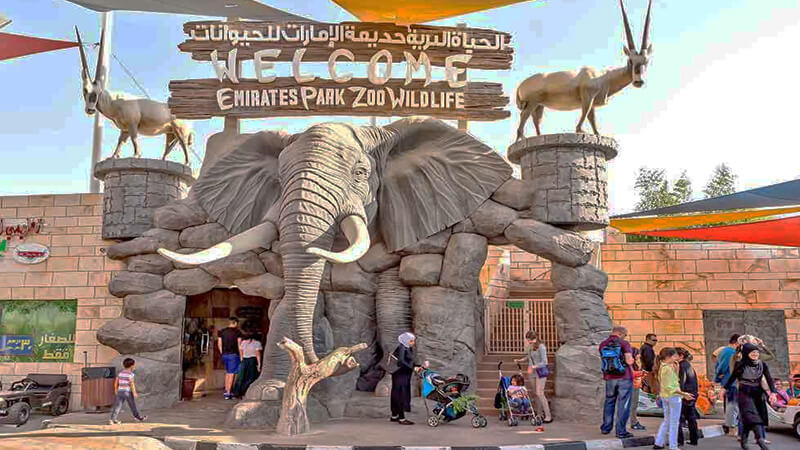 The zoo in Abu dhabi gives one an opportunity to come closer to around 1700 animals which include species like rare white tigers, giraffes, elephants, a herd of zebras, and a Siberian bear. There is also a primate section, with many different types of monkeys, and a flamingo park with a sea lion enclosure. At the petting zoo, children can touch and feed domestic breeds of animals. There are fun activities you can indulge in here like animal encounter, breakfast with parrots, breakfast with giraffe, and crocodile feeding.
Timing: 9 AM to 8 PM
Price: AED 74.46, INR 1400
10. Saadiyat Island
The Saadiyat island has one of the most beautiful beaches and a must visit while you are in Abu Dhabi. You can have a free access to the beaches if you are staying at any of the few hotels in the Saadiyat Island. At the beach, you can get loungers and umbrellas if you want to bask in the sun or enjoy a picnic with your friends. From the beach, you can spot small fish, crabs and also dolphins. This pristine, white sand beach has views of the blue ocean on the one side and that of the city's skyline on the other. One of the most happening tourist attractions in Abu Dhabi, this beach offers water sports, retail therapy, and delightful bistros.
Timing: Daily: 7:00 AM - 6:30 PM
Price: AED 25, INR 469
Some Popular Festivals & Events that You Must Attend in Abu Dhabi
Abu Dhabi Grand Prix

is held every year at the Yas Marina Circuit. You can don the racing overalls and zoom off in a slick car along the 2.4Km South Circuit for this once-in-a-lifetime experience!

Sheikh Zayed Heritage

Festival is held every year at Al Wathba. The bustling festival holds various interactive exhibitions, cultural pavilions, traditional cafes offering local and international cuisines as well as hundreds of interesting shops selling handicrafts and other items

Abu Dhabi Festival

organized annually by the Abu Dhabi Music & Arts Foundation, is the largest cultural celebration in the entire region. Held across 25 venues in Abu Dhabi

,

you can catch international opera performances, theatre & dance extravaganzas, instrumental concerts and so much more.

Al Dhafra Festival

is held annually at The MadinatZayad, Al Dhafra Region.Some 1500 camel owners from across the Gulf countries participate in the festival with their best stock, while women sell traditional handicrafts from the region.

Abu Dhabi Golf Festival

is a fabulous opportunity to play in some of the most luxurious golf courses in this region. The manicured greens of the 27-hope Abu Dhabi Golf Club, Yas Links Golf Club and Saadiyat Beach Golf Club welcome you to tee off the new golfing season.

Abu Dhabi Food Festival

is one of the most popular Abu Dhabi festivals for food connoisseursheld emirate-wide, it gives visitors a chance to sample some delectable traditional and international food.

Abu Dhabi International BoatShow

is held annually at The Abu Dhabi National Exhibition Centre. Visitors can view some of the largest yachts in the world as top global manufacturers reveal their latest creations. Adventurous folks can also engage in motorised and non-motorised water sports.

Abu Dhabi International Dance Festival

is held annually at The Westin Abu Dhabi Golf Resort & Spa, Al Maslak Street, Khalifa City. During this 3-day extravaganza, the saying, "dance till you drop" rings true. Visitors have the opportunity to witness shows and workshops by some of the world's most famous dancers.
Abu Dhabi, being the capital of UAE is filled with lavishness that is beyond imagination. This is a place that lets you relax and rejuvenate, soak in the sights, and gives you an adrenaline rush when you need it. Select a well-planned Abu Dhabi tour package with EaseMyTrip and experience this destination in all its glory! Get best deals on flight booking via EaseMyTrip. Planning a holiday in this multi-cultural hub of joy will be the best decision you ever make. The best time to visit Abu Dhabi is during winters which fall between October to April.