Holi is one of the most vibrant and colorful festivals celebrated in India. A festival of joy, happiness, and colors that is celebrated across India with great enthusiasm.
In different parts of India, Holi is celebrated in unique ways and it is not just a festival of colors; it is a celebration of life and love. It is a time when people forgive and forget, and start anew.
It is a time when they express their gratitude and respect for their loved ones, and strengthen their bonds with them. Holi is a festival that unites people and brings them closer, and it is a beautiful reminder that love and happiness can conquer all.
The festival is celebrated differently in various parts of India, let us read how!
If you want to enjoy Holi in its true colors, you should visit these places: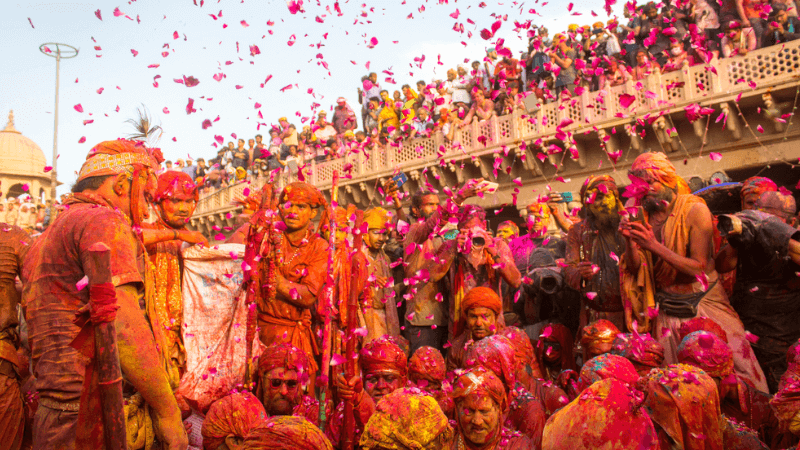 These two towns in Uttar Pradesh are considered to be the birthplace of Lord Krishna and are famous for their Holi celebrations. The Holi festivities in Mathura and Vrindavan begin a week before the actual festival and culminate with the grand celebrations on the day of Holi. The celebration includes various events like Lathmar Holi, Phoolon wali Holi, and Holi procession.
Here are some of the temples where you enjoy the true spirits on Holi:
Banke Bihari Temple, Vrindavan:

Dwarkadhish Temple, Mathura

Radha Raman Temple, Vrindavan:

Shri Krishna Janmabhoomi Temple, Mathura
Also, read: Different ways to celebrate Holi in India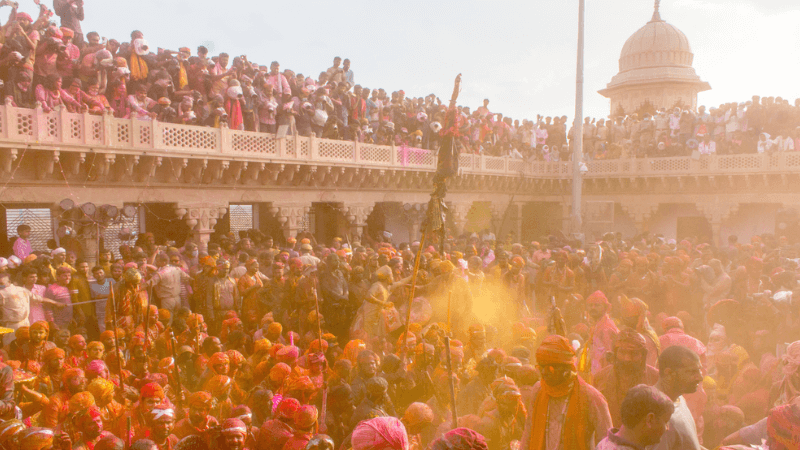 Barsana is a small town near Mathura, which is famous for its unique Holi celebration called "Lathmar Holi." Lord Krishna visited Barsana to play Holi with his beloved Radha and her friends. However, the women of Barsana chased him away with sticks, hence the tradition of Lathmar Holi.
Check out these temples where you can witness the traditional Holi festival:
Radha Rani Temple:

Shriji Temple

Lathmar Temple

Mann Temple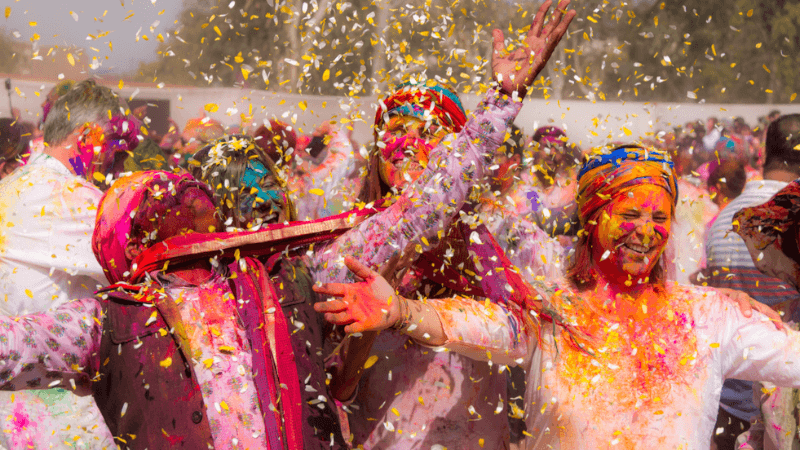 Jaipur is known for its royal heritage and culture, and Holi celebrations in this city are equally grand. The Pink City turns into a colorful spectacle during Holi, with people smearing each other with colored powder and water.
One of the most popular traditions of Holi in Jaipur is the Holika Dahan, which takes place the night before Holi.
Celebration in Jaipur is a special feeling, let us know where to go and play with colors in the pink city.
City Palace

Hawa Mahal:

Sisodia Rani Garden

Chokhi Dhani
Also, read: Holi celebrations in different states of India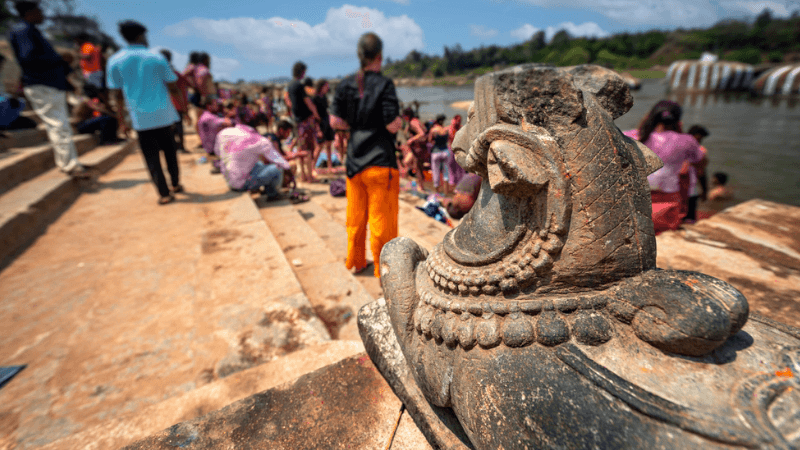 The Holi celebrations in Hampi are unique, with people singing and dancing to traditional folk songs and smearing each other with colors.
One popular tradition during Holi in Hampi is the "Kamana Habba" festival, which is celebrated in the nearby town of Kamalapur. During this festival, people dress up in traditional attire, play with colors, and participate in cultural programs and musical performances.
Here are some places where you can enjoy the Holi festive vibes in Hampi:
Virupaksha Temple

Anegundi Village

Sanapur Lake

Hampi Bazaar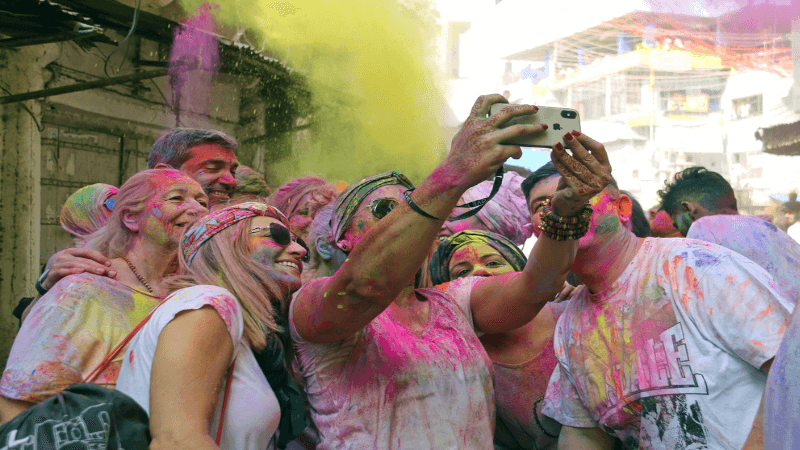 Holi is a vibrant and joyous festival celebrated by Hindus all over the world, and Pushkar is another popular destination to experience colorful and lively celebrations. Located in the state of Rajasthan, Pushkar is known for its beautiful temples and holy lake, which make it a particularly auspicious place to celebrate Holi. The festivities usually begin with a bonfire on the eve of Holi, known as Holika Dahan, where people gather to perform rituals and pray for the triumph of good over evil. On the day of Holi, the entire town erupts into a riot of colors, as people smear each other with vibrant colored powders and water.
The celebrations are accompanied by music, dance, and traditional delicacies, making it a truly unforgettable experience.
Pushkar Lake

Brahma Temple

Mela Ground

Ajmer Sharif Dargah
The festival is associated with various mythological stories and legends, but the most popular one is the story of Prahlada and Holika. The festival is not only popular in India but also celebrated by Indians and people of Indian origin worldwide, making it a truly global festival. You can plan a trip to any of the above destinations with EaseMyTrip and celebrate Holi differently. Don't wait, get your bookings done now!