Do you feel adventure and want to try something really daring? If yes, then your adventure-loving heart is longing for the ultimate experience of skydiving in India. When it comes to extreme adventure sports, skydives are the best thing to do as it make you zoom through the open sky and fill your heart with adrenaline rush. To all the hard core enthusiasts who don't faint easily, we bring to you the best skydiving places in India to go and try the real action.
Kinds of Sky Dives:
1. Tandem Jump

It can be called as the safest form of jump when the diver is connected to the instructor with a harness and the same parachute. In this scenario, you need only minimal training before the fall.
2. Static Line Jump

In this kind of dive, you are connected to the aircraft with a cord. The parachute opens after 3 seconds of the dive automatically with no action of the passenger. The jump requires up to 6 hours of training to fall from the height 3000 feet.
3. Accelerated Free Fall
This one is the most challenging skydiving experience and is of course not for the faint hearted. For this you need to have a classroom instructions and practical training both and is done from at least 13000 feet.
Best Location to Enjoy Skydiving in India
Mysore, Karnataka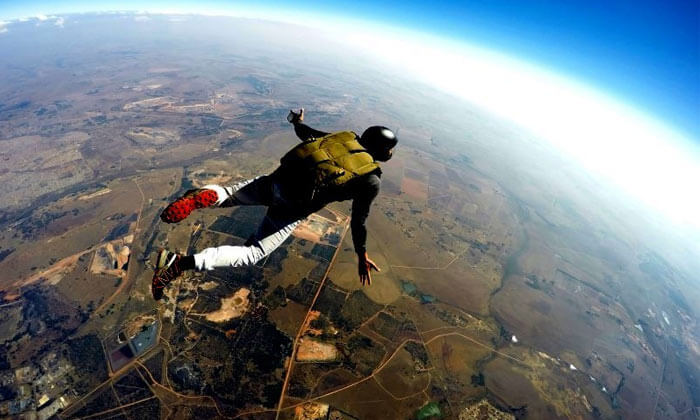 For the ultimate experience filled with daring adventure, Mysore is the best place to go and try skydiving in India. Located at the base of the Chamundi Hills just few hours away from the Bangalore, Skydiving in Mysore is something you should not miss out.
Time: 7 AM to 9 AM, Price: Tandem – INR 35,000 (3 hours) Accelerated Free Fall – INR 2, 50, 00 (5-7 days, 10 jumps)
Note: one full ground day training is required to have a jump from 4000 feet.
Deesa, Gujarat
Go surround yourself around the blue sky as you take that leap of faith and try skydiving in Gujarat. It is one of the best destinations for skydiving in India and offers variety of jumps. There is Parachuting Federation and Sports Authority of Gujarat which hosts various camps to promote the best sky jump in India.
Time: 7 AM, Price: Static Line Jumps – INR 16,500 Tandem Jumps – INR 33, 500 AFF – INR 37,500
Pondicherry, Tamil Nadu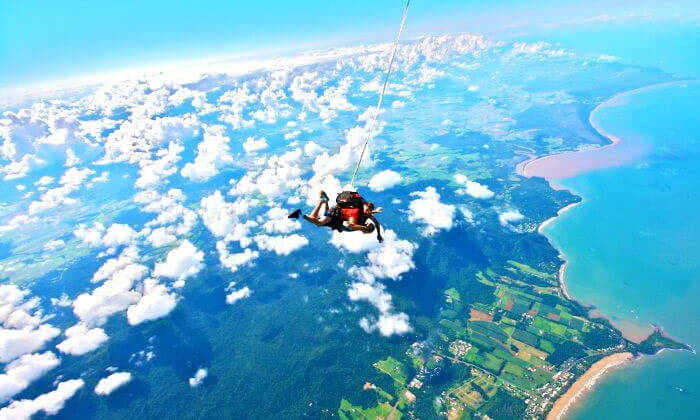 Famous for being a perfect holiday spot, the picturesque landscape in Pondicherry is a great place to enjoy skydiving in India. The camps here offers static and tandem jump. While having a tour of this land, skydiving in Pondicherry is one of the must-to-do things.
Time: 7 AM or 9 AM, Price: Static Jumps – INR 18,000 (1 jump) to 62,000 (5 jumps) Tandem Jump – INR 27,000
Aamby Valley, Maharashtra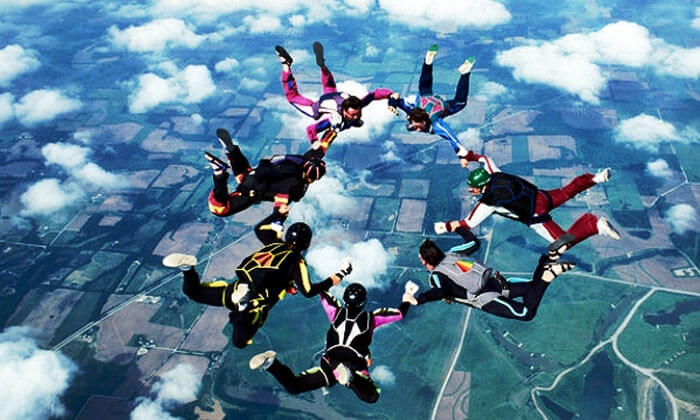 Skydiving in Aamby Valley has to be on the top of the list for every Mumbaikar or Punites wanting to try the daring adventure sport. Feel the power of gravity as you free fall from the sky towards the ground. To enjoy the most exciting Sky jump in India, this is just the right place to be.
Time: 8:00 AM to 10:00 PM, Price: Tandem Jumps (Mon – Thurs) – INR 20, 000 (Fri – Sun) – INR 25,000
Dhana, Madhya Pradesh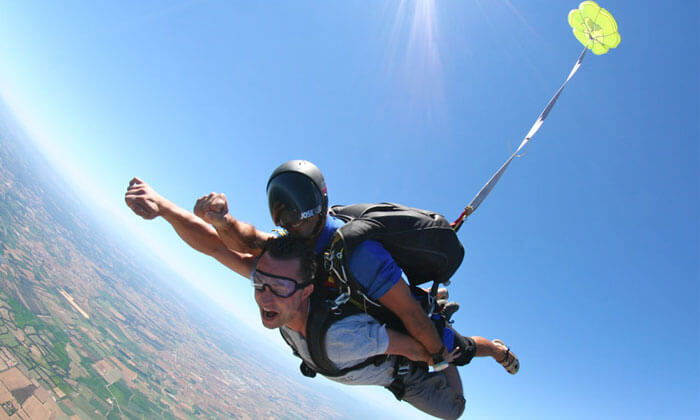 Dhana in Madhya Pradesh is the perfect place to enjoy skydiving in India. The city also boasts an airstrip and hosts a number of skydiving camps for all adventure lovers. Skydiving in Dhana is truly an experience to cherish.
Time: 8:30 AM, Price: Tandem Jump- Weekday: INR 35,000 Weekend: INR 37,500 Static Jumps – INR 24,00