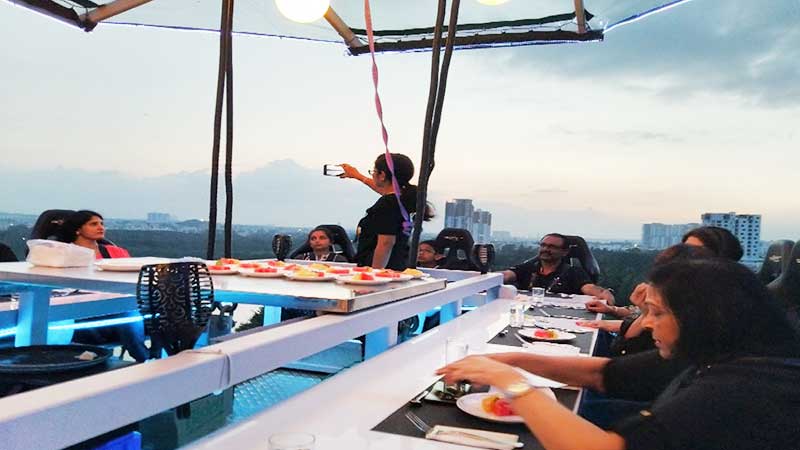 Image: Source
Bangalore, the IT hub of India has come up with a very amazing and unique dining experience of "dine in the sky". The city has recently inaugurated a hanging restaurant which lets the guests enjoy the tempting delicacies in the sky. However, dine in the sky is not a new concept as it has been already introduced in Montreal but for the very first time 'Fly Dining' is introduced in India that too in one of the popular metro cities 'Bangalore'. However, sky restaurant is not a new concept but for Indian it is. There are several international dine in the sky destinations which lets the guests dine at a good height close to the sky. There one in Montreal, Canada lets the guests dine in a hanging restaurant while enjoying the scenic view.

Bangalore's air dining restaurant not just offers amazing food but it also offers mesmerising view of Nagawara Lake and Manyata Park. It is the very first air dining restaurant. This fly dining restaurant is a best place for adventure seekers and for somebody looking for a unique dining experience in India. In this dine in the sky Indian restaurant; you will be taken 120ft above the ground with well structured seating which is designed perfectly to offer you the scenic view of Silicon city. Fly dining restaurant is not the very first interesting thing introduced in Bangalore but even the Uber rides first started in Bangalore and the first helicopter taxi was also introduced by Bangalore.

This amazing dine in the sky concept restaurant of Bangalore is very well designed by engineers considering all the security and safety measures that too according to German norm DIN 4112 flying structures guidelines. So, each guest experiencing this is safe.
Location of Fly Dining Restaurant of Bangalore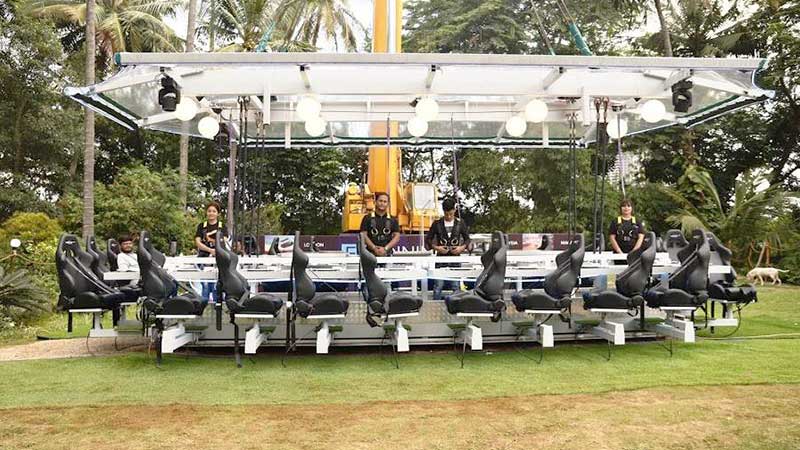 Image: Source
Air dining restaurant of Bangalore is nestled in the heart of the city near Hebbal on the banks of the Lake Nagavara. This restaurant offers the beautiful view of the lake and Manyata Tech Park. So, here you can enjoy the best dinner of your life with your near and dear ones enjoying the views of Bangalore.
House of Life.
Nagavara, Bengaluru
Karnataka, 560024
Seating & Aerial View of Sky Dining Restaurant in Bangalore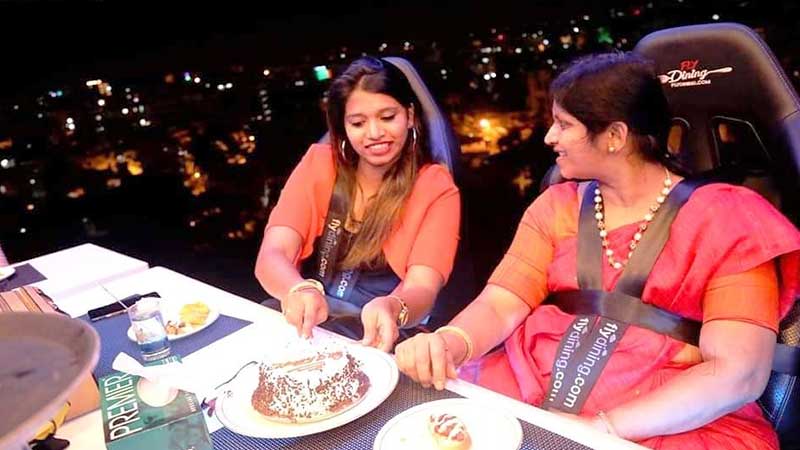 Image: Source
Seating arrangement in this new restaurant of Bangalore is designed technically & all the safety measure is taken. This sky dining restaurant can accommodate 22 guest members and 4-5 members of restaurant including the chef & waiters.
Timings in Sky Dining Restaurant
Fly dining restaurant in Bengaluru starts from 4.30M – 8.30PM and at present they have 4 time slots in which they are running mocktail and dinner sessions.
Mocktail Session 1: 4.30PM-5.30PM
Mocktail Session 2: 5.45PM-6.15PM
Mocktail Session 3: 6.45-7.15PM
Dinner Session: 8.30PM-9.30PM
Other Details of Sky Restaurant in Bangalore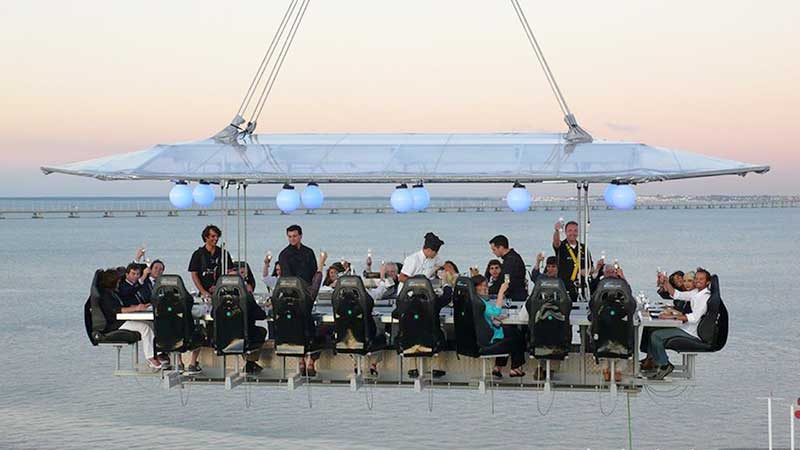 Image: Source
Booking

: Booking in this restaurant can be made by making a direct call to the management or you can also book online. Moreover, in online booking you need to mention the no. of seats you want, your name, mail-id and mobile number as well.

Cost of Dining in Bangalore's Sky Restaurant

: Prices are different during the weekends and weekdays & there is also slight difference in price for dinner session.

Weekends (Friday, Saturday & Sunday)

Mocktail Sessions

: 4999 Rupees including GST

Dinner Sessions

: 7999 Rupees including GST

Weekdays (Monday to Thursday)

Mocktail Sessions

: 3999 Rupees including GST

Dinner Sessions

: 6999 Rupees including GST

Age & Height Limit

:To dine at sky restaurant of Bangalore, there is no limit. Guests can also bring children accompanied by the adults but they should have minimum height of 135 cm (4Foot & 4Inches)

Events & Special Arrangements You Can Organize




Here at the sky restaurant one can also arrange the below mentioned events on request. However, there will be certain limitations for the same.Some of the events which one can execute here are: Dinner in the Sky, Lunch in the sky, Engagement Announcement, New Year's Party, Breakfast, Talk Show,Birthday Party, Interview, Wedding Celebrations,Anniversary Dinner & Product Launch
So, what are you waiting for? Get ready for an exceptional dining experience in your very own city "Bangalore".Book cheap flights at EaseMyTrip.com.