Ahmedabad is a shopper's paradise where you can buy almost everything at cheap prices from the street market. Here, market overflows with vibrant fabrics, traditional handicrafts, chunky jewelry, and all other items that are available at a very good price. The city is also named as the 'Manchester of the East' and sells the best quality of fabrics and clothing. We have created a list of top shopping places in Ahmedabad where you must go for shopping.
Best Shopping Places in Ahmedabad
Lal Darwaza Market
Lal Darwaja Market Ahmedabad is famous for its clothes, electrical items, and scrumptious street food. This is one of the oldest, busiest and famous shopping places in Ahmedabad. The market is full of wholesale sellers where you can buy sarees, fashionable dresses, dupattas, old books, handicrafts, and wallets at a cheap price. Here, you can buy so many things in your budget that you would love to come again and again.
Timings: 11:00 am to 10:00 pm (All days open)
Address: Lal Darwaja Ahmedabad, Gujarat 380001
Manek Chok Market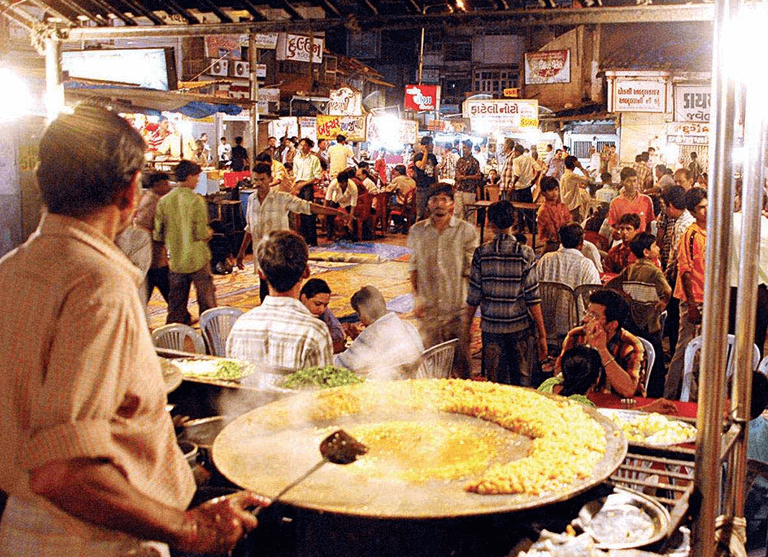 If you are living in Ahmedabad then you cannot miss the hot shopping at the Manek Chowk Cloth Market. You can buy fresh fruits, textiles, jewelry boxes, vegetables, and other ornamental items at affordable prices. Explore the wide variety of delicacies for your taste buds that will evoke your senses for sure. It is also a popular tourist attraction and a favorite spot for Ahmedabadi couples, families, and friends.
Timings:11:00 am to 10:00 pm(All days open)
Address: Manek Chowk Rd, Old City, Danapidth, Khadia, Ahmedabad, Gujarat 380001
Dhalgarwad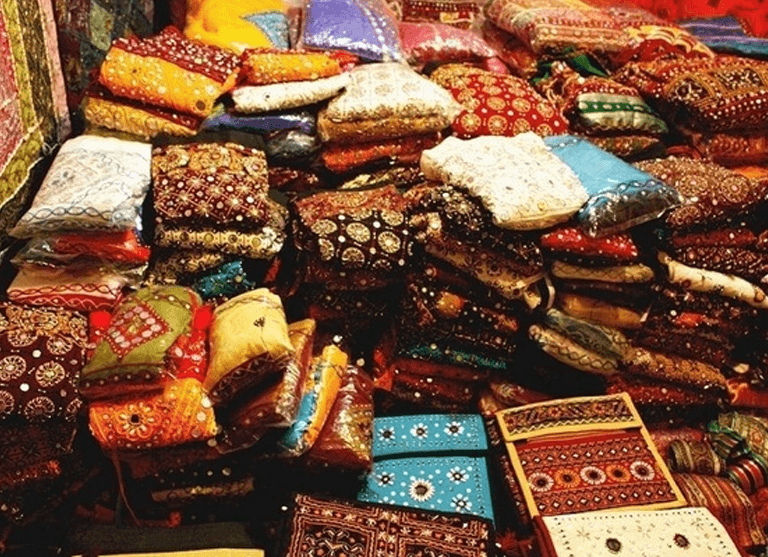 If you want to explore the rich culture of Gujarat along with shopping then head to Dhalgarwad in Ahmedabad that offers handcrafted materials, fabulous dress material, sarees, suit, and other ethnic items at a great price. It is famous for fabric shopping in Ahmedabad where you can buy a perfect variety of textiles, hand-printed bed sheets, amazing sarees, and other products at pocket-friendly prices that will not burn a hole in your pockets! It will be difficult for you to leave this market area as every single item will attract you towards it.
Timings: 10:00 am to 9:30 pm (All days open)
Address: Dhalgarwad, Khadia, Ahmedabad
Law Garden Night Market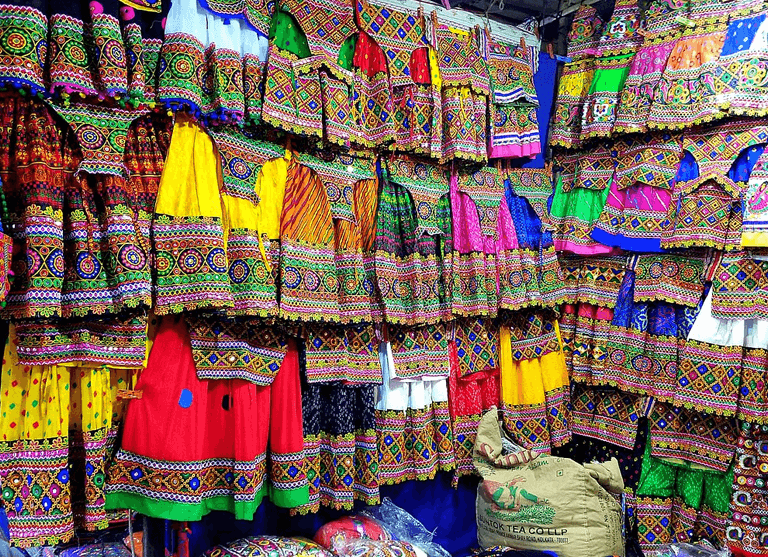 If you are looking for shopping places in Ahmedabad to buy souvenirs and other amazing items of the City then Law Garden can be the perfect destination for all your shopping needs. Here, you will get everything from antique jewelry, stylish dresses, handbags, sarees, chaniya cholis, to fashion accessories that you can buy at very reasonable prices. But, yes don't forget to bargain hard and buy some amazing items to take back home. In fact, it is one of the most attractive places for tourists all over the country.
Timings: 6:00 am to 11:30 pm (All days open)
Address: Law Garden, Maharashtra Society, Ellisbridge, Ahmedabad, Gujarat 380009
C G Road
It is like CP of Delhi. Do you get that? CG Road is one of the modern shopping places in Ahmedabad just like Connaught Place of Delhi. There are multiple shopping malls in this area where local people, as well as, tourist love to come shopping. If you want to have luxurious shopping then head to these Shopping malls in Ahmedabad CG road and buy stunning items. Don't expect traditional clothes at this place as most of the malls are selling western dresses here.
Timings: 11:00 am to 10:00 pm
Address: Bapu Nagar, Sattar Taluka Society, Usmanpura, Ahmedabad, Gujarat 380014
Fernandes Bridge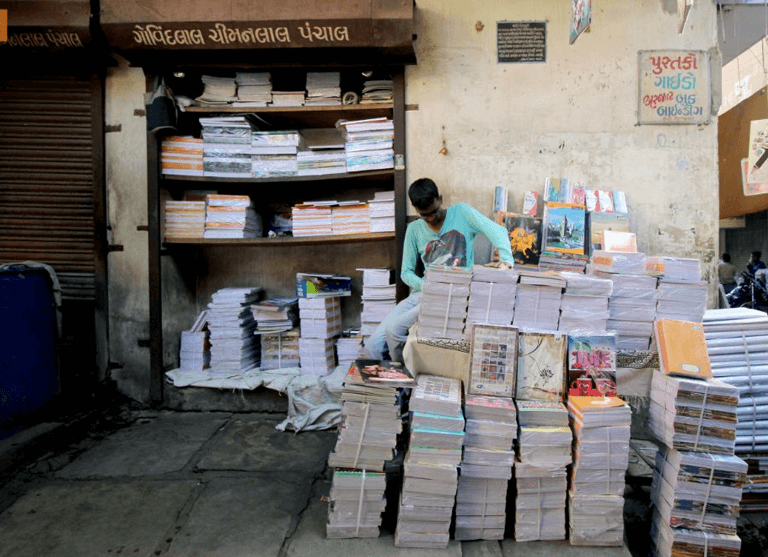 If you are a book lover then you have got a good place to go to Ahmedabad i.e. Fernandes Bridge. It is the best market having a stunning collection of old and new books. You will get every type of book related to competition exam, literature, novel, art, subject book, etc. at a second-hand price. Book lovers will surely love this place to buy second-hand marvels.
Timings: 11:30 am to 10:00 pm
Address: Fernandes Bridge, Tankshal, Khadia, Ahmedabad
Rani no Hajiro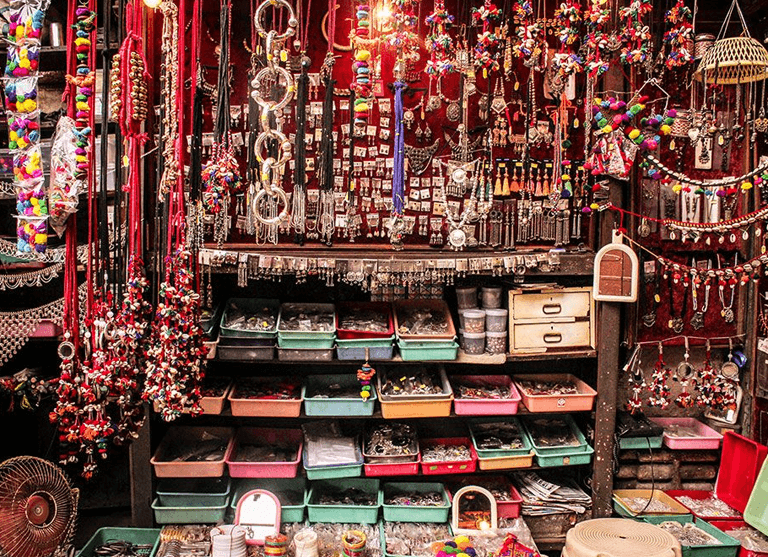 One of the most amazing places to shop in Ahmedabad is Rani no Haziro where you can get all the budgeted items. One can look for intricate jewelry, stunning fabric, wonderful dresses, and other souvenirs to take back home. If you are longing for street shopping in Ahmedabad then don't delay your visit to Rani no Hajiro. Basically, its a tomb of Ahmed Shah's queens where the marketplace has been surrounded over the years.
Timings: 11:00 am to 10: 30 pm
Address: Gandhi Road, Manek Chowk, Khadia, Ahmedabad
Sindhi Market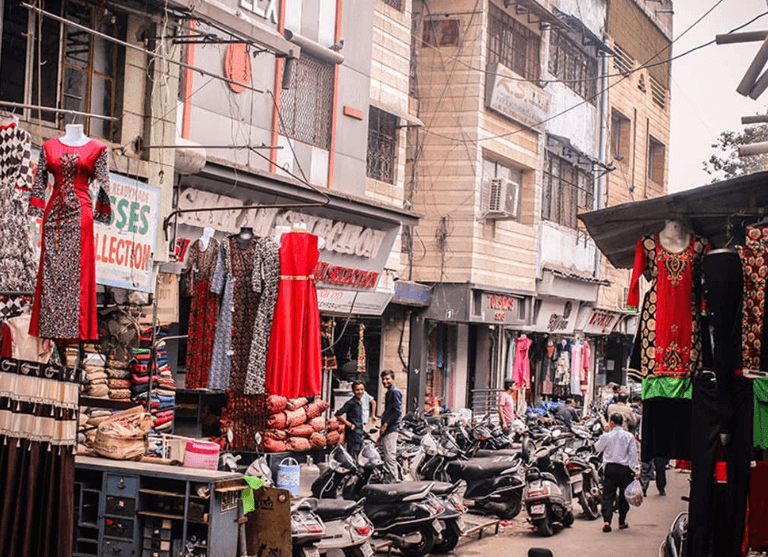 Sindhi Market Ahmedabad is another place in the city for cheap shopping. Things like bed sheets, sarees, dress materials, handicrafts, and artificial jewelry are sold at this place. In fact, your shopping will be incomplete if you don't explore this market as it offers an amazing collection of traditional footwear, handbags, dress materials, handicrafts, etc. You can buy some best elegant carpets and textile products too!
Timings: 11:00 am to 10:00 pm
Address: Sindhi Market, Revdi Bazar, Kalupur, Ahmedabad
You can make a list of your shopping items and then visit the market accordingly. Ahmedabad has a variety of shopping markets including retail, wholesale, supermarket including some markets that are specially dedicated to a single product. Don't wait for more, plan your voyage to Ahmedabad, and also book budget hotels in advance for a wonderful stay.