Kashmir is not just a place but an emotion that every person wants to experience. The surreal beauty of this gorgeous paradise has been defined by several poets, authors and philosophers. The beauty of the Kashmir Valley is beyond description but yet many celebrities have tried to quote beauty of Kashmir in words. With the gushing rivers, shiny waterfalls, picturesque surroundings and the lush green forests,ithas always appealed tourists despite many Kashmir issues. The Amir Khusro famous quote on Kashmir"Gar Bar-ru-e-ZaminAst; HaminAst, HaminAstHaminAst." has justified the splendor of this place in the most perfect way. Many quotes on Kashmir beauty and many quotes on Kashmir issues have been written that suggest how people feel about this stunning destination. Here below are some emotional and popular quotes on Kashmir that portray the exact picture of this destination.
First of all, explore the famous quotes on the beauty of Kashmir by celebrities.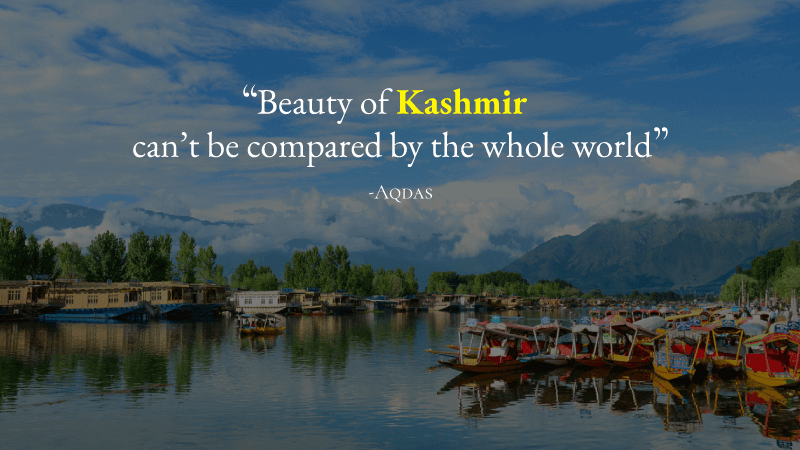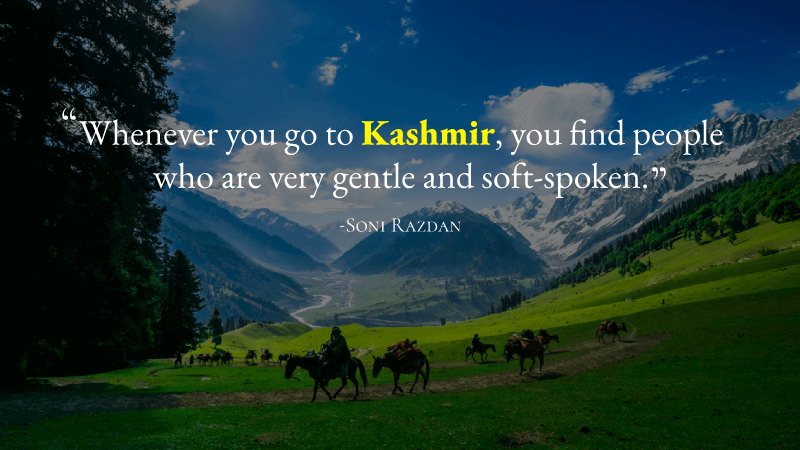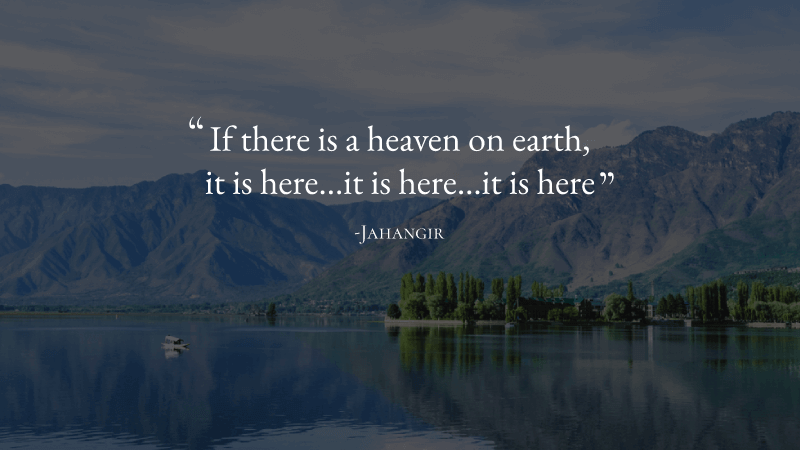 Read Some Famous Quotes on Kashmir in Hindi.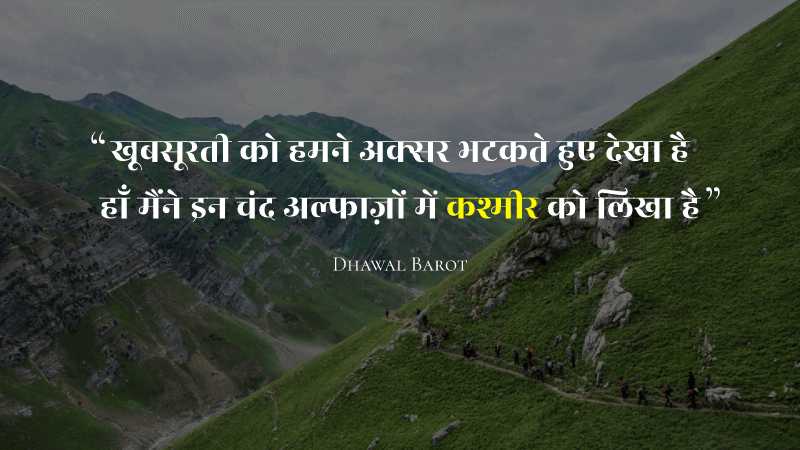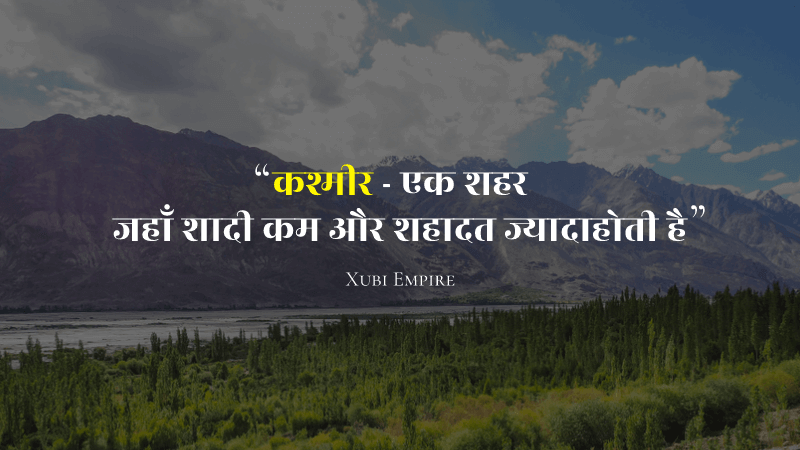 Above mentioned excerpts on Kashmir have been created bysome celebrities or philosophers. Read the below written emotional and beautiful quotes on Kashmir that are not carved by any famous personality but created personally to define itsglory.
"With the sound of gushing water, aroma of pine trees, the vibrancy of saffron, rise of azaan and an unfathomable calling, Kashmir surprises everyone." #KashmirQuotes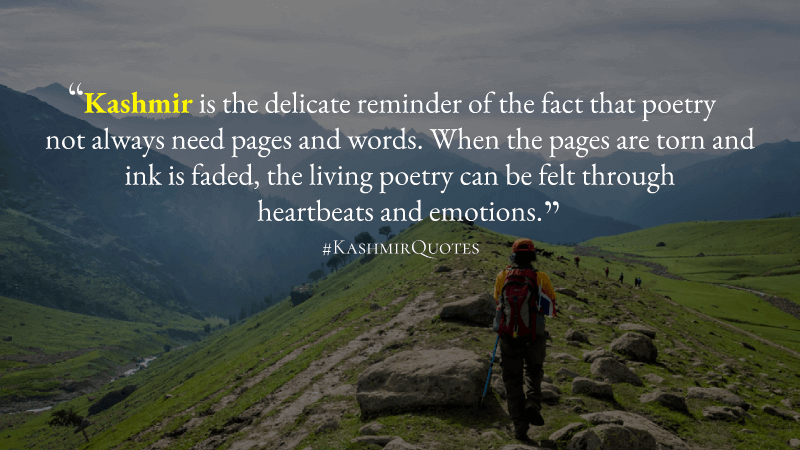 "Kashmir is the delicate reminder of the fact that poetry not always need pages and words. When the pages are torn and ink is faded, the living poetry can be felt through heartbeats and emotions." #KashmirQuotes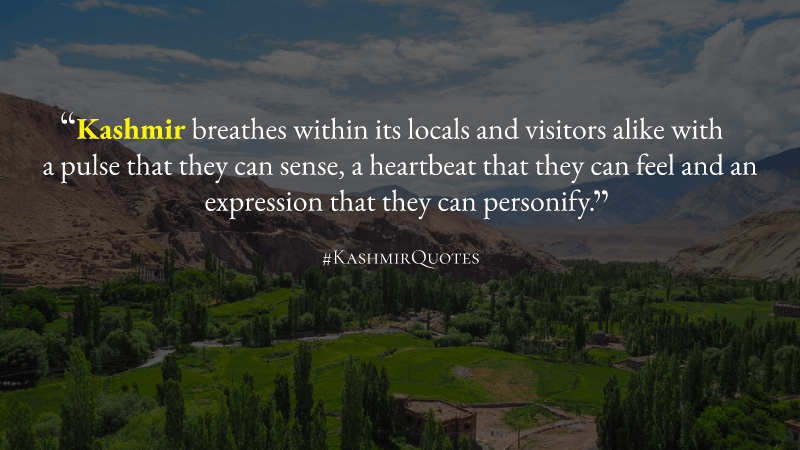 "Kashmir breatheswithin its locals and visitors alike with a pulse that they can sense, a heartbeat that they can feel and an expression that they can personify."#KashmirQuotes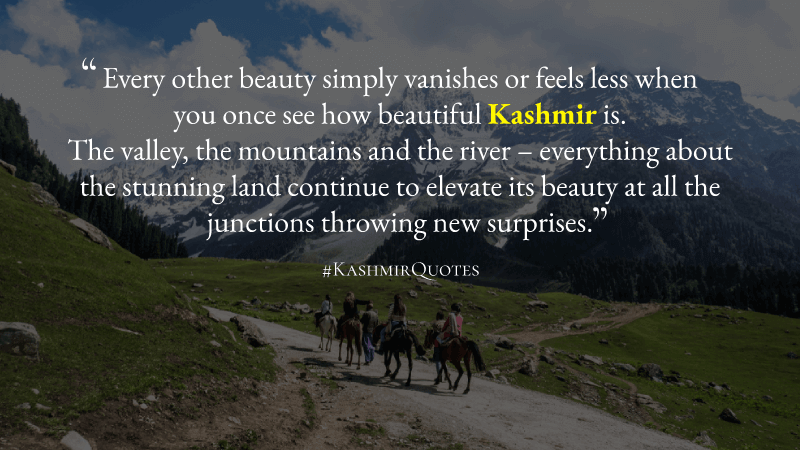 "Every other beauty simply vanishesor feels less when youonce see how beautiful Kashmir is. The valley, the mountains and the river – everything about the stunning land continue to elevate its beauty at all the junctionsthrowing new surprises."#KashmirQuotes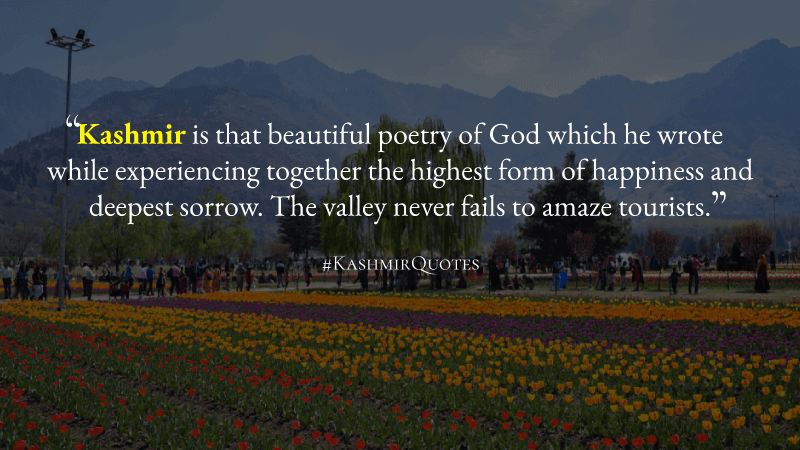 "Kashmir is that beautiful poetry of God which he wrote while experiencing together the highest form of happiness and deepest sorrow. The valley never fails to amaze tourists" #KashmirQuotes