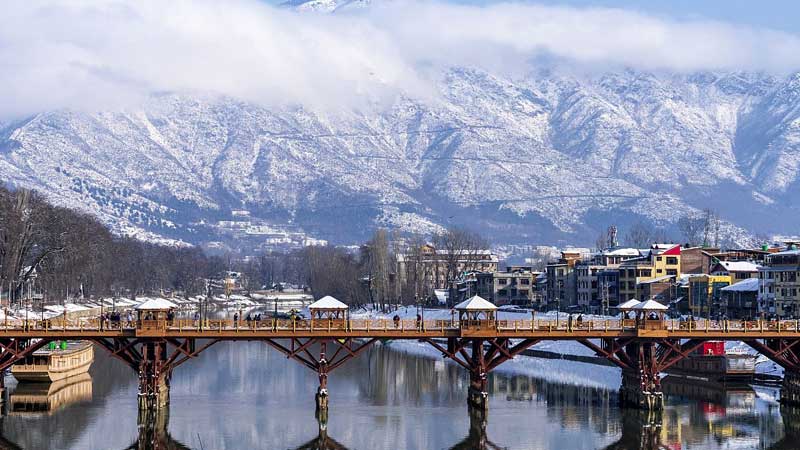 Image: Source
Are you very much confounded about your Honeymoon destination? Are you living in India but never seen Heaven on the Earth? Well, without puzzling you anymore, we suggest you to visit Kashmir Valley on your honeymoon as it is the most beautiful, enchanting and perfect destination for honeymoon couples. This place is the sheer hub of breathtaking mountains, impressive lakes, dense forests, grasslands and activities like trout fishing, rafting, boating, trekking and snowboarding, etc. The water houseboats are another major attraction in Kashmir where you can stay during your honeymoon to experience a unique lifestyle.
There are many enchanting places in Kashmir where you can have an awesome time with your partner and make some unforgettable memories. From water to snow, garden to forest, and temples to historical monuments, Kashmir has everything for you. Plan your honeymoon in this ideal destination and feel the real paradise on Earth.
Gulmarg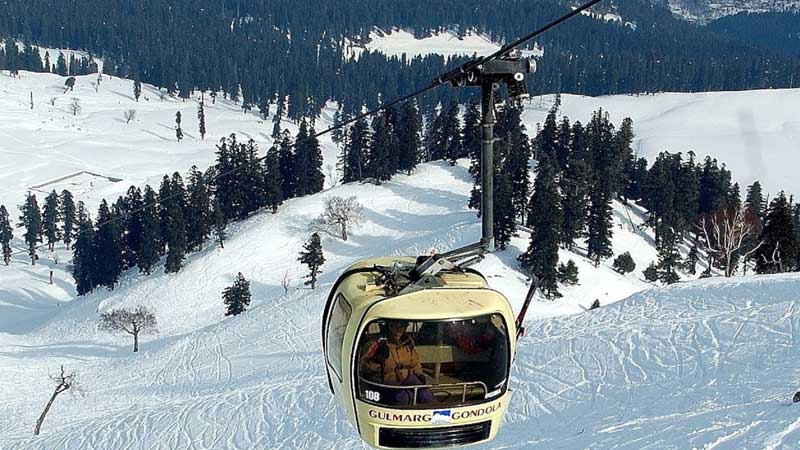 Image: Source
It is one of the most enchanting places of Kashmir that is popular for skiing activity. The green meadows and lush greenery during summers and snow-capped mountains with frozen lakes in winters offer breath taking views of this beautiful spot. Gondola Gulmarg is the perfect place for honeymoon couples to spend some quality time together. Other than this, the place is popular for activities like golfing, snowboarding, trekking, fishing, mountain biking, and skiing that is loved by every tourist. If you are a nature lover then you will surely love the splendid landscape at this place. Gulmarg for Honeymoon is the finest location where you can spend golden hours together.
Also Read: Popular Tourist Attractions and Sightseeing in Gulmarg
Pahalgam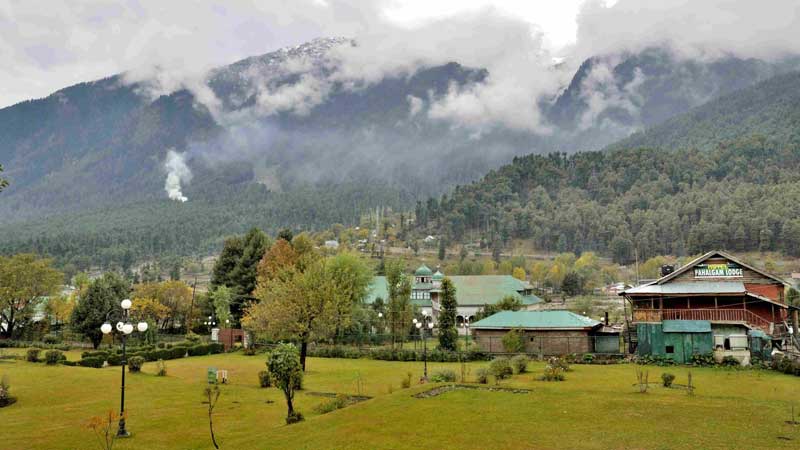 Image: Source
It is the most beautiful hill station in India where couples can enjoy the romantic vibes amidst Aru Valley & Betaab Valley. This place offers a marvelous view of green meadows and lush greenery where mountains are also seen providing a mesmerizing landscape. Places like Tullain Lake, Betaab Valley, Aru Valley, Baisaran and Shesh and are some of the hot spots of Pahalgam. You can have the best time with your partner at such a splendid place. Activities like water rafting, horse riding, canoeing, and trekking are very famous at this tourist spot.
Srinagar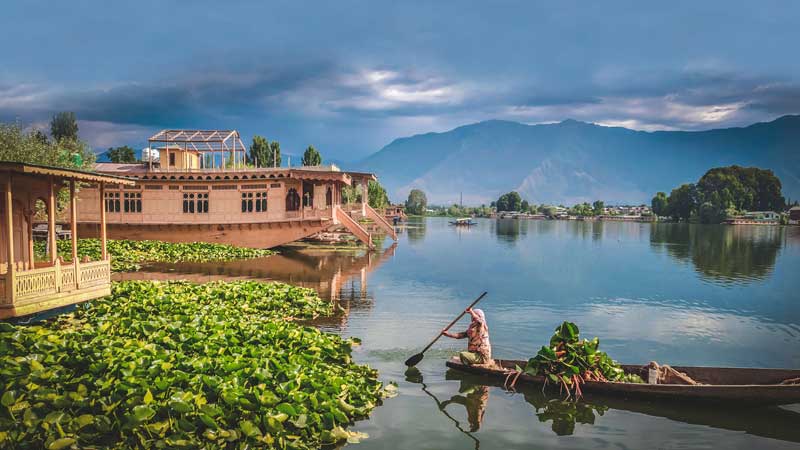 Image: Source
Sitting on the banks of Jhelum River, enjoying the most stunning view of nature or taking a ride on the whimsical Shikaras on one of the famous Dal Lake or Nageen Lake, trekking the famous points of Srinagar and witnessing the marvelous Hazratbal Mosque, there are so much to do in Srinagar.You can't stop yourself without trying everything. Visiting Shalimar Bagh, Shankaracharya Temple, Jama Masjid, Pari Mahal, Tulip Garden, Apple Orchards and watching migratory birds in Dachigam Wildlife Sanctuary will complete your trip to Srinagar. Take a romantic walk in the Mughal Garden and feel the romantic vibes while performing full moon Shikhara Ride to make your honeymoon more romantic.
Also Read: Famous Hindu Temples in Srinagar
Jammu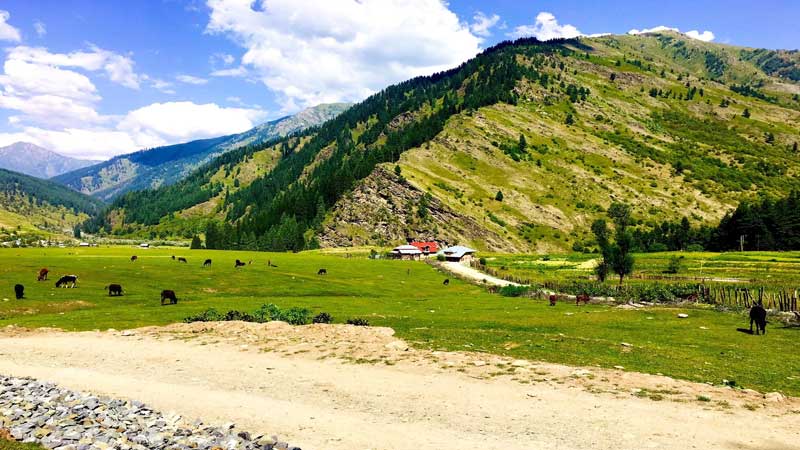 Image: Source
Jammu is widely popular for the religious spot including Mata Vaishno Devi Temple, Ranbireshwar Temple, Peer Baba, Raghunath Temple, and Peer Khoh that spreads tranquil feeling in the whole space. If you are visiting Jammu on your honeymoon then don't neglect the famous Nandini Wildlife Sanctuary and Bahu Fort. There are many shopping markets in Jammu where you can buy souvenirs. Overall, you can spend a good time in Jammu on your honeymoon and book online train tickets.
Also Read: Sought-After Historical Monuments in Jammu & Kashmir
Sonmarg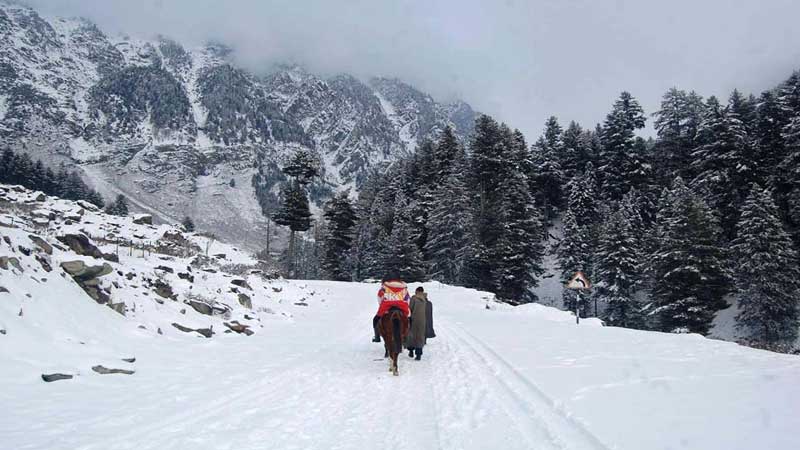 Image: Source
Sonmarg is one of the best places for honeymoon couples who are interested in exploring nature with trout fishing. Sonmarg is blessed with pristine lakes like Krishnasar, Gangabal, Gadsar and Vishansar Lake that offer breathtaking views from the top of the meadows. The sparkling green water view of these lakes should not miss by any honeymoon couple as it offers a wonderful view. The Nilagard stream that meets the Sind River also offers an amazing view that should not be missed when being to Sonmarg. Spend a good time with your partner by exploring exquisite green water and frozen lakes by trekking down to Baltal Valley in Sonmarg.
Patnitop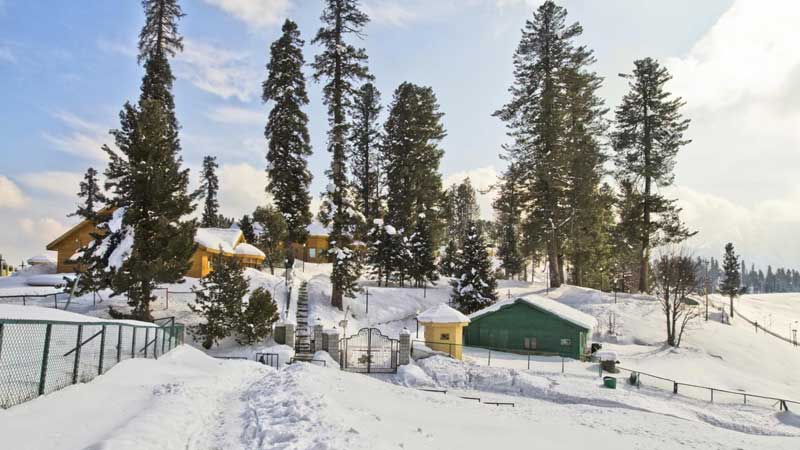 Image: Source
The best time to visit in Patnitop is winter as it offers multiple options to indulge in snow activities and games. This beautiful hill station is popular for Skiing activity and the scenic beauty of the snow-capped mountains during winters. In summers, this attractive place is encircled by dense forests; natural beauty and flourishing green landscapes that together make this place a popular tourist destination. You can visit the 9-hole golf course, Sudh Mahadev shrine, and three popular springs of Patnitop that said to have medicinal properties. If you and your partner are adventure lovers then go on an amazing trekking option near Patnitop and enjoy your honeymoon trip to this beautiful place.
Ladakh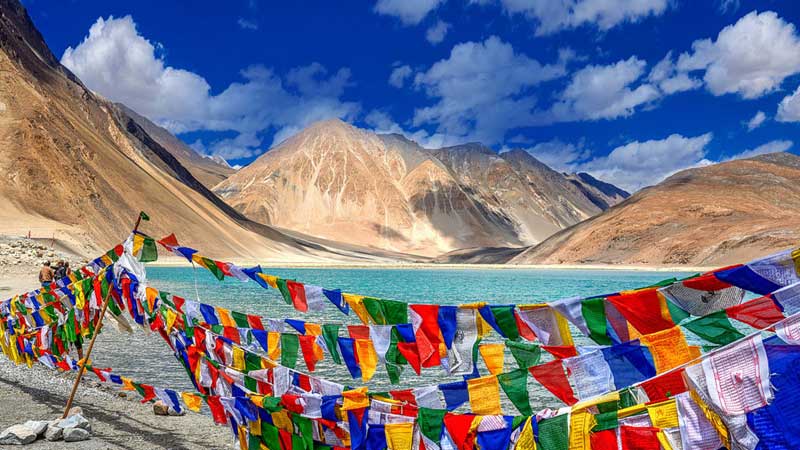 Image: Source
Ladakh is one of the fascinating destinations that you can visit in Jammu and Kashmir. It is mostly popular for solo and group trips where tourists enjoy solo time amidst Himalaya, Pristine lakes, the Zanskar valley, the sun-kissed peaks and the night full of stars. Places like Pangong Lake, Hemis Monastery, Leh Market, Nubra Valley, Zanskar Valley and Tso Moriri Lake are some of the best places to visit on honeymoon in Ladakh. The lakes in Ladakh are the major attraction for the newly married couples. This is one of those places where no amount of time can ever be enough. Also, it is considered to be the best honeymoon places in India.
Akhnoor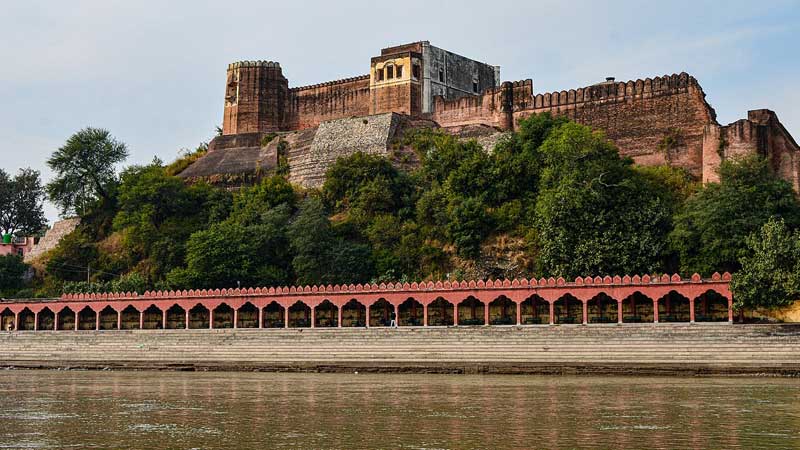 Image: Source
Akhnoor is a beautiful town of Jammu state that is located in the lap of the Himalayas and attract a large number of tourists every month from different parts of the world. The pristine Chenab River with adense park nearby can make your evening more amazing at this beautiful place. You must take a tour to Akhnoor Fort, Bagh-e-Bahu garden and Raghunath Temple at this beautiful destination with your partner.
Yousmarg
Image: Source
Most people might not know about Yousmarg that is a small hill station in the Badgam district of Kashmir. This place is exactly what most of the people dream about. The serene Himalayan ranges and lush green meadows of pine and fir, Youmarg in Kashmir is an abundance of beauty. Here, the beauty of nature can be seen everywhere that can be felt at every step in the way to Trata Kutti and Sang Safed. You and your partner will fall in love with the lakes of Youmarg where you will see snow part flowing in the streams. This mesmerizing view makes the place even more attractive in summers.
Bhaderwah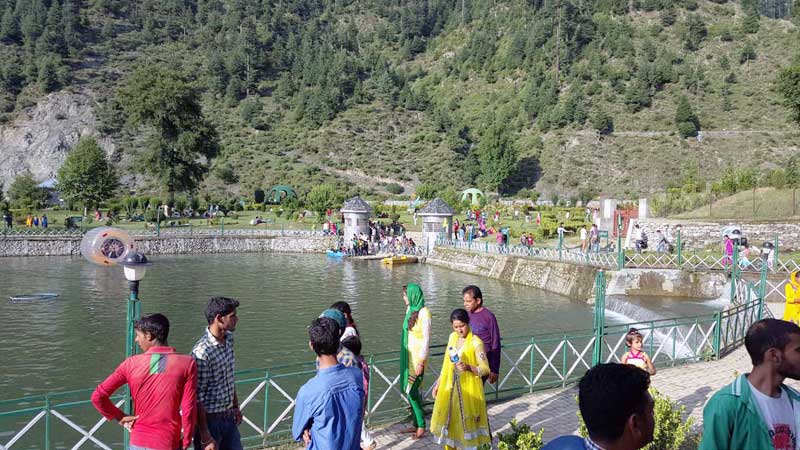 Image: Source
Commonly popular as Mini Kashmir, Bhaderwah is located in the foothills of the Himalaya Mountains. If you are visiting this hot spot in summer season then you can experience the real paradise on the earth that is marked with lush green landscape with boundless grasslands, a variety of flora and fauna, sparkling lakes, dense forest, rocky terrain and unblemished valleys, the place offers an abundance of wonders for the honeymoon couple. Places like Chinta Valley, Padri, Jai Valley, Seoj Meadow, and Bhal Padri are major attractions in Bhaderwah that should not be missed during your trip to this amazing place.
Nubra Valley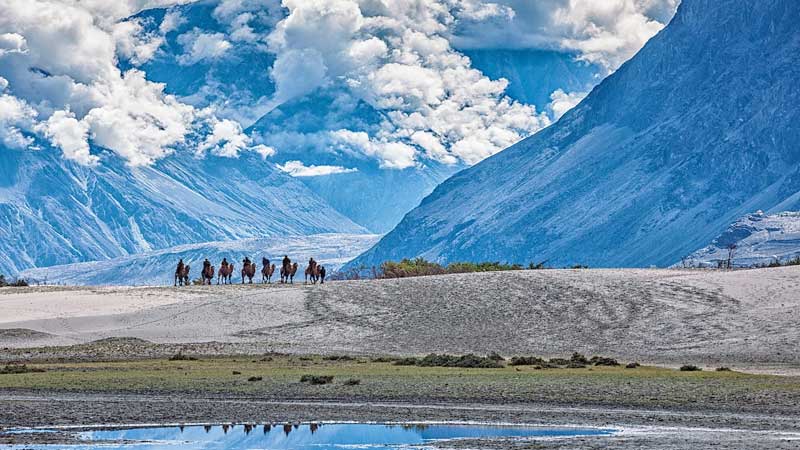 Image: Source
One not to be missed place is Nubra valley that you can explore on a trip to Jammu & Kashmir. Couples who love to be little sporty can visit this charming place providing the extreme beautiful scenic beauty. Take a camel ride amidst magnetic sand dunes, visit Yarab Tso Lake and don't forget to explore Maitreya Buddha statue and monasteries to complete your itinerary to Kashmir Valley. The breathtaking views of Nubra Valley can be enjoyed between July and September.
Lamayuru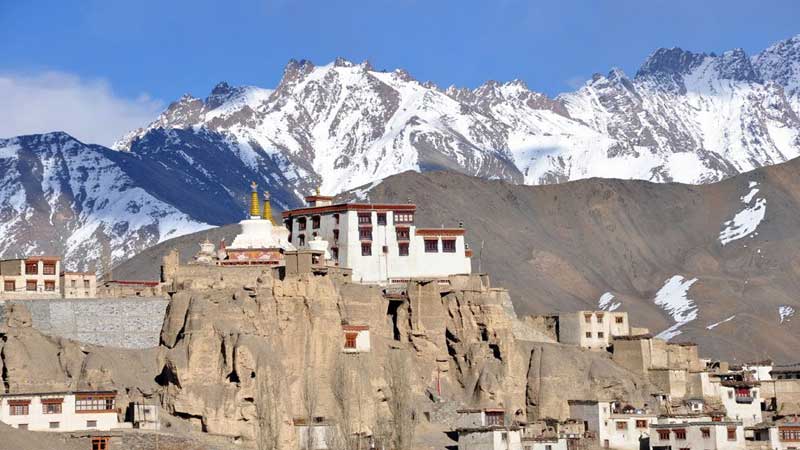 Image: Source
Lamayuru is popularly named as the Moonland of Ladakh and also known for its biggest and the largest monasteries in Ladakh. Tourists from various places visit this beautiful destination to explore Lamayuru Monastery that consists of a large collection of ancient Buddhist murals, texts and figures on display. Another major attraction is MoonLand where you can enjoy the breathtaking landscape views, monks, beautiful villages and picturesque views.
The Kashmir Valley is beautiful from every aspect and offers a great wonder of nature. The beauty and glamour that Kashmir holds for the tourists cannot be compared to any other place on this planet. It is a perfect place for every honeymoon couple to explore and admire nature's beauty, to walk hand in hand on the banks of the pristine lakes and indulge in different adventure activities. Plan a perfect Honeymoon to Kashmir by booking flight Tickets at EaseMyTrip and start collecting precious memories.