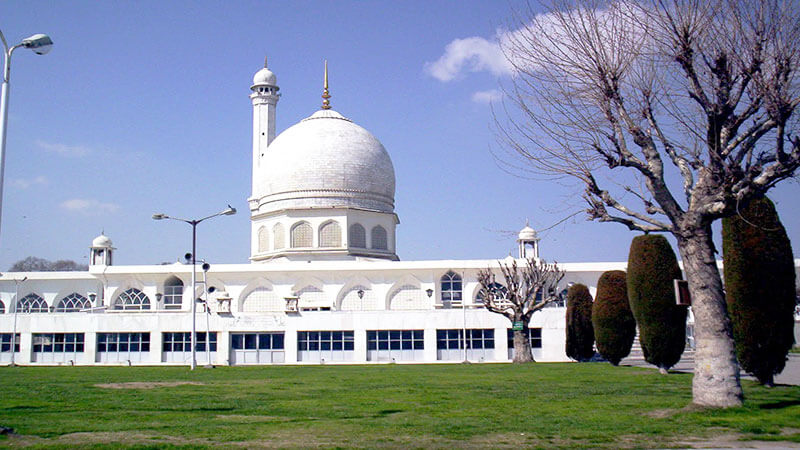 Image: Source
The ancient Sculptures and Monuments hold an utmost National significance for the historical backdrop of India. These landmarks speak to the most beautiful Indian art and culture that must be kept up dependably. On the off chance that you are packing your bags to Kashmir and love to explore the history of every place then there are numerous historical sites that you can visit during your voyage. Also, you can plan a luxurious stay at EaseMyTrip Hotels during an excursion to this amazing land.
Monuments of National Significance like Pari Mahal, Mubarak Mandi Palace, Poonch Fort, and Akhnoor fort are loaded with astonishments including Islamic architecture, erotic garden, well-maintained carvings, and water pools that make these monuments a perfect picnic spot for the visitors. Located amidst natural beauty, these majestic sculptures offer an outstanding view of Valley. In this article, you will get to know about must-see historical monuments in Jammu and Kashmir that will add a unique experience in your itinerary.
Popular Heritage places in Jammu and Kashmir
Hari Parbat Fort-Srinagar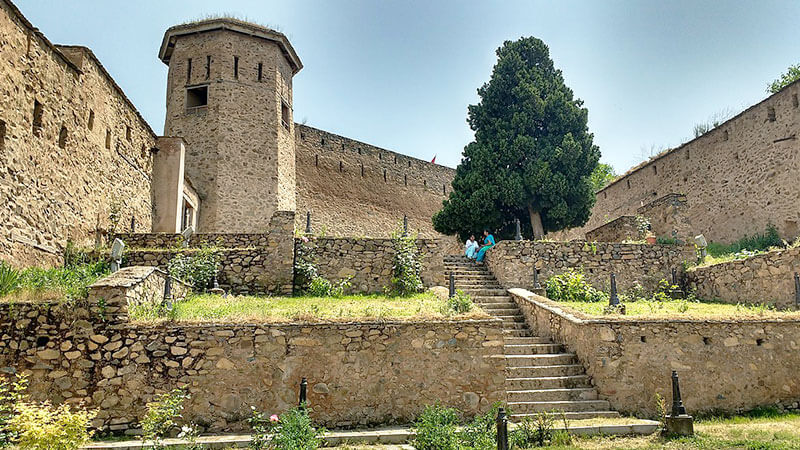 Image: Source
It is one of the popular monuments in Srinagar where not a single tourist wants to miss their visit. The fort is visible from everywhere in Srinagar city. This structure is famous for its breathtaking surroundings enclosed by dense forests, erotic gardens and luxuriant plains. Hari Parbat is also a pilgrimage site for Sarika Devi devotes and that's why it is mostly visited by tourists every year. Appreciate the mesmerizing hill lies in lush greenery and a clean atmosphere that offers a perfect sight for the shutterbugs and nature lovers. The panoramic views of Srinagar city can be explored by the hilltop of Hari Parbat. It can be visited anytime during a year.
Leh Palace-Ladakh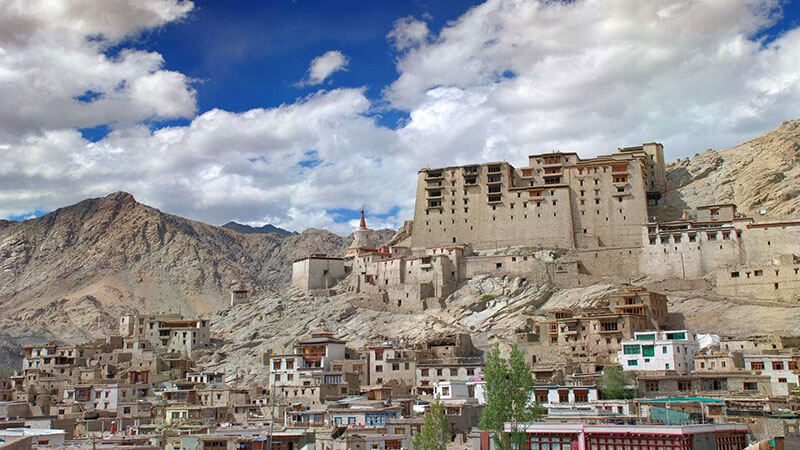 Image: Source
The Leh Palace is prevalent as 'Lhachen Palkhar' and it is the impeccable example of medieval Tibetan architecture. One can enjoy the outstanding panoramic views of Ladakh Mountains and Stok Kangri along with its serene surroundings. At present, the place is in a dilapidated condition but you can still enjoy the artifacts stored in the museum of this majestic building. The whole castle is built of stones, sand, wood, and mud. The grand entrance of this palace is garland by wood carved figurines. This is one of the real vacation spots in Leh-Ladakh where people come to see old paintings, Tibetan architecture and the museum where a rich collection of crowns, jewelry, and ceremonial dresses have been stored. Enjoy the ravishing view of the palace at night when full moon spread its white rays on it.
Mubarak Mandi Palace-Jammu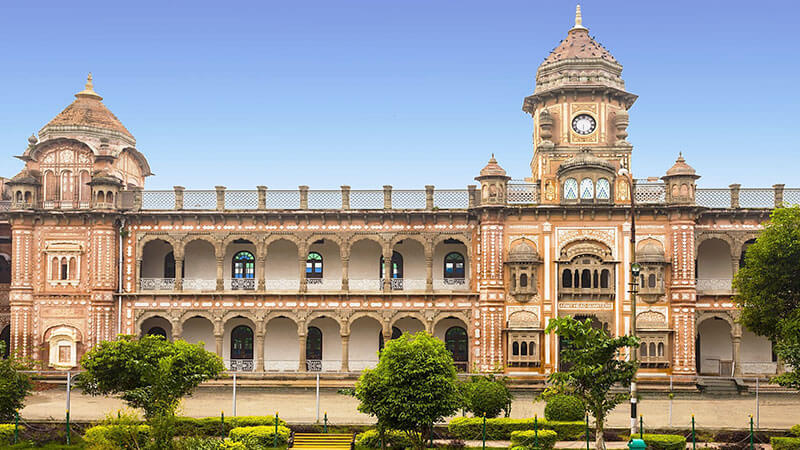 Image: Source
It is one of the most attractive tourist destinations which were once a royal residence of Dogra King. It is one of the noteworthy heritage places in Jammu that indicates the 160 years old history. The architecture of this Palace is a perfect amalgamation of Rajasthani architecture, Mughal styles and European Baroque. Its complex consists of multiple buildings and palaces like Royal Courts, Gol Ghar Complex, Rani Charak Palace, Hawa Mahal, Pink Palace, Sheesh Mahal, etc. Don't forget to visit Dogra Art Museum which is another major highlight located within the Pink Hall of this structure where you can see a rich collection of old paintings, a miniature of Jammu and Kangra, arrow of Mughals, etc.
Pari Mahal-Srinagar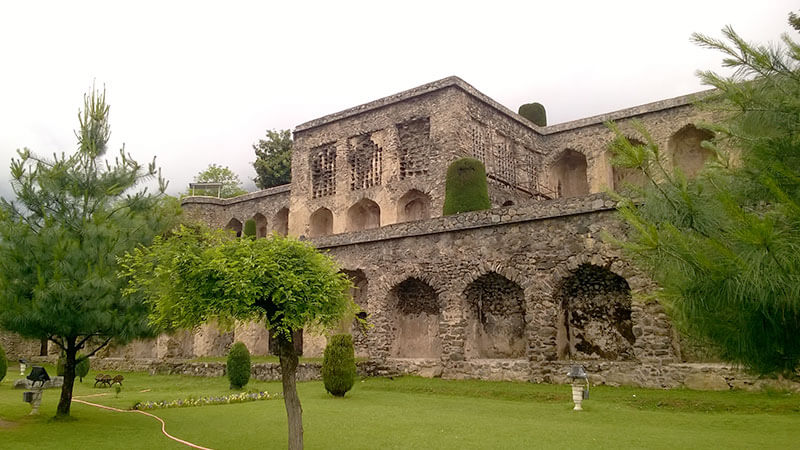 Image: Source
Situated at the top of Zabarwan mountain range, Pari Mahal is also known as The Palace of Fairies. It is one of the famous monuments of Jammu and Kashmir where a terraced garden surrounds the Pari Mahal offering the most captivating views of it. It is the perfect example of Islamic Architecture that holds the ancient beauty of Kashmir region. The stunning view of Dal Lake and the beautiful city of Srinagar is enjoyed from the top of Pari Mahal. The architecture enthusiasts visit this structure frequently that provides a treat for sore eyes. The garden that surrounds the Pari Mahal is having numerous colorful flowers that offer exotic feeling and a sweet smell in the whole environment. The nature lovers will defiantly love this fascinating palace.
Poonch Fort- Jammu & Kashmir
Image: Source
Another magnificent landmark in the rundown of Historical places and monuments in Jammu and Kashmir is Poonch Fort. This is a standout amongst the most attractive forts to visit by Indian as well as foreign tourists. This is one of those places where Mughal architecture in Kashmir can be viewed. The fort is having a series of buildings that are arrayed around four irregular courtyards. These splendid structures are a complete blend of Muslim, Sikh and Dogra rule where you can see a main building in Mughal architecture style, central block in Sikh Architectural style and a rough front block designed in European. One must visit this place while having a tour to Kashmir Valley.
Bahu Fort-Jammu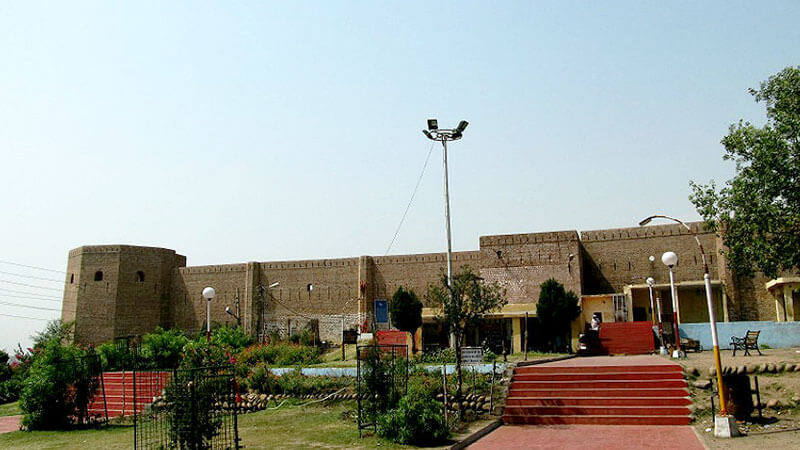 Image: Source
Jammu & Kashmir is referred as Paradise on Earth, the flawless beauty and the magnificence of the Bahu Fort is surely an addition to it. Located on the left bank of the Tawi River, this is one of the antiquated and monuments of Jammu and Kashmir. There is a temple of Hindu Goddess Kali within this fort where people come to have a peaceful inclination. The local of this place often called this temple as Bave Wali Mata Temple. The enclosing dense forests are now converted into a park popularly named as 'Bagh-e-Bahu". The numbers of visitors are increasing months by months due to an attractive garden and shrine.
Akhnoor Fort-Jammu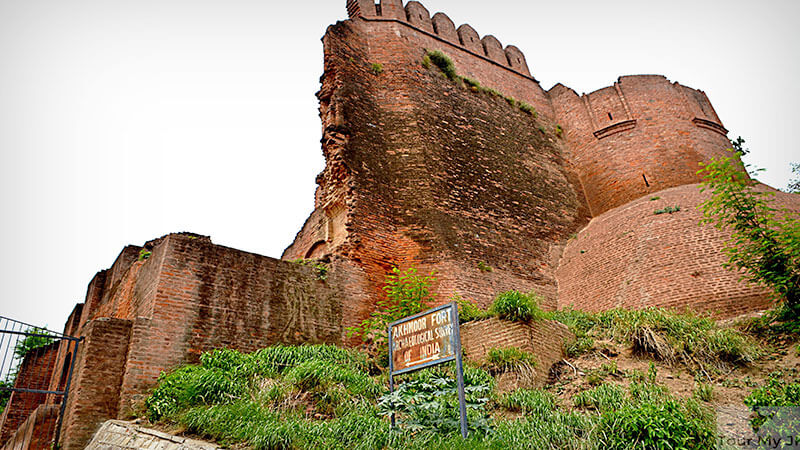 Image: Source
Located 32 km from Jammu, the beauty of Akhnoor fort is simply ineffable. This charming fort is located on the banks of Chenab River and represents the Akhnoor Town's history. You will admire the Vernacular architecture of Kashmir when you will profoundly explore it from inside. The strong and thick walls with two-storeyed watchtowers and the monarch of the fort are beautifully crafted that will leave you stun. The courtyard's walls are decked with graceful arches and also there are beautiful mural paintings that enhance the grace of this fort. The breathtaking views of the Shivalik range and the Trikuta Mountains with flowing stream downside should be missed form Akhnoor Fort. This ancient monuments of Kashmir is a must visit place in Jammu.
Martand Sun Temple-Jammu & Kashmir
Image: Source
This religious shrine is dedicated to Lord Surya that is also known as prominent Monuments in Srinagar. This spectacular shrine is located in Anantnag and has a beautiful architecture. Every tourist must visit this temple to see the most elegant structure in India. Take a walk in the courtyard of shrine to notice the brilliantly fused designed, carvings on the stones and experience the positive vibe of the environment. At present, the temple is in ruins but it doesn't affect the mesmerizing structure and many Bollywood movies like Haider, Aandhi and others have been shot here. Whenever you tour Kashmir, take a visit to this peaceful place and relish the tranquility of the temple. It is the perfect symbol of Kashmiri architecture that blends the Chinese, Roman, Greek, Gandharan and Syrian-Byzantine forms of architecture.
Amar Mahal Palace-Jammu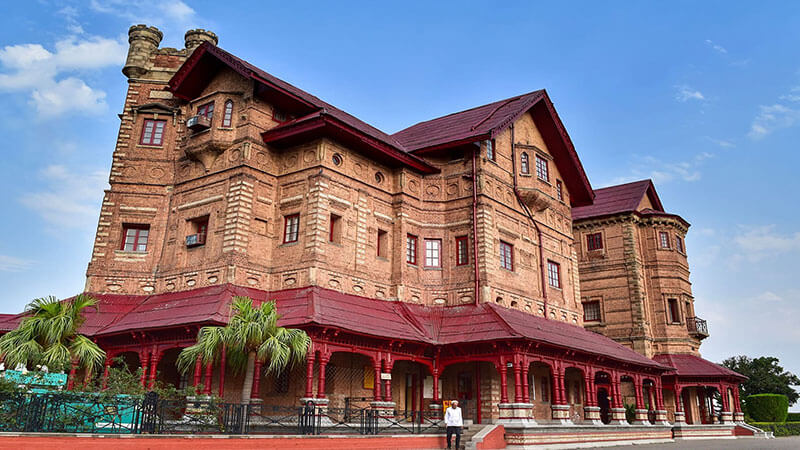 Image: Source
The Amar Mahal Palace is now converted into a museum where you can see golden throne, Pahari miniature & Kangra miniature paintings, thousands of antique books and many art collections. This Heritage places in Jammu is crafted with magnificent red sandstones located amidst the Shivaliks and Tawi River that offers breathtaking views and the soothing sound of the river to your ears. It was built for Dogra King-Raja Amar Singh in the late nineteenth century. Located amidst lush green spaces the beautification of this magnificent palace is adored by every single tourist.
Bhimgarh Fort-Jammu
Image: Source
Historical asserts like Bhimgarh Fort is another addition of Sculptures of Jammu and Kashmir that is located in Reasi. At first, the Fort was constructed with mud/clay that wash later on reconstructed using stone by Maharaja Rishipal Rana. The alluring grand entrance and stone walls were later on added by the King Gulab Singh. The surroundings of the fort were given grace with the constructions of erotic gardens and pathways. These structures also have an attractive water body and a peaceful temple inside that is worth seeing.
Plan your tour to Kashmir valley to explore all these ancient monuments of Jammu & Kashmir. These landmarks indicate different history, represent the most beautiful Indian architecture and offer an exquisite view of gardens & mountains. Book your train tickets to Kashmir and pack your bag for a beautiful itinerary.