The God chose its own country in the form of Kerala for several reasons and its quintessential beauty is one of them. If you are planning for a spiritual retreat, book your Kerala flight tickets now as the famous temples in Kerala will fill you with lots of positivity and spirituality. This wonderful place is a beacon for devotees who are in search of some peace. Apart from the beaches and backwaters in Kerala, the pristine temples will make you feel the essence of the almighty right in the land of warrior sage Parasurama. Kerala is loaded with legends and tales which depict its glorious history and as old as 2000 years old Kerala temples are the evidence of its fidelity. Here is the list of famous temples in Kerala which should be marked on your next spiritual and religious tour to the God's own country.
Sree Padmanabhaswamy Temple, Thiruvananthapuram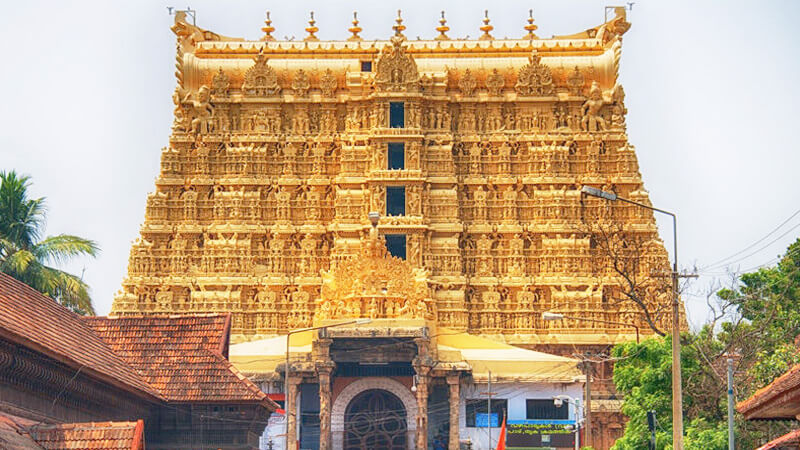 Image: Source
Sree Padmanabhawamy Temple is one of the most famous temples in Kerala which dates back to the 8th century. This alluring temple is nestled in the East Fort in Trivandrum and dedicated to the deity Vishnu. As per the legends, presence of this rustic temple is mentioned in holy Hindu scriptures like Skanda Purana and Padma Purana. Even the city of Thiruvanantahpuram is said to be named after the main deity worshipped (Anantha) here in this pristine temple. This slice of paradise is soaked in intricate Dravidian architecture style. Inside the temple, there is an idol of Lord Vishnu reclining on Anantha, the hooded serpent.
Sabarimala Sastha Temple, Pathanamthitta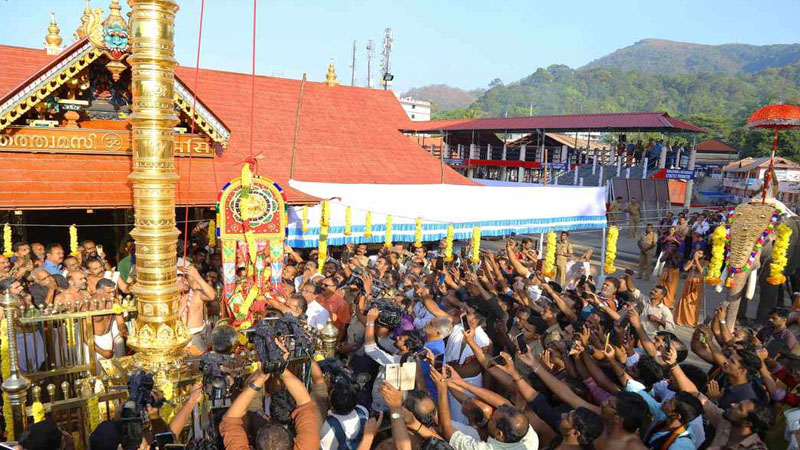 Image: Source
Sabarimala Sastha Temple nestled near Periyar Tiger Reserve is amongst most famous temples in Kerala. This pristine temple is always loaded with hundred of devotees. It is said that every year Sabarimala Temple receives around 50 million visitors from all around the world. The pilgrimage performed at Sabarimala is sacred with unbreakable belief of the devotees. The ones who are performing the pilgrimage to Sabarimala wears blue or black dress along with Chandan and have to stay unshaven till the end of pilgrimage. According to legends, Hindu God Ayyapan meditated for a long time here in Sabarimala Temple after killing demoness Mahishi.
Attukal Bhagavathy Temple, Thiruvananthapuram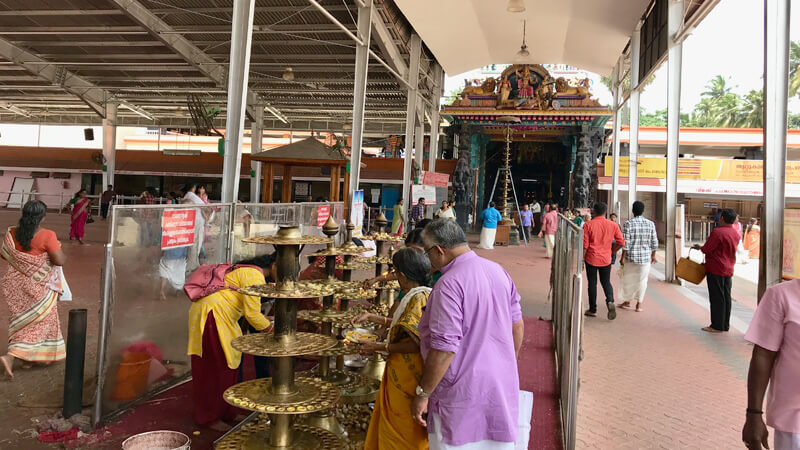 Image: Source
Attukal Bhagavathy Temple is another gem Kerala is beaded with. It is just 2 km away from the Sree Padmanabhaswamy Temple and cynosure for the devotees of Goddess Kannaki (incarnation of Goddess Parvati). It is believed that Goddess Kannaki is the supreme power and mother who has created all the living beings. Attukal Temple is one the Kerala temples which holds a ripping Guinness World Record of singe largest gathering of women for religious activities. If you are coming for a Thiruvananthapuram religious tour, do not miss the chance to submerge in the quietness and peacefulness of this pristine temple.
Ambalapuzha Sree Krishna Temple, Ambalapuzha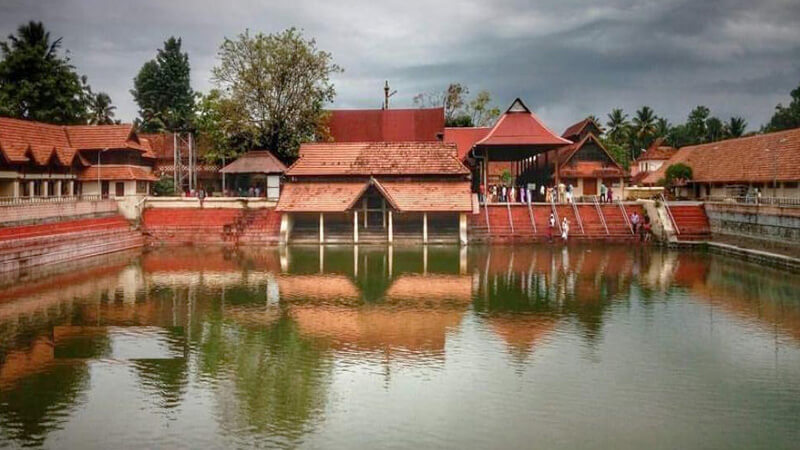 Image: Source
Ambalapuzha Sree Krishna Temple is one of the most famous temples in Kerala which devoted to Lord Krishna. This temple is a bit special for all the Krishna devotees as they come here to worship Unni Krishna which is the child form of Krishna. Every day Palpayassam is served in this temple. There is an interesting legend attached to Palpayassam which is a scrumptious offering. Once Krishna came in the form of a sage to the king of that time and challenged him for the game of chess. Krishna asked the king to pay him rice for each square win and with every next square the number of rice will double. By the 20th chance king realized his kingdom was left with no rice. Lord Krishna gave him an option to feed Palpayassam in his kingdom till the debt is over. This is the reason why the delicious Palpayassam (made with rice and milk) is served every day in this temple.
Chottanikkara Temple, Chottanikkara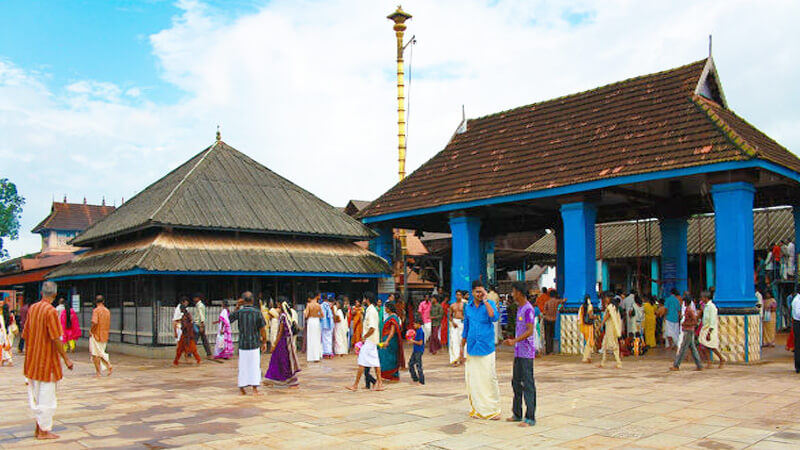 Image: Source
Travelers coming to Kerala for a religious retreat must visit Chottanikkara Temple nestled in Ernakulam district of Kerala. It is one of the most famous Hindu shrines in Kerala where Goddess Bhagwati – Sri Rajarajeswari is worshipped as the main idol of the temple. Devotees come to this temple with belief in its healing powers related to mental illness. There is an iconic tree right outside the temple which is beaten by the head of the devotees in order to cure mental illness.
Guruvayoor Sree Krishan Temple, Guruvayoor
Image: Source
South India is blessed with so many alluring temples and Guruvayoor Sree Krishan Temple is one of the Kerala temple which is very much popular amongst true devotes of Lord Krishna. This temple is titled as Dwarka of South which is nestled in the Thrissur district. As per the legends, this shrine is blessed with healing powers which can cure mental illness. A special kind of offering is made by devotes in this temple in which the devotees are weighed against things like sugar, coconut, banana and jiggery and then it is offered to the deity presiding in the temple. Guruvayoor Sree Krishna Temple is not open for non-Hindu visitors.
Ettumanoor Mahadev Temple, Kottayam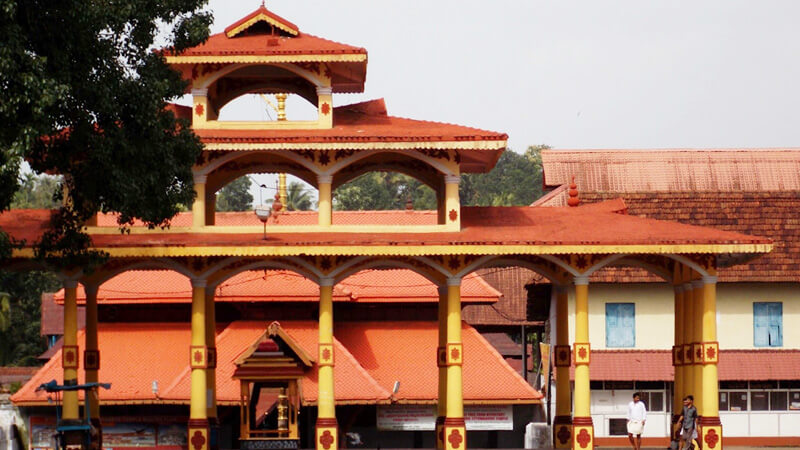 Image: Source
Ettumanoor Mahadev Temple is nestled 12 kilometers away from Kottayam. It is believed that the temple was built in the 16th century. The cynosure of this temple is their unique Ezharaponnan procession which is very famous and coaxes so many visitors to it. There is an annual festival of Ettumanoor Mahadev Temple which is celebrated for 10 days with ample of enthusiasm.
Tali Temple, Kozhikode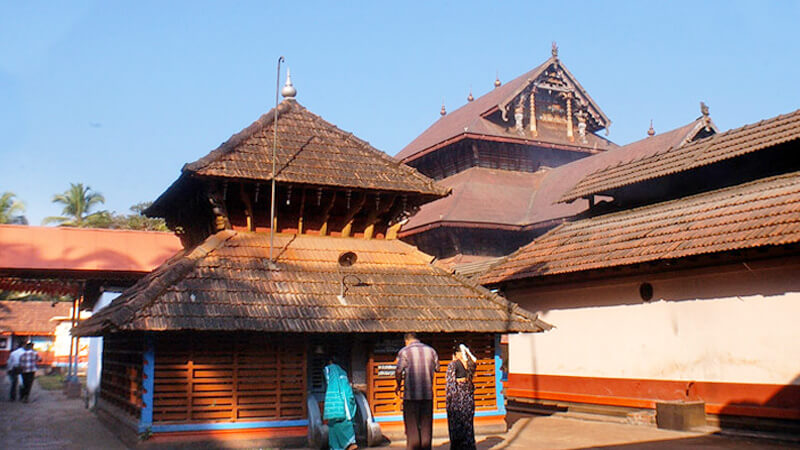 Image: Source
If you are someone who seeks to learn about the history of the prominent places and temples then you must visit this beautiful temple in Kerala which is not cynosure to devotees but also attracts people who thrive on history. This temple was built by the Zamorin King, Swamy Thirumulapad. It is one of the most visited places in Kerala. Tali Shiva Temple is evident of the alluring Kerala architecture beaded with wall paintings and wooden roof carvings.
Book your religious tour to Kerala with EaseMyTrip and get amazing discounts and offers on your booking. EaseMyTrip is the only platform to not charge convenience fee from their customers. Explore these beautiful temples in Kerala with your family and have a wonderful and peaceful time in lap of the almighty.