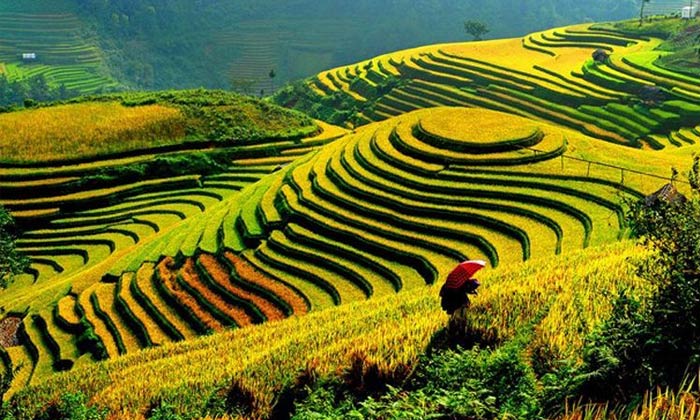 Rice has been a necessity for the people in Asia for centuries. Locals have kept their technique of growing this cereal as their secret and made each grain a precious element for them. Most of the rice fields unfold behind mountains and enjoy wonderful landscapes. There are some rice terraces that remain intact for years and impressed people with their obstinacy while some are recent. These are spread artistically along the sides of the mountains.
Access of these rice terrace fields is difficult and this makes them more mysterious and gives the chance to explore the deep buried traditions, understand the roots of the culture and spend some beautiful moments with the local communities. With this article, explore the most remarkable rice terraces of Asia.
Yuanyang Terraces, Yunnan Province, China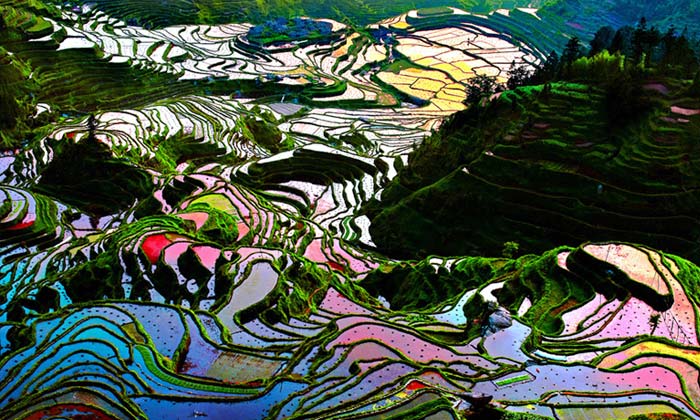 The Yuanyang region is home to the Hami and Yi tribes, who created the monumental rice terraced mountains and have made the region famous. The originality of those communities converted this hilly region into an artistic beauty. Their villages are located between 1300 and 1600 meters above the sea level that makes its access little difficult but highly worth it.
Honghe Hani Rice Terraces, China
Honghe Hani Rice Terraces are questionably the most renowned rice terraces in the world. It has been a photographers' delight and many Instagrammers have used this place on their stories. Honghe Hani Rice Terraces is UNESCO World Heritage site that existed for more than 1,300 years and is spread over 65 square miles.
Sa Pa Terraces, Vietnam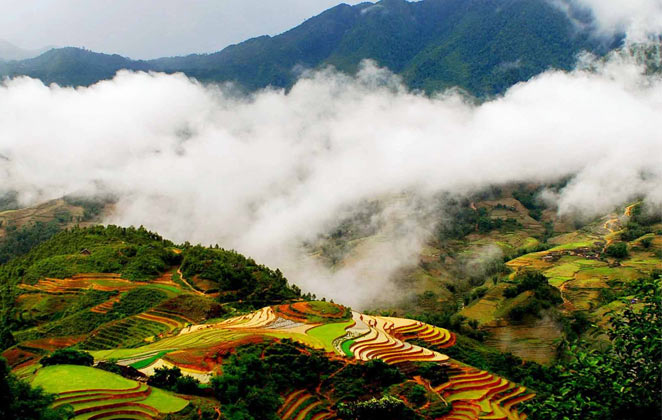 Situated in North West Vietnam, Sa Pa Terraces is one of the most popular tourist attractions of Vietnam. It is the base to begin any kind of trek in the area. This region of Vietnam has a number of local communities like Hmong, Giay, Dao and Tay who dedicatedly grow corn and rice in the fields. The local art craft is also famous for its colors and quality of embroidery. There are lots of traditional markets in the villages around Sa Pa.
Banaue, Philippines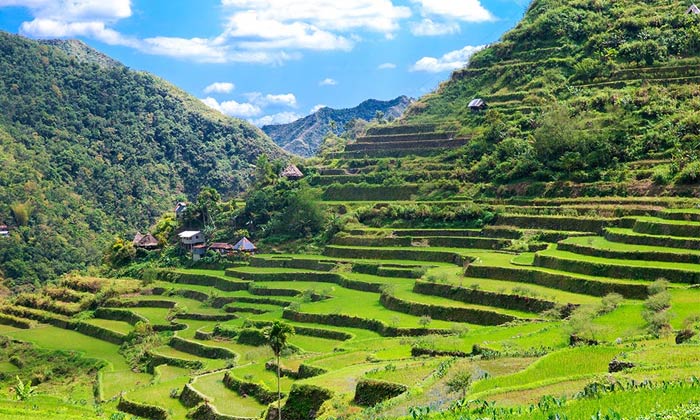 Banaue Rice Terrace is one of the most important UNESCO heritage sites, which is often called as the 8th Wonder of the World by the Philippians. This wonderful natural land is 2000 years old but is threatened by growing tourism. Some local communities have currently abandoned their agricultural jobs to work in tourism. However, it is a popular terrace field in the world.
Guangxi Province, China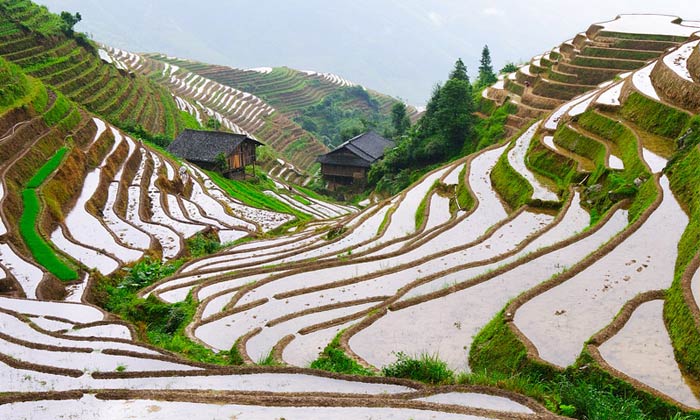 The rice terrace of Guangxi province is a rare place in China where you can meet Chinese traditional life and know how to grow rice in China. However, this spectacular heritage has threat with the growth of big cities in the surroundings. Discover the beauty of the Longji and Longsheng rice fields and create a bond with the atmosphere.
Mu Cang Chai Terraces, Vietnam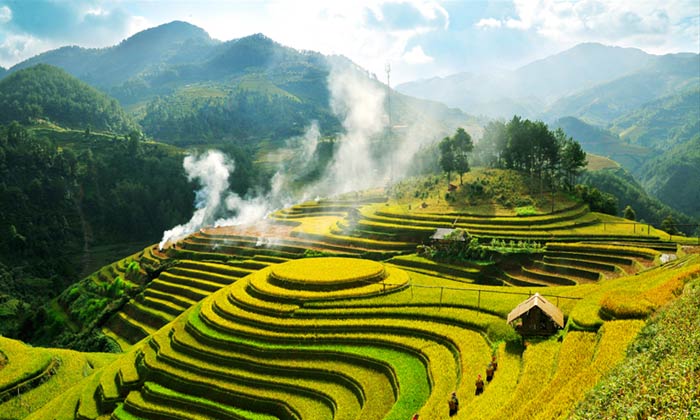 Situated in Yen Bai province of Northern Vietnam, Mu Cang Chai features the most stunning rice terraces in Vietnam. This valley features wonderful landscapes enveloped by green and yellow rice plants. The best way to discover the serene and resourceful landscape is to walk through crossing little villages and hometowns of Tay and Hmongs communities.
Tegalalang Terrace, Ubud, Indonesia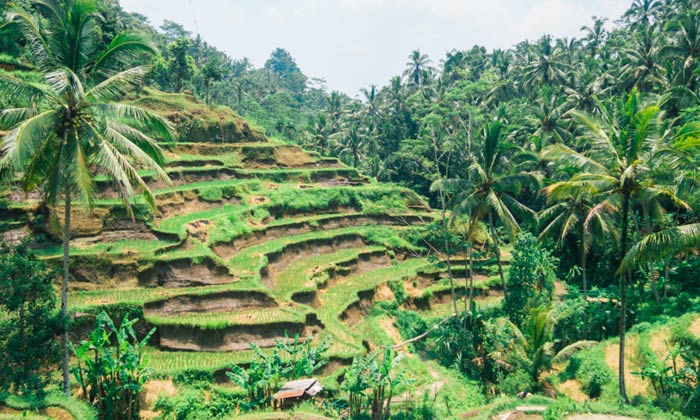 Famous for their deep green colors, Tegalalang and Jatiluwih rice fields are true visual delights. The deep color of the fields is due to tropical climate of the location. Being pride of the local people, the place turns into a major highlight of Indonesia's tourism. Despite this place occupies a small area, it offers an amazing sight of Indonesia's rice terrace landscape. The rice fields are surrounded with mountains, which make its atmosphere really mysterious and exotic.
Rice Terraces in Nepal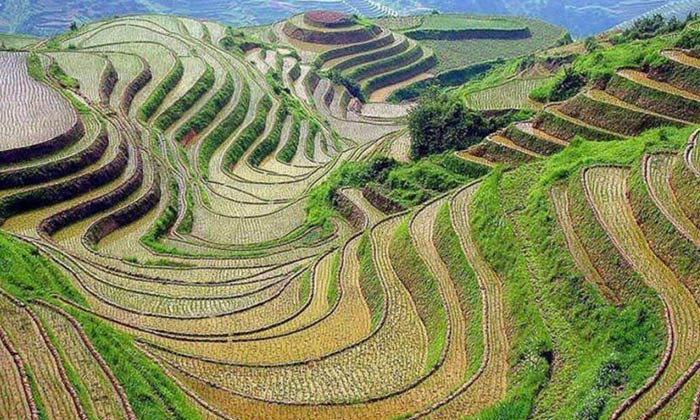 The rice terraces in Nepal are really breathtaking that make its atmosphere pristine and exclusive. On these extraordinary terraces, locals eagerly showcase the most striking side of Nepal and their kindness is worth the diversion. Walking through the fields will be really encouraging and you can learn about the local culture. Nepal rice terraces are the most untouched farmlands in the world offering immense tourism that enjoys a rustic spirit while acting as the background of daily local life.
Hamanoura, Japan
Being the most stunning rice terraces of Japan, Hamanoura is known for its immense beauty. When the sun falls down and spreads its red and orange waves on the sea, its reflection on the fields wears a beautiful aura. Taking a walk through this rice field is relaxing and breathtaking. This is an extraordinary view of rice terraces by the sea, which is different from any rice terraces on in-land hilly region in Asia.
Hoshitouge Tanada, Niigata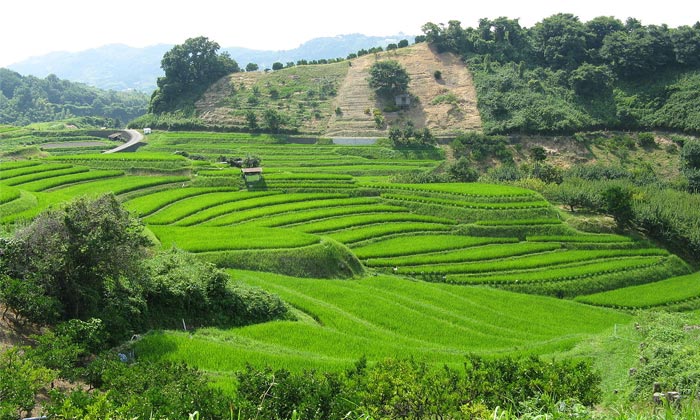 Niigata region of Japan produces most of rice of the country and one can find here a numbers of rice fields. This is among the most stunning one that is famous for glassy surface of water. This rice field is recommended to visit early morning in month of September when the fog appears to make the surroundings mysterious.
Oyama Senmaida, Chiba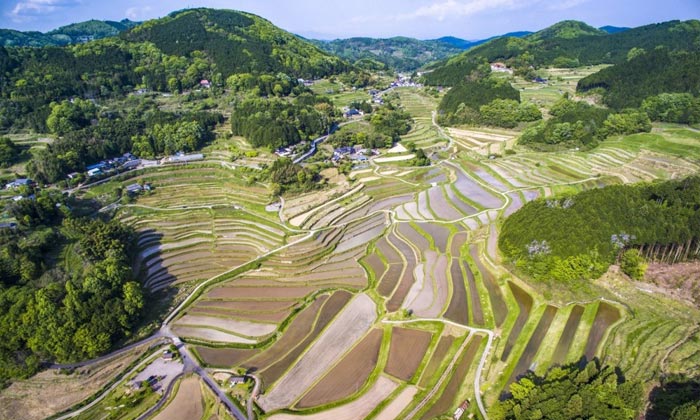 One among the most beautiful terraced rice fields in Japan, Oyama Senmaida is the closest rice field terrace of Tokyo. It is the only rice terrace that remains filled up with rainwater in Japan. Once the harvest season is over, you can enjoy the remarkable view of the snow. Many photographers visit the place to capture some really great views. Every day moves up with a variety of colors and contrasts on these rice fields. The environment changes giving opportunity for discoveries. So, when are beginning your journey?
So, in case you plan your travel to any of these destinations, book flight ticket with EaseMyTrip and avail huge discounts on your booking.???????