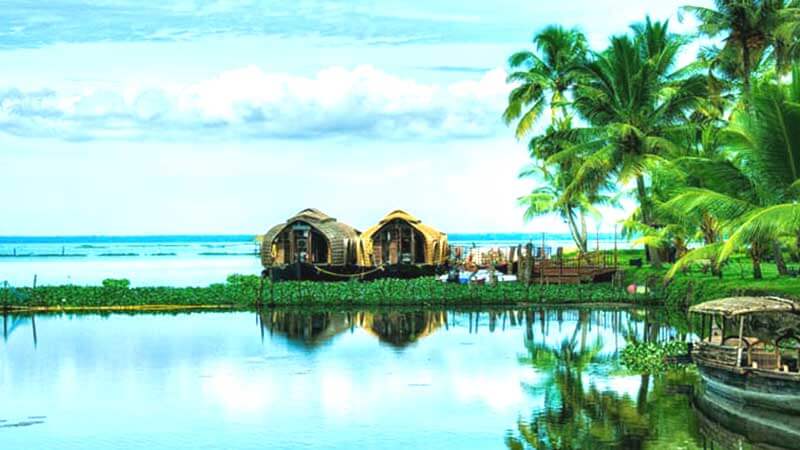 One the most amazing tourist destinations in India, Kerala is popularly known as the "God's Own Country". The scene place is famous for its stunningly calm beaches, lush green surroundings and extensive backwaters. Situated on the Malabar Coast of South India, Kerala is an ideal destination for newly wedded couples, nature lovers, serenity seekers and many others. Tourists from all across the world visit Kerala to spend some peaceful moments in the lap of nature. Although, there are many amazing places to visit in Kerala but backwaters of Kerala play important role in promoting Kerala tourism. With numerous wonderful tourist destinations of the state, visitors get the opportunity of spending a relaxed vacation. Explore the top places to visit in Kerala with this article.
Alleppey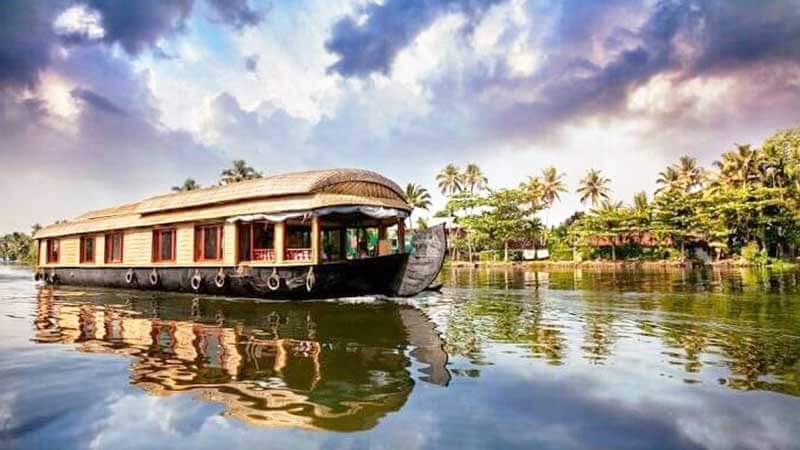 A great number of tourists visit Alleppey for enjoying backwater tours. Being among the best tourist places in Kerala, the picturesque town is studded with a number of wonderful places of human interests. It features an exceptional network of lakes, rivers, water lagoons and other attractions. Houseboats are the most excellent accommodation option available in this picturesque place. One can enjoy a one-night cruise on the traditional houseboat of the romantic backwaters of Alleppey. It was also described as the Venice of the East by Lord Curzon. Houseboats in Kerala are provided with amenities like well-equipped rooms, attached washrooms and on-board food.

Major Tourist Attractions in Alleppey: St. Andrews Church, Chettikulangara Bhagawathy Temple and Punnamada Lake. Boat Races are the popular attraction of Alleppey
Cochin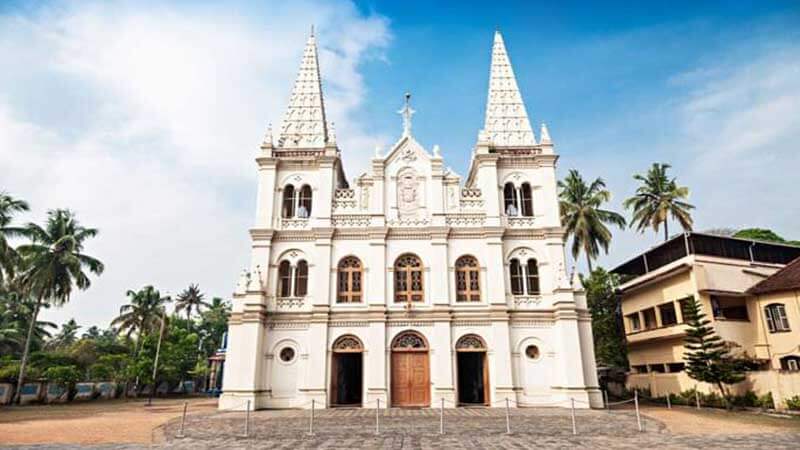 Cochin is another popular destination to visit in Kerala. It is popularly known as the "Queen of Arabian Sea" due to being a well-known heritage city of Kerala. Regarded as the industrial capital of Kerala, there are many ancient forts, palaces, churches and wonderful museums in the city. It is also referred as the Gateway of South India, which is also famous for its spice plantations and remarkably delicious cuisines. The city has been ruled over by a number of empires over the centuries. So, you can find here a beautiful amalgamation of cultures. Being ruled by several domains, Cochin has preserved its cultural identity and created a niche for itself in Kerala tourism.

Major Tourist Attractions in Cochin: Santa Cruz Basilica, Hill Palace, Mattancherry Palace, Fort Kochi and Marine Drive
Munnar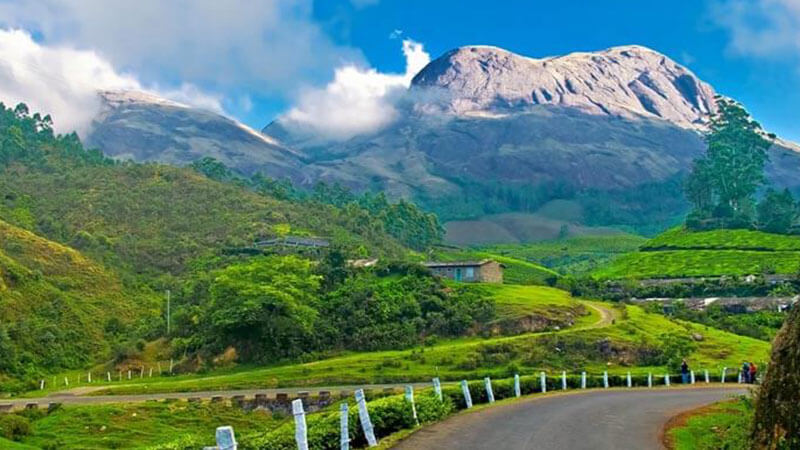 Munnar is among the most amazing hill towns of South India, which is located on the tropical Western Ghats. Some of the prime attractions of the place are lush green tea estates, dense forest regions, rare wildlife, beautiful lakes and verdant green hill peaks. The tranquil place is visited by a huge number of nature and adventure lovers on a regular basis. It is supposed to be the best places in Kerala for enjoying relaxed vacations.

Major Tourist Attractions in Munnar: Anaimudi Peak, Kuthumkal Waterfalls, Echo Point, Observatory Hills and Power House Waterfalls are the major sightseeing places of Munnar.
Kovalam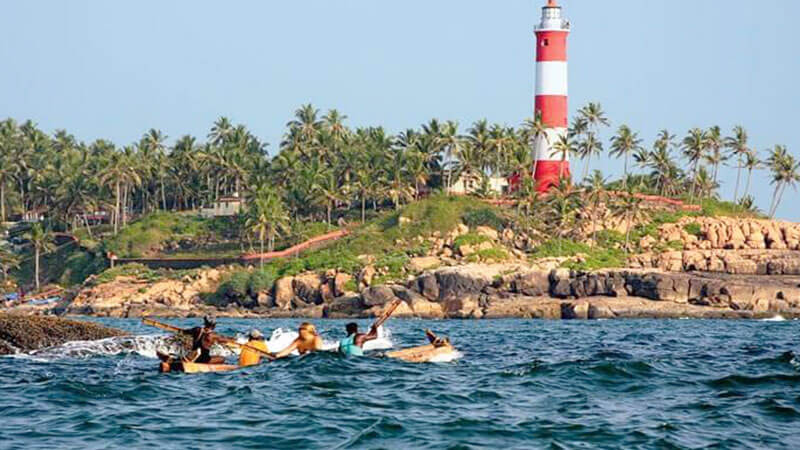 The small coastal of Kerala, Kovalam is a popular beach destination of the state. It is located 16 km south of Thiruvananthapuram - Kerala's capital. The literal meaning of Kovalam is the 'grove of coconut trees'. The place features palm-packed beaches and comprised of a number of resorts and spa therapy centers. Kovalam received attention of the tourists by the king of Travancore. It is a must visit tourist destination of Kerala.

Major Tourist Attractions in Kovalam: Hawah Beach, Lighthouse Beach, Samudra Beach, Vellayani Lake, Halcyon Castle and Kovalam Art Gallery are the major tourist places to visit in Kovalam.
Kumarakom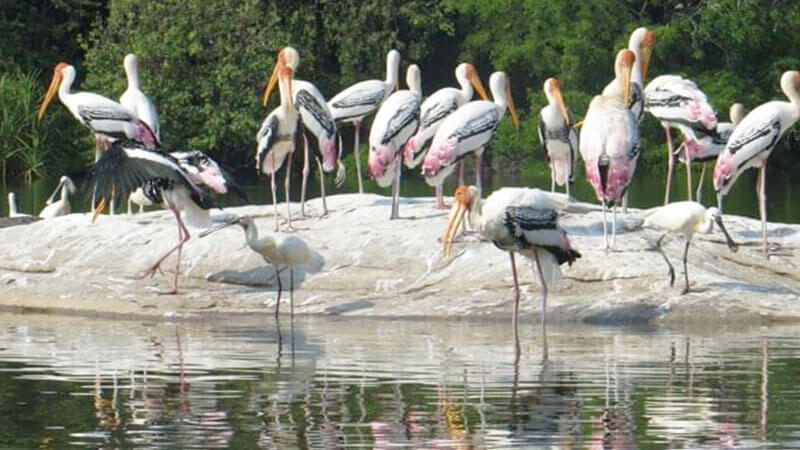 This famous backwater destination of Kerala - Kumarakom is a pleasant village preferably sited on the banks of Vembanad Lake in Kottayam district. The relaxing climate, coconut palms, mangrove trees, extensive paddy farms and lagoons, serene backwaters and rich fauna and flora make it a paradise for the travelers. On your trip to Kumarakom, you can enjoy activities like sightseeing, canoeing and fishing.

Major Tourist Attractions in Kumarakom: Kumarakom Bird Sanctuary, Pathiramanal, Bay Island Driftwood Museum and Chavara Bhavan are the major tourist places in Kumarakom.
Palakkad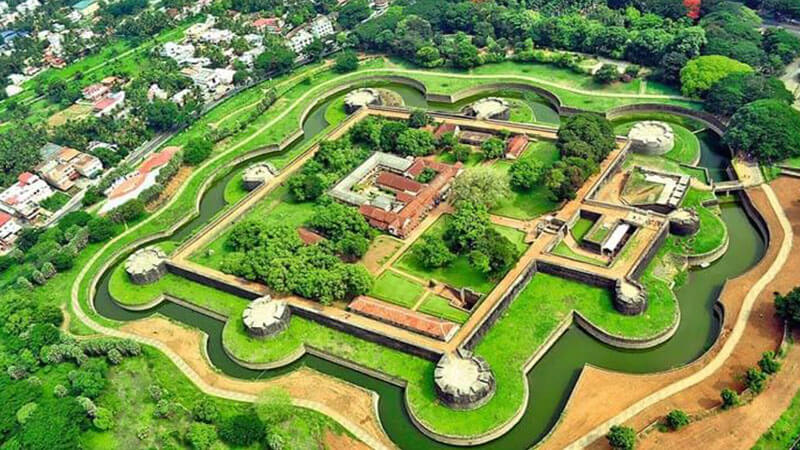 Also known as Palghat, Palakkad is a popular tourist destination in Kerala. It is supposed to be the most productive and densely forested land of the state that makes it famous as the Granary of Kerala. It is the gateway to Kerala due to the existence of the Palakkad Gap, in the Western Ghats. Due to featuring an untouched ambiance, the land leaves an ever-lasting impression on us.

Major Tourist Attractions in Palakkad: Some of the popular places to visit in Palakkad are Kalpathy Temple, Malampuzha Dam, Pattambi Nercha and Kunchan Smarakam.
Thekkady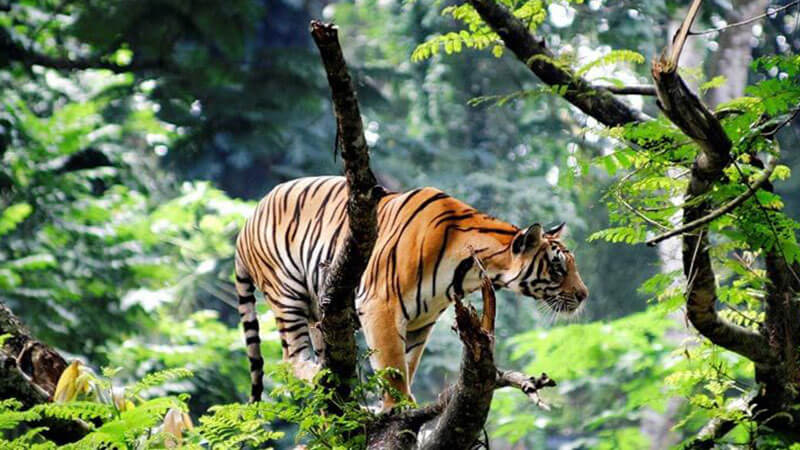 Thekkady is one of the most visited tourist destinations in Kerala. It is known for its tea, coffee and spice plantations. On your trip to Thekkady, enjoy nature in its purest form and come across the never-ending sight of lush green trees, chirping birds, luxuriant hills and wonderfully striking landscape. The land is famous for Periyar Wildlife Sanctuary that is home to herds of elephants, sambar, lion-tailed macaques, tigers, Gaur and Nilgiri langurs. Thekkady is also an important trade center that exports an array of rare Indian spices.

Major Tourist Attractions in Thekkady: Major places to visit in Thekkady are Periyar Wildlife Sanctuary and Periyar Lake.
Wayanad

Situated at an elevation of 2100 meters above the sea level in Kerala, Wayanad is a popular tourist place in Kerala. The lush green vegetation, along with mist-clad hills and pure air will make your travel to Wayanad an unforgettable experience. It is simply a paradise and must visit place for people traveling to Kerala. The hill station is covered with tea and spice plantations, which give a mystical feel to the place.

Major Tourist Attractions in Wayanad: Major places to visit in Wayanad are Banasura Dam, Lakkidi, Tusharagiri Waterfalls and Wayanad Wildlife Sanctuary.
Kottayam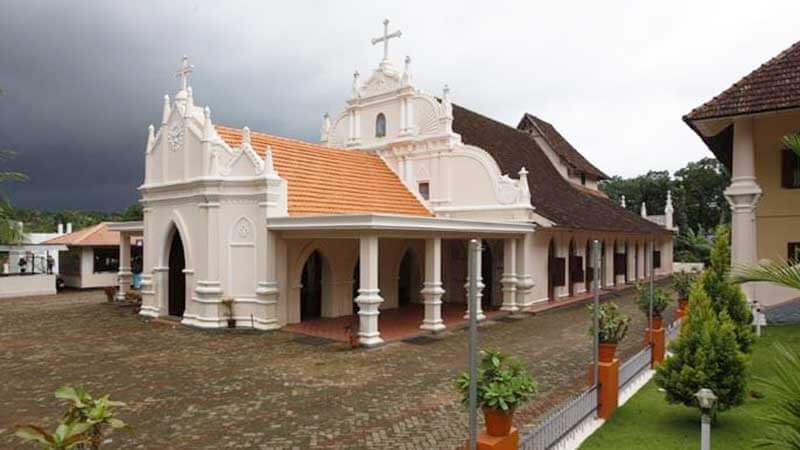 Kottayam is among the most beautiful backwater destinations in Kerala. It appeals a number of tourists to have serene backwater experiences. This beautiful tourist place in Kerala boasts of the ruins of palaces and forts and is encircled with lush green surroundings. Kottayam is fondly called as the "land of latex, letter and lakes" due to having extensive rubber plantations, greatest literacy rate and meandering streams and lakes. It is also an important trade center of the state but its backwaters make it one of the best places to visit in Kerala.

Major Tourist Attractions in Kottayam: Top tourist places to explore in Kottayam are Bharananganam, Cheryapalli, Mannanam, Thirunakkara Mahadev Temple and Valiyapalli Church.
Thiruvananthapuram

The capital city of the God's Own Country – Thiruvananthapuram is among the best places in Kerala for holidaying. It is the gateway of the most beautiful state of India, which is famous for British colonial architectures and a number of art galleries. Trivandrum enjoys rich traditions dating back to almost 1000 B.C and offers perfect amalgamation of rich past and present. The city has a lot of tourist attractions that are worth visiting and its clean and serene environment makes your whole Kerala travel experience truly memorable.

Major Tourist Attractions in Thiruvananthapuram: Top tourist places to visit in Thiruvananthapuram are Koyikkal Palace, Varkala Beach, Napier Museum, Akkulam Lake and Kuthiramalika Palace Museum.
Kannur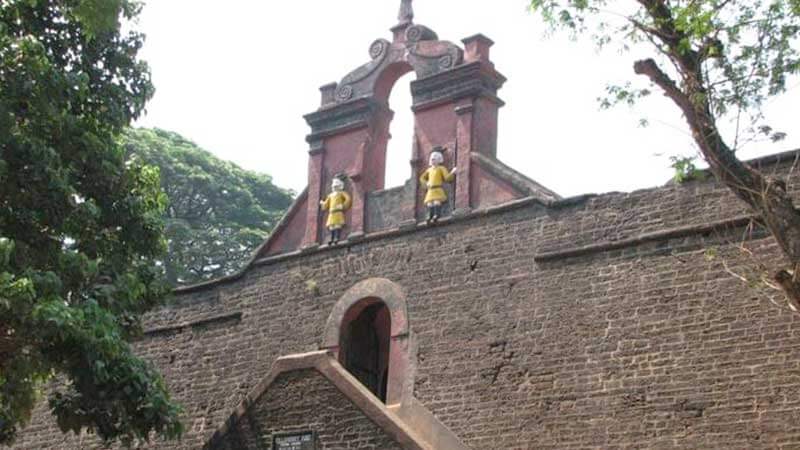 Located far from the bustling city life, kannur is a calm tourist destination of Kerala located in its northern-most corner. The Lakshadweep Sea washes the shores of Kannur in the west making its scenery absolutely fantastic. With turquoise blue water, coconut fringed shoreline and lush green landscapes; this beautiful city turns into one of the most visited tourist places in Kerala. Tourism in Kannur is catching up fast and making this one of the top places to visit in Kerala.

Major Tourist Attractions in Kannur: Major tourist places to visit in Kannur are Dharmadam Island, Madayi Mosque, Thalasseri Fort and St. Angelo's Fort.
Kozhikode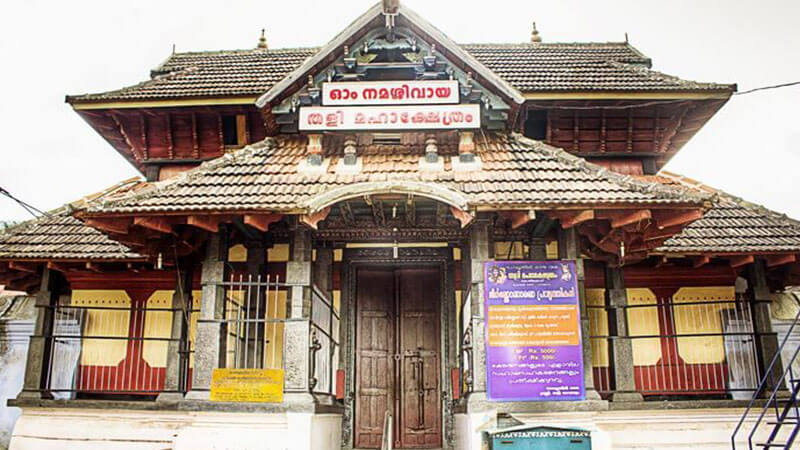 Earlier known as Calicut, Kozhikode is a small yet an eventful city and one of the best tourist places of Kerala. It is the place where Vasco da Gama landed first of all. In the air of the city, you can experience a western influence despite it has preserved its culture and traditions. The place has been a center of attraction for a number of countries as business can be easily done here from different regions. This is the reason; this city was long dominated by different foreign powers and acquired unique cultural mixture.

Major Tourist Attractions in Kozhikode: Major tourist places to visit in Kozhikode are Dolphin's Point, Ettumanoor Temple, Krishnan Menon Museum, Pazhassi Raja Museum and Thali Temple.
Kollam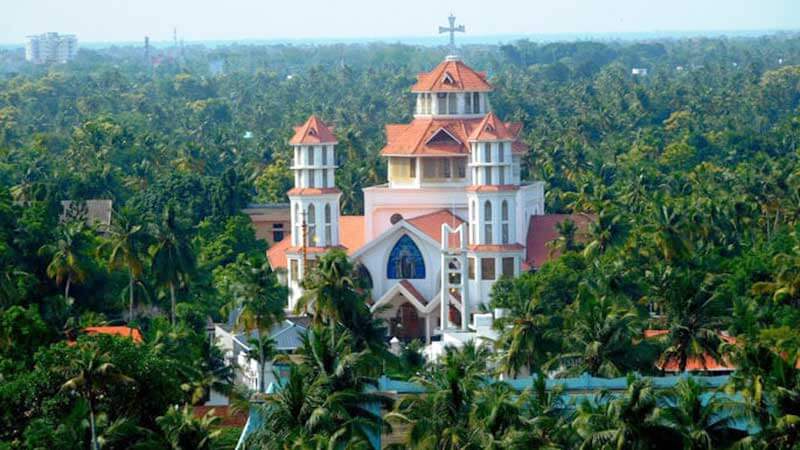 Kollam is a popular port of Kerala, which is located 70 km away from its capital city Trivandrum. Serving as the gateway of the backwaters of Kerala, the city offers unusual experiences to its visitors. The place is known for offering houseboat rides on the backwaters and serves as renowned center of international spice trade. Along with nature, you can come across the ruins of forts and palaces in this town. Your Kerala tour will be a lifetime experience by visiting gorgeous destination.

Major Tourist Attractions in Kollam: Top tourist places to visit in Kollam are Kollam Backwaters, Adventure Park, Mahatma Gandhi Beach and Palaruvi Waterfalls.
Varkala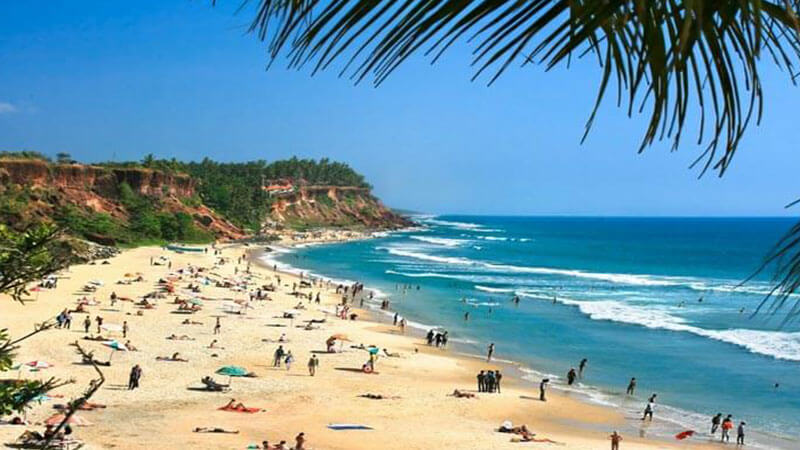 Snuggled amidst naturally amazing setting, Varkala is a charming coastal town in the south Indian state of Kerala that is growing into most popular backpacker hangout of Kerala. It is the only place in South Kerala where cliffs are located adjacent to the Arabian Sea. The charming town is known for Varkala Beach, which is backed by palm-covered red cliffs. Regardless of having a backpacker vibe, Varkala is basically a temple town and a significant religious place for Hindus. This amazing holiday destination in Kerala also offers greenery and lots of wonderful activities. So, the town is visited by adventure enthusiasts and religious people alike. In every aspect, Varkala is one of the best places to visit in Kerala.

Major Tourist Attractions in Varkala: Top tourist places to visit in Varkala are Papanasam Beach, Varkala Beach, Kaduvayil Thangal Dargah, Janardana Swamy Temple, Vishnu Temple, Anjengo Fort & Lighthouse, Sarkara Devi Temple, Varkala Aquarium and Varkala Tunnel.
Idukki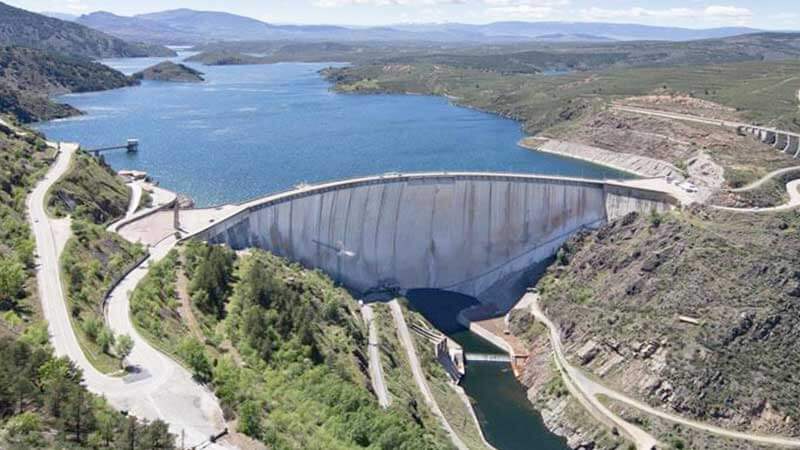 Idukki is a beautiful hill station of Kerala that is perfect for the travelers seeking to relax by leaving all stress behind. The place is surrounded with three big rivers named Periyar, Thodupuzhayar and Thalayar. This charming destination has many places of interest that make Idukki one of the most stunning places to visit in Kerala. Many popular wildlife sanctuaries are there in this place, which are paradise for nature lovers and photographers. With the misty clouds on hills, lush green landscapes and early morning dew drops, get a chance to please your eyes. A holiday in Idukki makes you completely indulge into a tranquil surrounding and feel revitalized.

Major Tourist Attractions in Idukki: Major tourist places that you may come across in Idukki are Grampi, Observatory Hills, Pandikuzhi, Idukki Arch Dam, Kuthumkal Waterfalls, Kuttikanam Kolukkumalai Tea Estate, Thattekkad Bird Sanctuary, Thommankuthu Falls and Ramakkal, Kalvari Mount
Thrissur

Thrissur is one of the best places to visit in Kerala. It is also called as the Cultural Capital of Kerala and famous for its rich historical culture and traditional heritage. In the historical politics of the state, this beautiful town of Kerala has played an important role. Tourism sector in Thrissur is growing due to its location in the heart of Kerala.

Major Tourist Attractions in Trichur: Trichur has many interesting places to see. Guruvayoor Temple, Kodungalloor Pilgrimage, Peechi Vazhani Wildlife Sanctuary, Archeological Museum and Shakthan Thampuran Palace are some of the popular places to visit in Trichur. These are many interesting places to visit in Kerala. If you are planning a trip to this outstanding state of India, explore these wonderful destinations of Kerala. Book domestic flight tickets for any its airports to enjoy a memorable vacation.