Christmas is one of the fun-filled times of the year and during this festive time people love to explore various places to celebrate and enjoy. There are several enticing places in India where one can enjoy this festival. However, Indian way of celebrating Christmas is way too different than the foreign traditions followed in international destinations but that doesn't actually state that Indians doesn't celebrate this festival well. There are many places in India which gets colored with beautiful colors of festivity during this festival from Northeast part of India to Bombay and from Kerala to Assam. Explore these finest places of India where you can actually celebrate this festival with much pomp and fanfare. At these destinations of India you can experience the best of Christmas and can make your Christmas outstanding.
Manali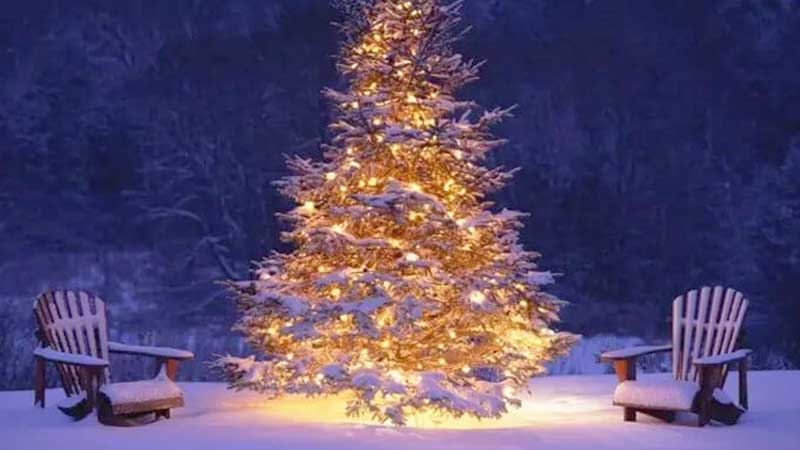 Snow and Christmas when combines makes a perfect setting for this most awaited festival; it enhances the spirit of the festival. The awe-inspiring beauty and charm of the hills makes the aura look more alluring during Christmas. The exotic pine trees appears like Christmas tree, these pine trees looks really beautiful when covered in snow and are adorned with lights and accessories. The whole sight is really captivating and appears so enticing in the night. If you want to have the true feel of Christmas then you can also book a log hut to live Christmas mood under the starry night. Moreover, you can make your Christmas holidays unforgettable by planning Manali tour with EaseMyTrip.
Pondicherry

Pondicherry is well known for its perfect blend of French tradition and the beauty of the grand festival of Christmas. Pondicherry is an ecstasy during this festival. Clean, calm and quite beaches of Pondicherry are just perfect for spending the day time of Christmas and the fantastically built churches and scenic glances of French culture makes this place perfect for Christmas celebration in India. It is one of the best places in India to celebrate Christmas.
Shimla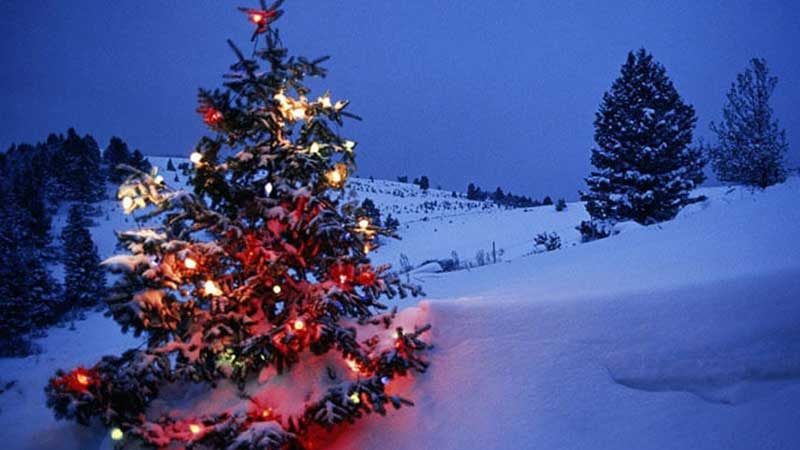 Shimla has a very small population which follows Christianity and so Christmas celebration is here done with great fanfare and joy. The joyous aura can be seen everywhere at the time of this festival. However, you might not see a lot of tourists during Christmas but the hills offer a panoramic view and peaceful yet fun-filled Christmas. Decoration can be seen almost everywhere including the streets, churches and houses with shimmering lights. Locals of the region prepare traditional cuisine and also sing carols and hymns in the evening to celebrate that festive mood. Some of the churches of Shimla also play local gospel music. So, if you want to spend Christmas peacefully then plan Christmas holidays in Shimla.
Kolkata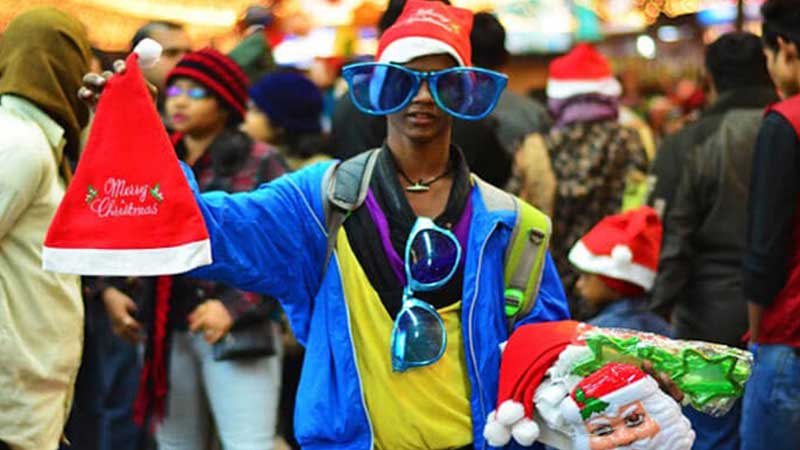 Kolkata is fondly called as 'The City of Joy' and this city joyfully welcomes Christmas celebrations. Park Street area of Kolkata dazzles with lights and stars and with lot of other decorations. There are various streets which are lined up with pubs and bars that remain open all night long during the festive days! You can have best sweet Christmas delights at Flury's. Tourists planning Kolkata tour at the time of Christmas can also hear sweet sound of carols at famous churches of Kolkata; the St Paul's Cathedral of Kolkata also organizes a midnight mass. Moreover, the Anglo-Indian communities celebrate this festival in traditional style and parties and get-together are also organized to celebrate this festival. It is one of the amazing places of India to celebrate Christmas and have the best experience of this festival.
Delhi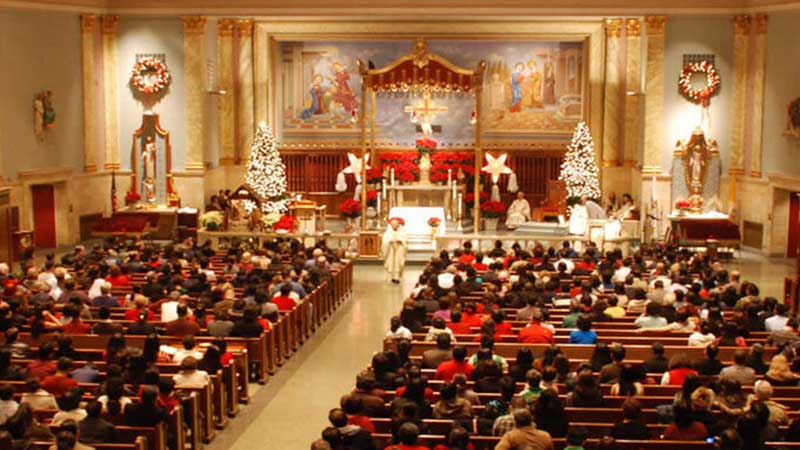 Delhi is a city which never sleeps and this vivacious city gets one more reason to party in December because of this amazing festival. The Christian locality of Delhi shimmers with lights during the season and the entire city is decorated in the color of this festival. Delhi does not have a Christian population majorly but this festival is celebrated with fanfare. The Sacred Heart Cathedral and the Capital City Minstrel choir concert is the finest way to explore the traditional aspect of Christmas in the capital city and here you can actually see how Christmas is celebrated in the capital city of India.
NorthEast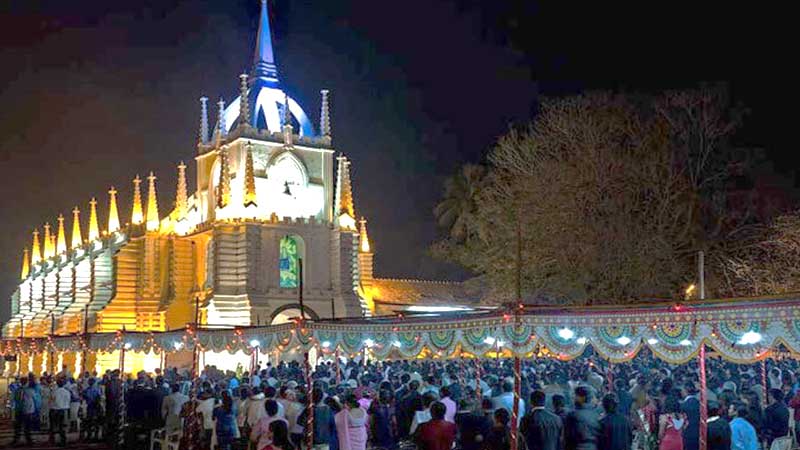 The Christians localities of the tribal region wait for this blissful occasion throughout the year. The hilly towns of the Northeast India become more alive and dazzling in the winter season and during Christmas the whole aura becomes spectacular. The streets are decorated with lights and frills and it almost look like a bride. The picture of the Christmas celebration in Northeastern part of India is no less than a picture which is created on the Christmas card. Here you can have the perfect feel of the Christmas celebration in the chilled aura. Moreover, you can also try the traditional Christmas delicacies if you visit here during Christmas.
Dadra and Nagar Haveli

Christmas is the best time to explore Dadra and Nagar Haveli. The place gets itself ready according to the festive mood and the most interesting fact about this place is the celebration of Christmas with a tribal touch. Midnight mass is also organized in all local churches and the people celebrate Christmas with pomp and grandeur. The entire destination is filled with amazing zeal and enthusiasm. Celebrating Christmas at this destination is a true delight. So, plan Christmas at this beautiful destination and have unlimited fun on Christmas.
Mumbai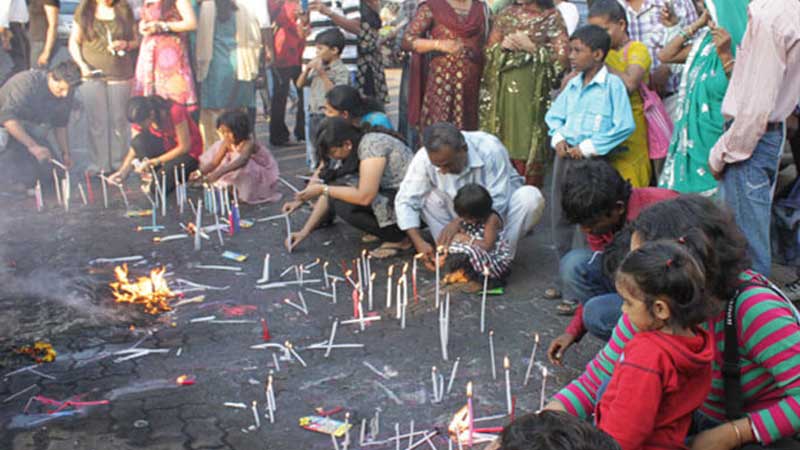 Bombay or Mumbai is one of the cities which have wholeheartedly embraced all the diverse cultures of India and houses people following different religions. This city is a perfect place to celebrate Christmas. There are many places where you can visit and enjoy the celebration of Christmas in Mumbai and some of those places are Hill Road, Bandra and Church Gate are popular places where Christmas is celebrated with immense fervor. Almost all churches around the city organize a midnight mass. Moreover, there are various pubs and bars where you can visit and celebrate this festival in the city of dreams.
Kerala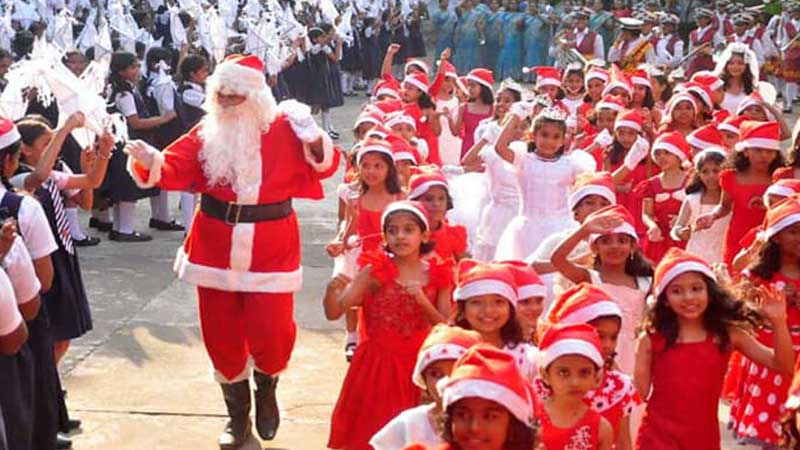 Imagine celebrating Christmas in the backwaters of Kerala….isn't amazing? You will surely like to celebrate Christmas as the celebration of this festival in Kerala is truly amazing. There are several churches in Kerala which gets beautifully decorated with lights and stars and turns into a gorgeous visual treat. Moreover, there are heavy discounts on hotels for welcoming tourists so that they can enjoy the festivity more. It is one of the best places in India where you can celebrate Christmas with pomp.
Goa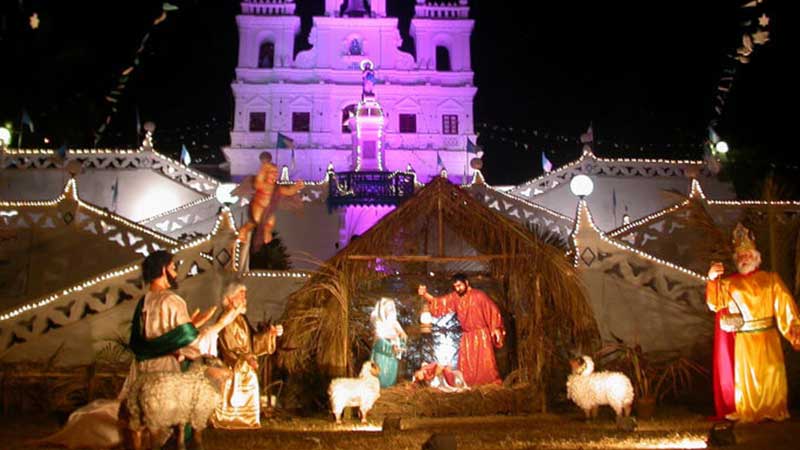 Goa is fondly called as the party paradise and the beach capital of the country. This destination becomes really beautiful during the Christmas season and welcomes large number of tourists because of the outstanding celebration of Christmas. The whole destination during Christmas is adorned with vibrant lights and flower decoration can be seen almost everywhere. You can also have fun at the clubs and bars where the celebration is done at its peak. Moreover, there are also certain music festivals which take place in Goa during Christmas. There are lots of things to do in Goa on Christmas
Bangalore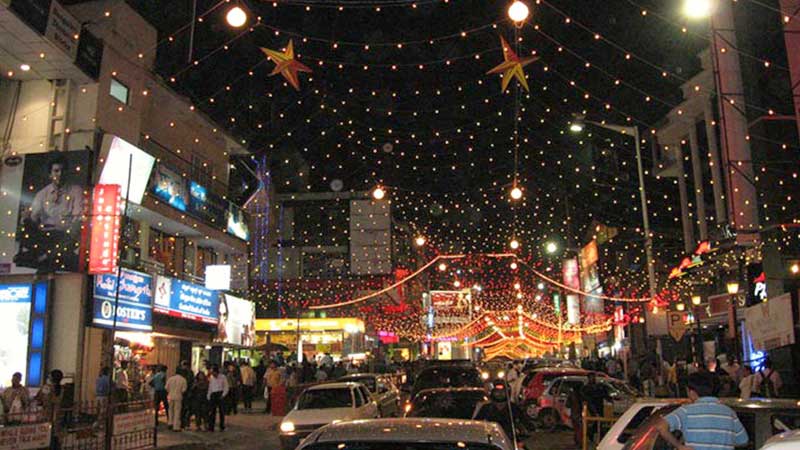 If you are a big foodie and Christmas to you is all about tempting cuisines & desserts then Bangalore is one of the best places to go for Christmas. Dipped in an exuberant festive spirit and rich in culinary delights, the city is spoilt for choices. On Christmas Eve you can head to Koshy's for their plum cake & ginger tea or you can visit Thomsons Bakery for their rum-soaked cake or Caperberry for a tempting turkey dinner.
Daman & Diu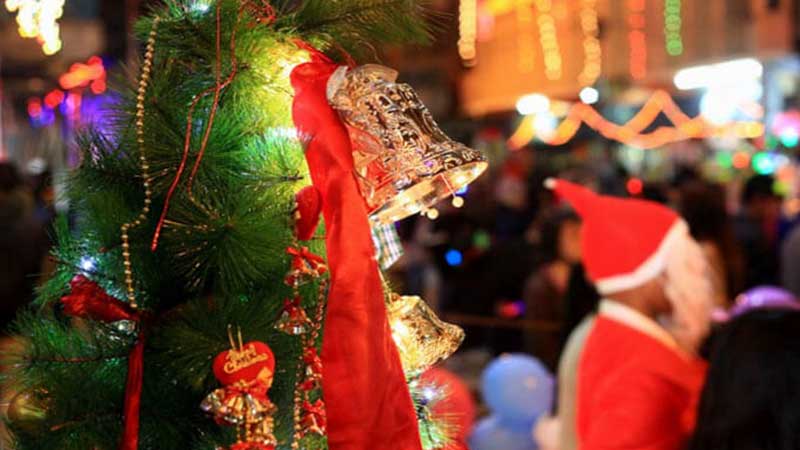 This destination might not be the best places to visit during Christmas but it is surely a fun destination which one can consider visiting during Christmas. Tourists can plan their Christmas holidays in Daman & Diu and can enjoy several cultural shows, Corridinho (Portuguese dance) shows, midnight mass in the churches of Daman & Diu, and the witness the charm of millions of lamps illuminating the skies overhead. This destination has ample of reasons to convince the tourists to visit here at the time of Christmas.
Chennai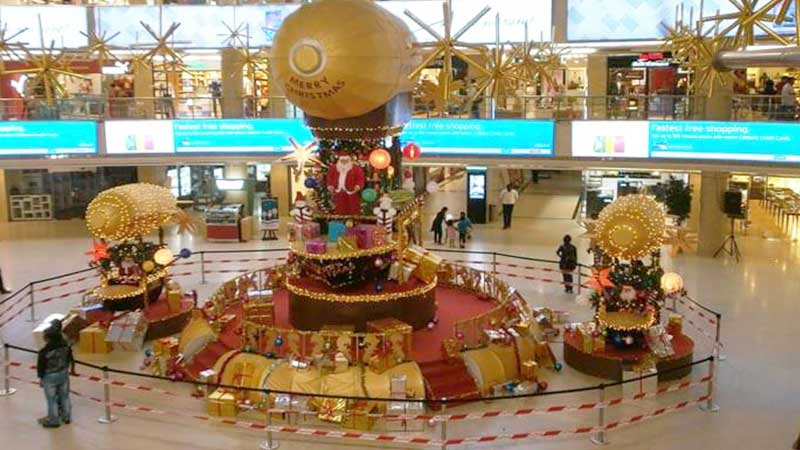 When you're talking about the best places to visit in India during Christmas this destination also deserves to be a part of this enticing list. Here at this destination one can enjoy carols and mass at its many churches. Moreover, many hotels and restaurants of Chennai also offer special buffet feasts to the guests and some of the restaurants offer great discount as well to make your Christmas memorable. The popular Phoenix Market City mall organizes amazing activities so that people can enjoy the festive mood.
Lansdowne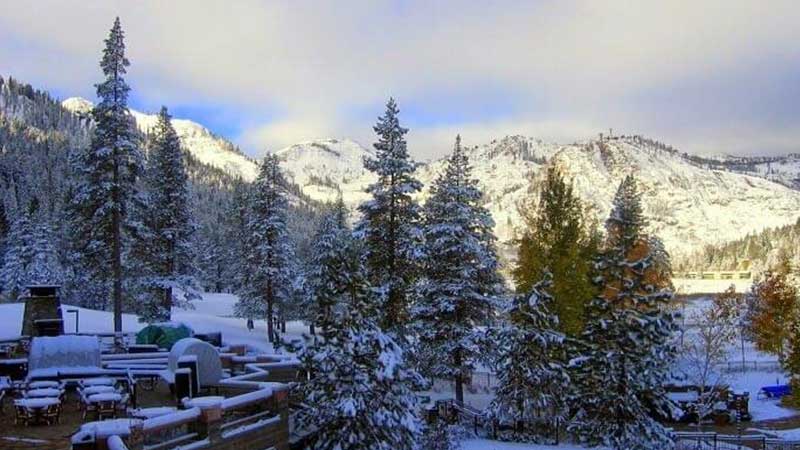 Looking for a perfect hill station to celebrate Christmas? If yes, then visit Lansdowne. It is one of the unspoilt and untouched hill stations which will offer you the much needed break from the monotonous life. Head to this destination with your friends or with your family for Christmas celebration and make you Christmas holidays memorable. Plan your own celebration in the serene aura with some music, bonfire and delectable delicacies.
Hyderabad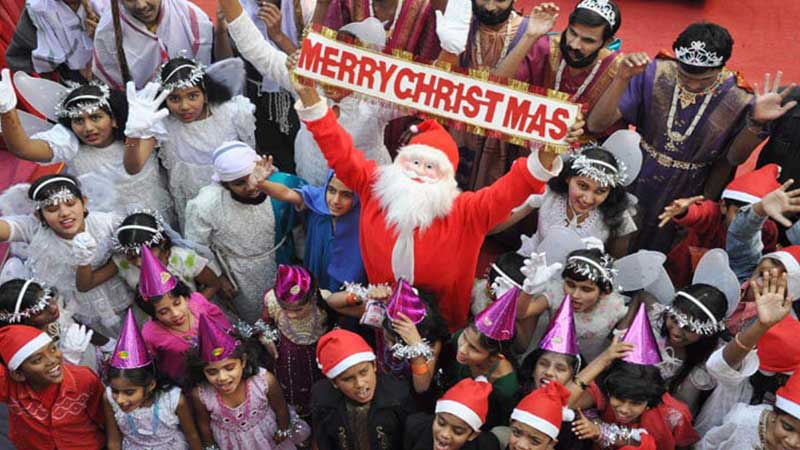 Christmas is one of the joyous times of the year and this joyous festival is celebrated with much pomp and fervor in Hyderabad. The whole city is lit up and is decorated with beautiful Christmas ornaments to celebrate this amazing festival. You can also explore churches if you want to attend midnight mass and want to hear sweet Christmas carols. Several restaurants and café's also offer great discount at the time of Christmas in Hyderabad. It is another best destination to celebrate Christmas in India. So, plan your Christmas trip at any of these destinations in India. Book domestic flights with EaseMyTrip to reach the nearest airport of these places.
Bhubaneswar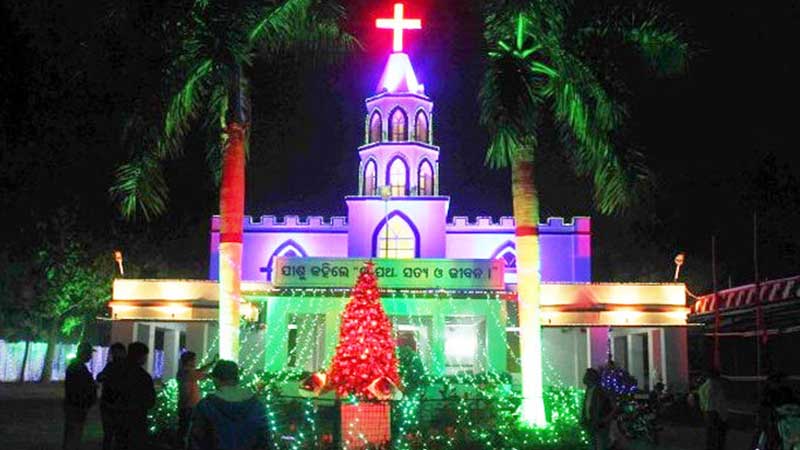 Bhubaneswar is another iconic city which the tourists can explore at the time of Christmas. This city also houses few churches, numerous beautiful attractions and markets which the tourists can explore while enjoying Christmas festivities in Bhubaneswar. It is another destination of India where Christmas is fun.
Madurai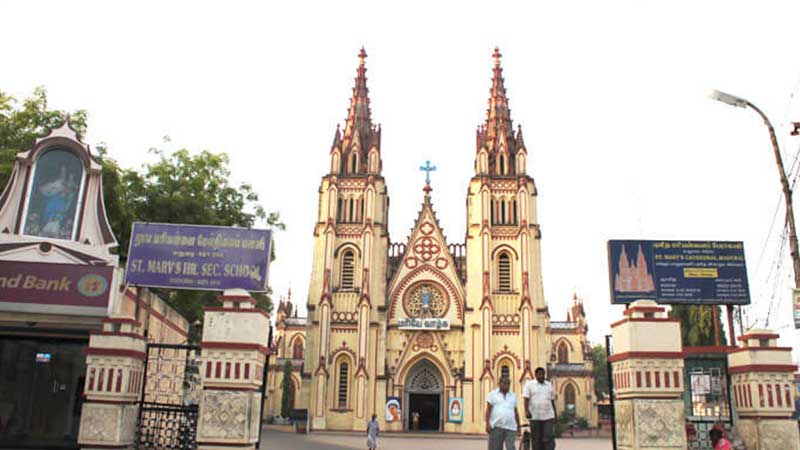 Madurai is a beautiful city in Tamil Nadu and this city dazzles gorgeously during Christmas. There are several churches in Madurai which are decorted where Christmas is celebrated with much pomp and fervour. Madurai is another iconic Indian destination where Christmas celebration can be witnessed.