One of the most beautiful towns in Karnataka is Udupi. The town has temples that are uniquely carved. Some of the delicately detailed temples are Sri Krishna Temple, Anegudde Vinayaka Temple and Chandramouleshwara temple. They are best visited during important festivals and rituals. Besides, Udupi has calm beaches for one to relax and enjoy. You can savour the waves of the ocean flowing over your feet. The famous beaches in Udupi are Kaup and Malpe. A trip to Udupi booked from EaseMyTrip is incomplete if you do not get to satisfy your food cravings. It is always a delight to taste the food of different cities and cherish the cultures. Let us get you a map of foodgasms!
Eating food is not only about gaining energy but also having an experience. Below are some top 7 cafes in Udupi you can visit to get your hands on the mouth-watering dishes.
7 must-try Udupi cafes
1. Grub Monkeys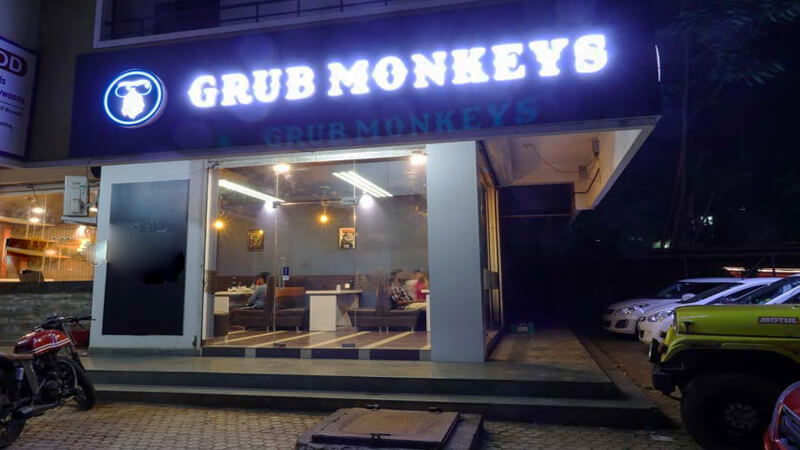 Youngsters are always finding their ideal place to hang out. The Grub Monkeys cafe is excellent for small gatherings. The architecture and old school posters of the cafe satisfy the hippie souls. The cafe does not let you get bored. It has Jenga and Connect 4 for you to play with your friends. Besides, this cafe is famous for its fast food. It has the fastest service with tasty food.
To Try: Burgers, Fries, Iced Tea
Area: Pratham Pride Building, East Point Road, Vidyaratna Nagar, Manipal
Timings: 12 PM – 10:30 PM
Cost For Two: 500 for two people (approx.)
Zomato Dining Reviews: 4.2/5
2. Prax Fast Food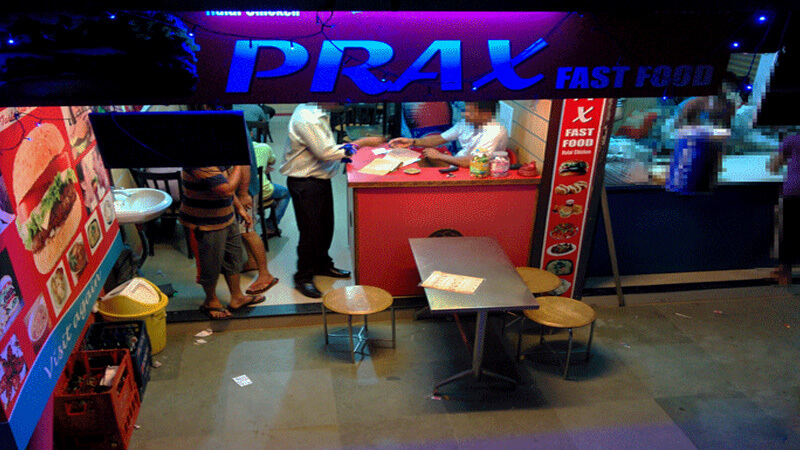 This cafe is one of the popular hang out places for university students. Most chit-chats happen while grabbing a burger. The slightly cramped interior makes this a perfect "Adda." It has an old school indoor sitting and food posters on the wall. The servicers are kind and humble. Besides, this cafe is known for after-college snacks like chicken and burgers. The service is fast and good.
To Try: Chicken, Seafood, and Burger
Area: 5th Main Road, VP Nagar, Hayagreeva Nagar, Udupi, Karnataka 576104
Timings: 11:30 AM to 11 PM
Cost For Two: 450 for two people (approx.)
Zomato Dining Reviews: 4.1/5
3. Scirocco Coffee Valley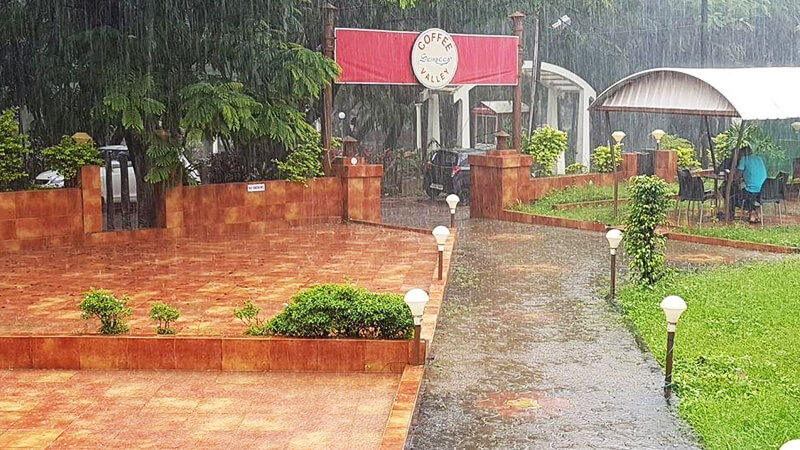 Breathing the fresh air and eating amongst nature has to be one of the greatest feelings. If you cherish this, you will feel delighted at Scirocco Coffee Valley. The dining has been arranged beautifully in the garden. The decor will make you feel happy. Besides, if you are a sports lover, the good news is that they stream all the matches. This place has another setup for your entertainment, i.e. pool table. The famous cuisine of this place is Italian. People have enjoyed their pasta because of the balance in sauce and spices.
To Try: Pasta, Pizzas, Coffee, South Indian
Area: Opposite Madhav Park, Eshwar Nagar, Manipal
Timings: 11 AM – 11 PM
Cost For Two: 400 for two people (approx.)
Zomato Dining Reviews: 3.4/5
4. The Cosmo Cafe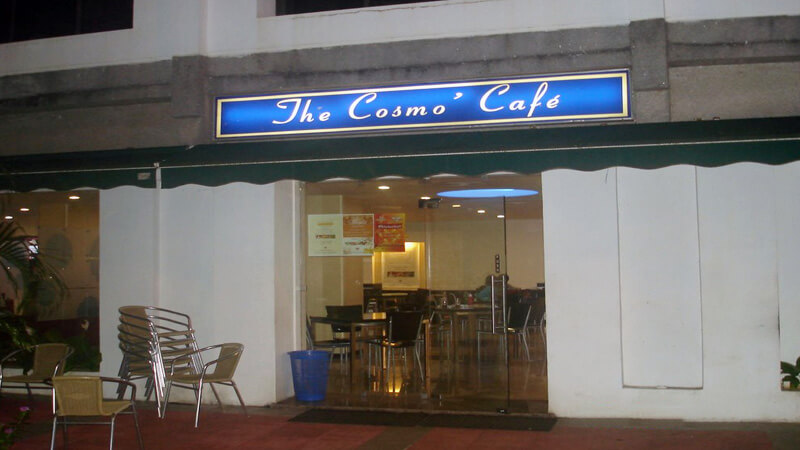 If you wish to have a reasonable romantic dinner or a nice family time, the Cosmo Cafe is your place. The diner has a beautiful ambience and is perfect for travellers. You can fulfil your midnight craving here. One of their famous offers is breakfast buffets. Besides, the staff is very polite and the service is good enough.
To Try: American Breakfast, Grilled Tiger Prawns, Aloo Moti Tikki Chaat
Area: Fortune Inn Valley View, Manipal Main Road, Eshwar Nagar
Timings: Open All Day
Cost For Two: 300 for two people (approx.)
Just Dial Reviews: 3.4/5
5. Cafe 7 Bees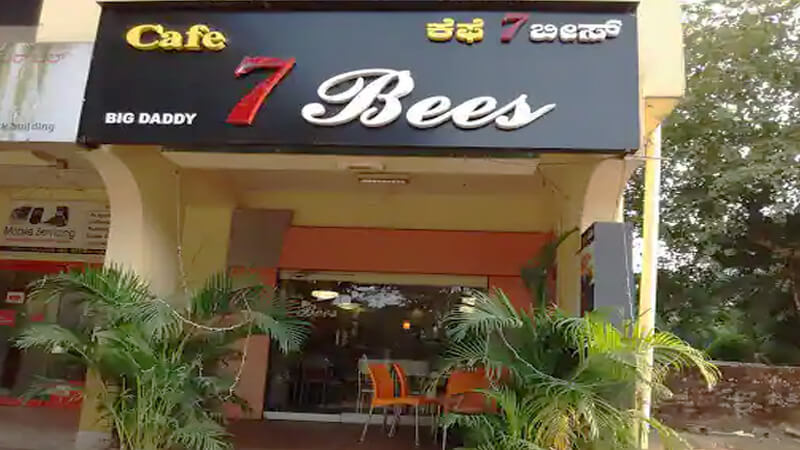 A family that eats together stays together. Cafe 7 Bees is excellent for small family dinners. It is also one of the ideal places for college students to hang out. The ambience is sweet and it remains clean all the time. The rates are reasonable and the service provided is on time. People tend to gather around. Therefore, it is advisable to go at an odd time, if you have an issue. The food is enjoyed by everyone.
To Try: Burger, Maggie, Milkshake, Manchurian, Sandwich
Area: Opposite to Mother of Sorrows Church, Kinnimulki, Udupi
Timings: 10 AM- 9:30 PM
Cost For Two: 350 for two people (approx.)
Zomato Dining Reviews: 3.9/5
6. Planet Cafe
If you make a spontaneous plan of eating outside, planet cafe is the best place. It is pocket friendly and family or friends can spend quality time. You can even spend a solo date here. The people consider this cafe as a hangover cure. So after the night of the party, they visit here to chill. The ambience is really beautiful with the wood essence and the service is good too. The burger is liked the most in this cafe.
To Try: Street Food, Burgers, Oreo Shake
Area: Perampalli Nekkar Krishnadasa Marga, Vidyaratna Nagar, Manipal, Karnataka
Timings: 11 AM – 4 PM
Cost For Two: 500 for two people (approx.)
Zomato Dining Reviews: 3.9/5
7. Shake Shack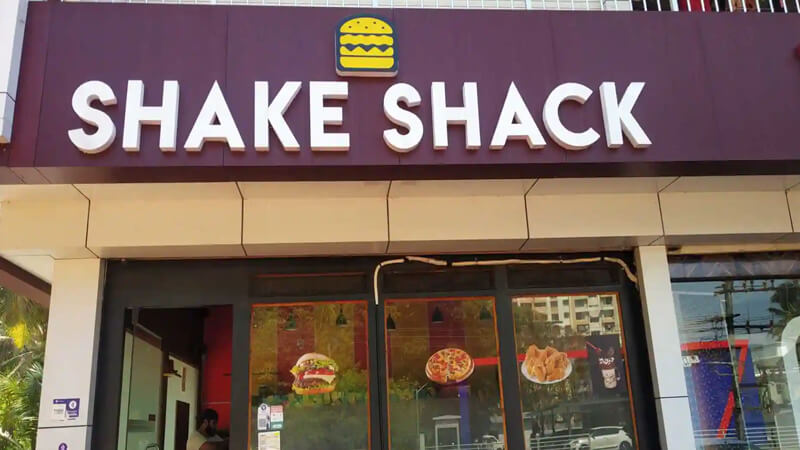 A college hangout becomes effective at a good cafe. Shake Shack has youngster's favorite fries and shakes to help them chit-chat and enjoy. It is a small, attractive cafe with a good level of neatness. It offers rolls, pizzas, burgers, and American food which is good for snacks and small get-togethers. The customer service is smooth.
To Try: Warp, Pop Chick, Fries, and freak shake
Area: Opp. True value, Brahmagiri, Udupi, Karnataka 576101
Timings: 11 AM – 11 PM
Cost For Two: 300 for two people (approx.)
Zomato Dining Reviews: 3.4/5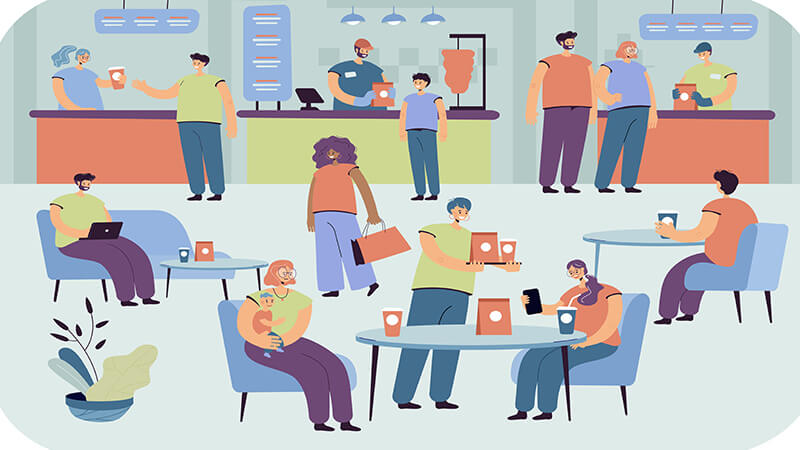 It is always special to explore the smallest towns of India. Udupi is one of the cities that can connect you with other cultures. They have their traditional food that ranges from Kosambari to Majjije. Besides, the suggested cafes will be your friends if your budget is tight. You can choose to traverse around Udupi comfortably after booking your flight tickets at EaseMyTrip.