India is a diverse and beautiful country with many destinations that cater to women's travel.
Whether it's exploring the vibrant streets of Jaipur, indulging in some retail therapy in Delhi's bustling markets, or soaking up the sun on the sandy beaches of Goa, India has something for every type of traveler. A visit to the serene backwaters of Kerala or a trek to the picturesque mountains of Himachal Pradesh can be an enriching experience. Women can also take cooking classes and learn the secrets of Indian cuisine, enjoy a spa day, or participate in a yoga retreat. With its diverse culture, rich history, and mouth-watering cuisine, India is a perfect destination for a fun-filled and memorable women trip.
Here are some of the best places for women to travel in India:
Goa: With its beautiful beaches, vibrant nightlife, and friendly locals, Goa is a popular destination for women's travel. There are many things to explore from adventure to serene tour, do check out: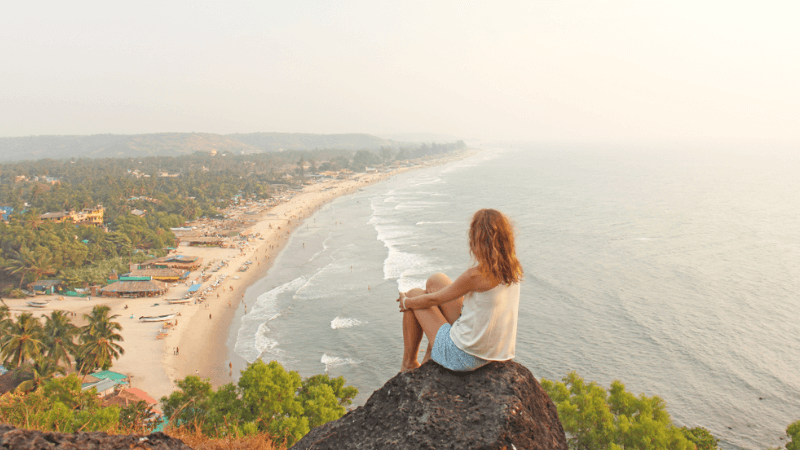 Water sports

: Goa is also known for its water sports, such as parasailing, jet skiing, and banana boat rides, which are available at most beaches.

Nightlife

: Goa's nightlife is vibrant, with various clubs and bars offering live music, drinks, and dance.

Dudhsagar Falls

: Located on the Goa-Karnataka border, Dudhsagar Falls is a four-tiered waterfall surrounded by lush green forests and is a popular spot for trekking and picnics.

Spice plantation tour

: Goa is famous for its spice plantations, and a guided tour is an excellent way to learn about the region's spices and their uses.
Rajasthan: Known as the "Pink City," Jaipur is a beautiful and safe destination for women to explore Rajasthan's rich culture and heritage. Rajasthan is a state in India known for its rich history, vibrant culture, and stunning landscapes. It is a popular destination among women for a trip filled with adventure, exploration, and cultural immersion. Rajasthan is also famous for its cuisine, which is a blend of spicy, savory, and sweet flavors.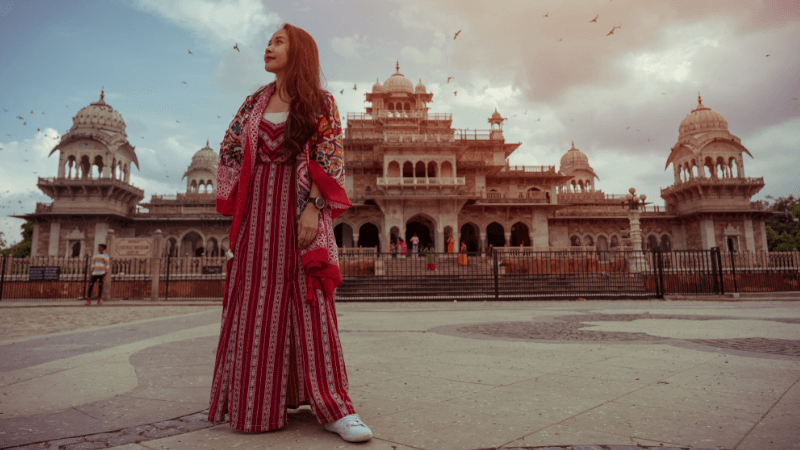 Visit the forts and palaces

: Rajasthan is famous for its stunning forts and palaces, such as the Amber Fort in Jaipur, the Mehrangarh Fort in Jodhpur, and the City Palace in Udaipur.

Camel safari

: Take a camel safari through the Thar Desert and experience the desert's beauty and tranquility.

Hot air balloon ride:

Get a bird's eye view of Rajasthan's beautiful landscapes and forts with a hot air balloon ride.

Wildlife safaris:

Rajasthan has several wildlife sanctuaries and national parks, such as Ranthambore National Park and Sariska Tiger Reserve, where you can spot tigers, leopards, and other wildlife.
Kerala: Kerala can be an unforgettable experience filled with adventures, relaxation, and cultural immersion. Known for its palm-lined beaches, serene backwaters, and lush green landscapes, Kerala offers a perfect escape for a group of friends seeking a break from the hustle and bustle of city life.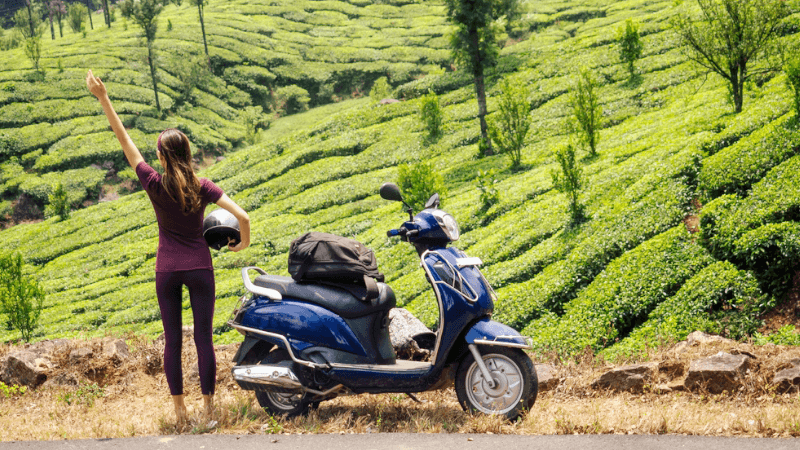 Take a houseboat ride on the backwaters:

Kerala's backwaters are a unique ecosystem of interconnected lagoons, lakes, and canals that run parallel to the Arabian Sea. A houseboat ride through these waterways is a relaxing and picturesque experience.

Visit the hill stations:

Munnar, Wayanad, and Thekkady are some of Kerala's popular hill stations known for their scenic beauty, tea plantations, and wildlife sanctuaries. Trekking and camping in these hill stations are popular activities.

Witness traditional art forms:

Kerala has a rich cultural heritage, and traditional art forms like Kathakali, Mohiniyattam, and Kalaripayattu are worth experiencing. You can catch live performances of these art forms in cultural centers or temples.

Try local cuisine

: Kerala's cuisine is a delightful mix of spices, coconut, and seafood. Some popular dishes to try include Appam with stew, Puttu, Kadala Curry, Fish Molee, and Meen Curry.
Pondicherry: A women's trip to Pondicherry can be a perfect mix of relaxation, adventure, and cultural immersion. Located on the southeastern coast of India, Pondicherry is a former French colony known for its charming architecture, pristine beaches, and spiritual retreats. A stroll through the French Quarter with its pastel-colored buildings and bougainvillea-covered cafes is a must-do activity.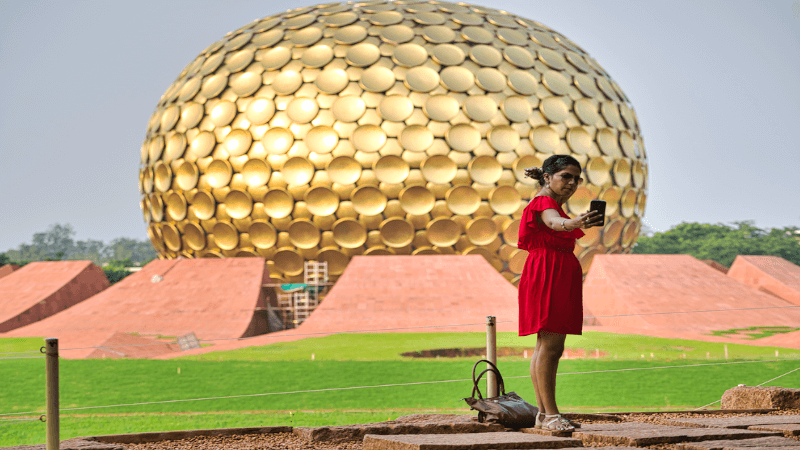 Visit the French Quarter

: The French Quarter, also known as the White Town, is a beautiful neighborhood with cobbled streets, colonial-style buildings, and bougainvillea-covered cafes. A stroll through the charming streets is a must-do activity.

Explore the Aurobindo Ashram

: The Aurobindo Ashram, founded by Sri Aurobindo and The Mother, is a spiritual retreat that offers meditation and yoga sessions. The serene atmosphere of the ashram is ideal for those seeking inner peace.

Relax on the beaches

: Pondicherry has some of the most pristine beaches in India, including Promenade Beach, Paradise Beach, and Serenity Beach. Swimming, sunbathing, and water sports are popular activities.

Experience the local cuisine

: Pondicherry's cuisine is a delightful mix of French and South Indian flavors. Some popular dishes to try include Baguettes, Croissants, and Quiches, as local South Indian delicacies like Dosas and Idlis.
Ladakh: Ladakh, located in the northernmost part of India, is a region of high-altitude desert and rugged mountains that offers stunning natural beauty. Trekking in the Himalayas, camping under the stars and exploring Buddhist monasteries are some of the popular activities for a Ladakh trip. Women can experience the unique Ladakhi culture, with its colorful festivals, traditional dress, and delicious cuisine.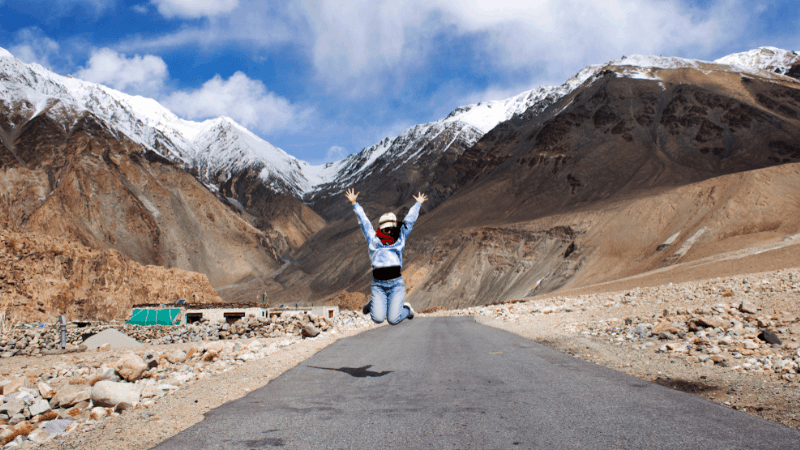 Trekking:

Ladakh is a trekking paradise, with numerous routes offering spectacular views of the Himalayan mountains. The Markha Valley Trek, the Stok Kangri Trek, and the Chadar Trek on the frozen Zanskar River are some of the popular options.

Explore Buddhist monasteries

: Ladakh has a rich Buddhist heritage, and there are many ancient monasteries that offer a glimpse into the region's spiritual and cultural traditions. Some of the must-visit monasteries include Hemis Monastery, Thiksey Monastery, and Diskit Monastery.

Visit the Pangong Tso Lake

: The Pangong Tso Lake is one of the most beautiful lakes in the world, with crystal clear blue water and stunning mountain views. The lake is located at an altitude of 14,000 feet and is a popular spot for photography and camping.

Experience the Ladakhi culture:

Ladakh has a unique culture, with its colorful festivals, traditional dress, and delicious cuisine. Attending festivals like the Hemis Festival, trying local dishes like momos and thukpa, and shopping for handicrafts and souvenirs are some of the ways to experience the culture.
Read more: https://www.easemytrip.com/blog/roads-trips-for-indian-women
From the stunning palaces of Rajasthan to the tranquil roads of Ladakh, the women are determined to experience all that India has to offer. Indulge in flavorful cuisine, haggled at local markets, and danced to the beat of traditional music. Along your journey, meet inspiring women and make new friends. The women are getting more confident and empowered, forging unforgettable memories that would last a lifetime. So what are you waiting for? Book your women gang trip now with EaseMyTrip for an affordable flight tickets and comfortable stays.