Image: Source
Wherever you go in India, one word which you will always get to hear is 'Ram'. Lord Rama was the seventh incarnation of Lord Vishnu and is worshipped by Hindus from all over the world. He was the epitome of goodness and taught us how to be morally correct even when you do not have a shed to cover your head. He defeated Raavan, an extremely powerful and intelligent demon and saved us from his evilness. This is why Rama resides in every heart and every corner of the divine land of India. After the verdict of Supreme Court on Ayodhya issue, everyone knows that a Ram Mandir is going to be constructed in this holy town. However, there are several Ram Temples that are still existing in India. Explore the list of famous Ram temples in India which you must visit once in a life time.
Ayodhya Ram Mandir, Uttar Pradesh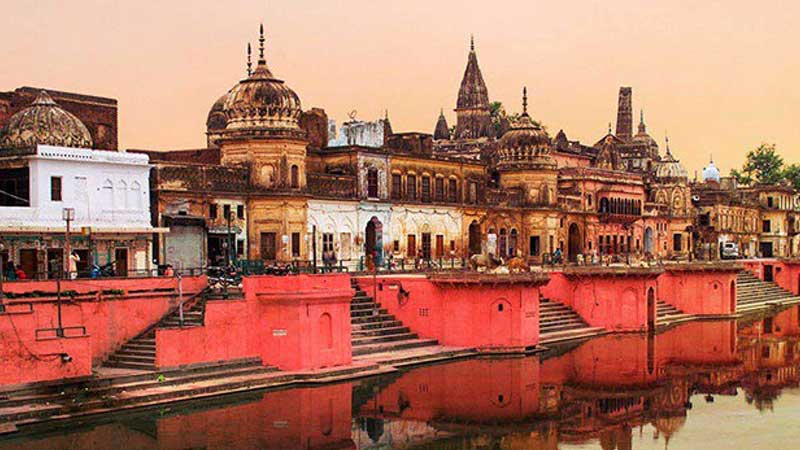 Image: Source
Ram Mandir in Ayodhya has always been prominent to Hindus as it is said to be the 'Ram Janam Bhoomi', the birth place of Lord Ram. Located on the banks of River Saryu in the district of Faizabad, this Ram Mandir holds great importance among Hindus. Every year thousands of devotees are magnetized to this divine land to get a glimpse of the place where their ideal king Shri Ram was born. Tranquil Ghats, quintessential temples and unbeatable belief of Hindus in Lord Ram keep the serenity of Ram Mandir in Ayodhya alive.
Triprayar Sri Rama Temple, Kerala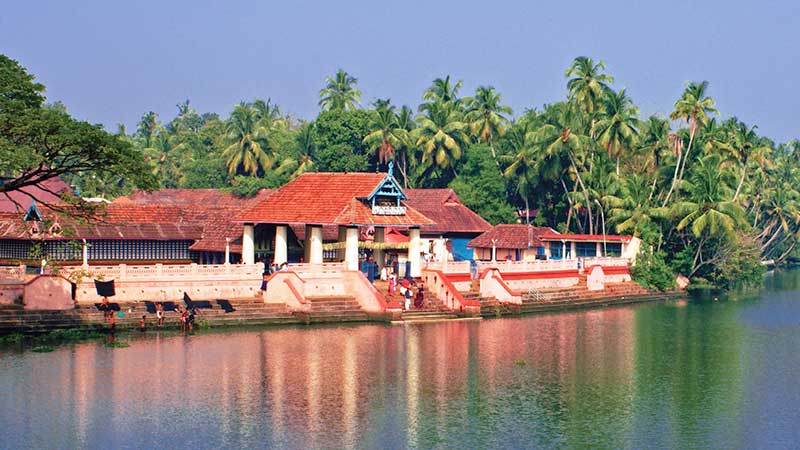 Image: Source
Triprayar Sri Rama Temple is located in Thrissur district of Kerala. This Ram Temple has a very fascinating story behind the installed idol here. It is believed that idol kept in Triprayar was used to be worshipped by Lord Krishna who is also considered to be an incarnation of Lord Vishnu. It was submerged in the sea and founded by a fisherman of the Chettuva region of Kerela. Later the ruler- Vakkayil Kaimal installed that idol in Triprayar temple. You can find intriguing sculptures and wooden carvings in this enthralling temple which makes it one of the best Ram temples in India. There is a belief that visiting Triprayar frees you from all the evil spirits around you. Ekadasi Festival witnesses a grand celebration and joy in this temple. Lord Aryappa is taken out with 21 elephants and devotees from all over the world.
Kalaram Mandir, Nashik
Image: Source
Kalaram Mandir is a stunning Ram Mandir in India which is located in the Panchavati area of Nashik, Maharashtra. Kalaram literally means 'Black Rama' and the temple got this name because of the 2 feet high black statue of Lord Ram. Idols of Goddess Sita, and Lakshaman are also installed. It is believed that when Lord Ram was sent on exile for fourteen years, after the tenth year, he came along with Sita and Lakshman to live beside Godavari River in Panchavati. This temple was constructed by Sardar Rangaroo Odhekar who dreamt that a black statue of Rama is in the River Godavari which he took out from the river next day and installed in Kalaram Mandir.
Sita Ramachandraswamy Temple, Telangana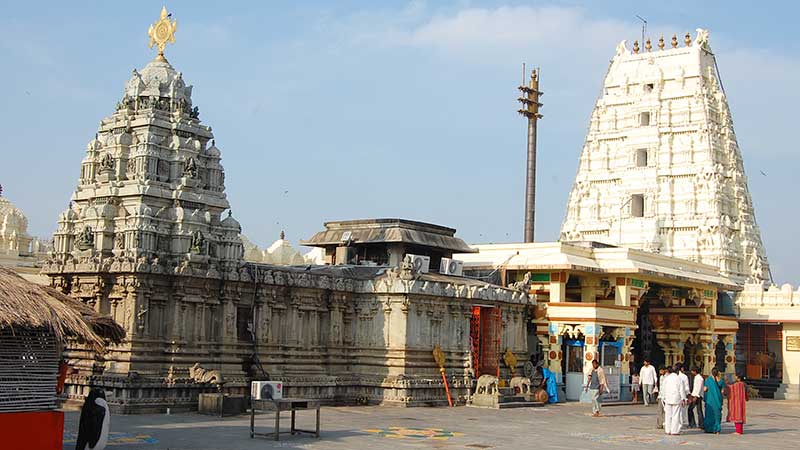 Image: Source
Sita Ramachandraswamy Temple is one of the most famous Ram Mandir in India, which is located in Bhadrachalam, Bhadradri Kothagudem District of Telangana. This temple has a very significant history related to Lord Ram as Ramachandraswamy Temple stands where Rama crossed River Godavari to bring back Sita from Lanka. Idol installed inside the temple stands in Tribhanga's attitude with Lord Ram carrying Dhanu and Ban in his hand and Goddess Sita stands next to him with a lotus in her hand.
Ram Raja Temple, Madhya Pradesh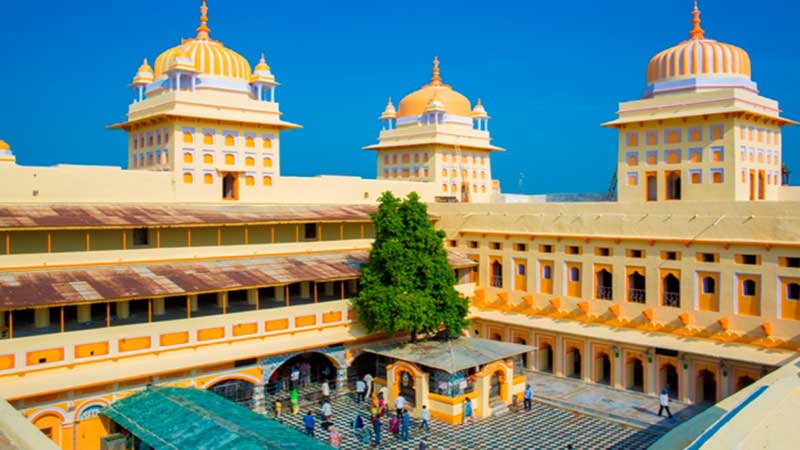 Image: Source
Ram Raja Temple is the only temple in India where Rama is worshipped as King, not as God. This Ram temple is constructed as a magnificent fort along with policemen serving as the guard of the temple. Every day guard of honor is performed and arms salutation is given to King Rama. You will be amazed by the appealing interior of this temple which makes it one of the best Ram temples in India. The idol of Lord Rama in Ram Raja Temple was initially supposed to be kept in Chaturbhuj Temple. But once keeping on the place where it stands right now, nobody was able to move it from there. Vibrant walls and marble courtyard of Ram Raja Temple adds to the beauty of this temple and makes it one of the best Ram Templesin India.
Kanak Bhavan Temple, Ayodhya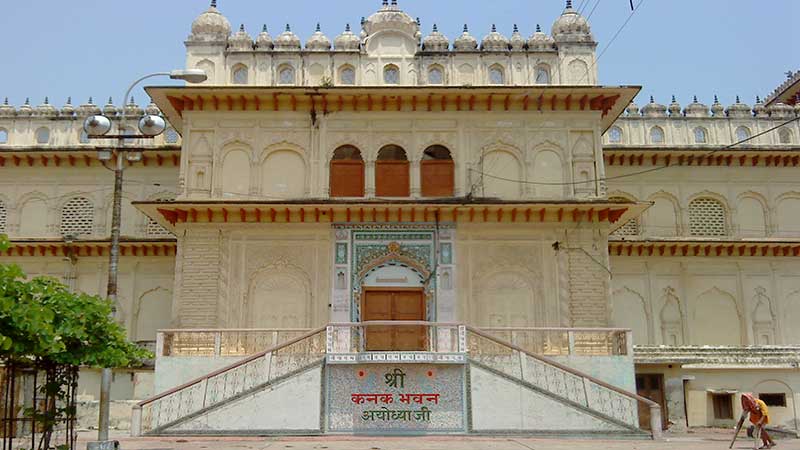 Image: Source
Ayodhya is the birth place of Lord Ram, you will always get to hear his name wherever you go in this divine city. Kanak Bhavan Temple is one of the best Ram temples in Ayodhya. Kanak literally means Gold and this temple is named so because of the gold ornaments and the golden throne of the idols of Rama and Sita. Whenever you visit this holy temple, never miss witnessing either sunrise or sunset here. Kanak temple is built in a way that the main wall of the shrine is east facing. That is why the temple looks stunning when the sun rays fall on its wall. This temple was originally constructed by Kaikeyi, stepmother of Lord Rama as his wedding gift. Later on, it was re-constructed.
Shri Ram Tirth Temple, Amritsar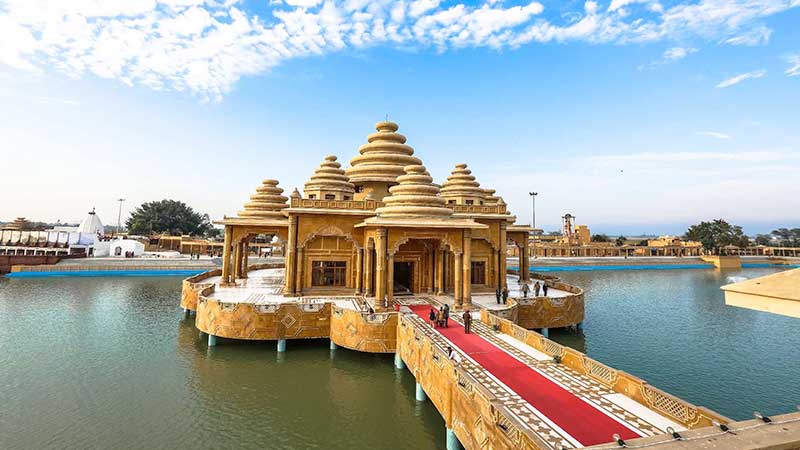 Image: Source
There was a time when Sita was abandoned after she came from Lanka. Shri Ram Tirth is the place where she got shelter in the ashram of sage Valmiki. It is the same place where she gave birth to the twins, Luv and Kush. The fight between the twins and Lord Ram's army took place here at Shri Ram Tirth Temple. The entire epic of Ramayana was composed in this ashram by Valmiki. A series of such significant incidents make Shri Ram Tirth Temple one of the most sacred Ram temples in India.
Kondanda Ramaswami Temple, Chikmagalur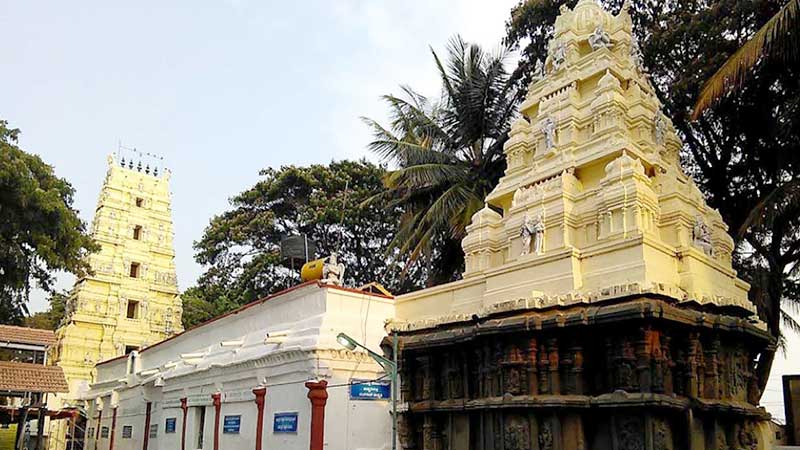 Image: Source
Kondanda Ramaswami Temple is one of the famous Ram temples in India which is located in Chikkamagaluru district of Karnataka. This temple is a perfect blend of Hoysala and Dravidian style of architecture. In Hiremagalur, Parashuaram requested Lord Rama to show him scenes from his marriage and that's why idols in Kondanda Ramaswami are standing with Sita on the right of Rama and Lakshman on his left according to traditions in Hindu marriage ceremonies. It is the only temple in India where you will get to see Sita standing on the right side of Rama and Lakshman on his left.
Ramaswamy Temple, Tamil Nadu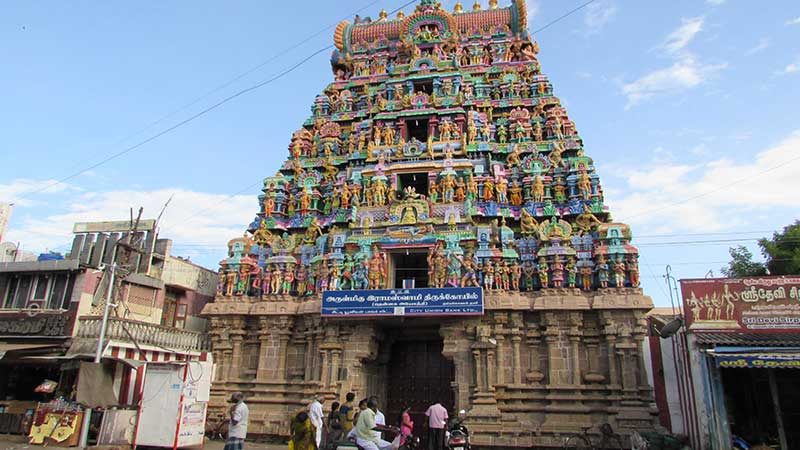 Image: Source
Ramaswamy Temple located in the southern state of India – Tamil Nadu. It is one of the most beautiful Ram Temples in India. Magnificent carvings on this temple depict all the famous incidents taken place during the time of epic Ramayana. The enthralling structure of this temple makes it a must visit Ram Mandir in India. Ramaswamy Temple is said to be the Ayodhya of southern India. It is the only temple where you can see idols of Ram, Sita, and Lakshaman along with Bharat and Shatrughan. In the temple complex, there are three other temples also namely, Alwar Sannathi, Sreenivasa Sannathi, and Gopalan Sannathi which you must visit.
Raghunath Temple, Jammu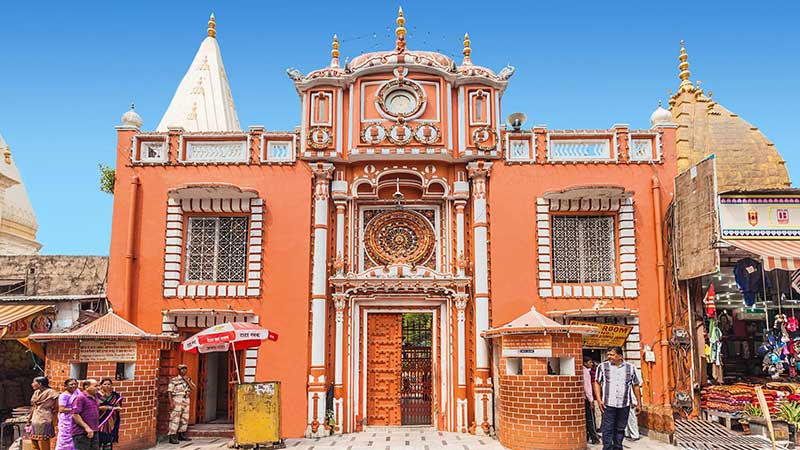 Image: Source
Raghunath Temple in Jammu is a very prominent temple in northern India. Besides the main temple, there are around seven other temples in the Raghunath Temple Complex dedicated to other deities of the Hindu religion. This temple is beaded with enthralling pictures of almost every Hindu Pantheons which are hard to see in any other temple. Architecture of Raghunath temple has a tint of the Mughal style architecture also, due to the dominant power of Mughals in India for a very long period of time.
Visit these enchanting Ram Temples in India which are as divine as the Rama's name. Book your train tickets easily from EaseMyTrip to reach the nearest railway station of these destinations.