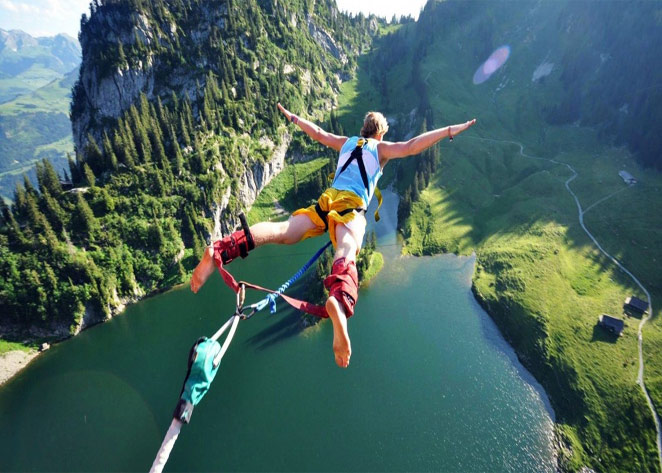 Does even a thought of intense adventure thrill you? Then worry not as India has been fastly moving up on the adventure tourism frontier and bungee jumping is more and more gaining to interest people. Bungee Jumping of course is something everyone has heard about and wanted to experience- a process when you jump off from a height while attached to an elastic cord, this cord is connected to a building or a bridge. Do not worry, simply tighten your safety gear as we are taking you to the best bungee jumping places of India. Follow the places with great discount on the tour packages by EaseMyTrip.com
Rishikesh
A peaceful town located in Dehradun is well renowned bungee jumping destination. With the height of 83 meters it is India's highest Bungee jumping spot providing you the opportunity of having this thrilling experience. There is cantilever constructed over a cliff giving it this much of height. You might find the price little off your budget but what is wrong in spending the money for the experience of a lifetime. The best time for bungee jumping in Rishikesh is all around the year. However, it is advised you to avoid monsoon season, as the activities get a hold due to heavy rains and the region being slippery.
Location: Jumping Heights, situated in Mohan Chatti village, Rishikesh
Price: INR 3,000 per person
Bungee Jump elevation: 83 Mtrs
Age: 12 years
Lonavala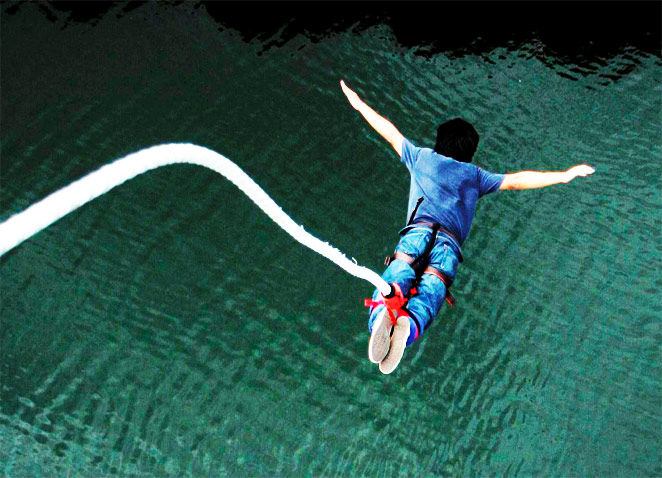 A beautiful hill station located on the outskirts of Pune, Lonavala is perfect as a bungee Jumping destination in India. The city houses 'Della Adventures', which is one of the most amazing bungee jumping spot in India. Placed at a height of 150 ft and lasting for 7- 10 minutes, this jump of your life will give you the most thrilling experience. The best time to try bungee jumping in Lonavala is in the middle of October to May. There are experts which explains you all about the safety measures before the jump moreover you get the certificate of saying that you have overcome your fears.
Location: della adventures, koregaon, Lonavla
Price: Rs. 2500 per person
Bungee Jump elevation: 45 Mtrs
Minimum Age: 10 years
Bangalore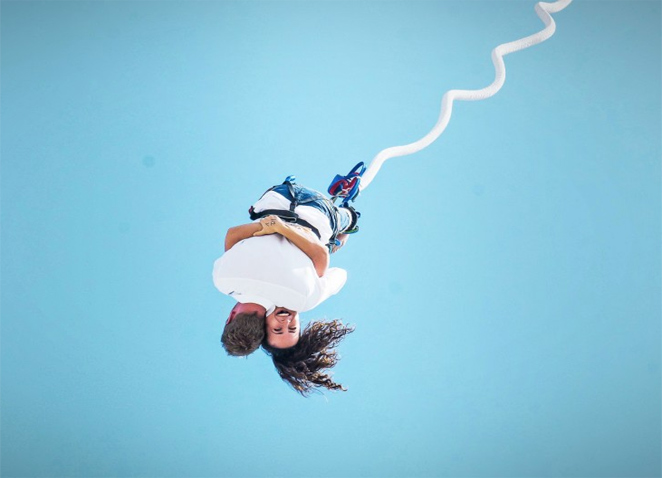 One of the most thrilling sport that Bangalore focuses on is Bungee Jumping. This adventure activity happens in Kanteerava Stadium where the equipments are placed at the height of 130 ft crane whereas the fall is done from the height of 80 ft. The activity is allowed only to people wearing sport shoes and is not on alcohol. The only distinction between bungee jumping in Bangalore and bungee jumping in Rishikesh is that there is no fixed platform in Bangalore. Ozone Adventures is the first one to introduce this adventure activity in Bangalore.
Location: Ozone Adventures, located on St. Mark's Road, Bangalore.
Price: INR 400 per person
Bungee Jump elevation: 25 Mtrs platform suspended from a 40 m high crane.
Minimum Age: 18 years
Delhi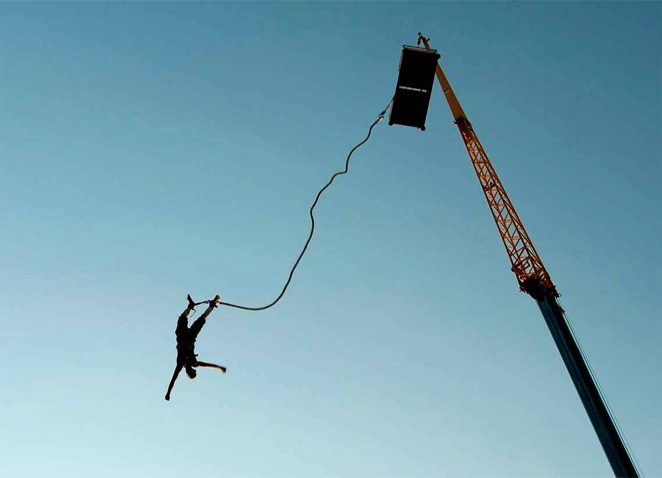 You might not believe but indeed that's true as Bungee Jumping is available in Delhi too. The equipments are attached to 130ft high crane and wanderlust is the ones that own the sport. After taking that leap of faith, one gets a certificate saying that you have overcome your fear with a T-shirt and a cap. The Wanderlust has well equipped staff & gear from Germany to make it one of the best Bungee jumping places in India.
Where: Wanderlust Camps & Resorts, Greater Kailash Part-II New Delhi
Price: Rs.1500 per person
Bungee Jump elevation: 130ft high
Minimum Age: 14 years
Goa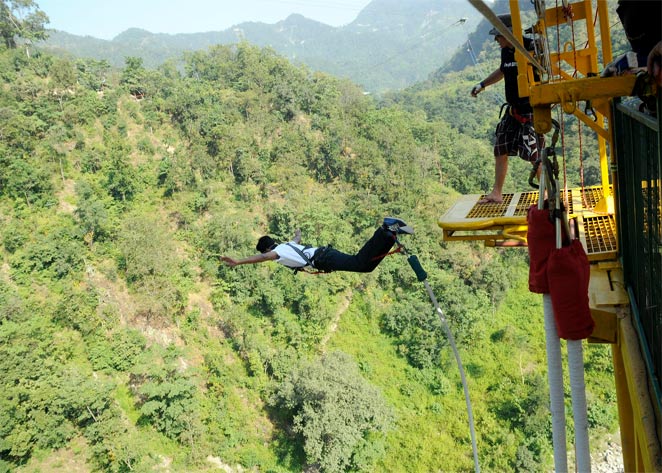 Situated near the famous beaches of Goa, that is Anjuna Beach, there is a Gravity Adventure Zone- installed by a US based company- Sports tower Inc are the people that conducts the activity of Bungee jumping from the height of 80 ft at a very reasonable rate. Being situated at a lower level, it is good for those first timers.
Where: Gravity Adventure Zone, located on Anjuna Beach, Goa
Price: 500 per person
Bungee Jump elevation: 25 Mtrs
Minimum Age: 14 years
Jagdalpur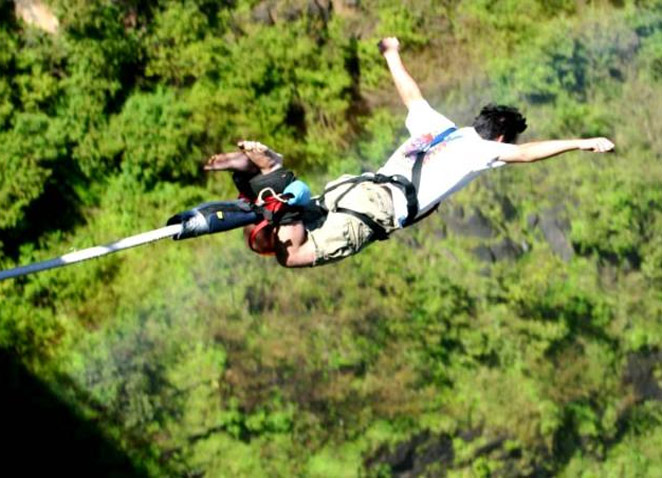 For those who don't know there is a place located in Chhattisgarh, where Bungee Jumping has been started by the Nomadier. Though the activity is at the primary stage, one can still get to experience a lot of fun for the unforgettable experience to be cherished forever. Regardless of the anxiety and the terrifying fear, bungee jumping in India is a sport that everyone wants to try.
Price: Rs. 300 per person
Where: Jagdalpur, located in Chhattisgarh
Bungee Jump elevation: 30 Mtrs
Minimum Age: 14 years
Bungee jumping in India has gaining a lot of attention. So, Live your moment and enjoy the adrenaline rush as you travel to these amazing bungee jumping destinations in India.