India is an interesting travel destination and comprised of many wonderful tourist attractions that can add charm to your travel experiences. Magnetic hill, floating island, vanishing beach and more are some fascinating things about this country that come under natural wonders. If you love to explore such things, you won't need to travel much far as many holiday destinations in India can satisfy your desire. To explore these awe-inspiring things, enjoy the beauty and splendor of these natural wonders in India.
Dudhsagar Falls, Goa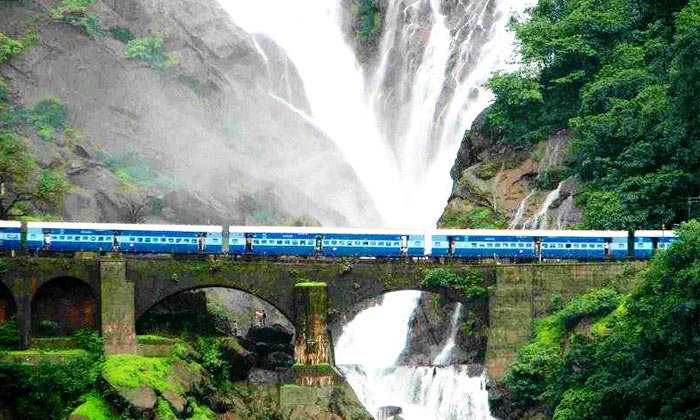 This four-tiered waterfall is located on the Mandovi River between the border of states of Goa and Karnataka. The waterfall is amongst the tallest waterfall of India enjoying a height of 310 meters with an average width of 100 feet. As the name suggests, the waterfall really resembles to the sea of milk creating a marvelous view. No wonder, it is one of the topmost natural wonders of India.
Sparkling Marble Rock Gorges, Madhya Pradesh
The unremarkable town of Madhya Pradesh – Jabalpur features one of the natural wonders of India. Yes the stunning marble rock gorges are one of the natural marvels of India. Narmada River in Jabalpur narrows to a measurement of 10 meters before carving through mountains of white marble. This natural phenomenon has formed an astounding 3 km long gorge that sparkles during the day. It creates a mesmerizing view at night. You can enjoy a boat ride to indulge into the beauty of this destination.
Floating Island on Loktak Lake, Manipur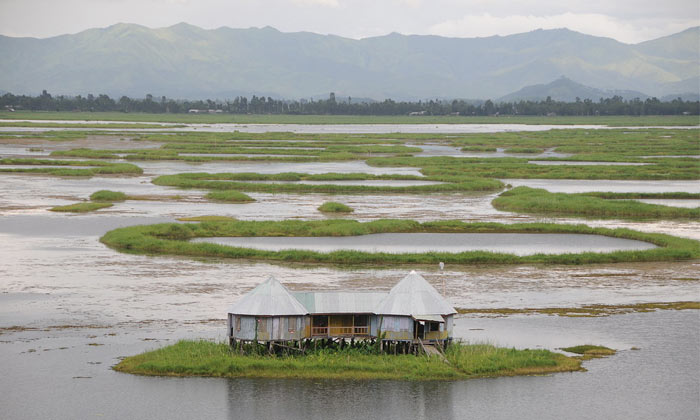 It is really fascinating that a piece of land is floating over the water. If not straight from a fairy tale, it is not also a customary thing. Being home to the largest freshwater lake of Northeast India - Loktak Lake, Manipur is a popular travel destination. This splendid water body features round floating swamps, which are surely unique that make it one of the major natural wonders of India. You will come across many fishermen and more than 200 species of plants, 100 variety of birds and 500 different species of animals. Visiting the world's only floating island in India is fun.
Magnetic Hill, Leh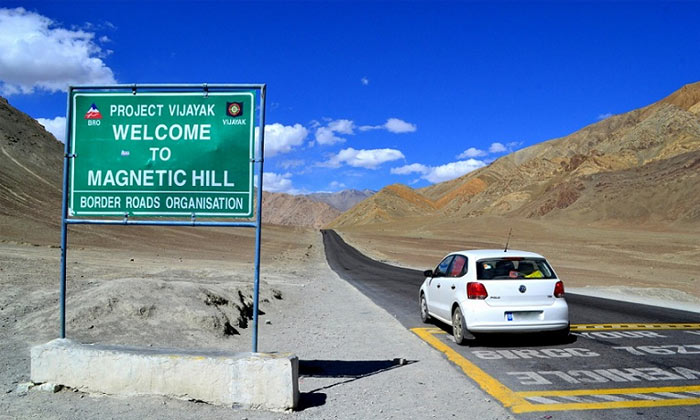 Each corner of Ladakh drops out a magic and mystery. However, the Magnetic Hill of Leh is considerably foremost of all. Also known as Gravity Hill, this unusual hill is located right on the Srinagar-Leh highway. The most exclusive aspect of this hill is that if you park your car in the said area on the road while going uphill, the car slowly starts moving uphill despite turning off the engine and keeping the vehicle in neutral. Many claim it to be an optical illusion but don't go with that and experience this thrill.
Aleya Ghost Lights, Sundarbans
If you can handle something paranormal, then Aleya ghost lights in Sundarbans of West Bengal is a place to see for you. It will surely spark your imagination. One can see the gleaming colorful lights at a distance in the swamps of Bengal. But people are asked to not approach them as these draw them who do so. Scientists consider it to be the ionization of methane or geological faults (although not sure). As per the local believes, these are the spirits of fishermen died in the marshes.
Sparkling Salt Deserts of Kutch, Gujarat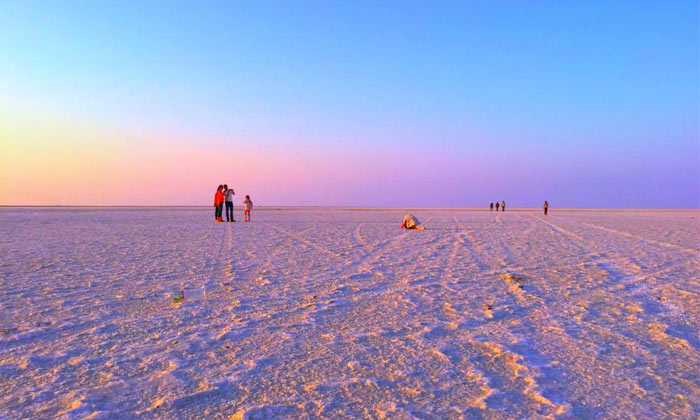 Imagine a scintillating white carpet stretching into the horizon from all around. The salt desert of India — the great Rann of Kutch is the one of its kinds in the world. This unique land mass is a salty swamp where Flamingos flock during the breeding season. Located 10 km away from the Arabian Sea, the Rann of Kutch is soaked in sea water during monsoon season. Once the water reduces, it leaves behind white crystals of raw salt. Visit the place in winters and see the miles of salt fields.
The Meteoric Lonar Lake, Maharashtra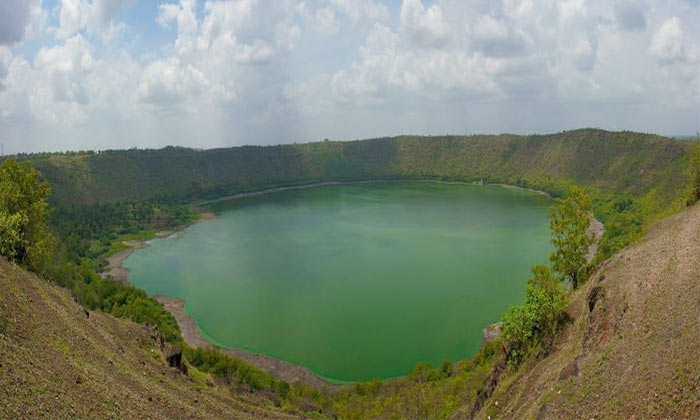 Lonar Lake was created due to the arrival of a meteor from space that crashed into the earth and created this lake. This basalt rock formation, which beautifully evolved into a serene green lake over the years, is located in the Buldhana district of Maharashtra. Science buffs are ecstatic to know that this water body is alkaline as well as saline. Incredibly, the water of this lake supports micro-organisms rarely found anywhere else on earth.
Chandipur Beach, Odisha
Also known as Hide and Seek Beach, Chandipur Beach is the perfect example of nature playing peek-a-boo. The mysterious Chandipur Beach of Odisha literally disappears for some length during low tide and reappears magically a few hours later. This exclusive feature of Chandipur Beach makes it home to unique variety of flora and fauna. Walking through this beach is an awesome experience.
Amarnath Cave, Jammu & Kashmir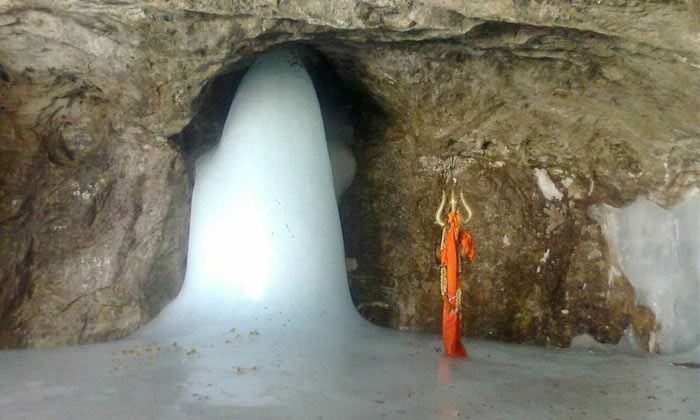 Situated at an altitude of 3, 888 meters, Amarnath Cave is one of the holiest shrines of Hinduism. The place is recognized for the ice stalagmite, which resembles to the Shiva Ling. It amazingly grows and shrinks with the phases of the moon and takes its complete shape in summers. A huge number of devotees come to this place for the holy visit of this religious shrine.
Living Root Bridges, Meghalaya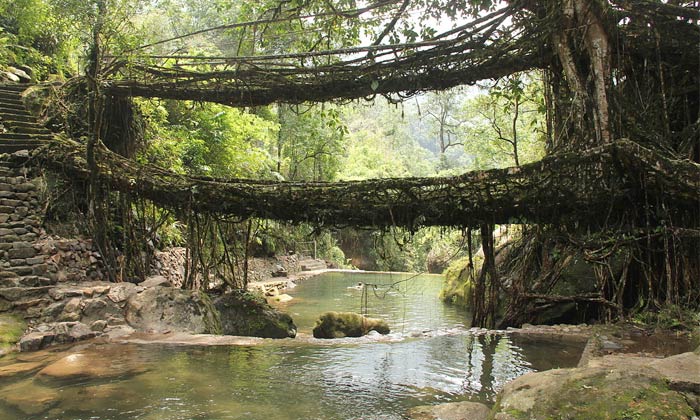 Created from the roots of the Ficus elastica tree, Living Root Bridges of Cherrapunji are unique kind of bridge in Indian state of Meghalaya. This living root bridge is formed across a stream by allowing the roots to grow and strengthen over time until it may hold the weight of a human being. This is a true natural marvel.
Valley of Flowers, Uttarakhand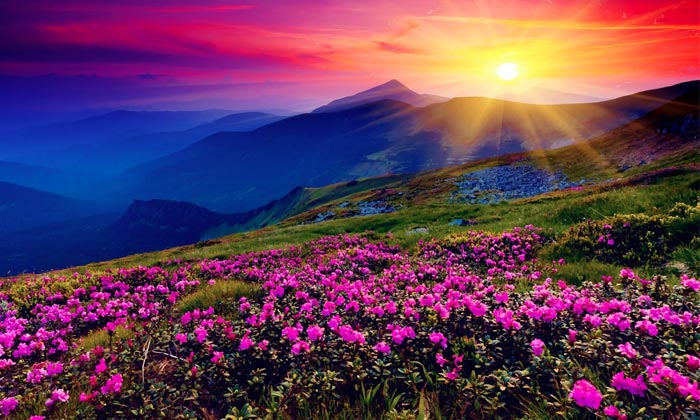 One of the most amazing natural wonders of India, Valley of Flowers is a true natural wonder. Famous for the gorgeous meadows of widespread alpine flowers, a range of flora and incredible landscape, this wonderful place turns into a must visit place for all nature lovers. There are numerous reasons to visit Valley of Flowers National Park, which also features some of the rare and endangered species of animals and birds.