Bali is a beautiful Asian destination where creating high buildings are restricted. The land has the best options available to party away and celebrate. There are many rooftop venues in Bali, which have provided global diners and partygoers some cool options for hangouts. Due to the introduction of the multi-storey classy hotels and venues with dedicated platforms to get together under the stars, these venues have become great alternatives and are now a significant part of Bali's dining and nightlife scene. The best rooftop venues of Bali create great settings and vibes and provide diverse collection of innovative drinks and breathtaking views.
Sky Garden Rooftop Lounge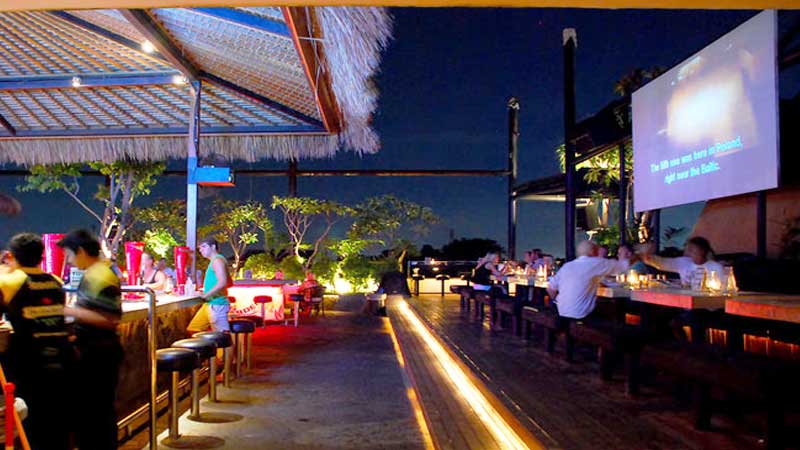 It is one of the pioneering venues of this kind, which offers great dining, entertainment and nightlife experiences to its guests. This long run rooftop restaurant is known for offering nightly buffets with free-flow beers constantly drawing the crowds here. There are smoking barbeques and buffet line, which has a spacious courtyard having a huge white screen for movie screenings or incredible visualizations to accompany the DJ tunes. There is also a bar having a number of seating options, comfortably padded benches and long tables across the rooftop edge. The restaurant will make you realize that you have a great dining option.
Double-Six Rooftop Bar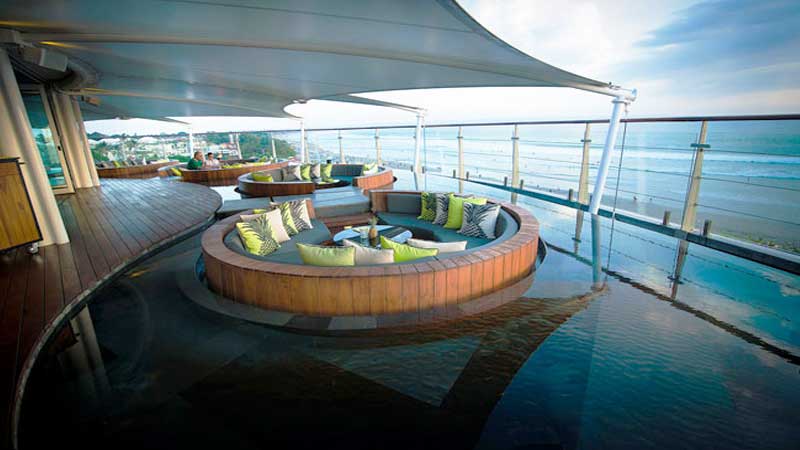 The edge of Double-Six Rooftop Bar is one of the most desired spots in Seminyak, which overlooks the famous Blue Ocean Beach. Its rooftop has round lounge pods with cushions and pillows that are happily set up within a shallow freeform pool. You have to stay into these pods with least spending. Its exclusive pit grill creates a 'circle of fire', where juicy satays are prepared with coconut shell charcoal.
Moonlite Kitchen and Bar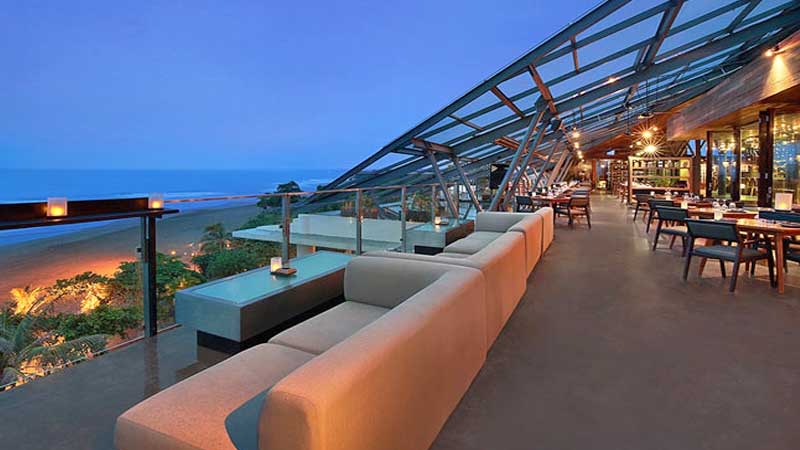 This gorgeous rooftop venue at Anantara Seminyak Resort is a great option to enjoy delicious snacks and breathtaking views. The lounging area at its glass-bordered edge enjoys the stunning views of Seminyak surf and sunsets while relishing its selection of energizing signature cocktails. One can enjoy an amazing sunset with great dining experience.
Velvet & Hypnotized (VH Bali)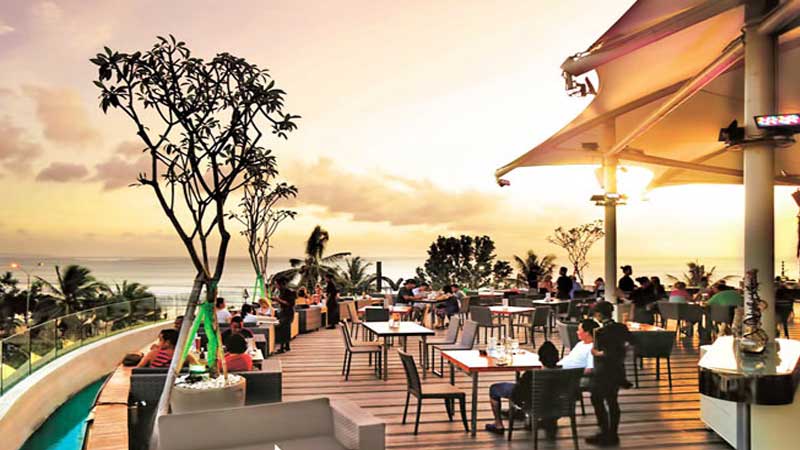 Velvet & Hypnotized (VH Bali) is an ultimate spot to have fun with friends for Kuta Beach's sunsets. The rooftop venue is comprised of a sunset dining and lounging spot - Velvet, which is on the third level of the Kuta Beachwalk. The place offers energizing cocktails and beverages along with fusion pan-Asian cuisine. Enjoy meal on its cozy decks post sunset and then head to Hypnotized Club for partying into the wee hours.
Smoqee Lounge and Sky Bar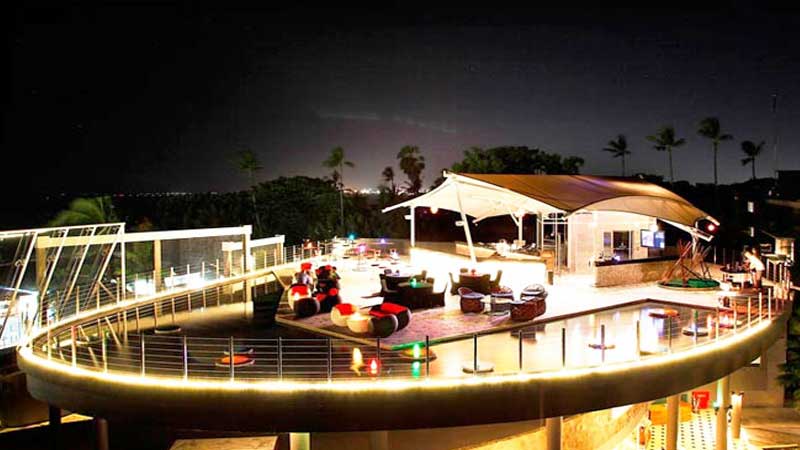 Smoqee Lounge and Sky Bar is one among the very few rooftop bars to beautify the famous sunset and seafood dining destination of Jimbaran Bay. One of the most amazing food and beverage outlets at the Le Méridien Bali Jimbaran is Smoqee, which invites resort and public guests to its two levels. Its upper main space offers a laidback vibe with an open-air bar while its exceptional water decks feature a collection of table setups and comfortable loungers. The view is inspiring and the food served here is delicious.
Unique Rooftop Bar & Mexican Restaurant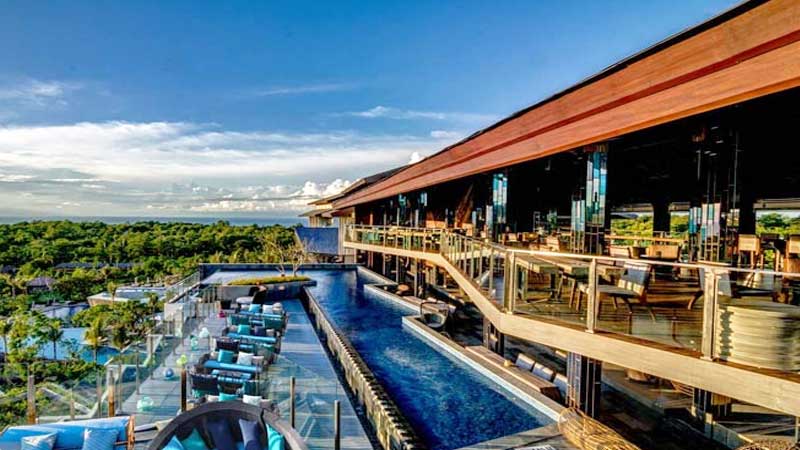 Unique Rooftop Bar & Mexican Restaurant is a leading rooftop venue at the Rimba Jimbaran Bali that enhances the beauty of Bukit peninsula. The luxurious spot offers chic dining and serves as one of the best hangouts for Jimbaran area. The resort venue of this famous Rock Bar offers panoramic views of the green forested hills enjoying a beautiful show during sunset. The rooftop bar offers a retreat during the day with its lounging options around a 25-meter infinity pool, while guests can enjoy a cool alfresco background around the central bar in the evenings. Wonderful martinis and fruity punches are offered along with Asian-inspired gourmet bites.
La Plancha Seminyak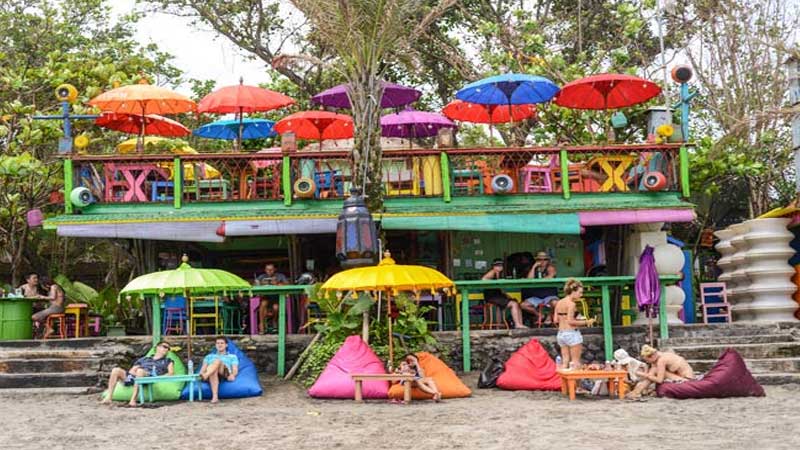 This is a little cafe on Seminyak's Mesari Beach, which offers pleasant splash of colors all through its two-level structure. The place offers a range of delicious grills and Spanish cuisine. Despite not being a high-rise building, this cozy wooden rooftop deck enjoys charming views of the sunsets and the rolling surf makes it just perfect for sunset chill-outs and dining under the stars. The moment sky darkens and beams floods the beachside, it makes you indulge into rare views of the surroundings.
Luna Bar, Restaurant & Sky Lounge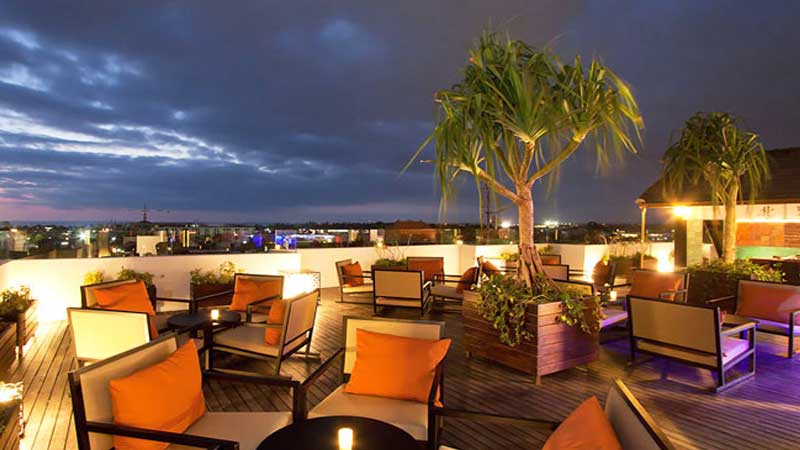 Luna Rooftop Bar is another one in the list of stylish L Hotel and Resort serving awesome food while enjoying the great western ocean views where crimson skies enjoy a dramatic background. It features three exclusive private dining areas having their own identity and style. The long wooden dining table provides seating to up to eight people. Although not right on the beach, Seminyak's horizon is visible from up here, making for airy sunset cocktail sessions or feasts over gastronomic tapas and Asian and Continental flavours