With long journey flights and travel of long hours, airlines not always offer miserable experiences. There are some airlines that are known for their greater comfort level and provide safety to the passengers. We have created a list of the most sumptuous airline cabins and lavish in-flight suites of various airlines that are flying across the world. Various cabin classes of the airlines take care of the privacy of the passengers and provide luxuries like plush hotels. These cabin classes are not only well-appointed but expensive as well. Their shimmering appearance can make you want to travel in them at least once in a lifetime. From sanitation to cleanliness and chic appearance, luxurious airline cabins ensure delightful journeys to the passengers. Read this article to know more about the most luxurious cabin classes of different airlines in the world..
Singapore Airlines Suites Class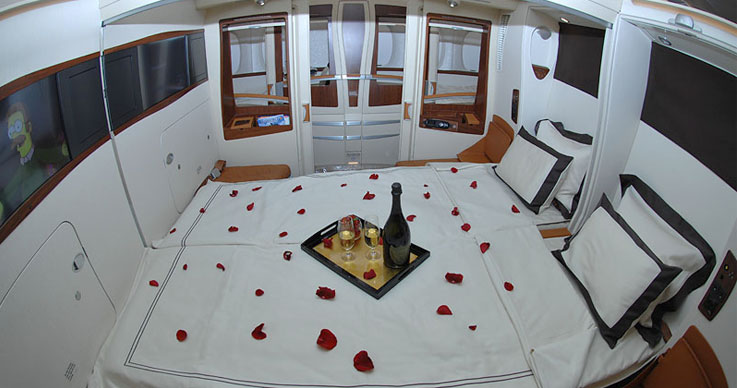 An in-flight experience that Singapore Airlines Suites offers to you is unlike any other. It truly offers the most luxurious airline cabins. Comprised of private cabins with sliding doors and window blinds, the luxurious cabins of Singapore Airlines offer the level of privacy its customers deserve. The designing of the First Class seats were done in partnership with BMW Group Designworks USA. It offers seats that are 35 inch wide and becomes double beds after laid out. These cabins have sufficient in-flight entertainment options along with great options to relish delicious meals prepared by an International Culinary Panel of world-famous chefs.
Oman Air First Class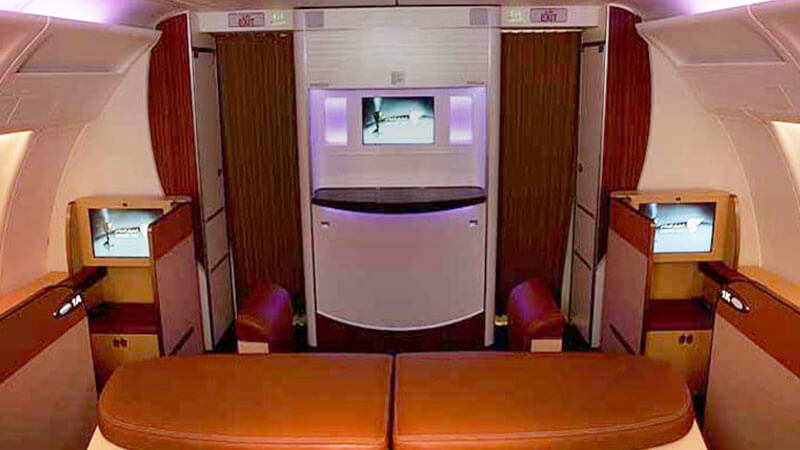 First Class of Oman Air is among the most luxurious airline cabins of the world that offers the passengers an unparalleled level of luxury, including lie-flat seats, direct aisle access and lavish dining. Its first class cabin area features an elegant lounge, and just 6 seats, offering the passengers complete privacy. Passengers traveling in this class feel of being in an elite private jet. Its 25.5′ wide seats have a built in massage system, which allows the travelers relaxing while enjoying great collection of movies or a choice of Arabic inspired gourmet meals. They can relish champagne or wine from their wide-ranging wine cellar.
Lufthansa First Class
The first class of Lufthansa Airlines has been constantly rated as a 5-star experience by travelers. Its ergonomically shaped seats allow the flyers relaxing completely. These seats can extend into 6.6 inch long comfortable beds to provide a relaxed sleep. The passengers can also enjoy a wide range of entertainment options on personalized screens or enjoy a high-quality chef meal in their first class lounge. Ultimate selections of wines are available to satisfy the wine lovers onboard. Passengers can freshen up during their journey with luxurious and complementary toiletries and beauty products available in the washrooms.
Korean Air Kosmo Suite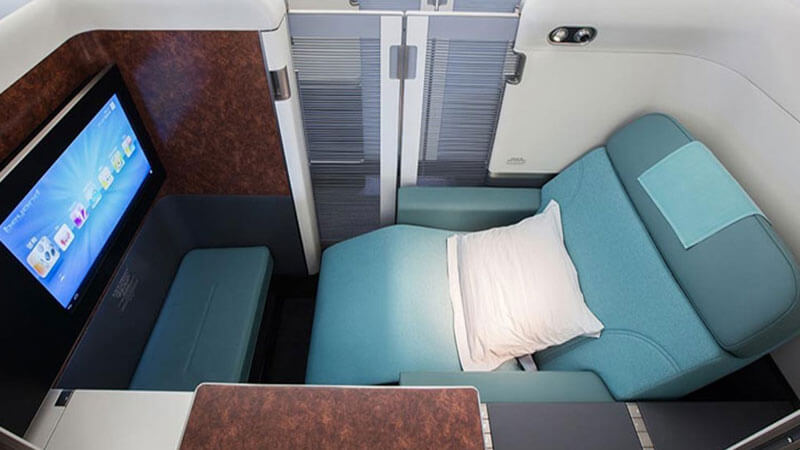 Korean Air's Kosmo Suite is ideal for the travelers seeking a quiet work-space. It is one of the most luxurious airline cabins. Offering adjustable seating with an extended footrest, its 26.5 inch wide seat can be extended to become 5.9′ wider. Guests can be sure of having maximum comfort during sleep on long flights of Korean Air first class. The most exclusive feature to this airline is that the passengers have option to enjoy views of the outside sky on their personal monitors, which allow them having track of their journey.
British Airways First Class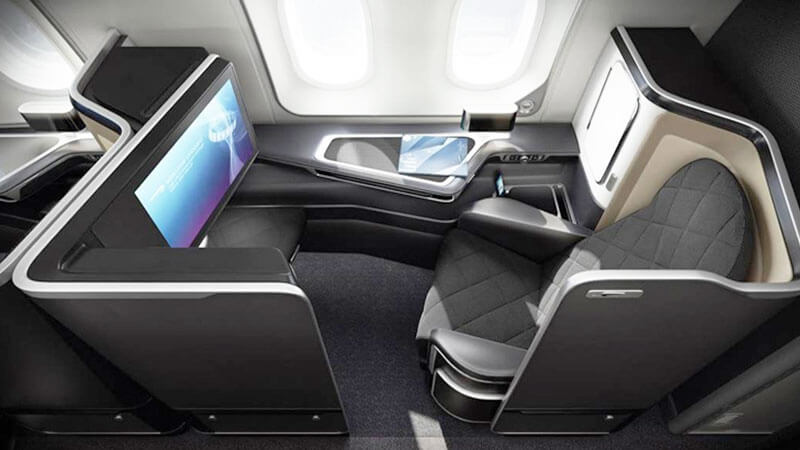 First Class in British Airways is a retreat of comfort and style where stylish and modern British design combines flawless services and meticulousness. Boeing 747-400 offers extremely great comfort. These cabins are adorned with blue lights with sleek reorganized furniture. Even outfits and slippers are also offered in this cabin class. There are a lot of ways for entertainment that are added inside the cabins. Food served is also relishing and the seats provide enough comfort for your journey of 4 hours.
Qatar Airways Business Class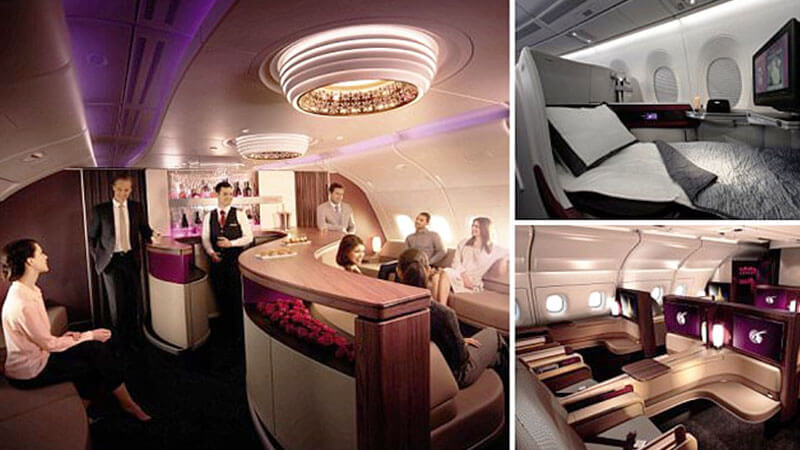 Business Class of Qatar Airways allows you acquiring a new height of extravagance and sophistication. Its blends simplicity, space and outstanding facilities with technology. With the elegance of great travel planning and state-of-the-art facilities, this cabin class makes you unwinding and enjoying your dream journey. A huge LCD screen is attached to the each seat of this cabin class and for the entertainment of the passengers, an array of films, games and music CDs are provided. Delicious food served onboard is the added advantage of this cabin class.
Etihad First Class
First Class in Etihad redefines lavishness and offers excellent travel experiences during your journeys. First Class cabin of Etihad Airways is really beautiful and provides a personalized ambiance that transports the passengers into a private space. It features the supreme and supple Poltrona Frau leather, extended armchair, an ottoman and space to take a leisurely walk. When you will open its ottoman, it will turn into an 81-inch comfy bed. There is an adjustable 24-inches TV screen, a cabinet of drinks and a wardrobe. The menu of the airline is comprised of a great selection of food items and the chef comes to the passengers to jot down the passengers choice. Amidst supreme luxuries, your trip with Etihad First Class is going to be a beautiful experience.
Emirates First Class Suites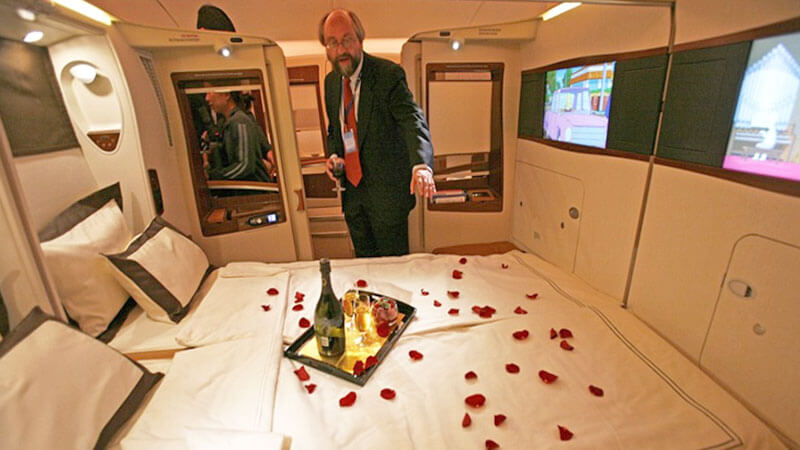 On your journey with Emirates First Class Suites, there are great options of chilling-out. You can revitalize with A-380 shower spa and relish variety of scrumptious food and snacks without any time restriction. The cabin class offers utter privacy to the travelers where they get entertainment and great opportunities to relax while enjoying their favorite movies. There are convertible seats in this cabin that turns into flat bed with mattress to offer relaxing sleeps to the passengers.
Jet Blue Mint Class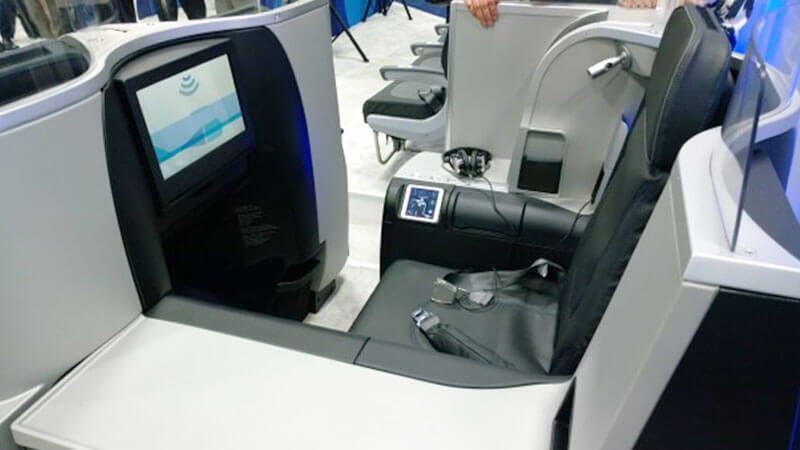 Jet Blue Mint Class comprises of entirely flat seats, offers fresh dining options and stimulating amenities. Its lie-flat seats offer plenty of room, a massage feature and cushions with adjustable control. This is perfect for enjoying much-desired naps and absolute privacy. In this cabin class, you can enjoy non-stop entertainment along with great options of mouthwatering in-flight bites. For achieving the supreme Mint experience, a gracious amenity kit of diverse grooming and lifestyle products are offered.
Thai Royal First Class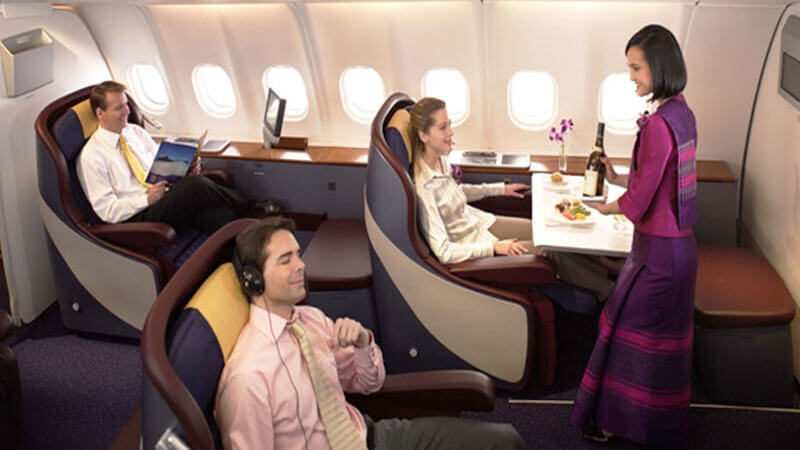 Passengers in Royal First Class enjoy special facilities with absolute stately elegance. With Thai Royal First Class, go for enjoying a luxury flying with first-class comfort and a superior privacy. The flight offers the famous spa services of Thailand to its first class passengers at Royal Orchid Spa. The in-flight entertainment of this airline features 23-inch flat TV screen where you can enjoy 130 movies, 300 TV programs, great collection of music CDs and a range of games. One can enjoy mouth-watering flavors from different parts of the world along with the best options in champagne.
Air France A380 First Class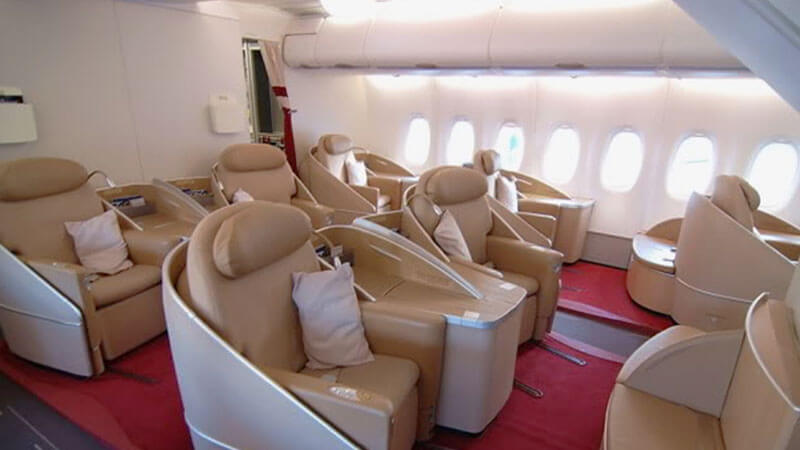 First Class Cabin of Air France only has 9 seats that are known for their space and sophistication. Some of these seats are single while some have seats adjoining this. Seats of the cabin are handy and controlled manually. Bose super headphones are attached to each of them. Passengers traveling in this class are offered with casual outfits and slippers. They also serve deliciously prepared food with grace and warmth.
Virgin Atlantic A330 Upper Class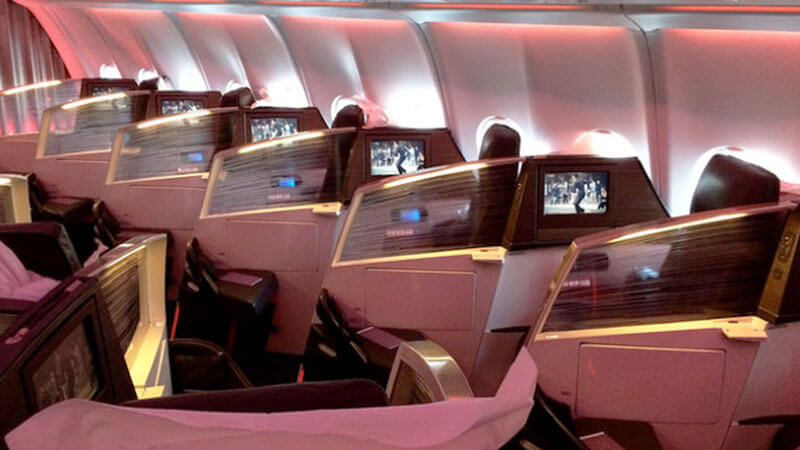 Virgin Atlantic Upper Class offers a journey that you used to ever dream of having. With personalized check-in, utter privacy, shining interiors and lightings, you may feel like being in a discotheque. The seat arrangement is completely manual and allows the passengers sleeping sound and stretching out. The personal TV screen of the cabin accompanies a number of movies and games. Dining is also awesome in terms of taste and quality. By traveling with Virgin Atlantic A330 Upper Class, go for enjoying superb facilities in a great ambiance. To enjoy a breathtaking and extravagant air traveling,one can book flight tickets in these cabin classes. To explore more about these airlines and get good deals on flights, visit EaseMyTrip.com.