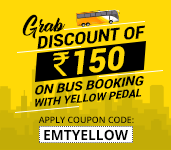 ×
Terms & Conditions
Customer will get flat discount of Rs. 150 for each seat
Customer can avail discount upto Rs. 900
All our new and existing customers can avail the offer
Offer is valid for a limited period
Valid for Delhi - Gurgaon - Jaipur & Jaipur - Gurgaon - Delhi routes only
Other Terms & Conditions of EaseMyTrip will also apply with this offer
Goa Pune Bus Schedule & Fare
Popular Bus routes from Goa
Goa to Pune Bus Route Details
| | | | |
| --- | --- | --- | --- |
| Cheapest Fare | Time Taken | Bus Operator | No. of Buses |
| 400 | 11h 4m | 76 | 150 |
Boarding Points in Goa
Dropping Points in Pune
MARGAO - OPP KTC BUS STAND(M)+919325011929
PANJIM - BEHIND KTC BUS STAND EDC PLAZA (M)+917507078634/ 0832 - 2437386
MAPSA - OPP TAXI STAND. PH 0832 2255967,7507078634
BANDA, OPP S T STAND, GOA PH:7875015829/0832-2263067
SAWANTWADI - OPP S.T. BUSTAND +917875015829,7507078634
KUDAL, OPP SATYAM HOTEL, GOA PH:7875015829/0832-2263067
OPP S T STAND KANKAVALI 7875015829,7507078634
SAWANTWADI - ZARAP BY-PASS
Panjim near ktc bus stand,paulo terminal
Mapusa-near gandhi circle opp caralho petrol pump
Banda- katta corner vishal travels
Madgaon InSide K.T.C.Bus Stand
Panjim Ambedkar Garden
Porvorim - O Coqueiro Circle, Porvorim , Goa
Mapusa Taxi Stand
KATRAJ,WONDER CITY BUILDING,OPP JAIN TEMPLE,PH NO :- 02024376664.(M) 8879941524,
WAKAD - HINJEWADI BRIDGE, VRL VIJAYANAND TRAVELS,BHUJBAL CHOWK, (M) 7768006179
SWARGATE MITRAMANDAL CHOWK.VRL TRAVELS OPP-IDEA SHOWROOM.VAN PICK UP, 02024420051/7391053392.
CHANDANI CHOWK (M) 8879941524
CHINCHAWAD, NEAR HDFC BANK,SACHIN TOURS AND TRVLS PH 020 - 24376664 (M) 8879941524
NIGADI , NEAR P.M.T. BUS STOP . PH. 8879941524,8879941526
PRADHIKARAN, OPP AKURDI RAILWAY STATION. (M) 020-24376664,8879941524
SWARGATE,MITRAMANDAL CHOWK. VRL TRAVELS.OPP-IDEA SHOWROOM.VAN PICKUP. 02024420051/7391053392.
Pune
Katraj
Padmavati Parking
Swargate
Shivaji Nagar
Yerwada
Viman Nagar
Bus Route Description
To travel between Goa to Pune, one of the best ways is to travel comfortably is by bus. Travelers travelling between Goa to Pune bus route can now easily book their bus tickets from online bus booking portal of EaseMyTrip which lets you book tickets easily without standing in long waiting queues. The total distance between Goa to Pune route is 440 kilometers and the total time required to reach Goa from Pune by bus takes 10 hours and 51 minutes. Daily around 65 buses from 19 bus operators run their buses on Pune to Goa route. The starting fare for Pune to Goa bus tickets is Rs. 300 which increases with the type of bus travelers choose. Moreover, travelers willing to travel by bus on this route can get tickets even on last minute with EaseMyTrip.
Bus operators between Goa and Pune
There are several bus operators, which offer consistently great bus services on Goa to Pune route. All these bus operators offering bus services from Goa to Pune have their own terms and condition.
VRL Travels
Paulo Travels
Gujarat Travels
Paulo Travels2X1 Kingsize Family AC Sleeper/Seater
Paulo Travels2X1 AC Sleeper
Paulo Travels2X1 (38) KINGSIZE NON AC SEATER -SLEEPER
IntrCity SmartBus-RailYatri
Bombay Travels2X2 NAC Seater
Paulo Travels2x1 family king size AC Seater -Sleeper
KONDUSKAR
Paulo Travels2X1 Volvo Multi Axle Family Sleeper wirh backrest/Seater
Paulo Travels2X1 Kingsize AC Seater Sleeper
GPT MOHAN TRAVELS
Paulo TravelsNo Dinner Halt (M70) Volvo Multiaxle VIP Family Sleeper With backrest
Paulo Travels2X1 KING SIZE AC FAMILY SLEEPER SEATER
FAQ
Q) How many daily bus trips are there from Goa to Pune?
A: There around 150 buses that travel from Goa to Pune.
Q) What is the busiest time to travel from Goa to Pune?
A:Weekends or Public holidays are the busiest time to travel from Pune to Goa
Q) What is lowest bus fare from Goa to Pune?
A:The lowest bus fare from Goa to Pune is 400
Q) What time first bus leaves from Goa to Pune?
A: The first bus from Goa to Pune leaves at 10:00
Q):What is the timing for the last bus from Goa to Pune?
A:The last bus departs at 22:31 for Goa to Pune