Karnataka is a lot more than just a popular travel destination. It is a place that has preserved its cultural heritage around contemporary settings. There are various places that are bestowed with beautiful natural beauty and hence making it one of the best places to visit in India. Among other famous tourist places in Karnataka, one of the best places to visit is its glorious temples, representing architecture from the Hoysala Empire. These sacred places are not just places of worship but also places representing the country's glorious history, traditions and cultural heritage.
Showcasing the ageless beauty along with a magnificent architectural style, take a look at the most famous temples in Karnataka.
Read more: Richest Temples in India Famous for Their Immense Wealth
Durga Temple, Aihole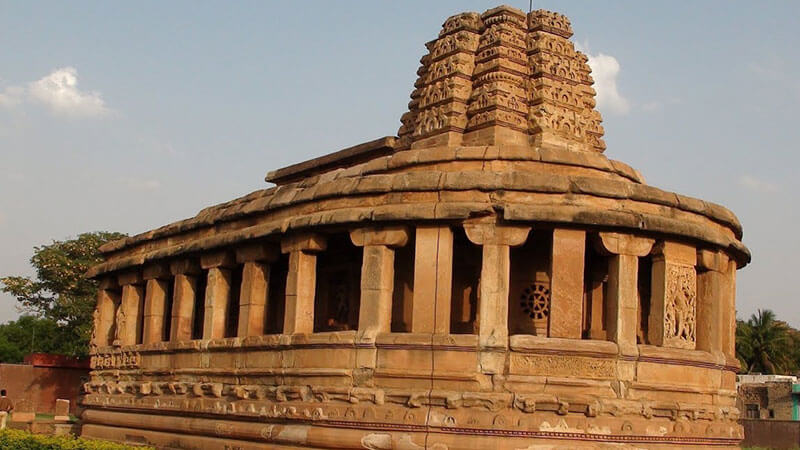 Located in Aihole in the Bagalkot district, Durga Temple is a historic temple complex and a popular tourist place in north Karnataka. Constructed in 7th Century AD, the temple boasts a beautiful rock-cut architecture and is assembled in an apsidal and rectangle shape, making it look more beautiful and different from other temples in Karnataka.
Keshava Temple, Somnathpur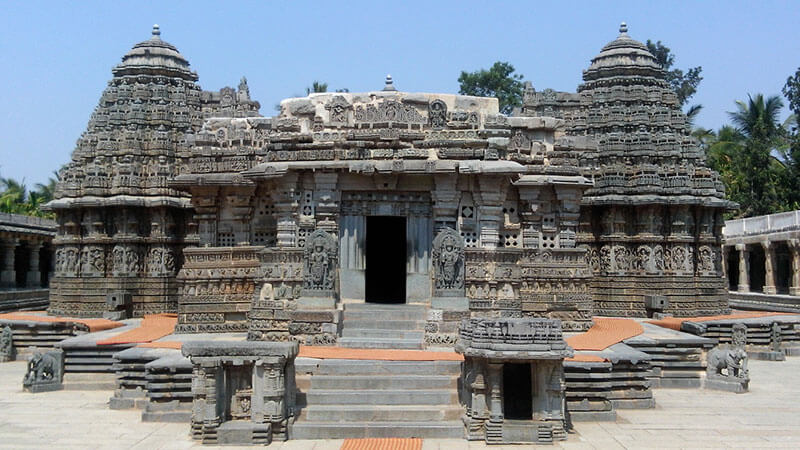 Constructed in 1286 AD, Keshava Temple is one of the heritage temple in India and one of the most preferred religious places in Karnataka. The distinctive element of this temple is its three-star shaped sanctuaries covered with intricate sculptures.
Murudeshwar Shiva Temple, Bhatkal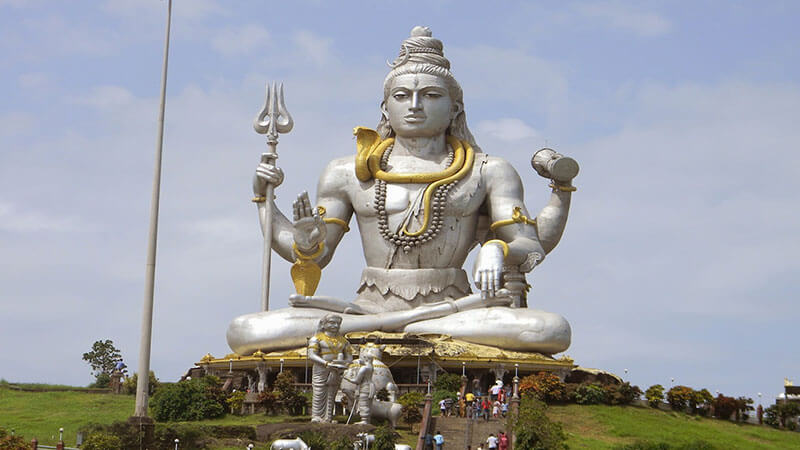 Situated on the Kanduka hill on the beach of Arabian Sea, Murudeshwar temple is one of the best Shiva temples in Karnataka having the second tallest statue of Lord Shiva in the world. Murudeshwar Temple complex comprises of a huge tower of 20 storeys, called Raja Gopura (king's tower). Apart from offering breathtaking views of the surroundings, this pilgrimage destination in Karnataka offers tranquility to let you pray to lord Shiva in peace.
Read more: Largest Temples in the World
Kukke Subramanya Temple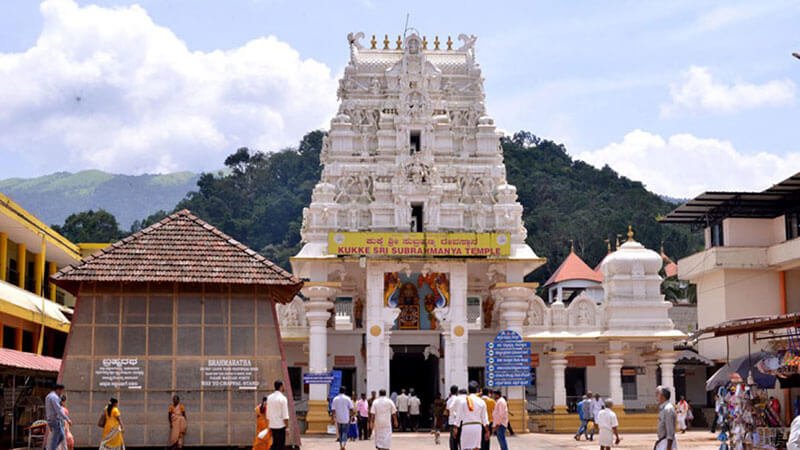 Located at a distance of 100 Kms from Mangalore, Kukke Subrahmanya Temple is one of the most revered temples in Karnataka. Enclosed by the beautiful river, hills and lush greenery, this religious site helps you pray to Lord Subrahmanya in the most peaceful environment. The place holds a great religious significance as it is believed that the serpent God Vasuki and other serpents found refugee under Lord Subrahmanya when attacked by Garuda.
Udupi Sri krishna Temple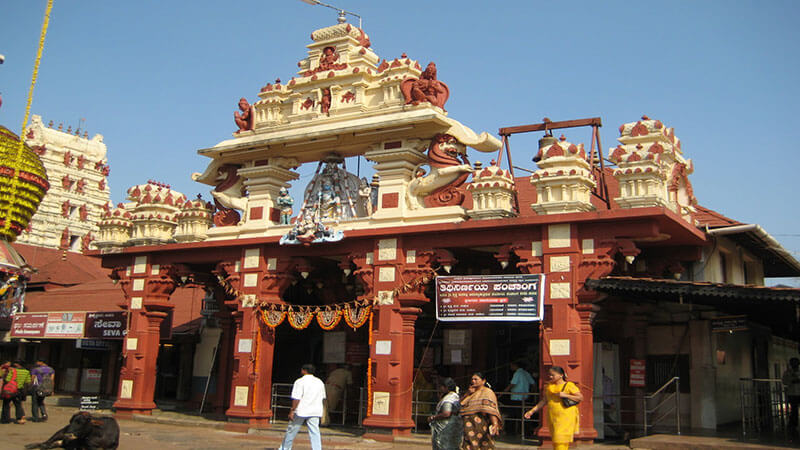 Built in the 13th century by Madhvacharya, Udupi Srikrishna Temple is a popular Krishna temple in Karnataka. The legend has that Kanakadasa (an ardent devotee of Krishna) was denied entry into the temple because of its cast. So, he would stand dedicatedly and pray. Seeing his devotion, Sri Krishna was touched. Even today, one can see the idol through a window, named as Kanakana Kindi.
Read more: Insanely Mysterious Temples in India and Their Strange Rituals will Give You Shocks
Banashankari Amma Temple, Bagalkot
Sited near Badami, the Banashankari Amma temple is one of the must-visit temples in Karnataka. The temple was established by the Chalukyas in the 7th century and is dedicated to goddess Banashankari Amma. Showcasing Vijayanagara architecture, the temple fascinates every kind of traveler and is now belongs to Archaeological Survey of India.
Vitthala Temple, Hampi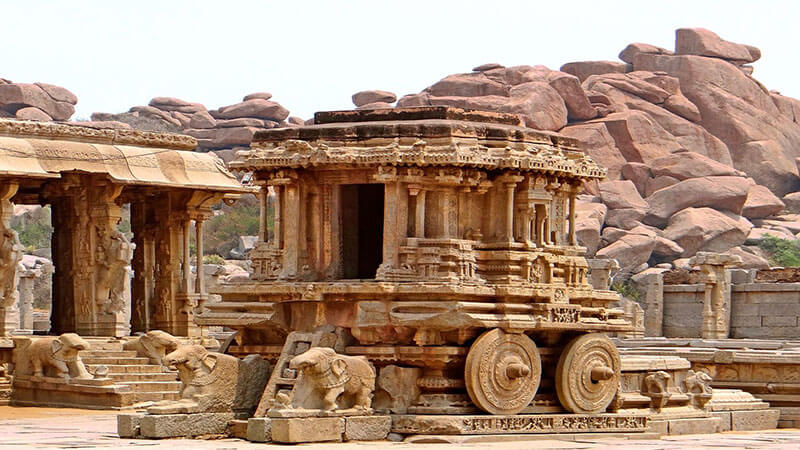 The Vitthala Temple in Hampi is one of the best UNESCO World Heritage Sites in India famous for its exceptional architecture and unmatched craftsmanship. It is considered to be one of the largest and the most famous temples in Karanataka. The Vitthala temple looks unique with its musical monolithic pillars and the stone chariot which fascinates the travelers from all over the world.
Read more: Most Famous Buddhist Temples and Monasteries in India
Vidyashankara Temple, Sringeri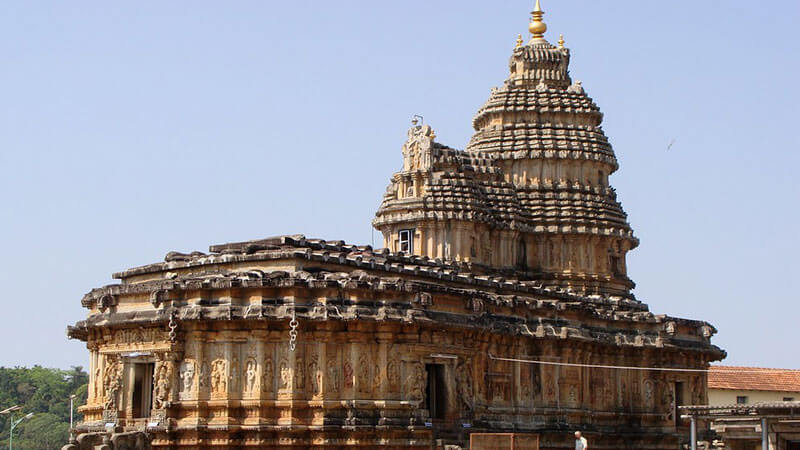 Famous for its magnificent architecture, Vidyashankara Temple is a renowned temple in Karnataka, dedicated to lord Shiva. The temple contains images of Lord Srinivasa, Lord Venugopal and Nandi constructed from a large pearl along with several creative inscriptions across the temple. Being an important pilgrimage spot in Karnataka, The temple is easily accessible from all major cities via several bus and train.
Kotilingeshwara Temple, Kolar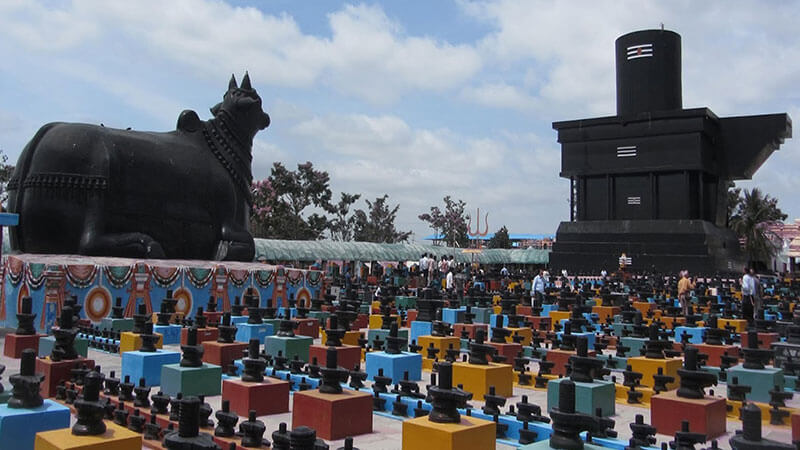 Located in the small village called Kammasandra in the Kolar district, Kotilingeshwara Temple is one of the most celebrated temples in Karnataka, housing the tallest and largest Shiva Linga statue in Asia. Built in the year 1980 over an area of 13 acres, Kotilingeshwara Temple is a place of great religious significance and attracts around a huge number of devotees from all over the world.
Read More: Shiva Temples in India that Every Shiva Devotee should Visit
Chennakeshava Temple, Belur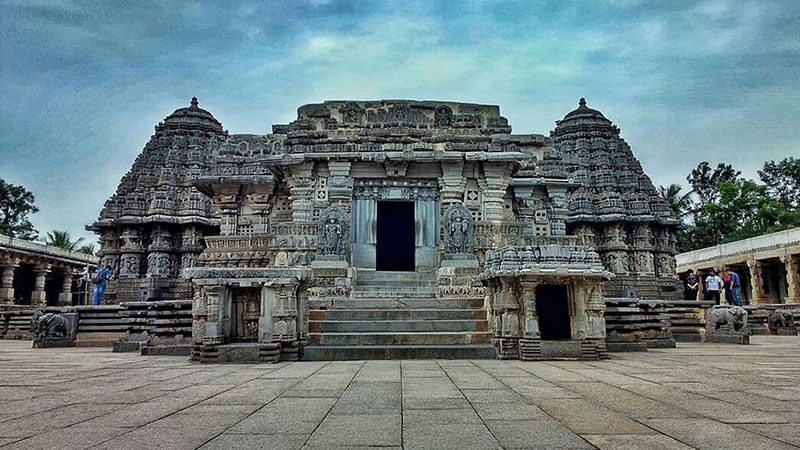 Chennakeshava Temple at Belur is one of the most amazing tourist destinations and a great heritage temple in Karnataka. Built on the banks of the Yagachi River, this stunning temple is the grandest examples of Hoysala architecture and has been proposed for world heritage sites.
Read more: Top Religious Places to Visit in India