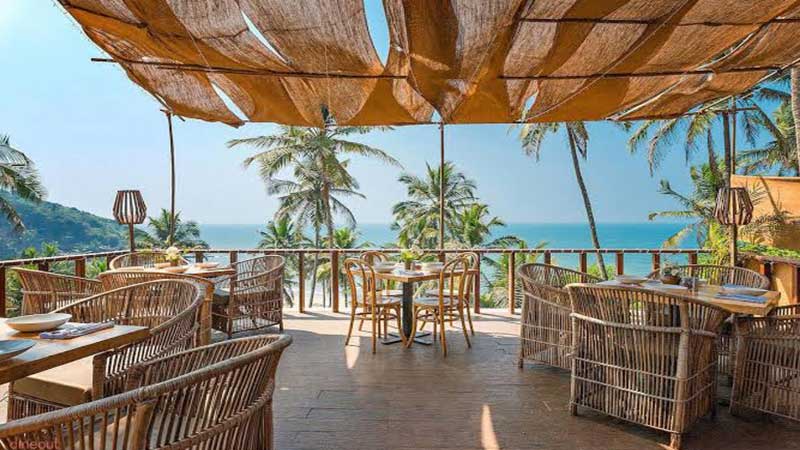 Image: Source
Goa is all about beaches, parties, adventure, and seafood. It's no wonder that the place is famous for offering a great variety of delicious seafood. No matters, wherever you stay and eat in Goa, you will always find some seafood on the menu. From kingfish to prawns and from crabs to squids, you can relish everything in Goa. If you love seafood, you must head to any of these below-mentioned restaurants to give them a try.
01. Souza Lobo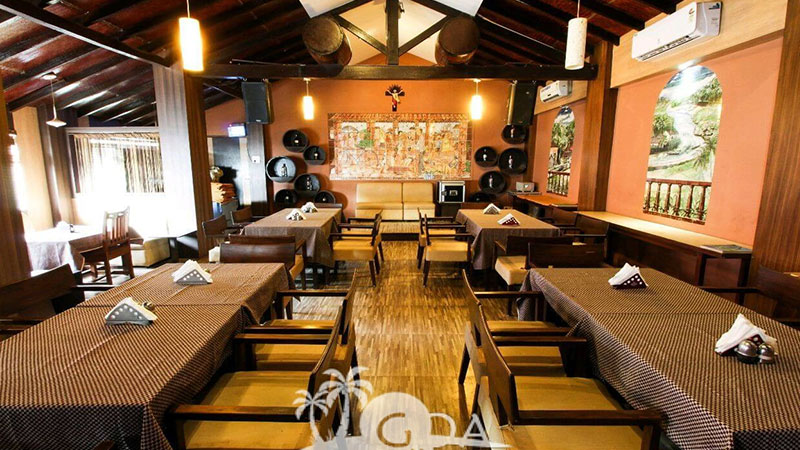 Image: Source
Souza Lobo is one of the favorite restaurants of locals as well as tourists to try-out the best quality seafood. The plastic chairs inside the restaurant offer you a shacky vibe. The vibrant paint on the walls with painted windows give you an awesome feeling when hot and delectable seafood is served on your table. Their seafood menu includes fried fish, crab xacuti, prawn curry with rice and a lot more. You must try Goan dishes at this restaurant as they are highly popular for their relishing taste.
Address: Calangute Beach, Near Bandhokar Statue, Calangute, Goa 403516
Timings: 11:00 AM – 11:00 PM
02. Martins Corner, Betalbatim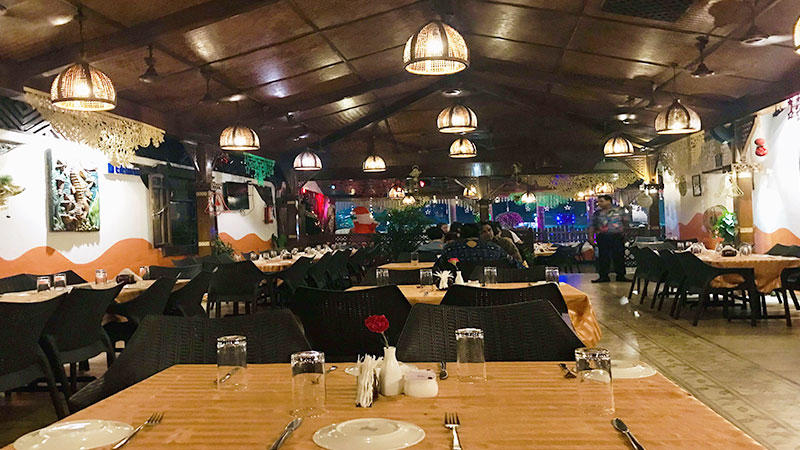 Image: Source
Martins Corner is a very old restaurant in South Goa that is famous for seafood. It was established in 1965 and started with 3-4 tables as a corner shop. Now, it has been expanded into a large restaurant that can serve over 250 people at once. Though the restaurant serves multicuisine, its specialty lies in the seafood. The King's crab is one of the favorite food items of many tourists coming over there. Apart from prawns, squids are also flavorful here.
Address: Ranvaddo,Betalbatim, Salcete, Goa
Timings: 11:00 AM - 3:30 PM
03. La Plage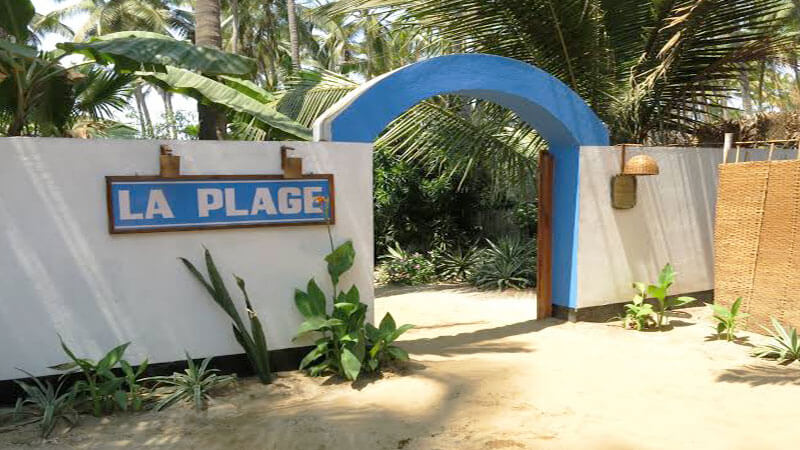 Image: Source
La Plage is a beach shack located at Ashwem Beach and highly popular for its fine dining. They serve French fares like squid, chicken and gratinated mussels with onion jam and carbonara sauce. The casual surroundings and airy dining area give you an awesome feeling while having your favorite seafood. It is a perfect place for a romantic dinner. Also, you can enjoy the stunning views of the sea while having dinner with your partner.
Address: Ashwem Beach, Morjim, Goa 403512
Timings: 8:30 PM – 10:30 PM
04. Ritz Classic, Panjim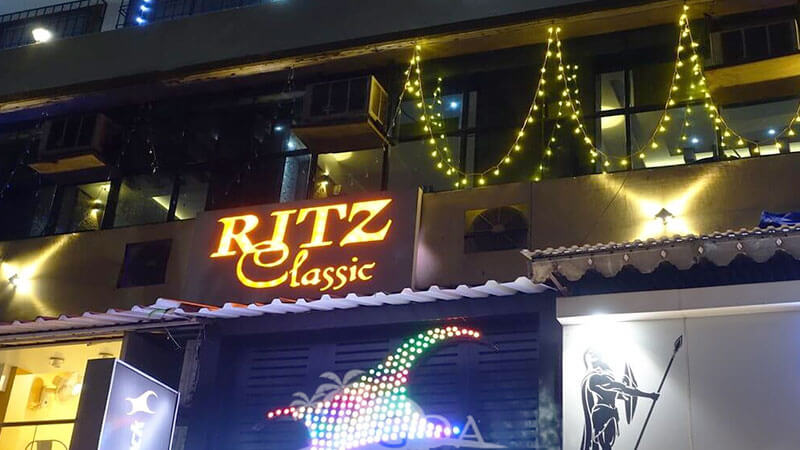 Image: Source
Ritz Classic is one the most popular restaurants in the Panjim City for seafood that serves the best fish thali. No one is going to recommend this eatery as onlyfew people are aware of this amazing eating joint. They also serve delectable Butter Garlic Prawns, Squids Masala Fry, and Grilled Kingfish. You can have a variety of Goan dishes at this place that are just amazing in taste. The food at this restaurant will surely make you desire for more.
Address: 1st floor, Vagle Vision, 18th June Road, Panaji Goa
Timings: 12:00 – 3:00 PM, 7:00 PM – 11:00 PM
05. Peep Kitchen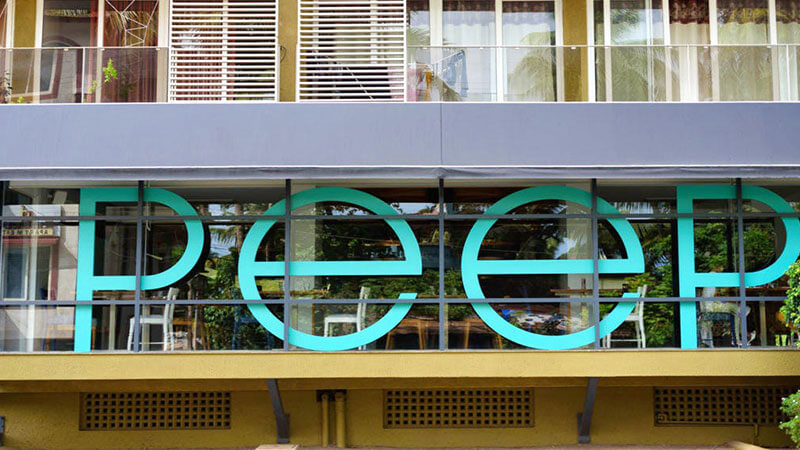 Image: Source
Peep Kitchen in Panaji Goa is also one of the best restaurants for Seafood lovers. It has a private dining area with a full bar menu. Their famous food includes Fish Thali, Butter Chicken, Chicken Biryani, Pesto Kebab, and various kinds of seafood. The ambiance and vibes of this place are super cool that you would love to spend more hours here. It is a perfect place for a family dinner and for friends hangs out too.
Address: Risara Luxury, Taliegao Market Road, Near Taliegao Community Centre, Panaji, Goa
Timings: 1:00 PM – 3:00 PM, 7:00 PM – 11:00 PM
06. Zeebop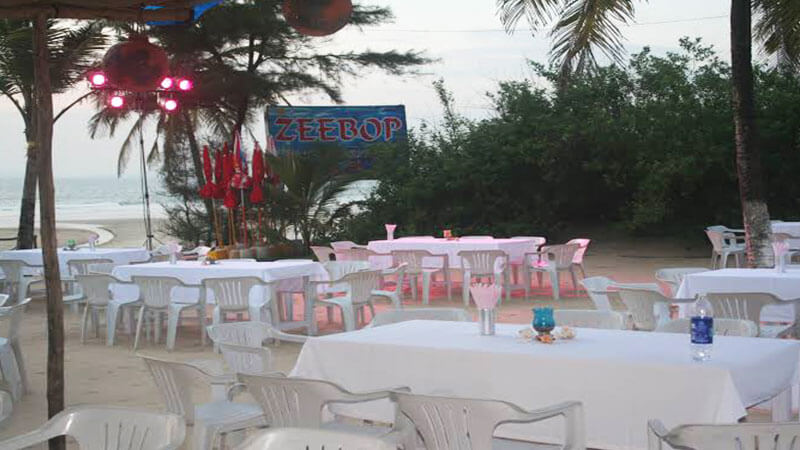 Image: Source
This lavish restaurant is renowned for its excellent seafood, party nights and the best location in Goa. The décor of this place is so amazing that you would love every moment spent here. You can plan a romantic dinner at this place where a tempting menu consists of a variety of seafood and Goan cuisine. You can enhance the taste of seafood by choosing a great wine or chilled beer.
Address: Pereira Waddo Utorda, Goa 403717, India
Timings: 11:00 AM –3:00 PM &6:30 - 11:00 PM
07. Avanti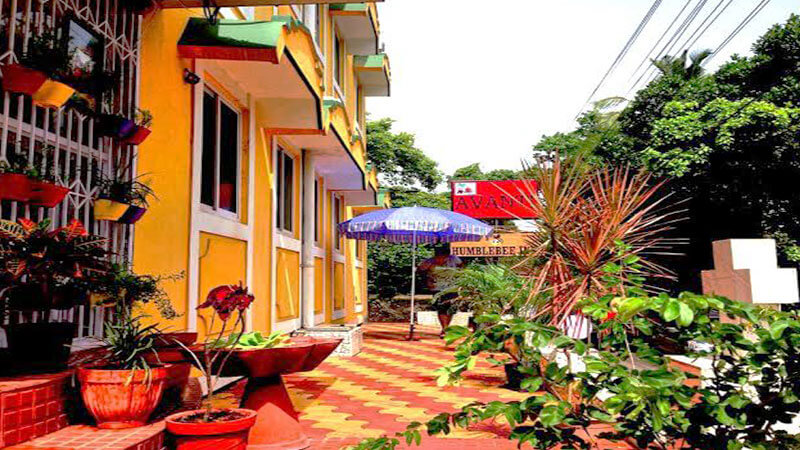 Image: Source
Avanti is one of the spectacular hotels in Goa for seafood and Goan cuisines. Some of the best food items that tourist love the most are Prawns Batter Fried, Pork Sorpotel, Tongue Roast, Steamed Snapper, Shark Ambotik, etc. Every food item of Avanti Restaurant is perfectly cooked with a wonderful taste of spices. It is a paradise for foodies where locals, as well as tourists flock to have amazing taste of seafood.
Address: Fontainhas, St. Tome Road, Panaji, Goa 403001
Timings: 11:00 AM – 3:00 PM & 7:00 - 11:00 PM
08. The Fisherman's Wharf
Image: Source
It is located at one of the best locations of Goa and offers breathtaking views while having food. Situated on the bank of River Sal, the ambiance of the restaurant is so amazing that it will steal your heart foreverwith appetizing meals. You would love to visit this place again and again for the Goan seafood and Chinese cuisines. They offer out-of-the-world taste in every single dish they prepare. Some of the best things at The Fisherman's Wharf are prawn curry, dal tadka, apple pie, chocolate mousse, chicken teriyaki, butter garlic naan, etc.
Address: Near Holiday Inn Resort Salacette, Cavelossim
Timings:12:00 PM – 11:00 PM
09. Purple Martini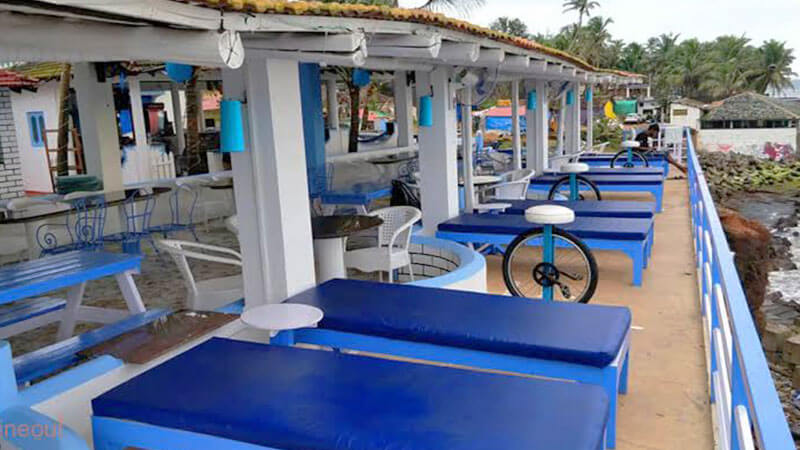 Image: Source
Purple Martini is set against the backdrop of Anjuna Beach that offers stunning views of the Arabian Sea with setting sun. Here, you can enjoy the scrumptious seafood with tropical cocktails. Just sit, relax and enjoy the site while having your favorite food at this restaurant. It is also a perfect place to capture the perfect selfie for love birds.
Address: Anjuna Beach, Anjuna, Goa
Timings: 11:00 AM – 11:00 PM
10. Anand Seafood Restaurant, Anjuna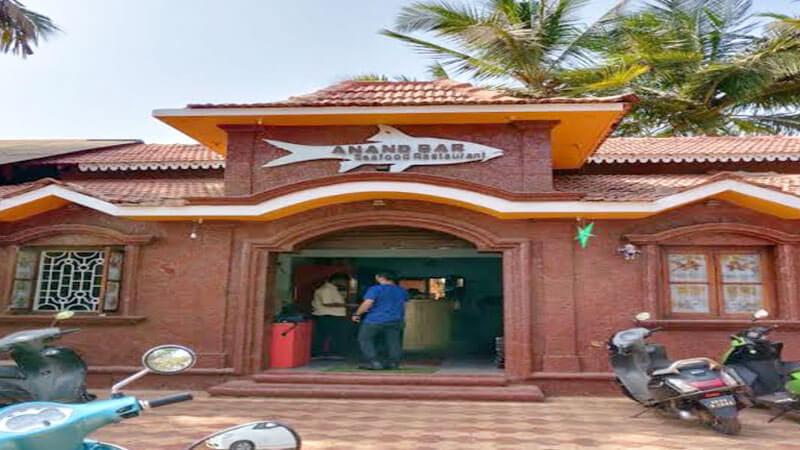 Image: Source
Anand Seafood restaurant serves relishingFish Curry Rice, Goan Fish Curry, Prawn Fry, Kingfish, Rawa Fry, and Prawn Curry. It is one of the best seafood restaurants in Goa situated near Anjuna Beach. You have lots of parking space in front of this restaurant.So, don't worry about your vehicles while coming here. Also, the prices of the food items are so budget-friendly that you don't need to think too much before ordering something.
Address: Zamblim, Calangute Road, Anjuna
Timings: 11:30 AM – 3:30 PM & 6:30 PM – 11:00 PM
Now, you are aware of the top- seafood restaurants of Goa. Book your flight tickets with EaseMyTrip and fly to Goa for a wonderful vacation. There is no other destination like Goa in India where you can have lots of fun.Therefore, don't delay your holiday plans and fly with EaseMyTrip to get special discounts.