We can agree to the fact that India got royalty in its legacy from great rulers born on this pristine motherland. Since India became an independent and democratic nation in 1947, every king's rule came to an end with that. But what still we have with us, are their royal and mesmerising belongings like the quintessential forts in India. Almost every state in India has a mighty fort belonging to the nearly different historical period and architectural style. Now, these forts in India symbolise the fact that once this country was ruled by mighty kings and princes. Below are 10 impressive forts in India which you must visit once to feel the royal bygone eras.
Red Fort, Delhi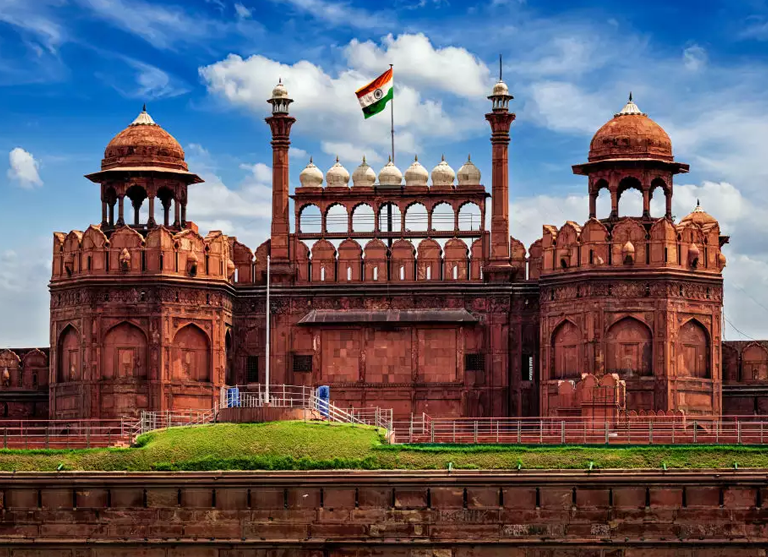 Red Fort legitimately tops the list of 10 great forts in India with the fact that this fort has seen Delhi from the time it was Mughal's capital to the day it became the capital of world's largest democracy. Red Fort was built in the 17th century by the mighty Mughal ruler – Shah Jahan. Its construction started on 12th May 1638 on the order of Shah Jahan when he decided to change his capital from Agra to Delhi. Thick walls of Red Fort made up of Red sandstone has protected Mughal dynasty for almost 200 years from their enemies. When you go inside this mesmerising fort, you can see a mosque called Moti Masjid, Diwan-i-Azam and many other structures within the walls of Red Fort Complex. It is located in the original part of Delhi – PuraniDilli. Whenever you visit Red Fort in Delhi, make sure you roam around the vibrant streets of Chandini Chowk for some lip-smacking chaat.
Mehrangarh Fort, Jodhpur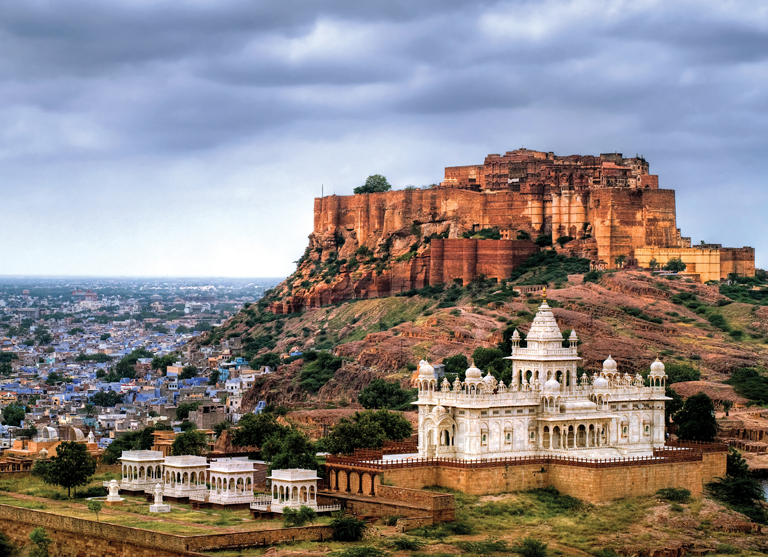 Rajasthan, literally means Raja ka Sthan(Place of King), has most of the mighty forts in India. One of the greatest forts in India is Mehrangarh Fort which is beaded on the land of Jodhpur. Mehrangarh Fort is one of the biggest forts in India. Quintessential beauty of this fort coaxes travellers as well as the big movies industries like Bollywood and Hollywood to it. Several movies are being shot in the Mehrangarh Fort premises including Holiday, Hum Sath Sath Hai, The Dark Knight Rises and many more. If history and chronicles interest you, Mehrangarh Fort Museum is where you should head to for some really interesting paintings, costumes and ammunitions belonging to old age.
Gwalior Fort, Gwalior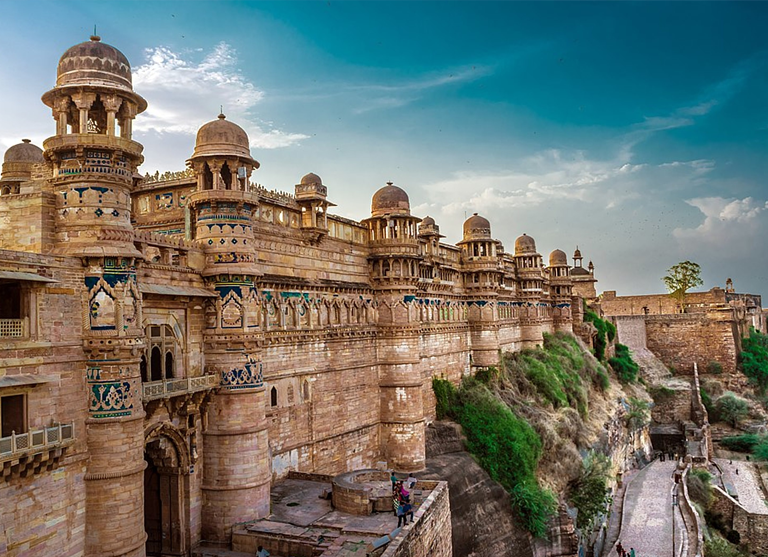 Gwalior Fort was built in the 10th century which makes it one of the oldest forts in India. It is located on the hilltop of the centre city of India, Gwalior. According to legends, the inscriptions found inside the fort dated 6th century which makes leads to the speculation of its existence even before than that. During the rule of Mughal rulers in India, this fort was used as a prison and until the British rule, it was always occupied by some rulers. Best time to visit Gwalior Fort is in winter as many events and fairs are organised inside the fort making it a perfect place for shopaholics. Another interesting fact about Gwalior Fort is that second oldest record of usage of 'zero' (for the fact, India discovered 'Zero') was found in a temple of this fort. In the evening, you can watch the city drown into the beautiful moonlight and glowing from Mehrangarh Fort. It is one of the most precious views you can ever witness.
Agra Fort, Agra
Agra is one of the most famous tourist destinations in India for a wonderful reason- Taj Mahal. Yet another reason to visit this city is for the majestic Agra Fort. Four generations of Mughals ruled India from Agra and lived in this beautiful and grand fort. But according to few studies, this fort was originally built by Lodis and was just renewed by the Mughals. The Mughals did everything to remove the evidence of Lodis from its history. Magnetic beauty of Agra Fort led it to become the first monument in India which was declared UNESCO World Heritage Site in 1983. Agra Fort is just a few kilometres away from Taj Mahal. So, you can catch two beautiful architectural marvels in a single day.
Kangra Fort, Kangra
Kangra Fort is nestled in the hills of Kangra which is around 20 kilometres away from Dharmashala in Himachal Pradesh. This magnetic fort was built by Rajput family of Kangra state. In 1615, Akbar tried to siege the fort with his vigorous army but the thick and solid walls protected the dignity of the royal family. Kangra Fort has seen many mighty rulers even including British rule but unfortunately, it was destroyed by an earthquake in 1905. But travellers can still visit the fort and get astonished by its grey walls covered with greenery all around.
Jhansi Fort, Jhansi
We know, just by reading the name of Jhansi who came to your mind. You guessed right. This is the fort in which brave queen of Jhansi – Rani Laxmi Bai used to live. Her legends are known to every single child in Jhansi that how she fought for her dignity and for her motherland. This fort is crowned on the hilltop of Bangura and adds up to the beauty of this city. Jhansi Fort is built with an amalgamation of Bundela style and Maratha style of architecture. Its granite walls are around 20 feet thick. Best time to visit Jhansi Fort is in January and February when Jhansi Mahotsav is organised by the authorities and local artists come to perform in the fort. Beauty and legends of Jhansi Fort are the true pride of India.
Golconda Fort, Telangana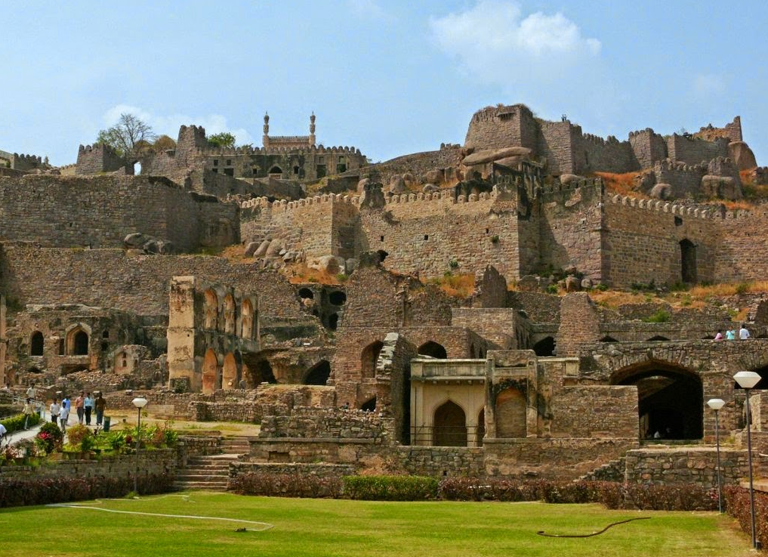 Golconda Fort is located at a place called Golconda which is around 11 kilometres away from the Hyderabad city. This fort is truly an architectural marvel. There is a dome in Golconda Fort where handclaps done can be heard a kilometre away at the 'Bala Hisar' pavilion. This majestic fort was also home to some really famous diamonds like Kohinoor, Nassak Diamond, Hope Diamond and many others. The main attraction of Golconda Fort is the light show which is conducted daily at different times. Best time to visit Golconda Fort is from October to February when the weather gets pleasant throughout Hyderabad.
Neemrana Fort, Neemrana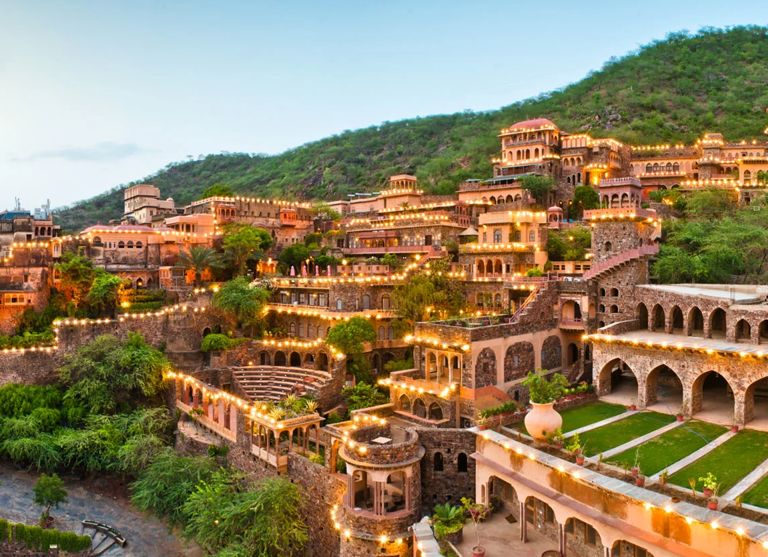 Neemrana Fort is one of the most famous forts in India. It is popular amongst young travellers to have a weekend getaway. Nestled on the Delhi – Jaipur Highway amidst the greenery and loaded with grandeur history. It is one of the oldest and best heritage resorts near Jaipur. Neemrana Fort is nothing like other forts in India, it is a relaxing spot for people who drive to historic places and wants to enjoy their weekend getaways in a luxurious way. With 74 rooms and 14 tired property, Neemrana serve as an ideal destination in India where you can have a good time with friends and family.
Junagarh Fort,
Junagarh Fort is a place which can woo you with its beauty and will keep you overwhelmed for the rest of your life. It is one of the great forts in Rajasthan which coax so many tourists to its mesmerising and gigantic views. Bikaner city has grown around this great fort with time and it is one of the few forts in Rajasthan which is not built on a hilltop. Junagarh Fort is just around 5-6 hours ride away from the spectacular Thar Desert. So, if you are planning your next trip to this fort, mind it that best time to visit Junagarh Fort is between October and February when the entire city cools down for a few months.
Jaigarh Fort, Jaipur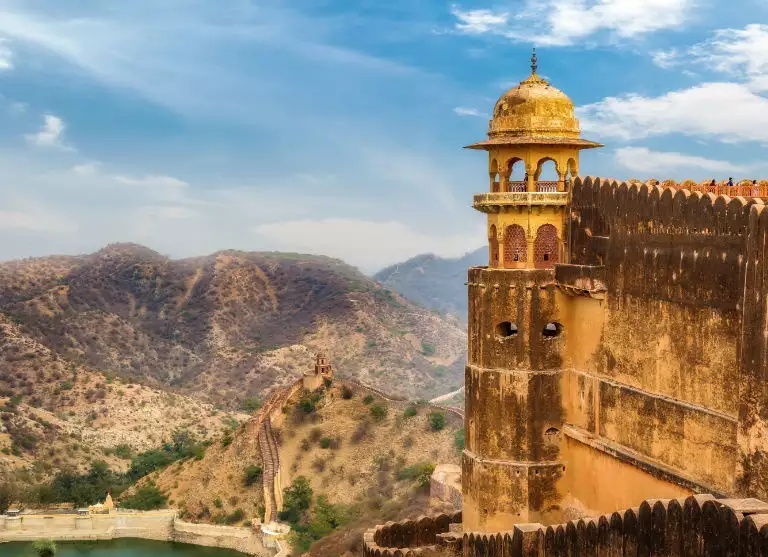 Jaigarh Fort which is also called Victory fort is nestled in the capital city of Rajasthan- Jaipur. This gigantic fort was built by Jai Singh II to protect the beautiful Amer Fort. Jaigarh Fort was built in quite similar architectural ways in which Amer Fort was built. This fort is built around 400 m above the Amer Fort which gives magnetic view of Aravalli Hills and Amer Fort. Being so close to Delhi, during the Mughal reign, this place served as cannon foundry to the Mughal emperor Shah Jahan. There is an inside museum in the complex which have some artefacts including a hand-drawn plan of the palaces, photographs of Royalty of Jaipur, stamps and many more.
Plan your next excursion to these stunning forts in India. Book your flights from EaseMyTrip and avail amazing discount on your travel plans.