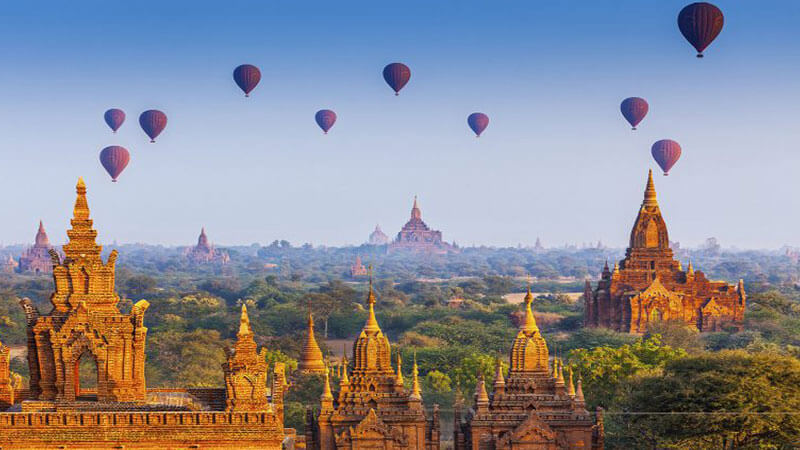 Myanmar, the official name of the Southeast Asian nation commonly known as Burma is a must-visit destination for travelers who like beaches and Buddha. This beautiful country is dotted with thousands of Buddhist temples. Besides, it has serene white beaches along the Andaman Sea and the Bay of Bengal. Myanmar is gradually opening to the foreign tourism, so travelers who wish to experience a more traditional Burma can visit this place. If you are planning a Myanmar tour and wondering which attractions you must visit, then read on to know about the popular tourist attractions in this country.
Also, don't forget to plan your trip by flight booking with EaseMyTrip.
Golden Rock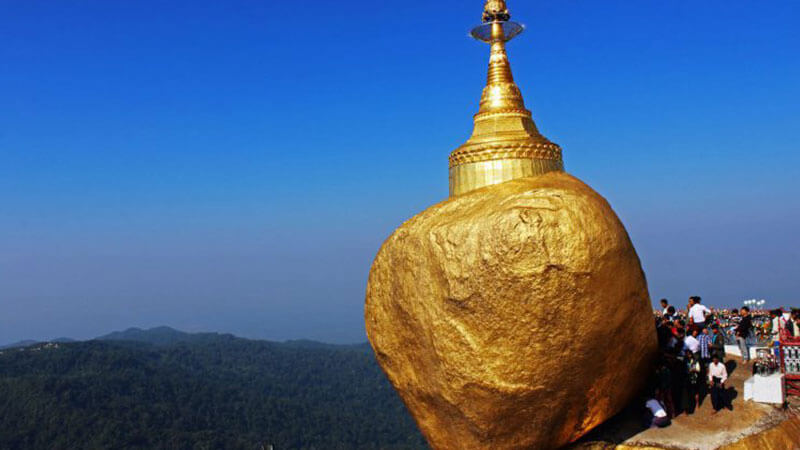 Golden Rock, also locally referred to as Kyaiktiyo Zedi is a truly awesome sight. It is a pagoda (zedi) that sits atop a huge rock that appears as if it's about to fall from the edge of the cliff. The pagoda and rock, both are covered with golf leaf. The locals believe that the rock that is situated 1,100 meters above sea level is held at this place through a miracle of Buddha. Moreover, the pagoda is said to have a strand of Buddha's hair. It is a pilgrimage for Myanmar Buddhists. Golden Rock is located around a five-hour drive from Yangon and also, includes a long walk. A staircase leads to the pagoda complex that houses various viewing platforms and Buddha shrines.
Shwedagon Pagoda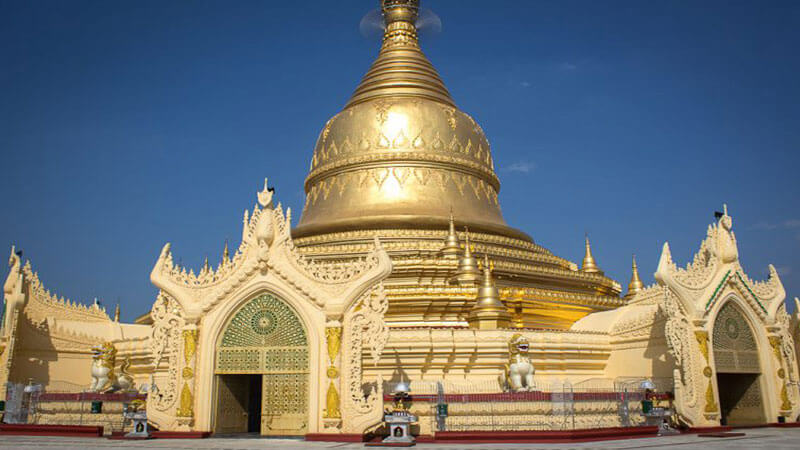 The Shwedagon or Greater Dragon Pagoda is known to be the most sacred site related to Buddhism in Myanmar as it contains a strand of Buddha's hair and other religious relics. This 2,500-year-old pagoda is sited on Singuttara Hill in Yangon. Over the centuries, this pagoda has grown from 8 meters to 99 meters. It is believed that Shwedagon pagoda is believed to be built by the Mon during the Bagan period between the 6th and 10th century AD. This pagoda is covered in gold leaf; this stupa is covered in 4, 531 diamonds. The visitors of pagoda are expected to follow a dress code (preferably trousers with T-shirts with elbow-length sleeves) and enter the temple barefooted.
Shwenandaw Monastery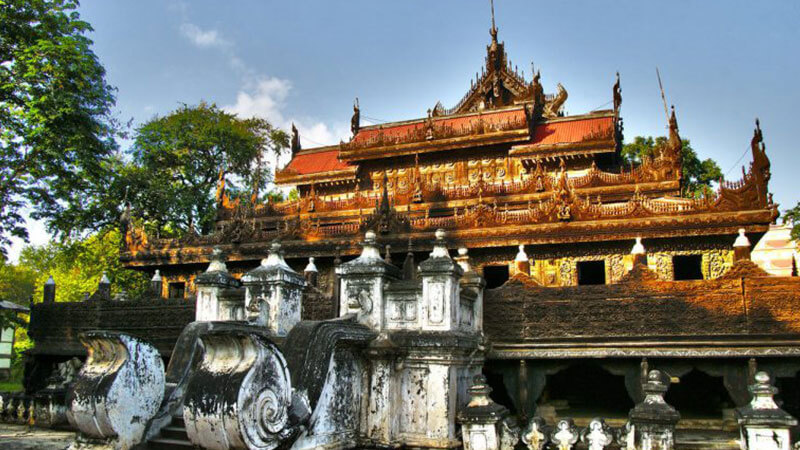 Shwenandaw Monastery is an ancient Buddhist monastery located in the city of Mandalay. Majorly known as the Golden Palace, this edifice is situated in central Myanmar. Originally, it was the part of the Mandalay Palace complex. At once, the entire building was covered with gold but the gold is inside now. The exterior of this monastery is covered with ornate teak carvings representing Buddhist myths. The monastery was built by King Thibaw Min in 1878. It is famous for the teak carvings of Buddhist myths that beautify its walls and roofs. Built in the original Burmese architectural style, Shwenandaw Monastery remains a major original structure of the actual Royal Palace today.
Taung Kalat Monastery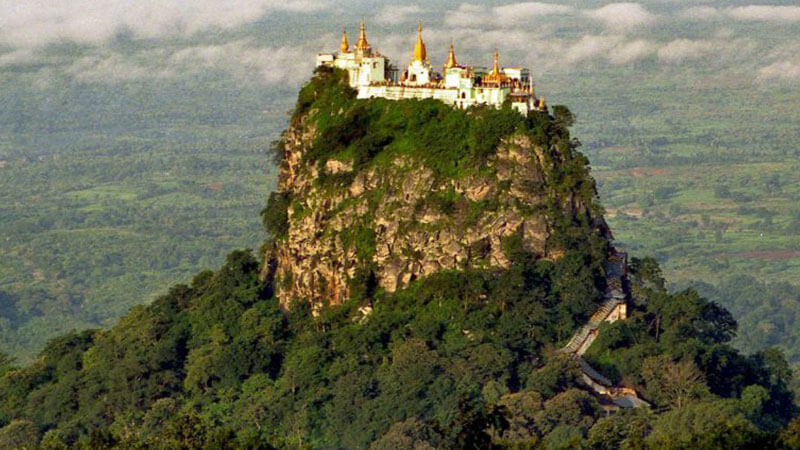 Located on top of Mount Popa, Taung Kalat is a stunning Buddhist monastery in Myanmar. At distance of about 50 km away from the medieval city of Bagan, Mount Popa is a prominent pilgrimage site of the country that attracts huge number of pilgrims and tourists. On this volcanic mountain top, Taung Kalat Monastery is located and can be witnessed from a distance of 60 km on a sunny day. 'Taung Kalat' literally means "Pedestal Hill". It rises up to an altitude of 737 meters with the monastery situated on its peak. It is a must visit attraction Myanmar.
Ananda Temple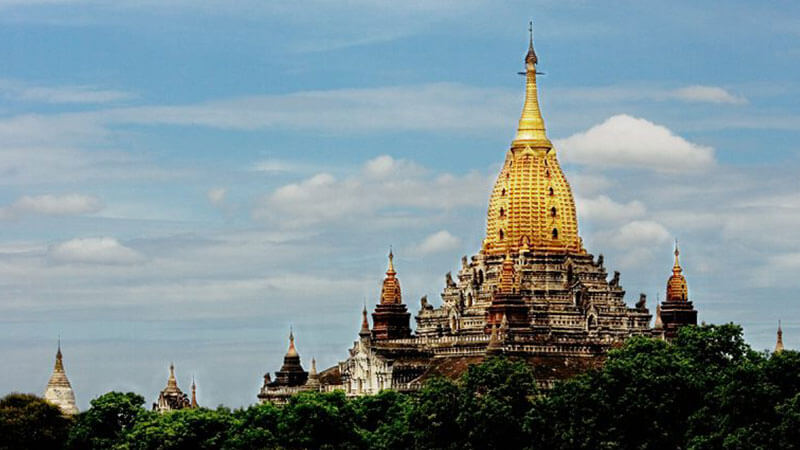 Ananda Temple is an amazing Buddhist temple that was built in 1105 AD during the supremacy of King Kyanzittha of the Pagan Dynasty. It is one among the four surviving temples of Bagan. The layout of the temple is in a cruciform offering several terraces of a small pagoda with the top enveloped through an umbrella. This Buddhist temple has four standing Buddhas and each one is facing the different directions. Built in a fusion of Mon and Indian style of architecture, the inspiring temple is also named as the "Westminster Abbey of Burma".
Inle Lake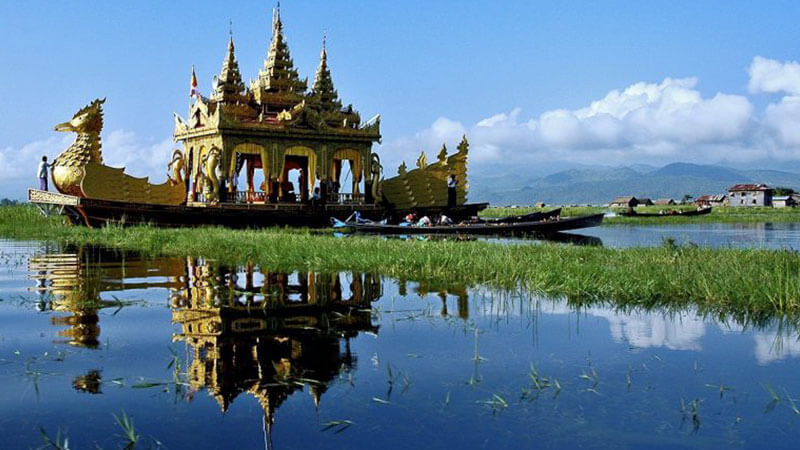 Inle Lake is a freshwater lake in the Taunggyi District of Shan State, which is part of Shan Hills in Myanmar. With an expected surface area of 116 km, it is the second largest lake of the country. The lake is located at an elevation of 2,900 feet. There is a hot water spring on the northwestern shore of the lake. The lake is not that large but it is home to a number of widespread species. More than 20 species of snails and 9 species of fish are in this lake that nowhere else are found in the world.
Ayeyarwady River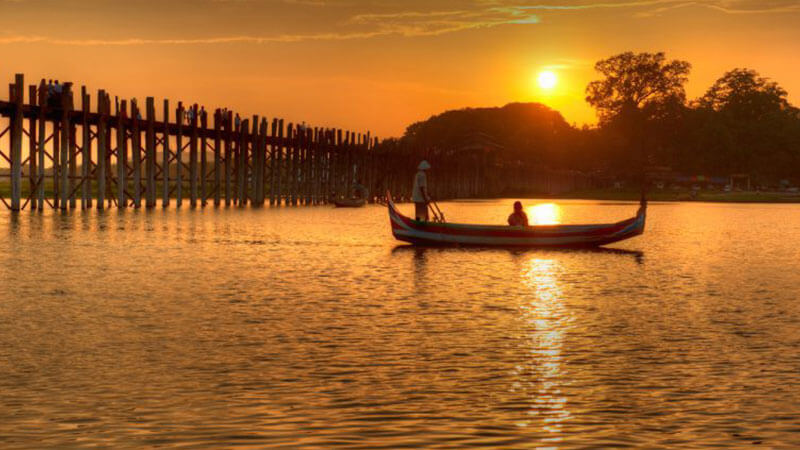 Ayeyarwady River is primarily famous for offering world class cruise tours. Also known as the Irrawaddy River, it flows from north to south through Myanmar. Along with being the largest river of the country, it is also considered to be the most significant commercial waterway. Originating from the convergence of the N'mai and Mali rivers, Ayeyarwady River flows moderately straight North-South prior to emptying through the Irrawaddy Delta into the Andaman Sea.
Pindaya Caves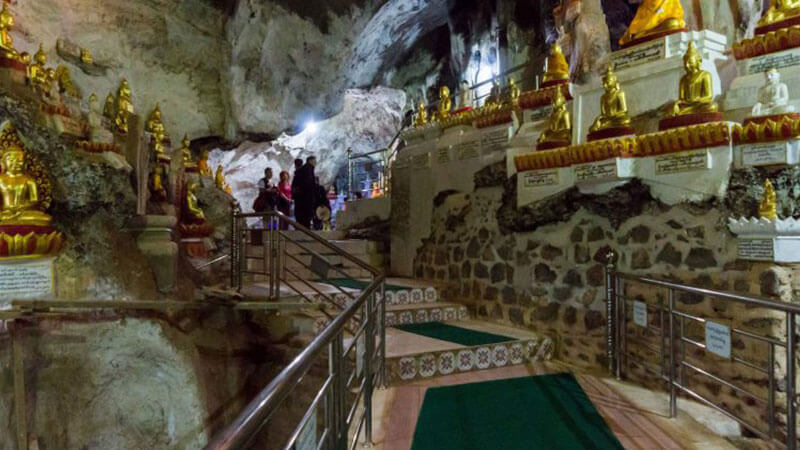 Located close to the town of Pindaya, Shan State, Myanmar, Pindaya Caves are the famous Buddhist pilgrimage site and a major tourist attraction. It is located on a limestone ridge of the Myelat region. There are three caves on the ridge running north-south, but visitors are only allowed in the southern caves. It is still unknown that if other two caves can be explored or not.
Htilominlo Temple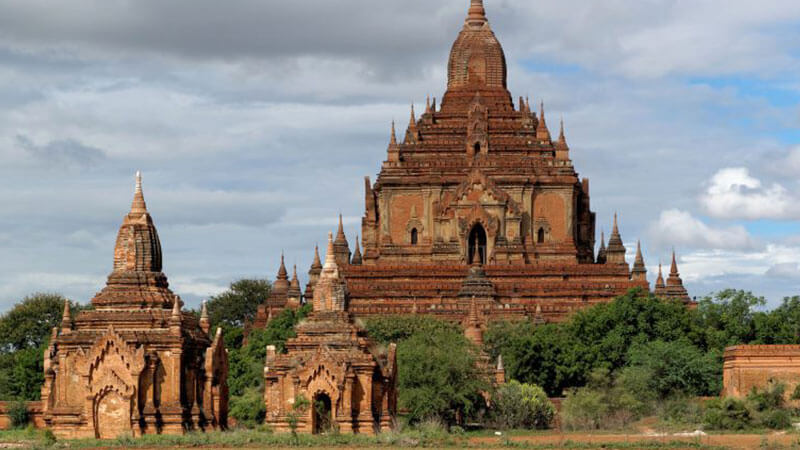 Htilominlo Temple is a Buddhist temple located in Bagan. Built during the supremacy of King Htilominlo, the temple is three stories tall and enjoys an elevation of 46 meters. Built with red bricks, it is famous for its complex plaster moldings. There are four Buddha statues facing different directions and located on the first floor of the temple.
Ngapali Beach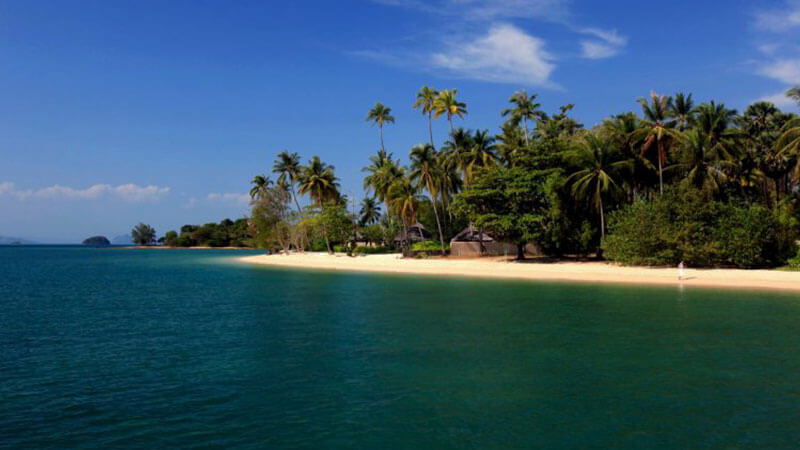 Ngapali Beach is a popular beach destination of Myanmar. With its immaculate, palm-fringed white sand, the crystal clear waters of the Bay of Bengal, and a number of stylish accommodation options, it turns into a major beach holiday destination. It maintains a laid-back fishing village aura and treats the guests with warm hospitality as the locals of this place are really good at heart.
There are many other famous tourist attractions in Myanmar. You can visit them on your trip to this beautifully calm country.