Snorkeling is an amazing way to explore the marvels of the marine life and the mysterious underwater world. If you love to discover the unexplored life of ocean and not sure of your swimming skills, this activity will be absolute fun for you. Snorkeling is generally done in shallow water depths with half of the body above water. This activity needs the users to wear various equipments like an eye mask, fins and snorkel. So, what you all have to do is to swim through the waters and encounter underwater life. India has very few places to enjoy snorkeling in India.
Andaman Islands

Located in the Bay of Bengal, Andaman Islands is a charming tropical paradise offering great snorkeling opportunities to the travelers. Some of the attractions of the land are its crystal clear blue waters, pristine calm beaches and virgin rainforests that allure tourists. Due to being a water island, Andaman is extremely popular for activities related to marine life. One can enjoy here snorkeling at most of its beaches but the Elephant Beach on Havelock Island is the most popular spot for the same. It is due to the abundance of marine life to be spotted easily in the warm and fascinating water available here.
Netrani Island, Karnataka
Netrani Island is one of the lesser known islands of Karnataka, which is also called as Pigeon Island owing to the large population of pigeons available here. It is mainly noticeable for being a coral reef island. This is the reason; the island turns into an important source for swarming marine life, including barracudas, butterfly fish, clown fish, parrot fish, eels, mantas and other vibrant marine inhabitants. You can also spot sea turtles in this island. In deeper waters of the island, scuba divers have also seen sharks.
Lakshadweep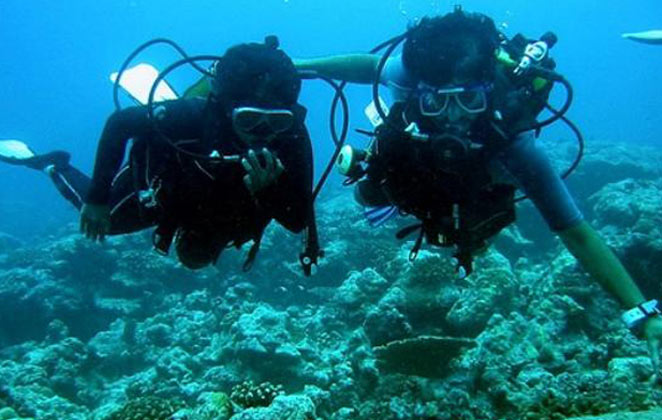 Lakshadweep literally means 100,000 islands. The charming island of Lakshadweep is surrounded with breathing coral reefs and abundance of marine life dwelling in the ocean of Lakshadweep. The island is rapidly growing into a preferred scuba diving and snorkeling destination of India and attracting a number of adventure freaks for enjoying fun activities. Islands like Bangaram and Kadmat give the opportunities to encounter vibrant tropical fish and a number of marine life species like sea cucumbers, rays, crabs and sea turtles in shallow waters.
Goa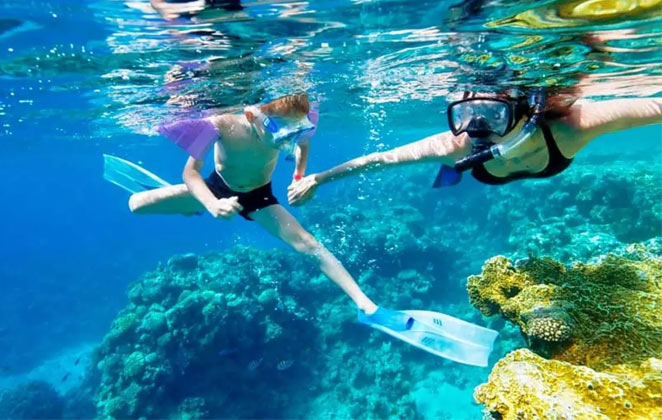 Goa is the beach capital of India and certainly the most popular tourist destination in the country. It lures the lovers of the sand, sun, and sea-surf. There are a number of snorkeling spots, including Grande Island, Monkey Island, Sinquerim Beach and Palolem Beach. Still, due to the fact that the Goa usually enjoys cloudy water, the chances of coming across fishes and various species of marine life are really less However; you can still get to see some marine life while enjoying snorkeling. To book Goa tour packages, contact us.
Tarkarli, Maharashtra
Very few people heard of Tarkarli but this amazing seaside village is a well-maintained secret of the Konkan coast. The land affords an impressive shoreline set against the crystal clear blue waters. One can enjoy here many water activities under the professional surveillance. Snorkeling at Tarkarli is a sheer extravagance with hundreds of marine species making their home in the warren network of corals here. The place is relatively unexplored and lesser crowds make Tarkarli a haven for snorkelers and sea divers.