Image: Source
Comprised of a wide variety of sightseeing places and adventure activities, Kashmir is also home to numerous stunning gardens and Vatikaas that every tourist loves to visit. These gardens are home to a variety of trees, plants, herbs, flowers and especially Chinar tree that enhance their beauty. In Kashmir region, most of the gardens are made in the Persian style of architecture as Mughals were highly impressed by it. The lawns follow the same pattern due to having sparkling pools, gushing water stream, properly manicured trees and paved paths, etc. Most of these gardens in Kashmir are snuggled along the banks of rivers or lakes providing a gateway to the paradise on earth.
In this article, you will read about the most stunning gardens in the Kashmir Valley that you must visit while taking a trip to this place.
Achabal Garden, Anantnag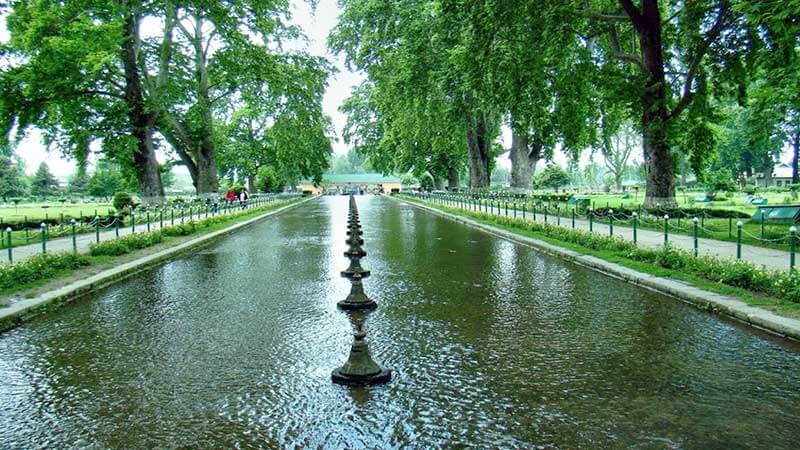 Image: Source
Achabal Garden is one of the most beautiful and graceful tourist spots in Anantnag which is also known as 'The places of the Prince'. This enchanting garden defines the finest masterpiece of Mughal style gardens in India. The gushing water looks fantastic when you explore the garden. The presence of a large number of trees and plants offers fresh air and chilly gusts of wind all within the area. You must take a tour to Achabal Garden during the autumn season when Chinar trees turn red and provide a picturesque image that you will not forget.
Chashma Shahi Garden, Srinagar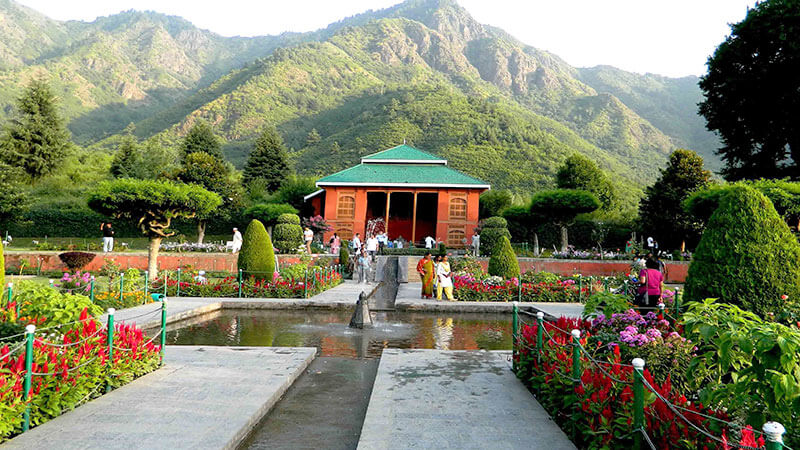 Image: Source
Chashma Shahi Garden is one of the most elegant Mughal gardens in Kashmir located on the foothills of the zabarwan range. Its lawn is full of lush greenery and features water pool and a large fountain in the middle of the entrance offering charming view to this garden. The garden was constructed by Mughal emperor Shah Jahan in 1632. It is popular because of freshwater stream that is arranged inside the garden. The garden is believed to have medicinal values as well. The sparkling Dal Lake by the side of this garden offers a pleasant feeling to everyone.
Verinag Mughal Garden, Anantnag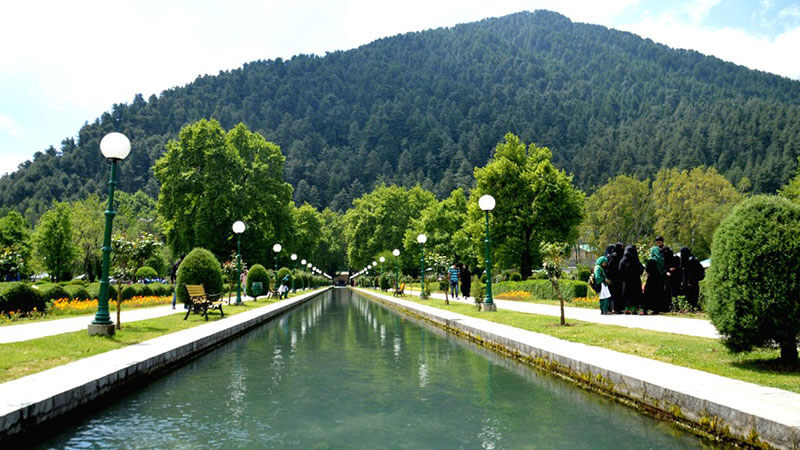 Image: Source
Verinag Mughal Garden is one of the favorite destinations of tourists which is situated at the entry point of Kashmir valley and also known as the Gateway of Kashmir. The garden is well-maintained, clean, peaceful and perfectly located at the foothill of Pir-Panjal Mountains. The gorgeous old Chinar trees stand amidst green meadows and offer breathtaking views to be enjoyed by every person. The Verinag Spring is the major tourist attraction of this place which is a source of Jhelum River and surrounded by an arcade.
Harwan Garden, Srinagar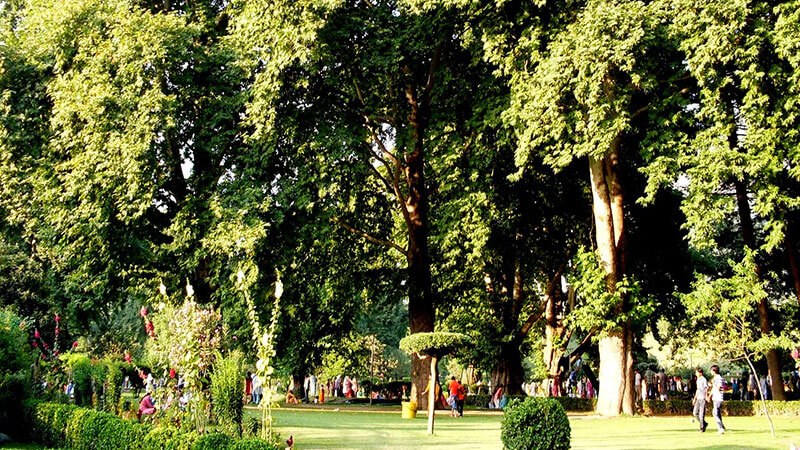 Image: Source
Located about 18 km away from Srinagar, Harwan is a natural garden that has become a favorite picnic spot for many people. A waterway from neighboring Dam passes through this garden and edged by Chinar trees on one side. This lawn is well-kept and has a concrete pathway with arched gates. The sweet smell of flowers in the whole garden makes this place an ideal destination for the tourists. Also, there is a Harwan Lake behind the garden that looks outstanding with the view of majestic mountains behind it. Stay in a nearby houseboat to have a unique experience or you can also book budget hotels from EaseMyTrip Website/app.
Badamwari Garden, Srinagar
Image: Source
Situated on the hills of Koh-e-Maran, Badamwari Garden is an attractive tourist spot. Dotted by plenty of trees, flowers and bushes, this garden is visited by a large crowd of nature lovers. A magnificent dome amidst the garden looks more beautiful when it is in full bloom during the spring season. Visitors can spend some quality time with their partners and friends in the lap of nature. The scenic beauty is highly appreciated in the garden where you can have the best shot for the photographs. The almond buds here in the full bloom during the month of April and therefore, you plan your visit to this garden in this month.
Indira Gandhi Tulip Garden, Srinagar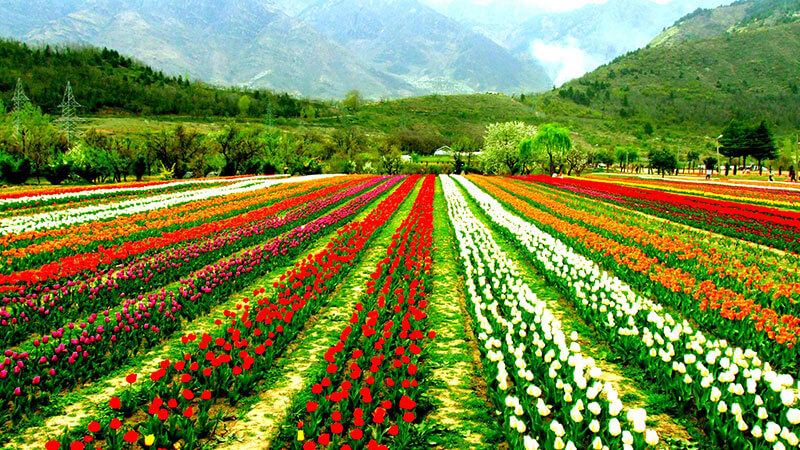 Image: Source
Snuggled on the banks of Dal Lake, India Gandhi Memorial Tulip Garden is full of colorful Tulip flowers in the month of May & June. This is one of the most beautiful and exotic gardens in Srinagar where one can experience unavoidable beauty. A walk amidst endless rows of blooming Tulips will offer you an amazing feeling. This man-made garden is a sight to behold by everyone who visits Kashmir. In fact, your vacations are incomplete without visiting India Gandhi Memorial Tulip Garden in Srinagar. There are several other flowers as well except tulips including Roses, Muscaria, Iris, Daffodils, Hyacinths, and Ranunculi etc. that add extra glory to the place.
Pari Mahal, Srinagar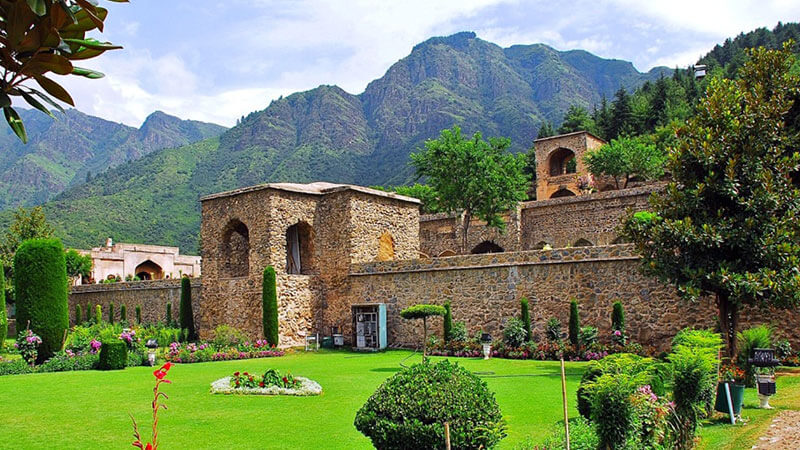 Image: Source
Pari Mahal Garden is also named as 'The Palace of Fairies' which is a 7-terraced garden in Srinagar. One can easily overlook the city of Srinagar from this place. The place is valued for a historical monument rather than a garden but, visitors who come to this place defiantly adore the exquisite lawn constructed here. This is the perfect place for all those people who are in search of peace. The rapid gushing of the fountain, the pleasing view of Dal Lake and the illuminated image of the Pari Mahal at night is a major attraction for all the tourists. The beauty of the Pari Mahal is identified through seven terraced gardens only that have a variety of flowers and trees.
Shalimar Bagh, Srinagar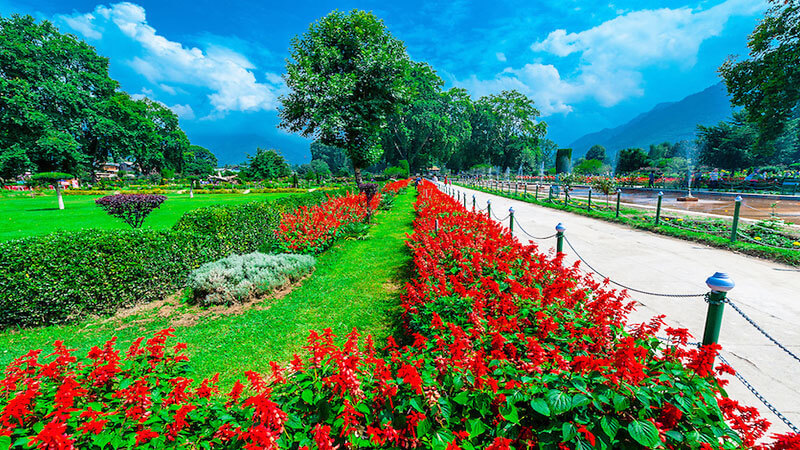 Image: Source
Kashmir is known as Paradise on Earth and gardens like Shalimar act as icing on the cake to enhance the beauty of the valley. Snuggled on the banks of pristine Dal Lake, Shalimar Bagh is a stunning Mughal Garden in Kashmir. It is a symbol of love that is situated in the outskirts of Srinagar city. Emperor Jahangir built this garden for his queen to show his love. This well-maintained and the lush green garden has gorgeous flowers along with Chinar trees and pavilions. It has terrace lawns, sparkling fountains and an endless row of a flower combined with Chinar trees that look amazing. Shalimar Garden Kashmir is a must-visit place for all those travelers who are visiting Kashmir Valley for the very first time.
Nishat Bagh, Srinagar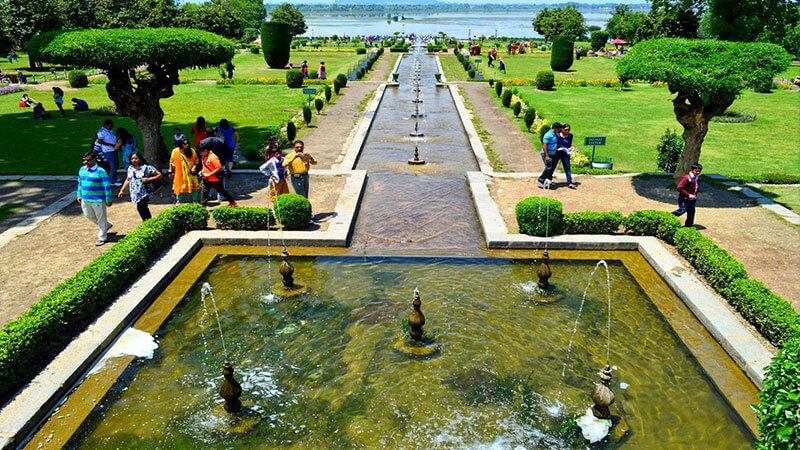 Image: Source
Nishat Bagh is also terraced Mughal Garden in Srinagar, which is nestled on the eastern side of the Dal Lake. Nishat Bagh refers to "Garden of Joy" or "Garden of Gladness" where a fountain is located in the center. The garden was designed by Asaf Khan, the brother of Noor Jahan in 1633 AD. Every terrace of this garden is filled with colorful roses, geranium, lilies, and asters that create stunning views. Couples, as well as, families visit this beautiful place to enjoy nature. The landscape of this garden is designed in a beautiful way where shutterbugs can have the best collection of natural surroundings.
Naseem Bagh, Srinagar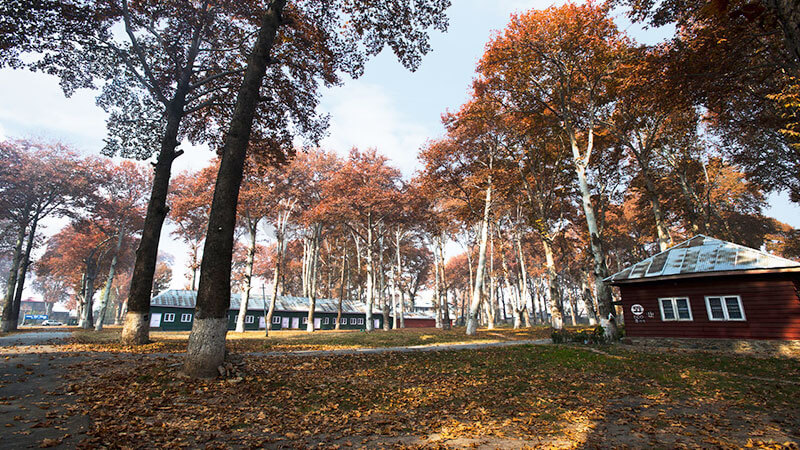 Image: Source
Nasim Bagh is one of the oldest Mughal gardens in Kashmir region where you will adore the gorgeous Chinar trees. It is located at a distance of 8 km from Srinagar city where a number of Chinar trees offer a wonderful view with an amazing feeling. In the backdrop, you can see the mountain tops, Dal Lake and the charming trees that make it look out-of-the-world. The cool breeze blowing in from Dal Lake offers a pleasant experience in the garden where you will love to stay on and on.
Jawaharlal Nehru Memorial Botanical Garden, Srinagar
Image: Source
Jawaharlal Nehru Memorial Botanical Garden is a perfect place to take a pleasant walk amidst the lush greenery of Srinagar. Located on the foothill of Zabarwan mountain range, you can overlook the pleasant Dal Lake and tremendous scenic view of mountains and hills. The garden is very huge where colorful blooming flowers enhance the aesthetics of the garden. Its tranquil surrounding is great for spending some beautiful moments and click some amazing pictures.
Plan your travel to the Kashmir valley and pack your bags for a wonderful vacation. Whether you are planning with love or with family and friends, Kashmir is one of the apt choices for everyone. Book flights to Srinagar at EaseMyTrip for a hassle-free experience.