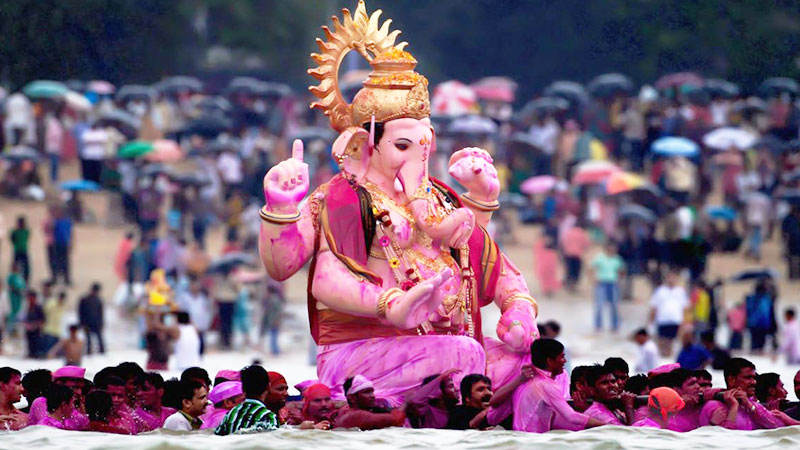 Ganesh Chaturthi is one of the major festivals celebrated in the honor of Lord Ganesha who is also known as elephant headed god. This festival is a popular Hindu festival and is also called as Vinayaka Chavithi and Vinayaka Chaturthi. Usually, Ganesh Chaturthi falls on the fourth day of the Hindu month Bhadrapada and this year the festival will begin on 2nd of September. Generally, Ganesh Chaturthi lasts 10 days and ends on the fourteenth day of Anant Chaturdashi. Being one of the major festivals of India, it is celebrated throughout India at the homes, work places and also in public. This festival begun with the installation of Ganesh idols and ends with Ganesh Visarjan, where in the idols is immersed in water. The process of Ganesh Visarjan usually involves numerous people accompanying the idol along with music and dance. So, if you're looking for the best destinations to celebrate Ganesh Chaturthi then don't worry and simply plan your visit at the below mentioned destinations for the best of Ganesh Chaturthi celebration in India. However, flight tickets will be a little expensive as the festive season has arrived. Grab best flight deals at EaseMyTrip.
Mumbai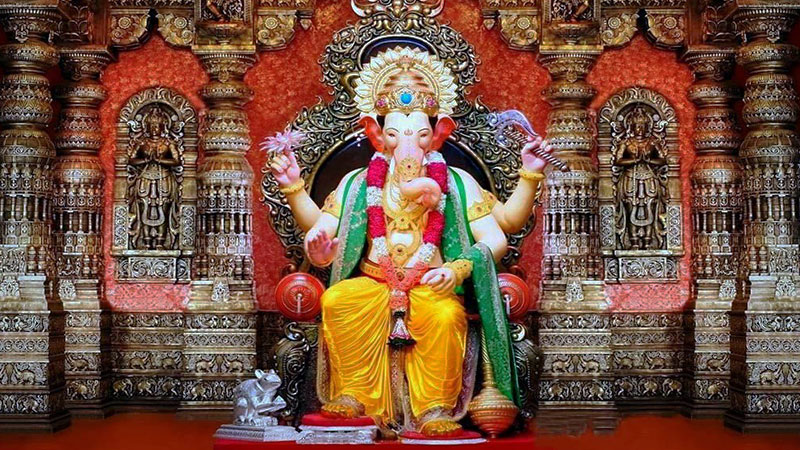 People in Mumbai celebrate Ganesh Chaturthi with great zeal hence Lord Ganesha is regarded as the patron deity of Maharashtra state of India. Every year approx 6000 idols are commissioned in Mumbai making Ganesh Chaturthi a great celebration. Mumbai is one of the prime destinations to visit during Ganesh Chaturthi. Some of the famous Ganesh Chaturthi Pandals in Mumbai include Lalbaughcha Raja, Siddivinayak Temple, KhetwadiGanraj and Mumbaicha Raja. However, the major place for immersion of idol in Mumbai is Chowpatti Beach.
Ganpatipule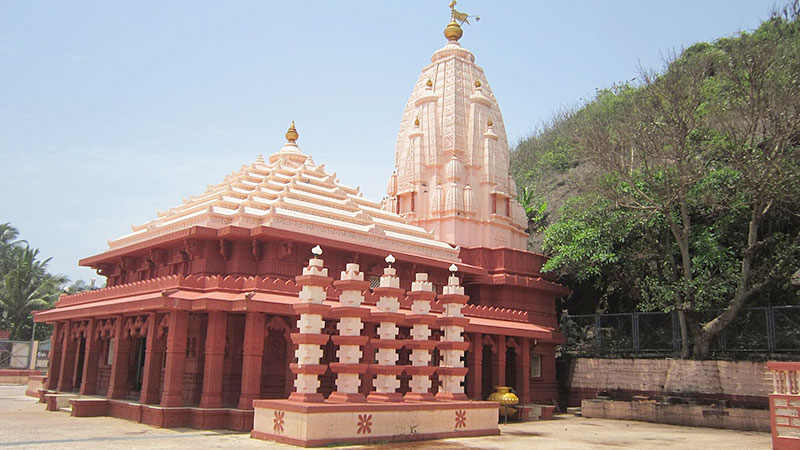 Ganpatipule is a small town which is nestled in Ratnagiri district situated on the Konkan coast of Maharashtra. This amazing village has a 400 year old temple which is known as Swayambhu Ganpati Temple. The temple is nestled on Ganapatipule beach itself and attracts numerous tourists every year and grand celebration takes place at this temple during Ganesh Chaturthi. Villages and pilgrims visit this temple and join actively in the honoring Ganpati. Here, a taller idol is also placed in a palanquin and then later carried on the shoulders of devotees through the village along with music, priest and drums.
Hyderabad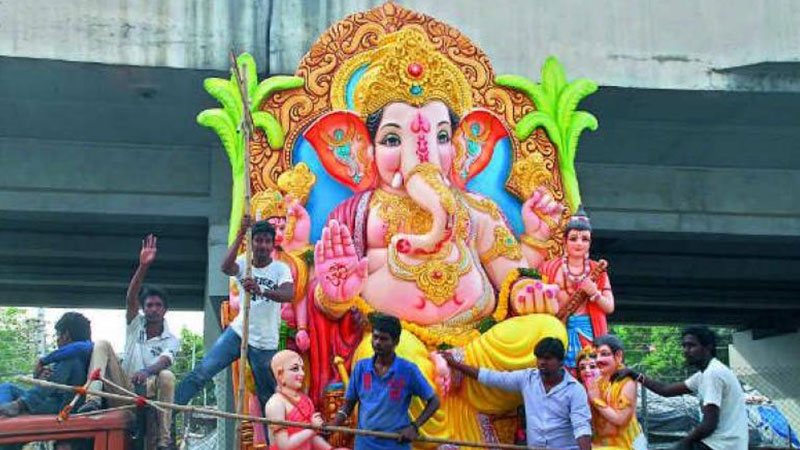 Hyderabad is another destination where one can witness the grandeur of Ganesh Chaturthi. The festivities in this city mark the beginning on Vinayaka Chavithi or Ganesh Chaturthi and ends on Anantha Chaturdashi with Ganesh idol immersion like any other city. However, one can here witness approximately 75000 Ganesh pandals. Some of the major places to witness spectacular Ganesh idols in Hyderabad are Balapur, Chaitanyapuri, Durgam Cheruvu, Khairatabad, Old City and New Nagole. Apart from this, the idol immersion in Hyderabad takes place usually in Hussain Sagar Lake of Hyderabad. So, this time explore the famous Ganesh Pandals of Hyderabad. In case you're looking for cheap flights visit EaseMyTrip.
Pune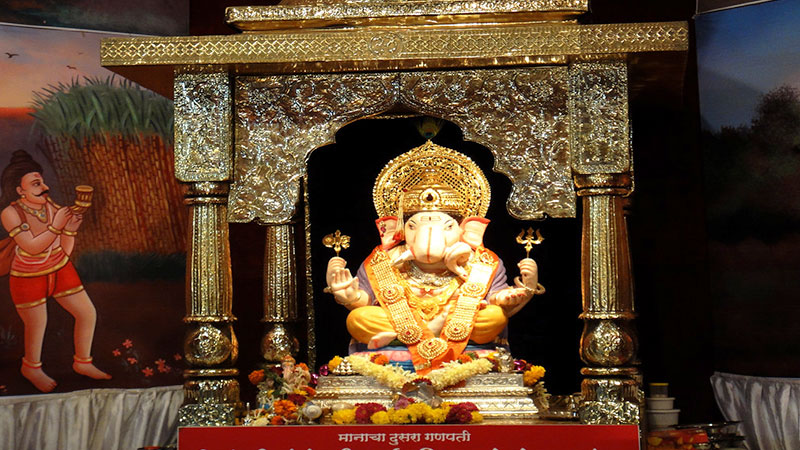 Pune is fondly called as 'cultural capital of Maharashtra and this city is another must visit place which hosts the best of Ganesh Chaturthi celebration in India. During the reign of Peshwas, worshipping of Lord Ganesh has become widespread in Pune as they considered Ganesha as their patron. This festival is the most joyous and colorful festivals celebrated in Pune. Some of the famous Ganesh Pandals in Pune includes Kasba Ganpati, Tambdi Jogeshwari Ganpati, Guruji Talim, Kesariwada Ganpati and Tulsi Baug Ganpati. Apart from all these, the most amazing Ganpati Pandal in Pune is Dagdusheth Halwai Ganpati where replicas of famous monuments and temples of India are created. At the time of Ganesh Chaturthi, Pune festival is also held which focus on the celebration along with art, culture, dance, custom and traditions.
Goa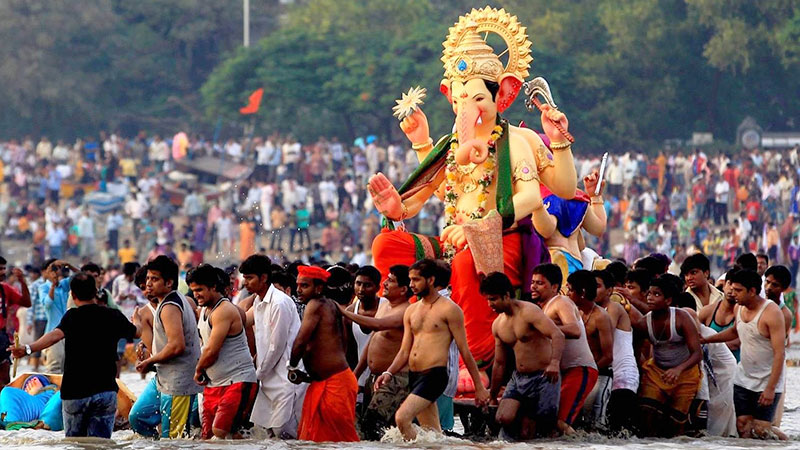 Ganesh Chaturthi is a widely celebrated festival and hence it is celebrated in Goa as well. This popular beach destination is another major destination where one can witness the best of Ganesh Chaturthi festivities. It is one of the festivals which hold a special place in the hearts of Goan people and hence this festival is celebrated with fun and frolic in Goa. Mapusa and Marcela are the two places in Goa where easily you can witness the festivities of Ganesh Chaturthi. Moreover, here the idols are made of Arecanut, Cane, Bamboo and Coconut. So, plan a visit to Goa, in case you wish to enjoy Ganesh Chaturthi festival in Goa.
Kanipakam
It is another major destination which one can visit to witness Ganesh Chaturthi at its best. Kanipakam is a village and is also popular as a pilgrimage center nestled in Chittoor district of Andhra Pradesh. This destination is famous for its Varasiddhi Vinayaka Temple which boasts a spectacular Vinayak idol which grows in size. Here an annual festival which is called as Brahmotsavam is conducted which lasts for 21 days and starts with Ganesh Chaturthi. Tourists planning a visit here during Ganesh Chaturthi can enjoy in the fun and frolic environment here and can also enjoy the festivities.