Table of Context
It's an undeniable fact that everyone requires a much-need break & relief from the scorching temperature that trembles. Therefore, to beat the heat, citizens desperately await the sublime arrival of monsoon season. And why not wait? It's the fascinating season of bliss and solace that's followed by the sky packed with cottony clouds and land thronged with glistening hills. Each drop of refreshing monsoon amps the allure the beauty of incredible India and unleashes the indescribable scents reminding unfettered nature charm.
Moreover, the harmony crafted by the thunders and the captivating formation of heavenly rainbows makes the monsoon seasons worth waiting for. Therefore, if you are craving to witness the inexplicable charm of India, then here are the tourist places in India that you must explore in Monsoon.
Now without any further delays, let's plunge into the best places to visit in India during monsoon and let the adrenaline-rushing adventure begin.
Best Places to Visit in India During Monsoon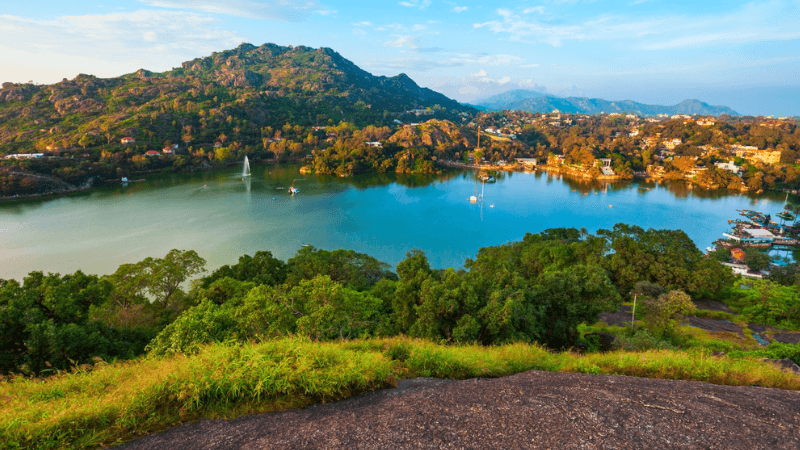 Ever snapped awe-inspiring pics of drizzling rain and tranquil landscapes? If not then discover the breathtaking sites of Mount Abu, the land adorned with scenic hill stations This treasured desert fringed with stunning tranquillity is established on the captivating lands of Rajasthan. Every pilgrim from around the world visits the city for the sake of relishing the soothing climate and trekking the higher peaks of Mount Abu. Thus, want to lose yourself in the unmatched marvels of the place, then add Mount Abu to your list of the top places to visit in India during Monsoon.
Things to Do in Mount Abu
- Must visit Dilwara Temple, Achalgarh Fort, Dhrudhiya Waterfalls, Toad Rock.
- Try rock climbing, trekking, hiking to Guru Shikhar and spotting crocodiles at Trevor's Tank.
Suggested Reads: Top hill stations in India
Nestled amidst the plains of India, this land of oranges recognized as Cherrapunji is one the top tourist places in India. As the city witnessed extensive rainfall, Cherrapunji offers a sneak peek into its spell-binding allure. The rain never stops at the destination which allows this epic attraction to flash brightly in Monsoon. In such rainfall weather, every tourist wandering around can sip sweetened brewed chai with loved ones. You can also break the daily routine to create moments in such pleasing environments.
Things to Do in Cherrapunji
- Visiting Mawsynram Village, Seven Sister Falls, Thangkharang Park, and Wakaba Falls is a must.
- Try kayaking, canoeing, ziplining, and spelunking in other destinations.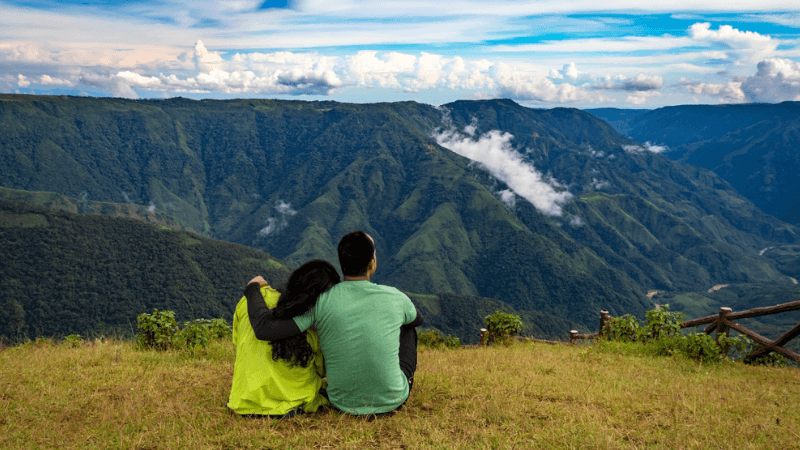 Are you interested in unfolding the gorgeousness near waterfalls and quaint towns? If yes, then travelling to Shillong is the best way to capture the essence of the heavens. From jaw-dropping cascades to mind-boggling cities, every inch of this tourist attraction is beautifully soaked in raindrops. If you want to travel destinations closely, then you can begin by exploring Crinoline Falls, Elephant Falls and others. So, if you're ready to relish the rainfall delights. Then remember to travel to Shillong as it's perceived as the best place to visit during the monsoon in India.
Things to Do in Shillong
- Visit Umiam Lake, Elephant Falls, Lady Hydari Park, and Nohkalikai Falls. .
- Try boating in Umiam Lake, angling at Dawki, and kayaking at Kynshi River.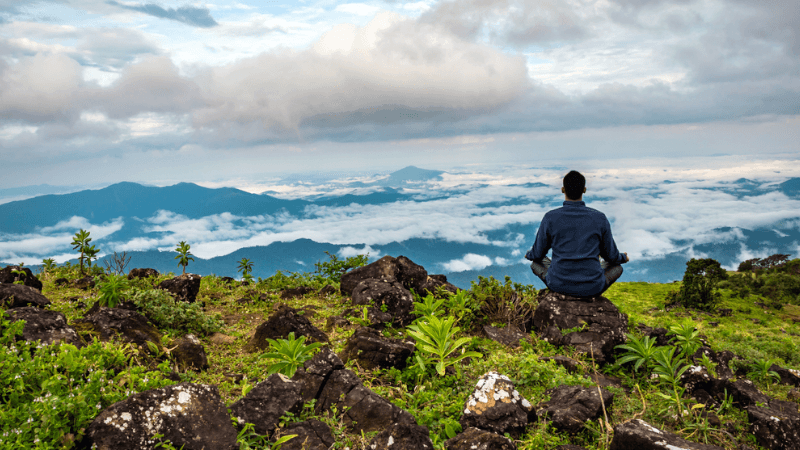 Travel fanatics who are simultaneously searching for a seamless destination to unwind and invigorate can now travel to Chikmagalur. One of the most seamless tourist places in India, Chikmagalur is the prominent Coffee land of Karnataka. It's pronounced with such an amazing title because during monsoon you get an opportunity to get a glimpse of plantations with aromatic coffee beans. During the monsoon, even these emerald green leaves are dotted with droplets. Such eye-catching views of tropical forests excite tourists to travel to the site.
Things to Do in Chikmagalur
- Visit Hebbe Falls, Coffee Estates, Horanadu Temple, Shanti Falls, and Bhadra River.
- Try kayaking, skiing in Yagachi Dam and trekking on the Kemmangundi Peak.
Suggested Reads: Top Beaches of Kerala
Frequented by the party animals, Goa is the top tourist places in India that turns all the travel dreams into reality. This tourist destination is currently blessed with mosaic sun-kissed beaches. Based on such unparalleled views, Goa is highly scattered with travellers who are indulged in over-the-edge water activities. Therefore, if you are dreaming of escaping into the tropical lands of India, then exploring the nitty & gritty of Goa is the best thing to do in a lifetime.
Things to Do in Goa
- Visit Dudhsagar Falls, Grande Island, Tito's Street, Anjuna Flea Market, and Basilica of Bom Jesus.
- Try hot air balloon flights, cycle at Divar and Chorao Islands and go for dolphin rides.
Suggested Reads- Why is Goa Famous Tourist Spot Among Indians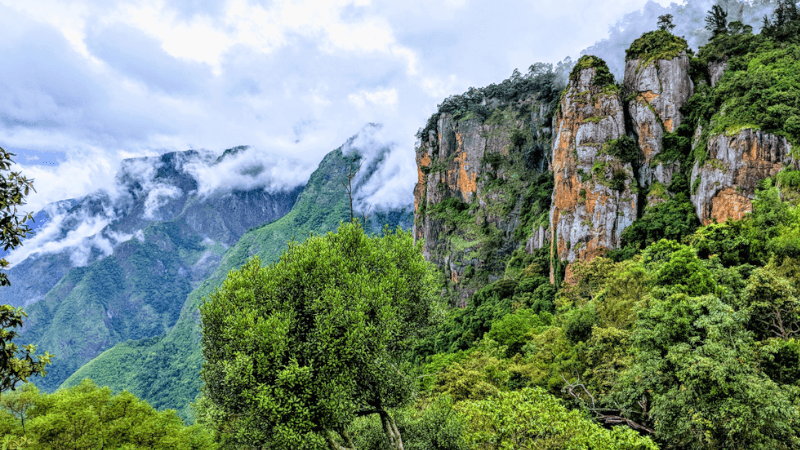 Established on the serene hills of Palani, Kodaikanal is the globally-renowned Princes of the hill stations of India. In case of high climatic conditions, then this destination is the perfect resort for the voyagers to go back in vim and vigour. Here you can cherish the cool breeze during the rainfalls and enjoy the gorgeous kaleidoscopic views of hills with a rainbow-packed backdrop. Consequently, if you are searching for peace and a path filled with natural splendours, then it would be best for you to add this site to the best places to travel in India during the Monsoon list.
Things to Do in Kodaikanal
- Visit Kodaikanal Lake, Coaker's Walk, Guna Caves, Pine Forest, and Karuna Farm.
- Try biking on Kanyakumari Road, hiking on the top of nature and going for a picnic in Bryant Park.
So, here's an in-depth list of the best places to travel in India during the Monsoon. With this, we just want to quote that India is heavily blessed with a plethora of tourist attractions that come alive during the monsoon. From sprawling mountains to magical western ghats, each destination highlights its unparalleled charm.
Therefore, if you are desiring to add magic to your life, then remember to book your travel deals with EaseMyTrip. With us, you can unbox the greatest deals and discounts that'll make your journey memorable. Then why wait? Select your best places to visit in India and book them with EaseMyTrip.