Table of Content
Welcome to Mauritius, a mesmerizing island nation nestled in the Indian Ocean, renowned for its breathtaking beaches, vibrant culture, and diverse landscapes. Whether you're a nature enthusiast, an adventure seeker, or a beach lover, Mauritius offers something extraordinary for every traveler. Let's embark on a virtual journey to explore this tropical paradise and discover why it should be at the top of your travel bucket list.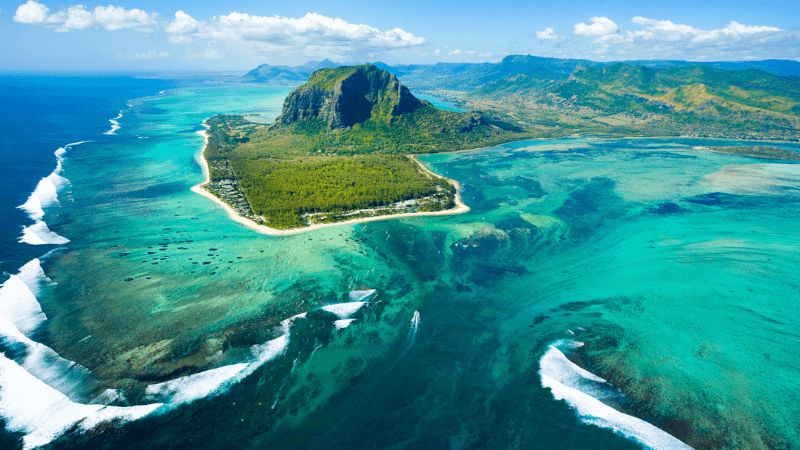 Mauritius is a captivating island nation located off the southeast coast of Africa. It boasts pristine white sandy beaches, crystal-clear turquoise waters, and lush green landscapes. The island is surrounded by coral reefs, making it a haven for marine life and a snorkeler's and diver's paradise. Beyond its stunning coastline, Mauritius is also home to stunning national parks, majestic mountains, cascading waterfalls, and charming colonial architecture.
Beaches of Paradise:

Picture yourself lounging on powdery sands, basking in the warm tropical sun while listening to the gentle waves. Mauritius is renowned for its breathtaking beaches like Belle Mare, Flic-en-Flac, and Trou aux Biches, offering an idyllic setting for relaxation and water sports.

Cultural Fusion:

Mauritius is a melting pot of cultures with influences from Indian, African, Chinese, and European traditions. Explore the vibrant markets, indulge in delicious cuisine, and witness colorful festivals like Holi, Diwali, and Chinese New Year.

Adventure Awaits:

Thrill-seekers will find an array of exciting activities in Mauritius. Go hiking in Black River Gorges National Park, try kiteboarding in Le Morne, or experience the adrenaline rush of zip-lining through the lush forest canopies.
The history of Mauritius is rich and diverse. It was first discovered by Arab sailors, later becoming a Dutch, French, and British colony. The colonial influence is evident in the island's architecture, with charming buildings like the 18th-century Eureka House and the iconic 19th-century Notre Dame Auxiliatrice in Cap Malheureux.
Extinct Dodo Legacy:

Mauritius is famous for being the home of the extinct flightless bird, the dodo, which has become a symbol of the island's biodiversity.

Cultural Melting Pot:

Mauritius boasts a rich multicultural heritage, blending Indian, African, Chinese, and European influences into a vibrant tapestry of traditions, languages, and cuisines.

Mesmerizing Underwater Illusion:

Off the coast of Mauritius, an optical illusion known as the "underwater waterfall" captivates visitors with its breathtaking appearance created by sand and sediment deposits.

Priceless Stamps:

The Blue Penny Museum in Port Louis showcases two of the rarest and most valuable stamps in the world, the "Blue Penny" and the "Red Penny," providing a glimpse into Mauritius' philatelic history.

Kaleidoscope of Colors:

Mauritius dazzles with its vibrant landscapes, from the enchanting Seven Colored Earths at Chamarel Plain to the vivid coral reefs surrounding the island.

UNESCO Heritage:

Aapravasi Ghat, a former immigration depot, and the Le Morne Cultural Landscape are two UNESCO World Heritage Sites that reflect Mauritius' historical and cultural significance.

Rum Paradise:

Mauritius is renowned for its rum production, offering rum enthusiasts a chance to indulge in tastings and immerse themselves in the island's rum-making traditions.

Thriving Biodiversity:

Despite its small size, Mauritius boasts an impressive array of unique plant and animal species, thanks to dedicated conservation efforts.

Delectable Street Food:

Mauritius tantalizes taste buds with its iconic street food, including the beloved dholl puri, a lentil-filled flatbread, and the spicy and tangy seafood vindaye.

Majestic Waterfalls:

Explore the breathtaking waterfalls of Mauritius, such as Tamarin Falls, Alexandra Falls, and Chamarel Waterfall, as they cascade down lush green landscapes.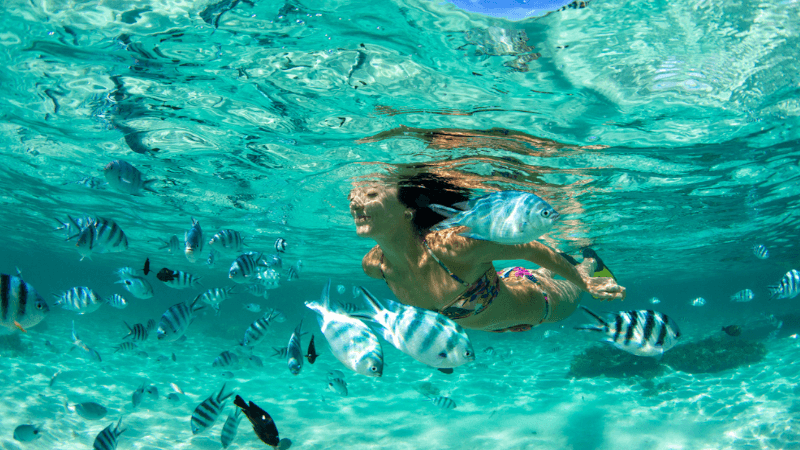 1. Explore Historic Sites: Immerse yourself in Mauritius' rich history by visiting its historic sites. Aapravasi Ghat, a UNESCO World Heritage Site, is a symbol of the island's indentured labor past. Learn about the hardships and contributions of the Indian immigrants who arrived here. Another notable site is the Le Morne Cultural Landscape, also a UNESCO World Heritage Site, where you can discover the history of runaway slaves and the significance of the iconic Le Morne Brabant mountain.
2. Engage in Water Activities: With its crystal-clear waters and abundant marine life, Mauritius is a paradise for water enthusiasts. Grab your snorkeling gear and explore the colorful coral reefs teeming with tropical fish. Dive into deeper depths to discover shipwrecks and encounter larger marine creatures. Sailing along the coast or taking a catamaran cruise allows you to enjoy the stunning coastline from a different perspective.
3. Embark on Hiking and Trekking Adventures: Lace up your hiking boots and embark on thrilling journeys through Mauritius' nature reserves and national parks. The Black River Gorges National Park offers numerous trails that lead you to breathtaking viewpoints and picturesque waterfalls. Explore the Seven Colored Earths in Chamarel or hike up the Tamarin Falls for awe-inspiring natural beauty.
4. Indulge in Culinary Delights: No trip to Mauritius is complete without savoring its diverse culinary offerings. Taste the popular street food, dholl puri, a savory flatbread filled with yellow split peas and served with chutney and pickles. Dive into the flavors of seafood vindaye, a tangy and spicy dish influenced by Indo-Mauritian cuisine. And don't forget to cool off with a refreshing glass of alouda, a traditional Mauritian milk-based beverage infused with flavors like vanilla or rose syrup.
5. Relax on the Beaches: With its pristine sandy shores and turquoise waters, Mauritius boasts some of the most beautiful beaches in the world. Spend your days basking in the sun, taking leisurely walks along the coastline, or enjoying water sports like kayaking or paddleboarding. Don't miss the famous Trou aux Biches, Belle Mare, or Mont Choisy beaches for a truly relaxing and idyllic experience.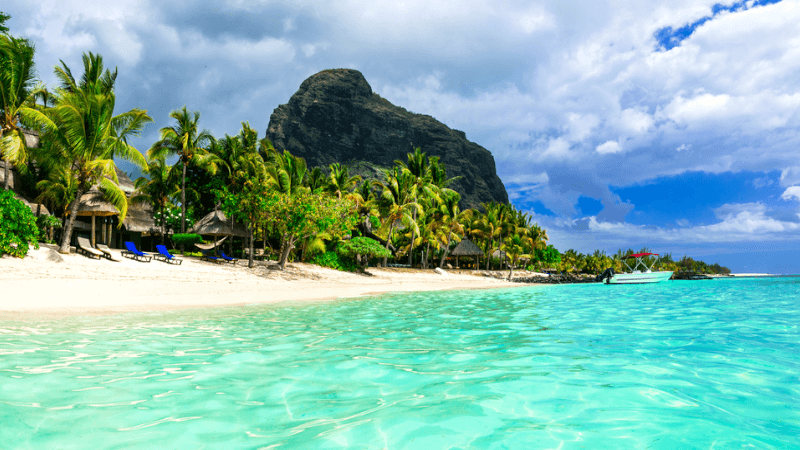 Before traveling to Mauritius, it is essential to check the visa requirements based on your nationality. Many visitors can obtain a tourist visa upon arrival, allowing them to stay for up to 90 days. However, it is always recommended to check with the Mauritian embassy or consulate in your country for the most up-to-date information.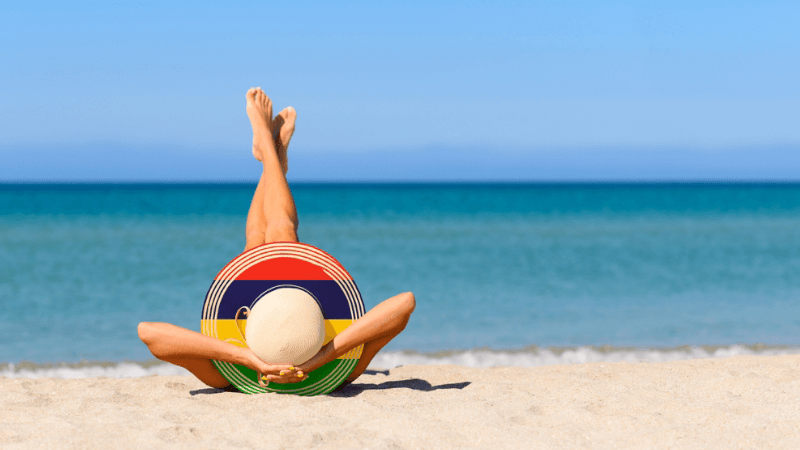 Mauritius offers a year-round destination for travellers, but certain seasons can enhance your experience. Here's a quick overview to help you choose the best time to visit:
Summer (November to April):

Warm and humid weather, perfect for beach lovers and water sports. Great for snorkeling, diving, and swimming. Note: Higher chance of rainfall and occasional tropical storms.

Shoulder Seasons (April to June, September to November):

Pleasant weather with milder temperatures, lower humidity, and fewer crowds. Ideal for outdoor activities like hiking, nature exploration, and water sports. Still warm for swimming and snorkeling.

Winter (May to October):

Cooler temperatures, dry weather, and plenty of sunshine. Perfect for a relaxed and tranquil atmosphere. Best for surfing, cultural attractions, spa treatments, and wildlife excursions.
The best time to visit Mauritius is during the months of May to December when the weather is warm and dry. These months offer comfortable temperatures and fewer chances of rainfall, ensuring a pleasant experience for exploring the island's natural wonders.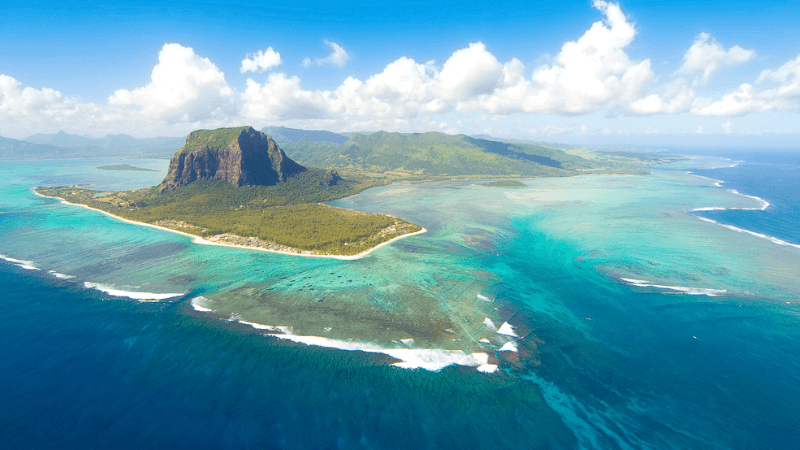 · Taxis: Taxis are readily available and offer a convenient way to travel around the island. They are metered, and fares can vary depending on the distance and time of day. It's recommended to negotiate the fare or ensure the meter is used before starting the journey.
· Car Rental: Renting a car gives you the freedom to explore Mauritius at your own pace. Several international and local car rental companies operate on the island. Remember to drive on the left side of the road, as Mauritius follows the British road system.
· Metro: Ditch the traffic and hop on the Metro for quick and hassle-free travel in Mauritius. It's reliable, cost-effective, and comes with air-conditioned trains and convenient stations. Say goodbye to transportation woes and hello to a smooth ride!
· Private Transfers: Many hotels and resorts offer private transfer services, which can be arranged in advance. This option provides convenience and comfort, particularly for airport transfers and day trips.
· Bicycle and Scooter Rentals: For shorter distances or exploring specific areas, renting bicycles or scooters can be a fun and eco-friendly option. Several rental shops are available in popular tourist areas.
Mauritius is not just a beautiful destination; it's an experience that touches your soul. From the warm hospitality of the locals to the awe-inspiring natural landscapes, every moment spent in Mauritius is filled with enchantment and wonder.
Mauritius, with its breathtaking beauty, rich history, and thrilling adventures, offers an unforgettable travel experience. Whether you're exploring its stunning beaches, immersing yourself in its vibrant culture, or embarking on thrilling activities, Mauritius has something to captivate every traveler's heart. So, pack your bags, and get ready to create lifelong memories in this tropical paradise. As Mark Twain aptly said, "Heaven being copied after Mauritius."
To make your journey to Mauritius even more convenient and enjoyable, you can rely on EaseMyTrip, a trusted travel partner that specializes in providing hassle-free travel experiences. With our expertise and excellent services, we can assist you in planning your itinerary, booking flights, accommodations, and transportation, ensuring a seamless and memorable trip to Mauritius.
You can also check out our Mauritius holiday package to save on your vacation. So, embark on this remarkable adventure with EaseMyTrip and let the magic of Mauritius unfold before your eyes.