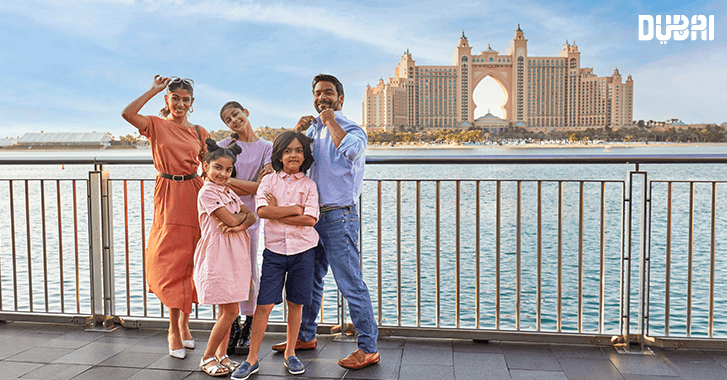 Dubai, 'the land of Gold' is one of the most cosmopolitan cities in the world. The city is on everyone's list and offers unforgettable experiences to all visitors. Dubai has unparalleled destinations with magnificent coastlines and the place is waiting to welcome its travellers. It gives them the opportunity to make new memories and experiences that will be etched in time and will also make you one revisit the beautiful land of gold, such is the charm!
Are you planning to travel to Dubai from India? Then let's dive into the scrumptious cuisines, majestic places that Dubai has to offer!
Cuisine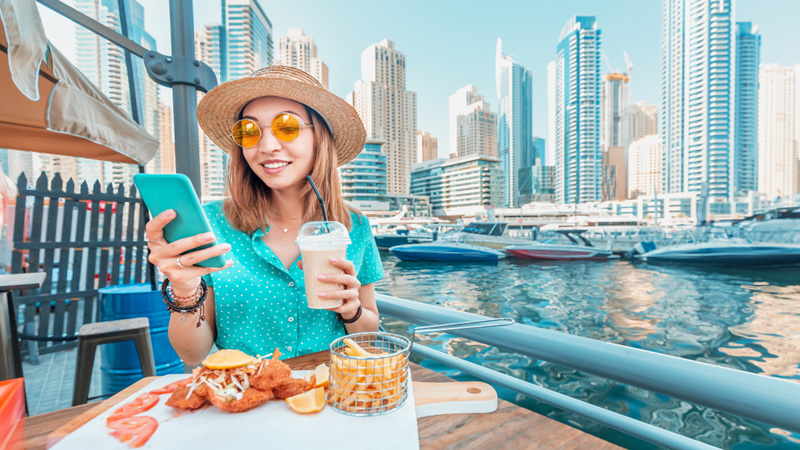 A trip to Dubai is incomplete without its scrumptious food, that features a unique combination of Lebanese and Arabic food, and we are sure that they will only leave an individual wanting for more. Dubai has an amazing choice of world cuisines for everyone whether vegetarian or non- vegetarian. And here we have shortlisted the best dishes to, try!
Non- Vegetarian Cuisine:
Manousheh: All the meat lovers out there, we have an amazing local dish for all the people whose taste buds like tangy and spicy. It is a perfect pick for your delectable taste buds. It is an Arabian pizza, that is made with stretched dough and filled with exotic toppings with cheese and earthy zaatar herbs. It is surely your go-to dish on the streets of Dubai.
Chelo Kebab: Chelo kebab, should not be missed when hopping on the streets of Dubai, it is an Iranian aromatic scented rice that is served with a pat of butter on tender kebabs.
Harees: Taste the tradition with Harees, an Emirati dish that is a combination of meat, wheat and a pinch of salt. Combined with hours of baking it will leave everyone craving for a second serve. It is a very popular dish that is savoured during Ramadan, Eid and wedding seasons.
Don't you worry, we have curated a list of amazing vegetarian Dubai dishes as well.
Vegetarian Cuisine:
Tabbouleh: It is a salad- that is made with tomatoes, green onions and cucumber and is seasoned with fresh mint and lemon juice. Irrespective of what pronunciation one gives to the dish, it is delicious. If you want to cut down on those carbs and are looking for a healthy alternative, then this should be your go-to!
Shirin Polo: It is a culmination of basmati rice with carrots, raisins, and nuts. If you wish to have a local speciality in vegetarian cuisine, this dish. Will leave your heart and stomach full. It should be on your menu, when looking for delicious food in Dubai.
Baba Ganoush: A dip that is made when mixed with smoked eggplant tossed in onions, tomatoes and olive oil. It is a great appetizer and it easily crawls up to your list of best foods. For sure your gut will thank you for eating delicious food, and you can thank us later!
Culture and tradition are something Dubai is quite praised about. The Emirati culture is an amalgamation of Arabian and, Islamic cultures. Its diversity is reflected in its lifestyle, cuisine, customs, traditions, dance, music and numerous other elements of the country.
Hospitality is central to the Emirati culture and sipping Arabic coffee, or gahwa, is a part of the warm welcome.
A place that is rich in art and architecture and will surely make your visit worthwhile! The city's architecture is heavily influenced by the age-old customs, traditions, lifestyle and the rich culture of UAE. 'Barjeel' or a 'Wind tower' is a typical architectural element that is also employed in the Emirati culture to generate natural ventilation.
Now, what is holding you back? A place that is so rich in culture, will surely be an experience in itself. So, think no more! Plan your Dubai travel. Book with EaseMyTrip to get the best deals.