Quick Dive in to top 10 destinations to celebrate Holi
Over centuries, it's been witnessed that everyone desperately waits for spellbinding festivals in India to have a delightful experience. Especially during Holi, almost every person from distinct religions comes and celebrates this splendid festival with sheer happiness. As per the Hindu mythological lore, it's been prescribed that individuals fly vibrant coloured powder to commemorate the triumph of good over evil. Therefore, before the Holi celebration, the Holika Dahan ritual is performed extensively.
Due to its chaotic atmosphere, & kaleidoscopic extravaganza, Holi has now deepened its roots across international boundaries also. Holi naturally created its path in diverse western and Asian countries. So, if you're planning to explore other tourist attractions during Holi, then here're the top 10 places to celebrate Holi outside India.
Celebrated with utter enthusiasm, Holi is an important festival for which people die for. With spirits running wild and frenetic shopping, friends and families bustle around different places to capture beauty and excitement.
So, these are some famous destinations around the world which are traveled the most by travelers and Holi enthusiasts the most. Now here's a brief description of how they celebrate Holi with unmatchable cheer and pleasure.
Best Places to Play Holi Outside India
If you're constantly searching where Holi is celebrated in India or across, then your wait is over. Because Kathmandu can be your blessing in disguise. At these captivating attractions, the majority Hindu population resides that's spiritual and follows their roots. Thus, the people celebrate by decorating wooden poles known as Chir with eye-catchy clothes. Besides this, during this largest celebration, females wear red saree, light bonfires, walk and throw colorful red dyed powders, which creates an electrifying atmosphere. If you think that's it then, then unique feasts, dancing and singing are also involved to make your festive occasion ordinary to extraordinary.
If you want to further know about the how Holi is celebrated across the neighboring countries like India then you must read- Know How Holi is celebrated in India

Do you know that Singapore is the central hub for various Indian and Non-Indian residences? Apart from this, were you aware that Tamil happens to be the mother tongue of the majority of the Singaporean population? If not, then these are some interesting facts about the destination. Now, you might be thinking how it's related to the Holi celebration. Well, this astonishing fact simply highlights that Singapore is the house of Indians.
Therefore, Singapore rejoices in the festival with overgenerous parties. Furthermore, the national public organizes watercolor fights and throwing DJ parties with food, sweets and cocktails being served to offer top-notch hospitality services.
Annually during the March end, Fun-loving New Yorkers and Spanish folks join hands together to celebrate Holi and spread positive vibes across the nation. The scenery of this magnetic tourist attraction provides a completely different overview. Even the hidden unexplored streets and residential complexes are embellished with blooming flowers to calibrate holy with zeal. Moreover, to have the best Holi experience outside India, you can also visit the Sri Sri Radha Krishna pilgrimage present in Utah. At this shrine, everyone is welcome to have a blissful experience during festive occasions.
To know more about the Holi Rituals visit- Holi Special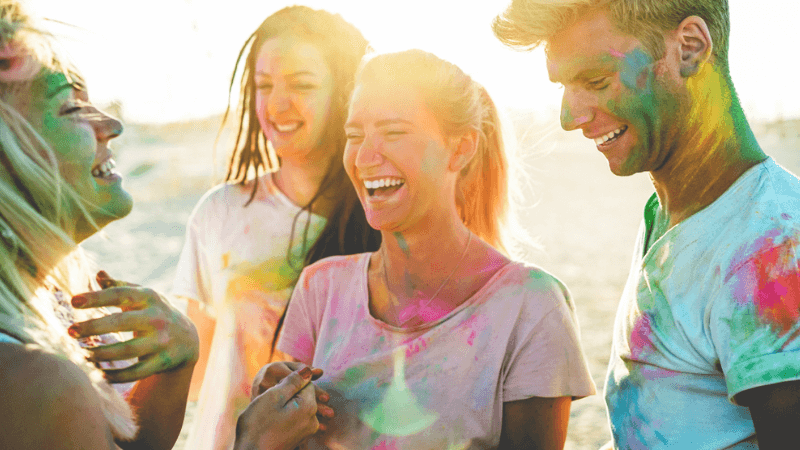 Whether you're residing in India or any other country, Holi is the only auspicious event that Indians enthusiastically wait for. In the case of Australia, a tremendous amount of Indians are already staying as students, residents and tourists in various eminent cities like Melbourne. So, to capture the unforgettable moments, the country organizes an array of Holi festivals. The streets offer a kaleidoscopic view as rainbows and people from different backgrounds get together to celebrate diverse friendships. To further tickle their taste buds, Australians try traditional Indian delicacies, which spice ups their life.
Want to know nitty-gritty about the best ways to celebrate holi, then here's your read.
Suggested Reads- 5 colorful ways to celebrate Holi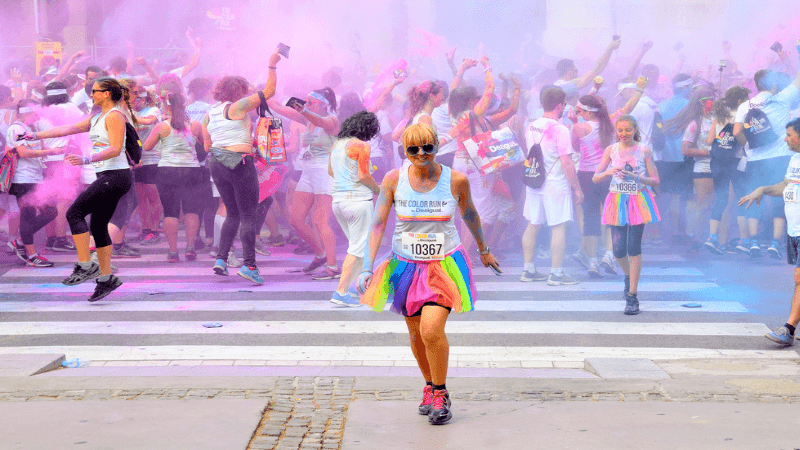 You might have seen the Zindagi Na Milegi Dobara Tomatina festival scene, right? Additionally, after watching those pictures you were dreaming of your friends and family at this destination throwing tomatoes at each other to fabricate unique moments. Well, we know that dreams have no boundaries, so to fulfill such a dream, especially during Holi, you can visit Spain, the city which enjoys Holi like fish in the water. This iconic destination pays homage to the Indian traditional festival by playing Holi with tomatoes instead of dyed colors. So, to have a blissful experience during the festive season, you must book a Spain holiday package with EaseMyTrip.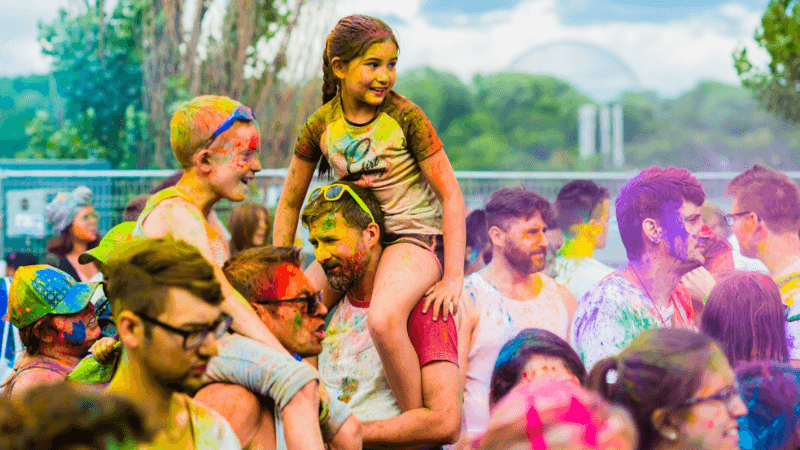 We are all conscious that a gigantic number of Punjabis have established their paths in Canada. Therefore, working professionals and innumerable students from a plethora of universities assemble and play Holy madly. Destinations like Vancouver motivate and encourage a large number of Indian students to celebrate the festival to showcase the multicultural diversity of the nation. Overall, Holi is perceived as a significant festival for the Indian community in Canada.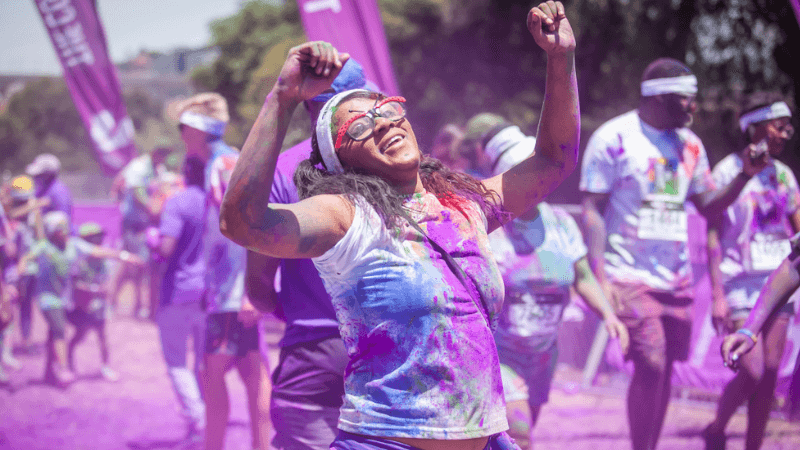 If you search for the best places to celebrate Holi, then we guarantee that South Africa will arrive as the top destination to be on this fortunate day. This statement has been mentioned because this country is heavily flooded with individuals of Indian origins. People from all around the world celebrate Holi by playing free-for-all color war, singing traditional yet attention-grabbing melodious songs, and enjoying a bonfire. Moreover, the destination also comprises the Gujarati community to a great extent. This, in turn, makes the Holi festival enticing that leaves an everlasting impact on everyone's heart.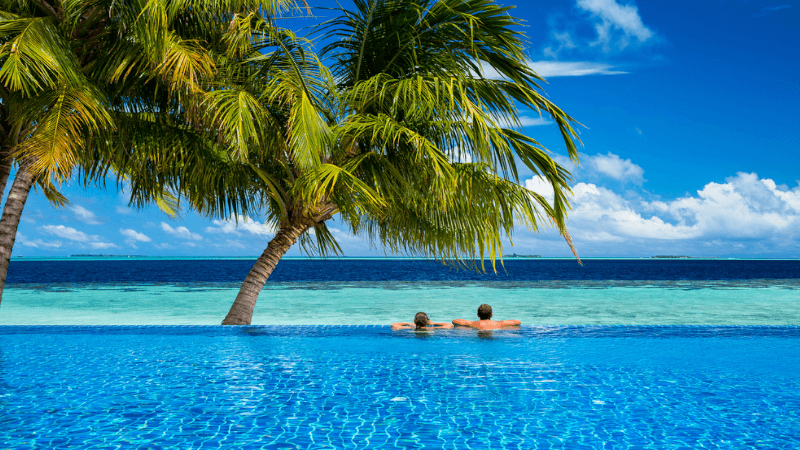 Mauritius believes in the mantra and community of Hinduism so, by getting influenced by the philosophy, Mauritius also adopted Holi as a celebration. It's now well-recognized as the best country outside India to celebrate Holi. Since the place also comprises wonderful beaches, coasts and party places; thus, people constantly visit Mauritius during Holi for partying purposes. Places like Port Louis utilize coloured water, water cannons and fragrant natural flower extracts or gulal to make people dive deep into a holy fever.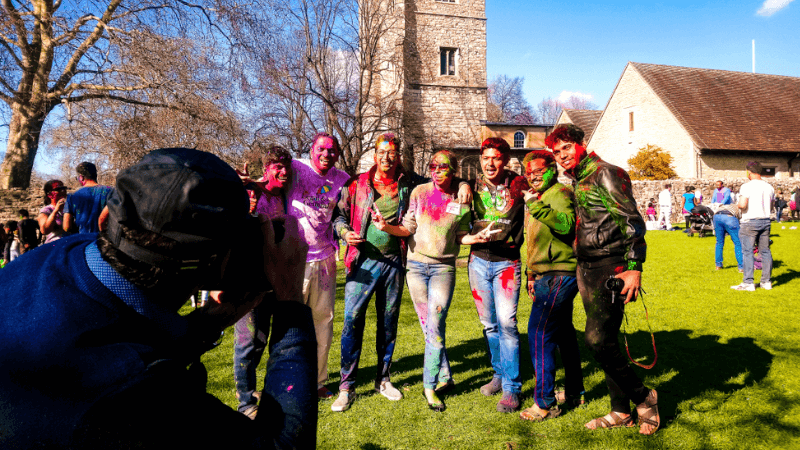 Indians who settled in the UK and around Big Ben city, are now celebrating Holi with open arms. In reality, India is a thousand miles away from Britain but still, it does not matter because the cultural diversity empowers us to accept and explore different cultures and the beauty of spell-binding festivals like Holi. All Indian migrants and London residential members usually travel to epic tourist attractions like Neasden Temple, Wembley Park and the City Pavilion. At these destinations, you can get a glimpse of Holi and Indian folks. Additionally, several fests are being organized so, if you want to glare at such wonders then you must visit the UK.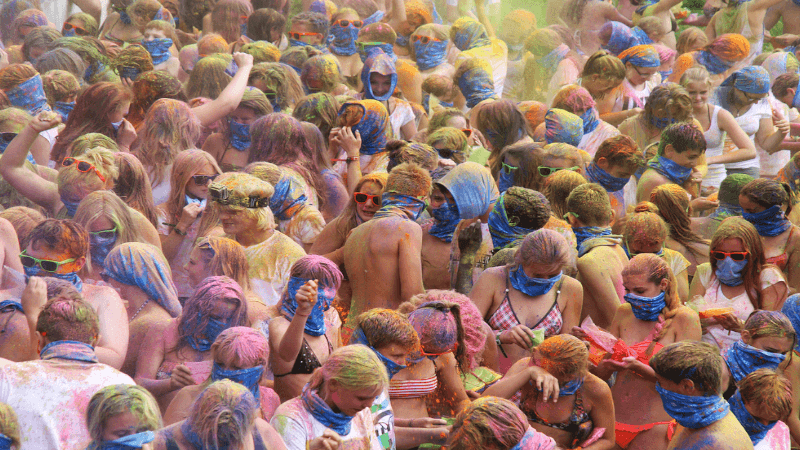 The chaotic crowds and thrilling web of colors during Holi, are factors churning the undying beauty of Germany. Usually, Indian and foreign communities residing in Berlin, Frankfurt, Hamburg and Munich, now follow traditional and cultural paths. To have a fantastic evening during Holi, they throw colors, paint water and memorable singing performances that make the audience go crazy. So, if you're planning to enjoy Holi outside India then Germany can be your blessing in disguise.
Holi has now become a global phenomenon, due to its exciting traditional, enriching culture and mind-boggling practices that uplift the mood and promote diversity. So, no matter where the Indians are, now they cannot restrain themselves to celebrate Holi while residing in different boundaries. So, here's the extensive list of the top 10 best places to celebrate Holi. If you want to indulge in the fun and frolics of Holi celebrations then select your favorite international destinations with EaseMyTrip and book your flight tickets to have fun!