Who doesn't love snow? When the scorching sun is on the head and sweat rolls down from the forehead, you badly miss the winter days. Snow Park is one of the best ways to beat the red-hot sun and enjoy to the fullest. In India, real snow can be enjoyed in the winter season only, but snow parks are the places where you can enjoy snow every season. India has many snow parks where people use to go with their families, friends, and loved ones. While taking a tour to these snow parks, you will enjoy the best moments of your life, as snow parks have rides, selfie points, food points, skating areas, and an enormous area full of snow where you can enjoy making a snowman or throwing snowballs on each other. Isn't it exciting?
Ski India, Noida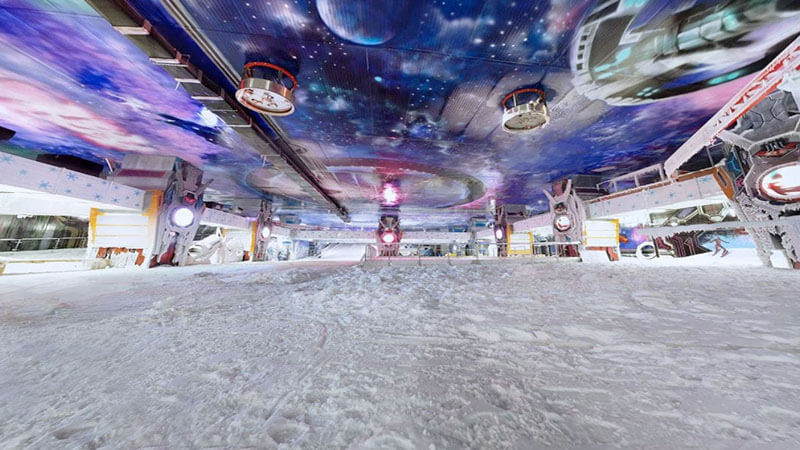 Image: Source
It is one of the best Snow parks near Delhi that offers a unique experience of Skiing to all its guests. Ski India is also known as Snow World, and it is located at Mall of India in the Delhi NCR region. There are lots of selfie points in Snow World, and one of the best parts is, it consists of an artificial igloo where you can also star-gaze. It also includes of food point where you enjoy hot Maggie with your loved ones. Maggie is love for many people and especially in winters. Isn't it? And, guess what? There are rides to enjoy and skating too! Afraid of falling? Don't fret; there will be trainers to help you!
One needs to rent the costume to enter in Snow World as the inner temperature of the snow World is -10°C. They allow you 1 hour to enjoy the snow park, and then you need to leave the park. Make sure you rent a complete costume i.e. jacket, socks, and gloves. You can also hire a photographer inside the park as you will find many of them already there. Experience the magic of snow at Snow World!
Address: L05 &L06, DLf Mall of India, Sector 18, Noida, Gautam Buddha Nagar, Uttar Pradesh 201301
Price: INR 1,150
Time: 11 am to 9 pm
Snow World, Mumbai
Image: Source
Snow World in Mumbai is the first snow park in the city. This snow park offers a natural feeling of a hill station covered with snow and snowfall. The indoor temperature of this park is -10°C, where you are not allowed to enter without a warm jacket, gloves, and warm trouser. The park allows you 1 hour in which 15 minutes are for your costume change, and the other 45 minutes are to enjoy the snow. You can enjoy several games in the snow-themes park-like sledding, ball games, ice-skating, sleeping, skiing, etc. Situated in the Phoenix Market City at Kurla West, it offers full entertainment to the visitors. Enjoy hot tea and food inside the food Court of Snow Park and click lots of pictures to save memories with you.
Address: Lower Ground Level 58 - 61, Phoenix Market City, Kamani Junction Kurla (W), Between Atrium 2 & 6, 15, LBS Marg, Kamani, Jn, Mumbai, Maharashtra 400070
Price: INR 575
Time: 11 am to 10 pm
Axis Mall Snow Park, Kolkata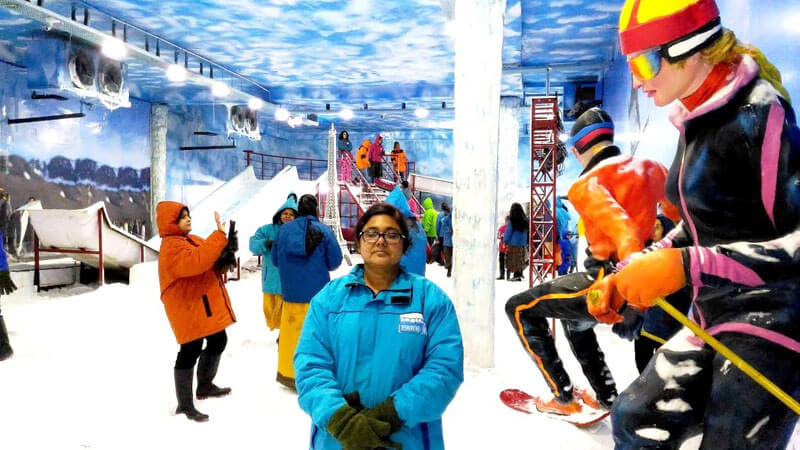 Image: Source
If you live in Kolkata, then it is for you. Axis Mall Snow Park comes as a perfect escape from summers. It is the best place to spend a weekend with your family in winter. Head to Rajarhat's new town axis Mall to experience the snow inside. It is one of the best snow parks in India to have enough ice fun. This park also consists of several snow rides, selfie points, a food court, football on snow, a tube slide, and even a disco on ice. From children to the senior citizen, everyone can enjoy this excellent point. You need to buy a ticket to enter the park that will include a winter jacket, booth, and even gloves. You will also be provided with a locker to keep your clothes and other belongings. However, you need to pay a security amount to avail of the locker. It is also one of the cheapest snow parks in India where you can have lots of fun by paying a small amount.
Address: 6, Axis mall, CF Block (Newtown), Action Area 1C, B & C, Newtown, Kolkata, West Bengal 700156
Price: INR 500
Time: 11 am to 9 pm
Snow Theme Park, Hyderabad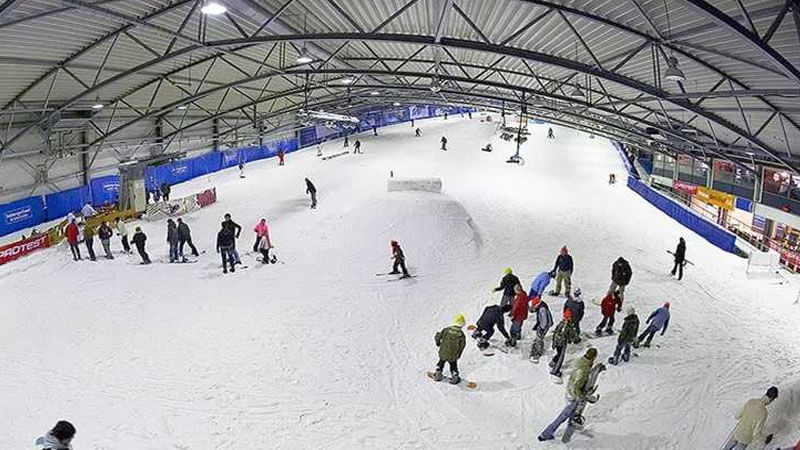 Image: Source
Snow World in Hyderabad is the largest snow park in the country as it covers 17,000 square meters of land. It is created using industrial technology where you can see huge snow and lighting all around. The snow world Hyderabad also offers you an option to play several games and sports with your kids. Here, visitors can participate in basketball, volleyball, dance, and snow sculptures. It is one of the favorite snow parks for Indians. It remains open in every season where you can rejuvenate with your family. Amusement ride to enjoy in Snow World are Kids Snow Play Area, Ice Hotel, Snow Volleyball, Snow Basketball, Merry-go-round in Snow, Mountaineering, etc. this largest snow park in India offers a special discount for school and college students.
Address: Snow World Address: Survey No. 57, Lower Tank Bund Road, Bharath Seva Ashram Marg, Near Expotel Hotel, Hyderabad, Telangana, 500080
Price: INR 500 for Adult and INR 300 for Child
Time: 11 am to 9 pm
Snow World, Bangalore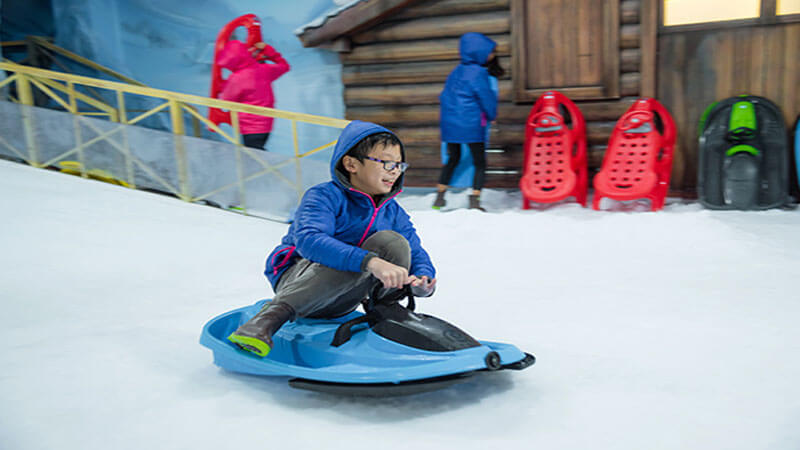 Image: Source
The Snow world in Bangalore is a famous snow park in India that has a minimum temperature of -5°c. It is the first Snow Park in Bangalore and knows as India's best snow-worlds. Spread over a 12,500 square feet area, this snow park offers you different rides and games to enjoy. Here, visitors can enjoy a snow dance floor, snow rock climbing, Toboggan rides, snow box, and ice slides. It will give you a real feel of snowfall that you will enjoy to your best. People can also play basketball, enter into the ice igloo, take a toboggan ride, and explore everything inside the park. Dance with your friends in the snow and capture some great moments on your camera. They will provide you Jackets and gloves to enjoy in the park.
Address: Jayamahal, Fun World Complex, opposite TV Tower, J.C.Nagar, Bengaluru, Karnataka 560006
Price: INR 500 Weekdays, INR 600 Weekends/Holidays
Time: 10 am to 8 pm
All these snow parks are the best way to beat the scorching sun. Plan a perfect trip to any of these snow parks and have unlimited fun. You can book your flight tickets at EaseMyTrip if you ever plan your trip to any of the domestic cities in India. Save huge money by booking your flight tickets at easmytrip.com.