"Ayodhya Mathura Maya Kasi Kanchi Avantika |
Puri Dvaravati chaiva saptaita moksadayikah ||"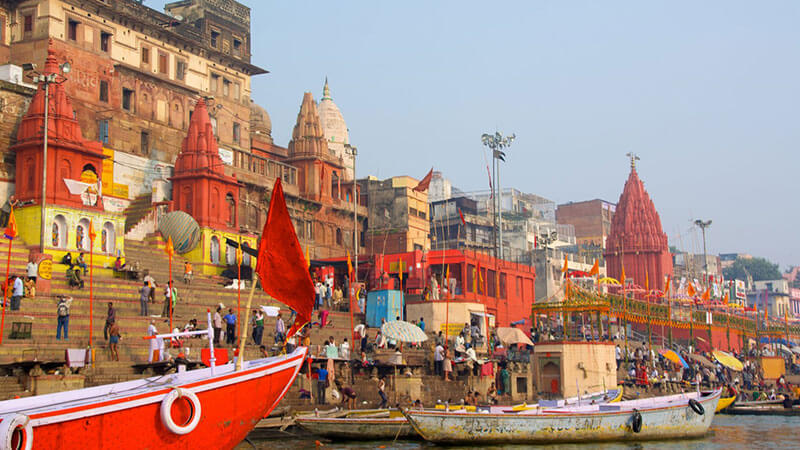 Image; Source
According to the holy scripts of Hindus, there are seven sacred cities called as Sapta Puri, which you must visit to attain Moksh (Salvation).Moksha means that you can skip the circle of life and death and attain Nirvana. One can visit these cities to get the utmost peace. Seven of holy cities of Sapta Puri are Ayodhya, Mathura, Maya (Haridwar), Kasi (Varanasi), Kanchi (Kanchipuram), Avantika (Ujjain) and Dvaravati (Dwarka). These are also considered to be the holiest Hindu Teerths. Each city has a strong connection with Hindu deities like Ayodhya is the birth place of Lord Ram while Mathura is the city where Shri Krishna was born. So, plan your holidays to these divine cities of India and indulge into the serenity of these places.
Ayodhya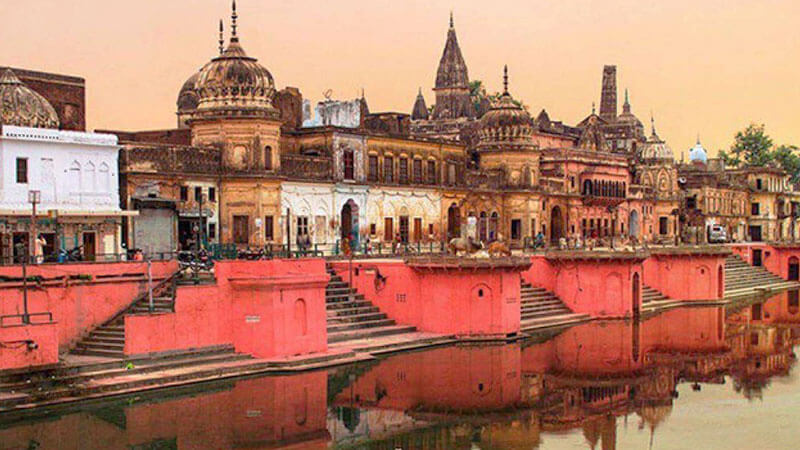 Image; Source
Ayodhya is the land where Lord Ram was born. He is said to be the seventh incarnation of Lord Vishnu. It is the holiest city in India and a prominent part of Uttar Pradesh in regards to the economic, political and historical background since forever. Ayodhya is situated around 6 km away from Faizabadon the bank of Sarayu River. This city is believed to be 9000 years old and was the capital of Raja Dashrath's prosperous kingdom. There are more than 700 temples in this auspicious city which makes it one of the most sacred cities of India. Ram Janam Bhumi, Kanak Bhawan, Sita ki Rasoi, Hanumangarhi, Gular Bari, Daashtrath Bhawan, Nageshwarnath Temple, Treta ka Thakur and Dashrath Bhawan are some of the top places to visit in Ayodhya.
Varanasi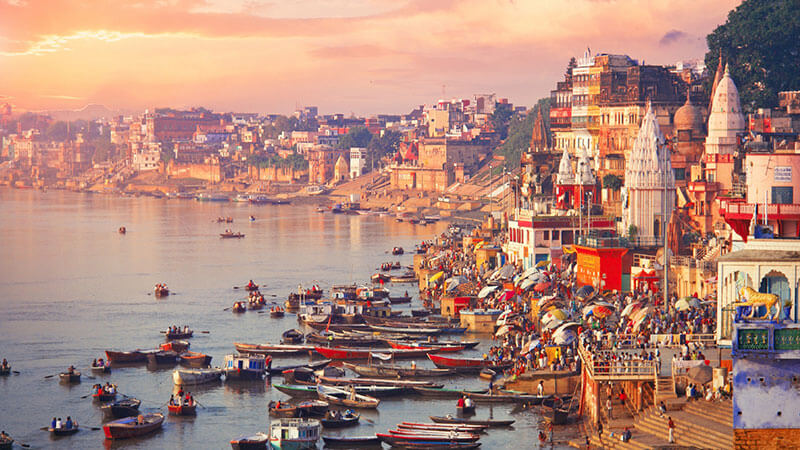 Image; Source
Varanasi is prominently known as Shiv ki Nagari and said to be the oldest city of India. There are almost 20, 000 temples in city that you can find at every corner of the street. It is said that Lord Shiva created the holy city of Kashi with his hands and that's why it is said to be the spiritual capital of India. There is a popular belief that if you die in this city, you will attain Moksh (salvation). Varanasi is all about the sacred Ghats which will give utmost peace to your soul with the most scenic and tranquil views of holy River Ganga. Main attractions of Varanasi are Manikarnika Ghat, Dashashwamedha Ghat, Pancha-Ganga Ghat, Asi Sangam Ghat, Varana Sangam Ghat, Kashi Vishwanath temple, Bindhu Madhava, Adi Keshava temple, Durga temple, and Sankat Mochan temple.
Mathura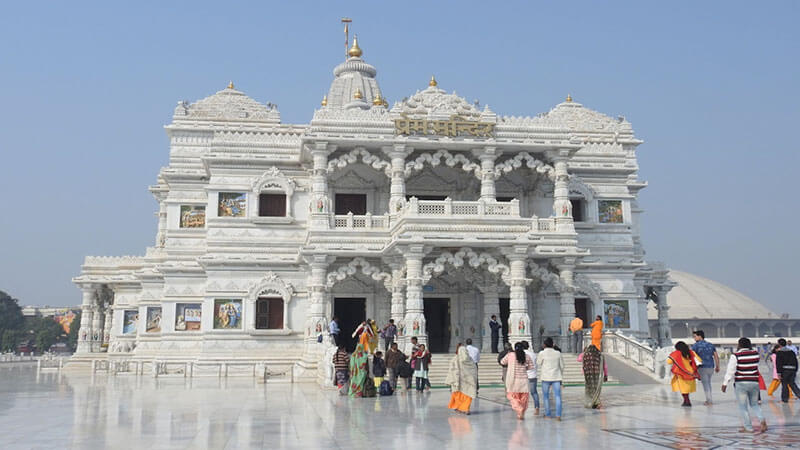 Image; Source
Mathura is the birth place of Lord Krishna which is situated near to the city of Vrindavan and Goverdhan hill in Uttar Pradesh. Lord Krishna is also believed to be the incarnation of Lord Vishnu who came to protect the earth from evil and powerful King Kansa. Called as the heart of Indian culture, Mathura is full of multi-hued temples. The best time to explore this holy city is the time of Krishna Janamashtami when the entire city is in full swing and every person is excited to welcome Krishna on his birthday. Other than being important for Hindus, Mathura is also known for magnificent Buddhist Art which is preserved from the golden era of Indian culture.
Haridwar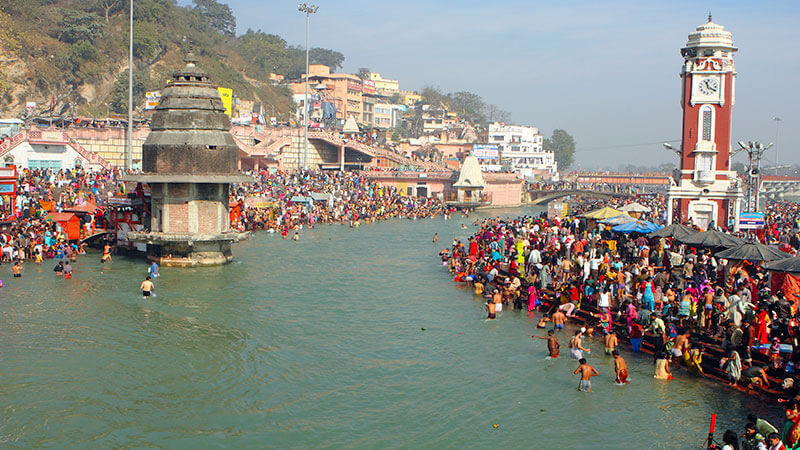 Image; Source
Haridwar literally means Hari ka Dwar (gateway of Lord Vishnu). It is the place where Hindus come before going on Char Dham Yatra (Four Abodes of Hindu Religion) for the ritualistic bath in holy water of River Ganga. According to Hindu Religious Books, Bhagirath prayed to Lord Shiva and succeeded to bring Ganga on Earth for the welfare of humanity. Har ki Pauri is said to be the place where Ganga landed first. Some prominent temples in Haridwar are Mansa Devi Temple, Bharat Mata Temple, Maya Devi Temple and Chandi Devi Temple etc. Renowned Kumbh Mela is organized in every 12 years in this holy city of India.
Kanchipuram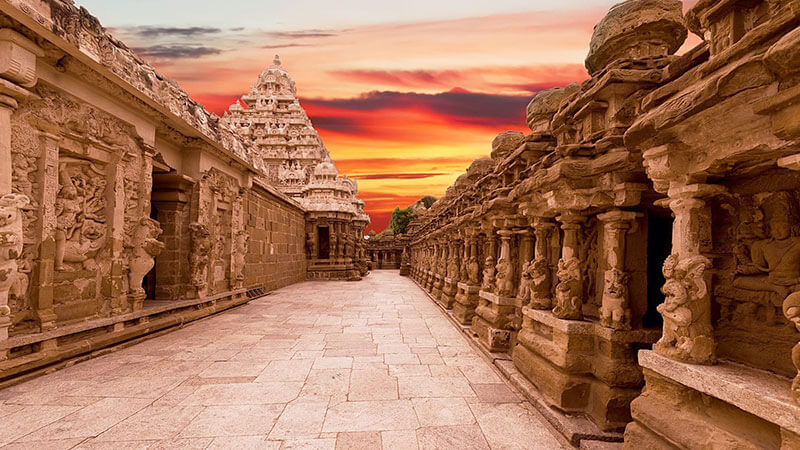 Image; Source
Kanchipuram is one of the seven sacred cities of India because of its divine temples. Located on the bank of River Vegavathi, Kanchi is also called as City of Thousand Temples and City of Gold. Great Hindu Philosopher, Adi Shankara disseminated Advaita philosophy in this city. Kanchipuram is just 75 km away from the capital city of Tamil Nadu state – Chennai.This is why, it turns out to be one of the most visited holy cities of India. There are around 108 Shaiva temples and 18 Vaishnava temples in Kanchipuram. Ekambareswarar Temple, Varadharaja Perumal Temple, Kailasnathar Temple and Kamakshi Temple are some of the famous temples in Kanchipuram.
Ujjain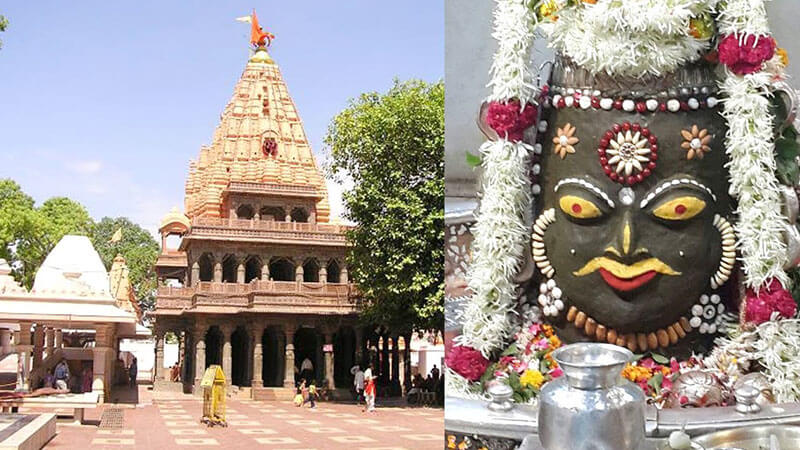 Image; Source
Ujjain is one of the Sapta Puri - seven sacred cities of India, which is situated on the banks of Kshipra River. It is believed that this holy city emerged during the time of Samudra Manthan. Out of 12 Jyotirlinga, Mahakaleshwar Jyotirlinga is situated here. Ujjain has deep-rooted connection with Lord Krishna as it is said that Krishna along with his elder brother Balram came to Ujjain to get their education by Muni Sandipani. There is a Gopal Temple in Ujjain, which has silver statutes of Lord Krishna, Balram and Muni Sandipani.
Dwarka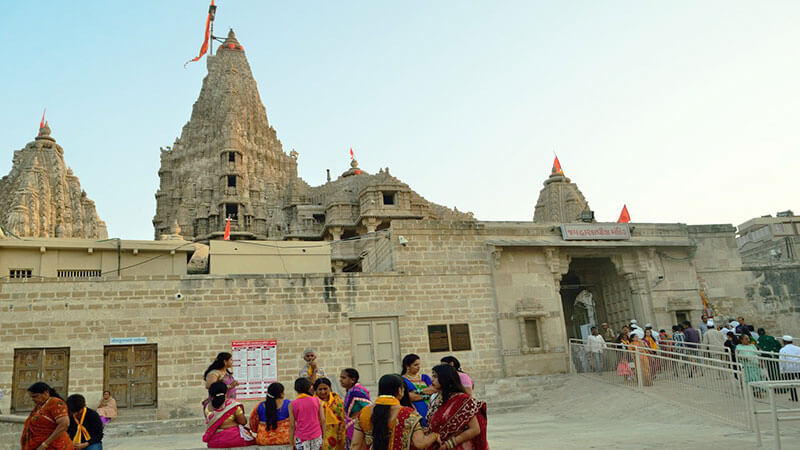 Image; Source
Your Sapta Puri Tour will be incomplete without visiting Dwarka which is said to be the place where Lord Krishna spent his life after the assassination of King Kansa. It is another sacred destination in India to visit for mental peace. Dwarka depicts the tale of Krishna's life when he shifted the capital of Yaduvansh Kingdom and how it eventually submerged in the Arabian Sea after the death of Krishna. Poetess Mirabai was also from this divine city who taught the world power of Krishna Bhakti.
India is the land where people have strong faith in God and you can attain eternal peace by visiting these holy cities of India. Take your family to these 7 sacred places in India and plan your tour better by booking train tickets with EaseMyTrip and get an amazing discount offer on your bookings.