Dotted with countless temples, lakes and mystical corners, Uttarakhand is a place of divine beauty. The dreamy paradise offers spellbinding treks, bird sanctuaries, wildlife habitat centres and of course, jaw-dropping views of the mighty Himalayas. The famous Shiva temples (Badrinath & Kedarnath), Nainital, Mussoorie, Haridwar, Rishikesh etc are some of the most common attractions of Uttarakhand. But, while you may have traversed the more popular paths of this state, allow us to stir your wanderlust once again as we list a few secret, lesser-known, hidden gems of Uttarakhand.
1. Kakrighat
Kakrighat is famous for its Neeb Karoli Baba Ashram. This place is nestled in the quaint hill station of Almora. This ashram is situated on the banks of Kosi River. Swami Vivekanand also came here for meditation. Enveloped by lush green hedges, Kakrighat is an ideal place to unwind in the lap of nature It's a nice place to stop by, when driving towards Ranikhet.
2. Patal Bhuvaneshwar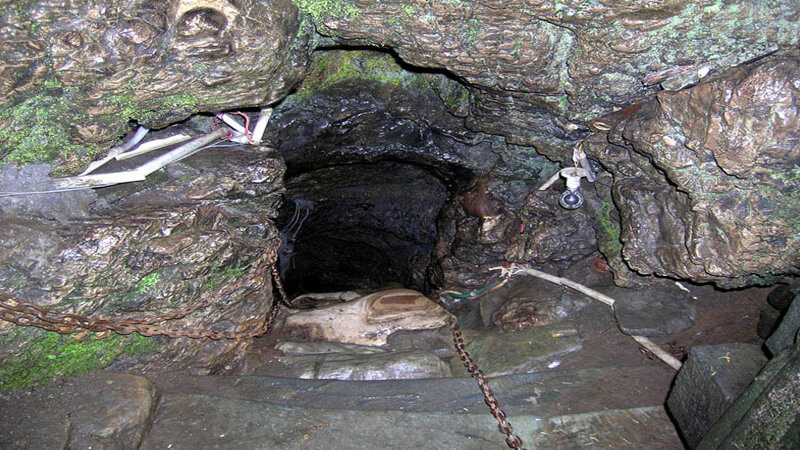 Patal Bhuvaneshwar is one of the most mysterious villages of Uttarakhand. Dedicated to Lord Shiva, it houses a 160-metre-long and 90-metre-deep limestone cave with a narrow tunnel. It is an ancient cave temple which is as old as the earth itself where you need to rapple down to 90 ft to reach the caves. The mystic vibe of the cave will fire up your mind with curiosity. The cave is also home to all 33 Koti demi – Gods in Hindu belief. Located in Pithoragarh district, the mystical land of Patal Bhuneshwar is quickly becoming a hotspot for rappelling in Uttarakhand.
3. Chaukori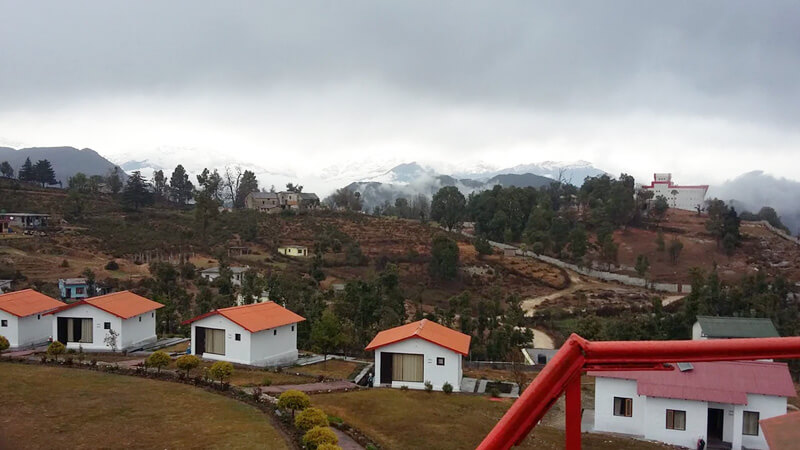 Located in the district of Pithoragarh, Chaukori adorns the western Himalayan Range in the state of Uttarakhand.. Featuring aromatic tea estates and luxuriant deodar and alpine forests and fruit orchards, it is among the best offbeat places to visit in Uttarakhand. With the stunning backdrop of Chaukhamba, Nanda Devi, Trishul and Panchachulu peaks. Major attractions are the Tea Gardens and the Musk Garden Tree. The Chin waterfall with a height of 160 Ft is a great camping locale, about 10 KMs from the village.
Must-Visit Temples in Chaukori
Mahakali Temple

Kapileshwar Mahadev Temple

Arjuneshwar Temple

Nag Mandir, Berinag

Ghunsera Devi Temple
4. Lohaghat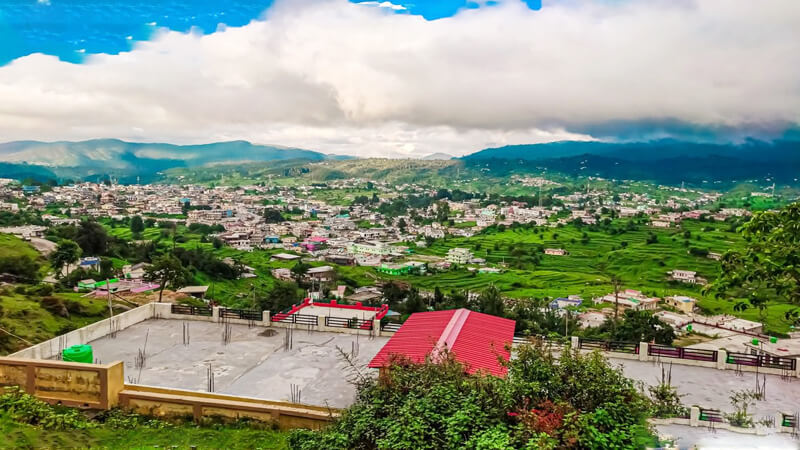 Located in the Champawat district of Uttarakhand, Named after the river Lohawati, Lohaghat is the land of blooming Rhododendrons, mighty oaks, and towering pines. It's known for the many temples that are scattered all across this hill town. When you are here, go for a day hike to Abbott Mountain, which still has a 19th century abandoned church and the reportedly haunted Abbott house. Get the right mix of serenity and thrill at Lohaghat's haunted attractions. Also, this is an amazing place to enjoy meditation and yoga and connecting with your inner spiritual self. Another delight is the spring months, with the mountains turning red – thanks to the rhododendron bloom and sunflower garden which is in full bloom.
5. Khirsu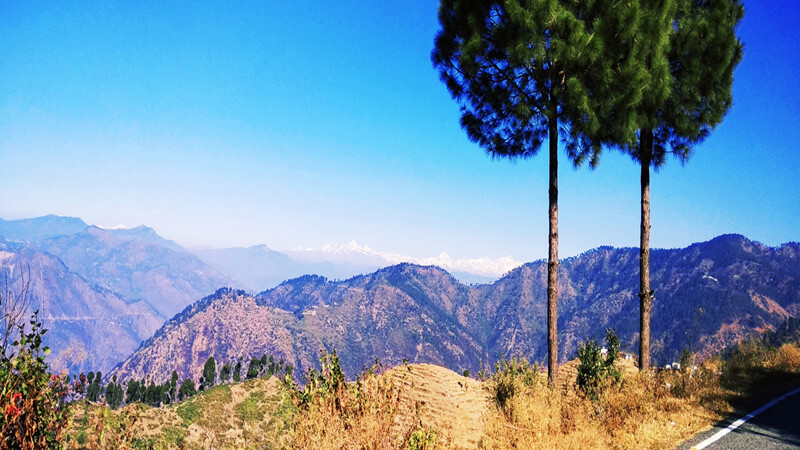 Khirsu is located in the Pauri Garhwal region. Travel 92 km from the state capital of Uttarakhand to reach the tiny village of Khirsu. It offers a spectacular 300 km wide view of the Himalayas, including Trishul, Nanda Devi, Nandakot, and Panchchuli peaks. For those who're searching for tranquillity and peace of mind, Khirsu is the best place to be. Surrounded by lush green Oak and Deodar forests and apple orchards, this picturesque hamlet is one among the finest offbeat places to visit in Uttarakhand. It's a heaven for trekkers, backpackers and solo travellers. Two of the most important places of interest here are Ulkha Giri and Pauri. Visit Ghandiyal Devi temple and Kandoliya Devta temple to seek blessings.
6. Chopta-Sari Village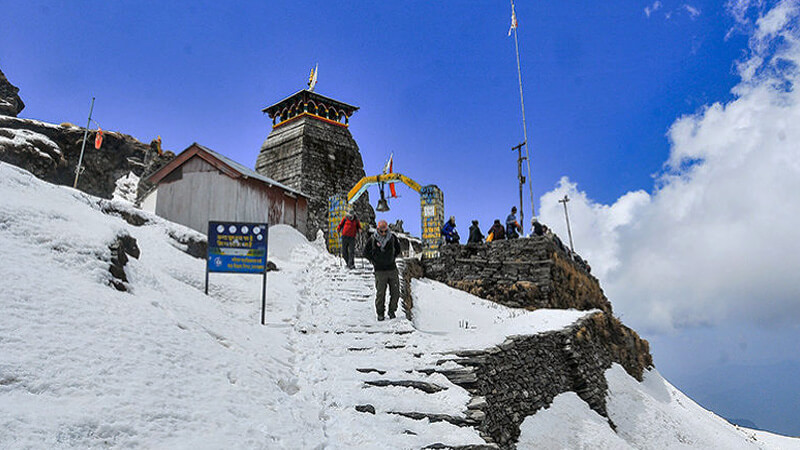 Verdant forests, sprawling meadows, valleys and snow-laden mountains welcome you at Chopta with open arms. This is a popular stopover, en-route to trekking destinations like Chandrashila and Tungnath as well as the Panch Kedars offers which breath taking beauty and absolute solace of mind and soul. Deoria Tal to Chandrashila Peak trekking is by far one of the most important treks located close to Chopta. Providing unobstructed views of Trisul, Nanda Devi and Chaukhamba – Chopta is the definition of a perfect vacation for solitude lovers. Chitra Gufa lying around 15 KMs from Chopta is also a beautiful place to visit! Explore the Rohini Bugyal and Bisurital. Another delightful activity is spotting the hundreds of bird species. Major attractions: Kanchula Korak and Musk Deer Sanctuary.
7. Munsyari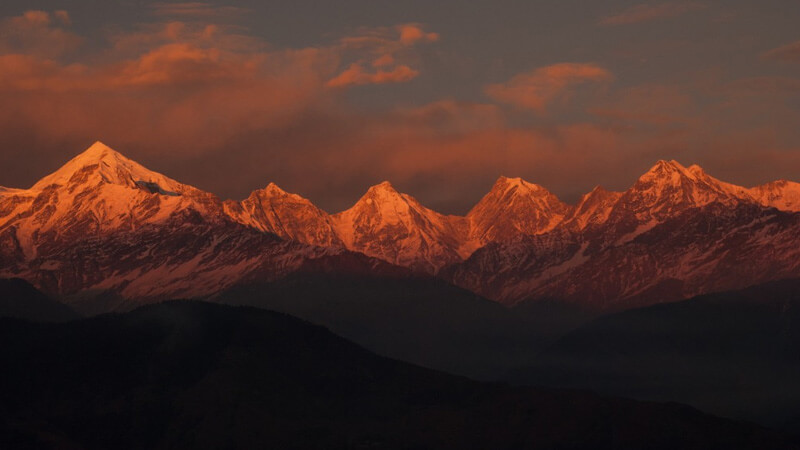 Often referred to as "Little Kashmir", Munsiyari is a cosy hamlet located in the Pithoragarh District of Uttarakhand Munisyari is the base of the Himalayan mountain range and glaciers of Milam, Ralam, and Namik. There are two popular treks from here, namely, the Namik Glacier trek, and the Panchchuli peaks trek, both of which are in the Kumaon region. It is Perched between the borders of India, Tibet and Nepal. Known for its breathtaking Himalayan views, Munsiyari is for those who want to feel close to mountains, and are interested in trekking, mountaineering, all the while enjoying unspoiled nature. Also, in the months of March and April, the entire forest turns red – thanks to the magnanimous Rhododendron flowers of the region.
8. Pangot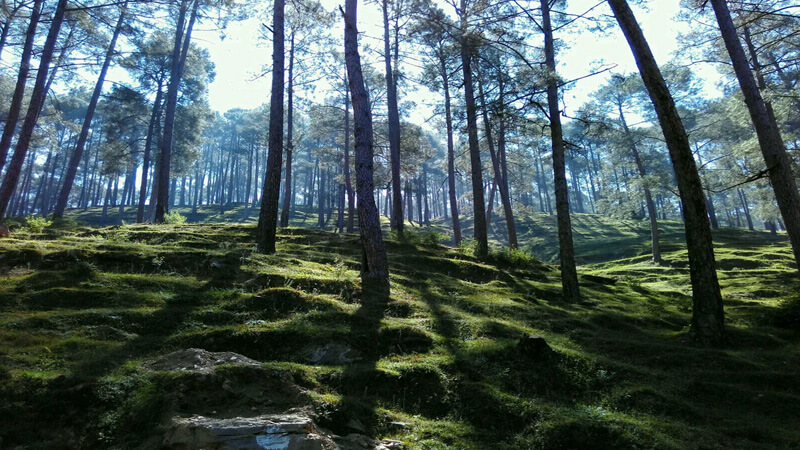 Located just 15 kilometres away from Nainital, Pangot, located in the Kosiyakutoli tehsil of the Nainital district of Uttarakhand is a small and picturesque hamlet which is a relatively undiscovered yet very beautiful spot. Pangot also becomes a hub for photography enthusiasts when hundreds of different species of birds flock here during the harsh winters in the upper Himalayas and settle down here temporarily. Major attractions here are Naina Devi Bird Reserve, Himalaya Botanic Garden, Kainchi Dam and Himalaya View Point. It's nothing less than pure bliss to wake up to melodious chirping of birds, feel the cool breeze and rejuvenate your mind and body. If you do not like crowded destinations and wish to spend few days in solace and seclusion- this the perfect choice for you.
9. Peora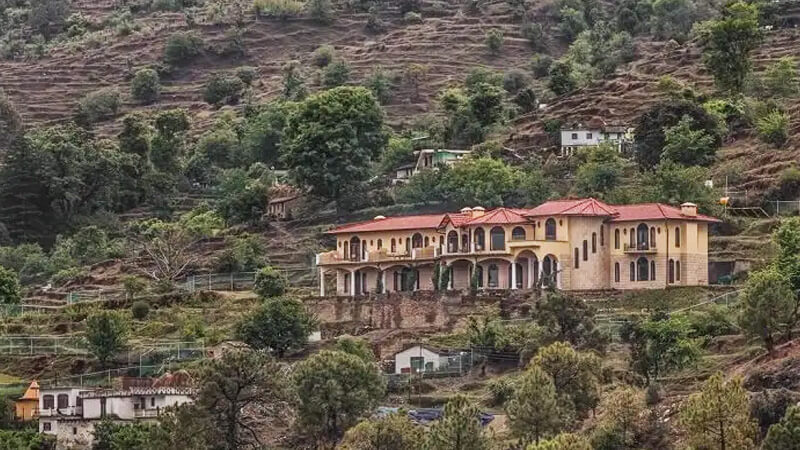 Located between Almora and Nainital, Peora is one of the offbeat destinations in Uttarakhand. This place is famous for mighty Kumaon Himalayan ranges forests and sprawling fruit orchards of apples and plums. You can admire 360-degree panoramic view of snow-laden Himalayan ranges, enjoy forest trails, and do photography and bird watching. Peora is a perfect place to enjoy some peaceful moments away from the stressful city life.
10. Kanatal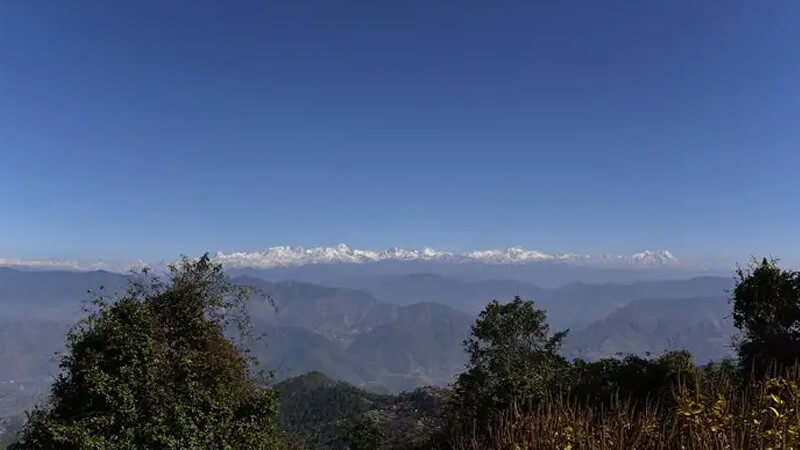 Kanatal is just 38 km ahead of the Queen of Hill Stations Mussoorie and it is 12 km away from Chamba. Kanatal is actually a small hamlet which personifies the romantic temperament of the beautiful Tehri District. For those, who wish to spend some secluded time amid nature or enjoy some super thrilling adventure like camping, trekking, rappelling, rock climbing and valley crossing; Kanatal make a perfect choice. Apart from peace, the place exhibits a charm in form of majestic hills, fruit trees, apple orchards and lush green forests. Major attractions are Surkanda Devi Temple and Kodia Forest.
So, next time when the hills are calling and you want to plan your trip, skip the overrated and popular places and head to these amazing yet offbeat places in Uttarakhand and discover this Himalayan beauty in a new avatar. Visit EaseMyTrip.com for great deals in flight tickets, hotel booking, and holiday's packages to plan your next holiday trip with us. Your stay is fully protected with EaseMyTrip.