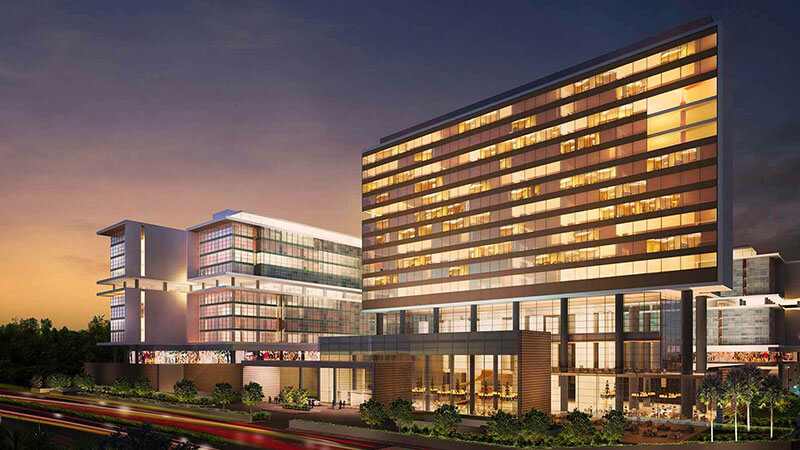 Being the second largest city in India, Pune also offers mouth-watering cuisines with a great variety that you must taste during your presence in this happening city. If you are waiting for your next flight at Pune airport that will take a quite long time to come and feeling hungry too then you can go to restaurants outside Pune airport that offers finger-licking food, you must try. There are many options for the foodie that fulfills vegetarians and non-vegetarians need at a very reasonable price. The food offered at Pure veg restaurants near Pune airport is just superb with stunning ambiance. Here's is the list of top eateries nearby Pune airport.
The Flying Saucer Sky Bar (1.9 km from the runway)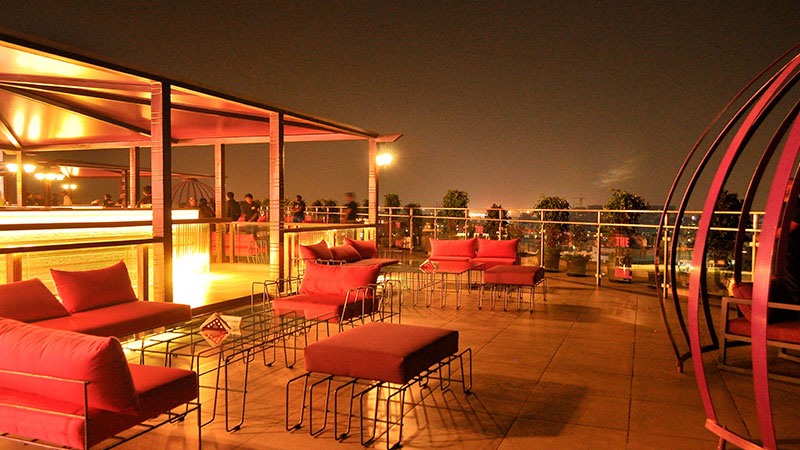 Located in Viman Nagar, The Flying Saucer Sky Bar is one of the impressive places where you can have the best of vegetarian meal. This is a rooftop restaurant that offers a perfect sight while having lunch or dinner with endless drinks. The ambiance of the restaurant is just superb. Special seats for romantic couple are also available where they can have romantic dinner. In the night, the restaurant looks more attractive with few lights. The beautiful view of Pune city can be enjoyed from the rooftop. The Indian food is fingerlicious and the service is also good.
Atmosphere 6 (2.4 km from the runway)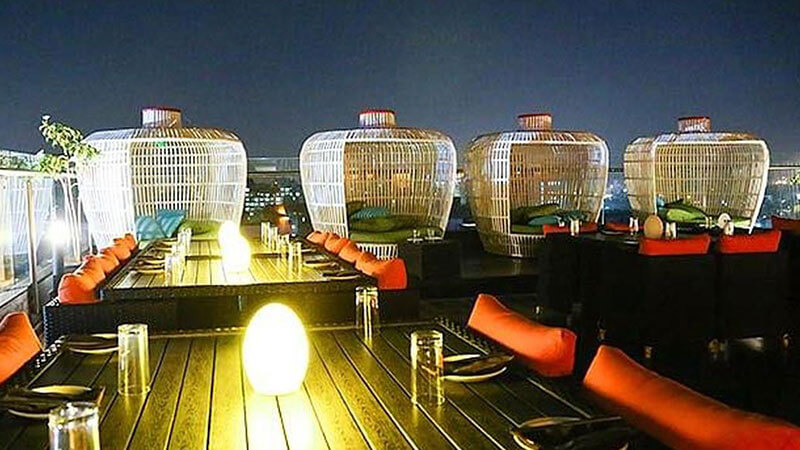 Nestled in Viman Nagar and 7 minutes' drive from the Pune airport, Atmosphere 6 is one of the top restaurants in Pune near airport. They serve North India, Chinese, Italian and Continental along with cocktails at very reasonable price. The restaurant is located on the rooftop and dotted with remarkable ambiance where you must have dinner with your partner. Valvet Parking, Live-screening sports, smoking area, rooftop seating and home delivery makes this restaurant stand out among others. Staff is really courteous, food is luscious and the services are just awesome.
Loft (2.8 km from the runway)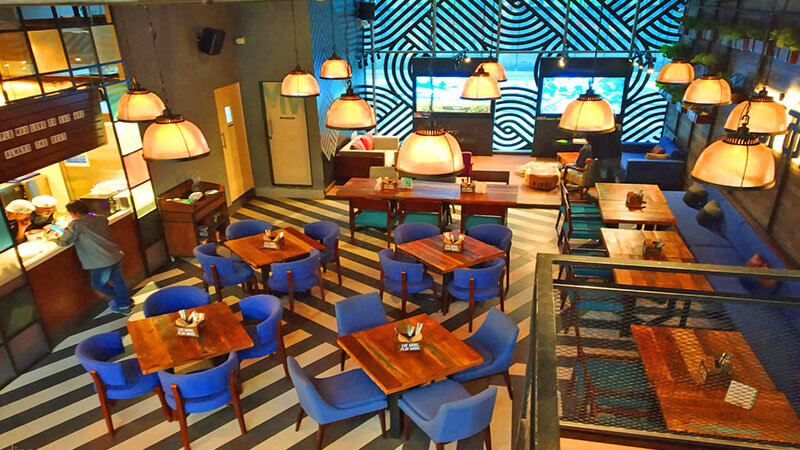 To reach Loft restaurant in Viman Nagar, take Sakore Nagar Road route from the airport. Here, best of Northern Indian, Thai, Italian and Continental food is served with several board games. The vibrant décor is something in the Loft that you will love about this place. The friendly staff and timely delivery of the food is the specialty of the food. The drinks are also awesome that are served in unique glasses. It is the best place to have a special time with your closed ones.
Autobhan (3.3 km from the runway)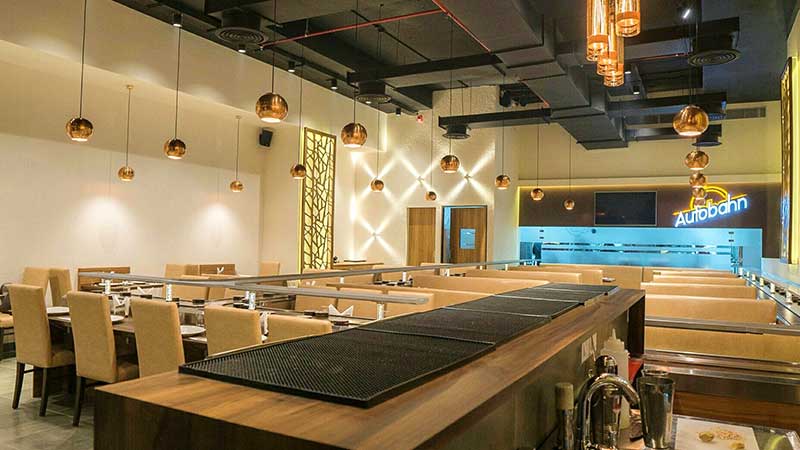 Located in Viman Nagar, Autobhan is a family restaurant which is only 10 minutes' drive from the Pune airport. The restaurant offers Bengali, Goan, North Indian and Chettinad food at very reasonable price. They also serve Jain food with sweet dished like Rasgulla. The place has attractive conveyor systems to deliver food on each table. Vegetarians, as well, as non-vegetarians can have the best food at this friendly place. Alcohols and soft drinks are also available at this must-visit restaurant.
The Mafia Sky Lounge (1.5 km from the runway)
Located near to New Airport of Pune, The Mafia Sky Lounge is an amazing restaurant on the 9th floor. The restaurant serves best of North Indian, Asian, Italian, and Continental food at an unbeatable price. The enchanting ambiance with dance floor provides the ultimate space where you can have lunch or dinner with your partner. It is one of the famous Restaurants near Pune airport. The rooftop sitting is what it attracts the most of the people. Indoor seating is also available that is mostly used in afternoon time or in the rainy season. Go with your partner to spend a romantic dinner at The Mafia Sky Lounge.
WTF (2.2 km from Lohegaon Airport)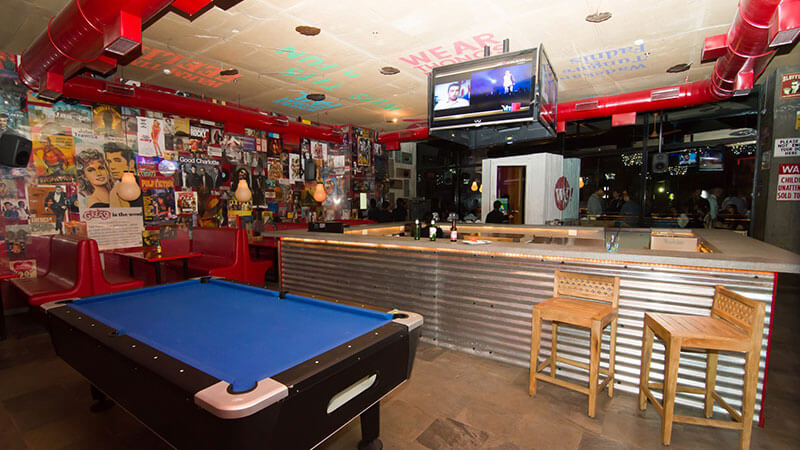 For all the vegetarian lovers, WTF is an impeccable place to taste the authentic Indian food. WTF in Phoenix Market City serves the best quality of alcohol with an impressive interior. The rooftop sitting will allow you to experience awesome weather with mouth-watering delicacies. Service is fast, food is awesome and the ambiance is also perfect. What else do you want? If you have just got off from Pune airport then you must try this place to match your taste buds!
So, whenever you have flights to Pune or long layover on Pune Airport or you are craving to eat something special, just get off from there and go to these top restaurants near airport to match your taste buds.