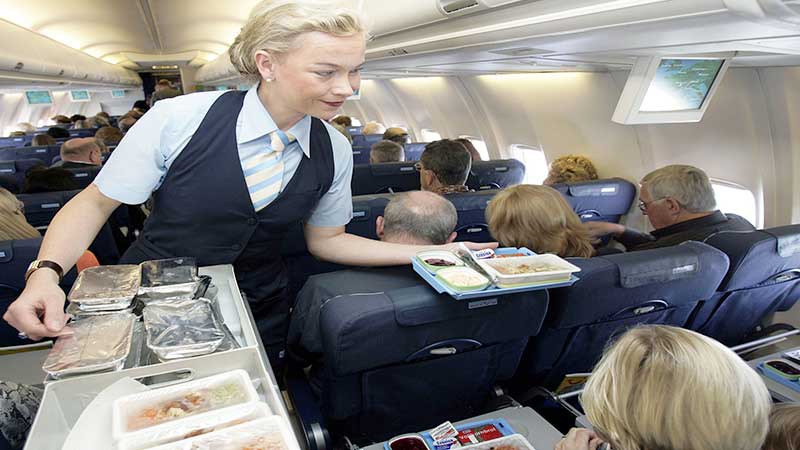 Every meal is important - No matter whether you're at home, outside or on board. Flyers most of the time compromise on food quality because the airline in which they've booked the ticket is not offering good food of their choice. Moreover, someone who is a frequent flyer often search for airlines which serve best quality food. Below is the list of famous airlines known for offering best on board meals.
Turkish Airlines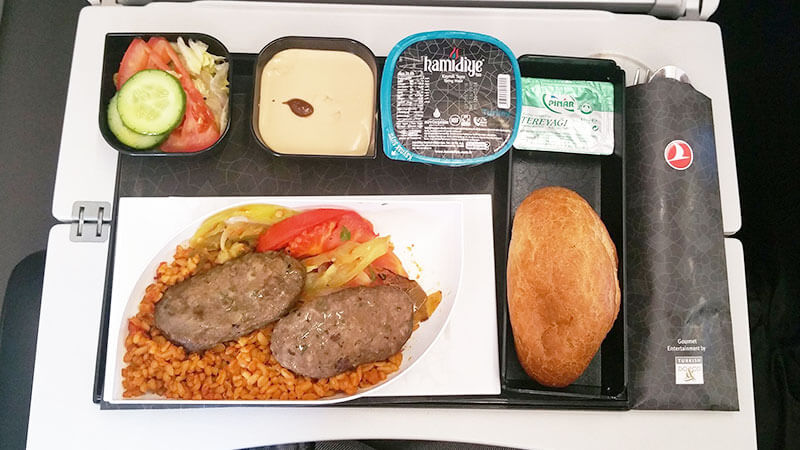 This airline offers award winning cuisine and it is one of the airlines which are always prepared to satiate the cravings of the passengers onboard. The DO & CO a la carte of Turkish Airlines is an equal competition for the best airline food award. Turkish Airlines has expert flying chefs and they create every dish with fresh ingredients and some of the signature dishes of Turkish Airlines include shish kebab, karniyarik, manti, and imam bayildi. Apart from all this, the airlines also accommodate the special requirements of specific passengers on board. SO, if you want to fly in an airline which offers perfect meals then go for Turkish Airline.
Austrian Airline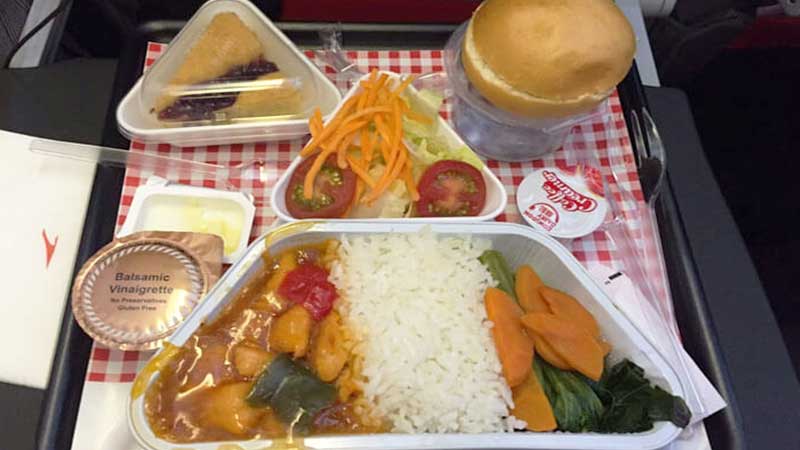 Their DO & CO a la carte has taken in flight menu to another level. However, there are limited numbers of DO & CO a la carte menus available per flight and hence it is suggested to book the flight a day before. Austrian Airlines is another airline famous for in-flight meals, this airlines serves 9 distinct menus ranging from tapas to Schnitzel.
Lufthansa Airline
Luftansa Airline has pushed the bar on another level by serving well decorated plated meals which are both rich in flavor and nutrients. Moreover, this airline also offers special meals for the diabetic patients, people with food allergies and certain religious faiths and vegetarians. Travelers in this airline can enjoy various options including Japanese Bento Box, Aroma of Asia, Catch of the Day and Mediterranean Delicacies.
Emirates Airline

It is one of the best airlines to get the delicious in-flight meals, at this airline you can order food inspired by different destinations and it also has an on board lounge to make your experience of flying super amazing. Here at Emirates Airlines you can get tempting food, cocktail lined menus and fine wines too. So, what else you need?
Singapore Airlines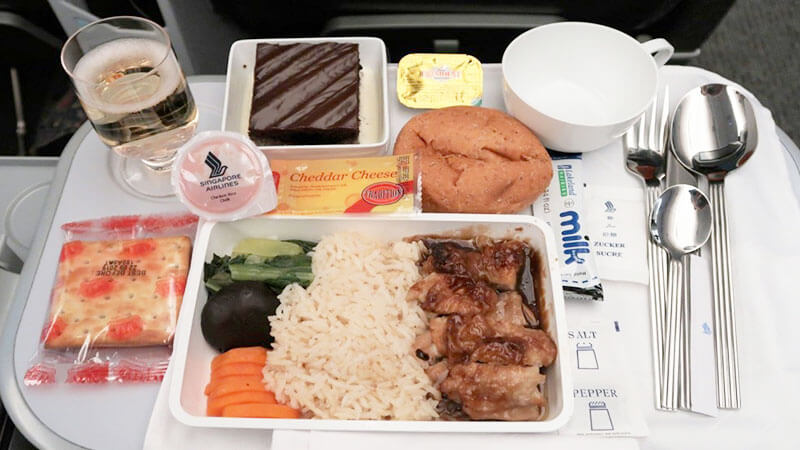 Singapore Airlines are other popular airlines which serves delectable in-flight meals. Here at this airline you will get baby meals for your kids to low fat and dietary option. This airline makes sure to satisfy your hunger pangs and to satiate your taste buds too. You just need to make a request 24 hours before boarding to airlines "Book The Cook' service and tempt your taste buds with super delicious food.
Swiss International Airlines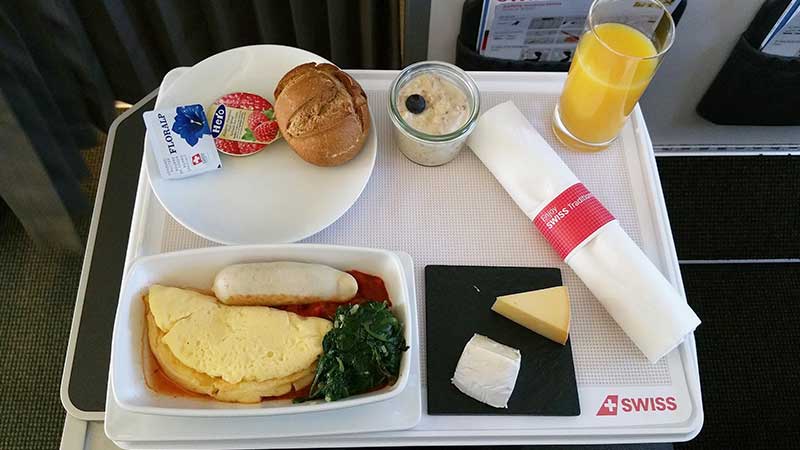 Swiss International Airlines has a program called as 'Taste of Switzerland' which was designed to highlight the different regions of the country on flights throughout the year. First class passengers in this airline enjoy meals inspired by the country's best Maitres de Cuisine and the menu in this airlines change after every 3 months. The changing menu of this airline may include dishes like beef tenderloin with ofetori or Nidwalden style mashed potatoes made with veal bacon and cheese. So, Swiss International Airlines is another famous airline which one should definitely fly with.
Cathay Pacific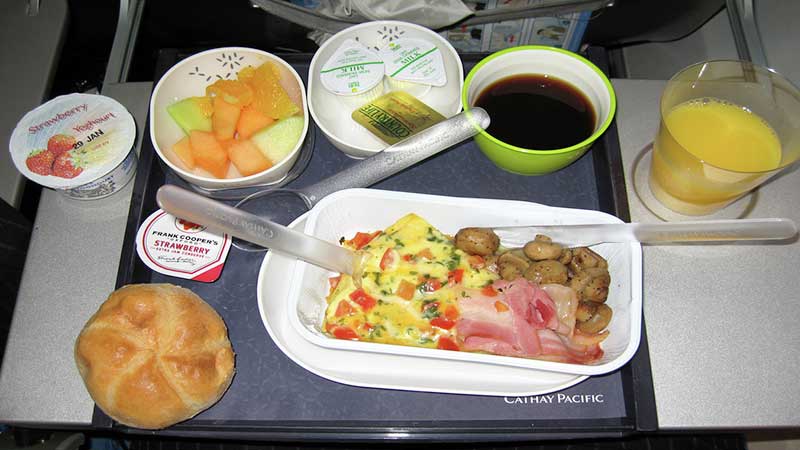 This airline is one of the first airlines to have rice cookers, skillets and toasters on board enabling the passengers to have freshly cooked meals. All the dishes serves at Cathay Pacific are celebration of China and are carefully prepared by Cathay's food culinary team. Moreover, passengers in premium seats can enjoy the menu which includes signature dishes from Hong Kong like wok-fried chicken with black bean, Slow cooked pork with preserved Hakka mustard greens and Hong Kong style curry prawns etc.
Qatar Airways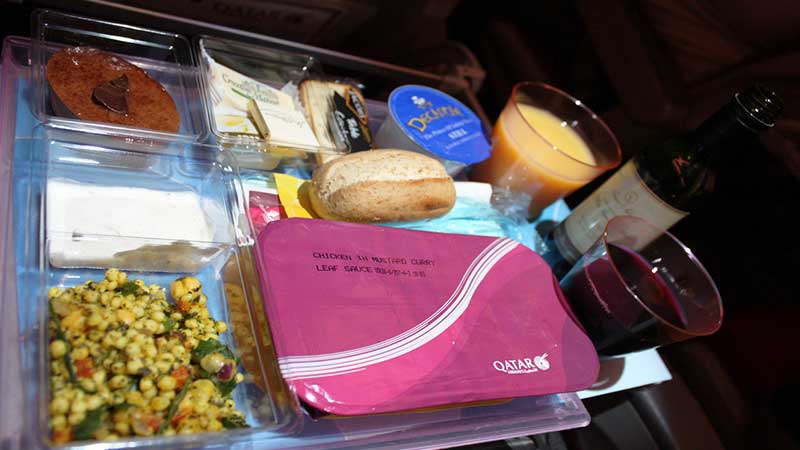 Qatar Airways has also taken the in-flight menus on another level by choosing four celebrity chefs to create Qatar Airways' unique and amazing a la carte Business and First Class menu. These chefs has spent several months testing and adapting their special dishes for the Qatar passengers taking into consideration how the taste buds are altered at 30,000 feet. So, be prepared for an extraordinary experience of flying with Qatar Airways.
Air France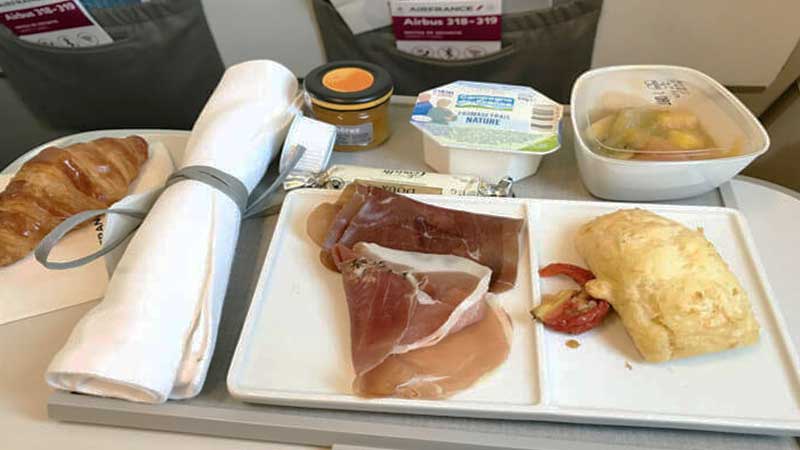 Air France is another airline which made it in the list with its refines details, intense flavors, porcelain tableware and considerate service. Having a meal in Air France is truly a pleasant experience as every 6 months a renowned French chef will serve up the special delicacies on long haul flights departing from Paris. Moreover, frequent passengers of Air France can enjoy different menu as the menu changes after every 10 days.
Etihad Airways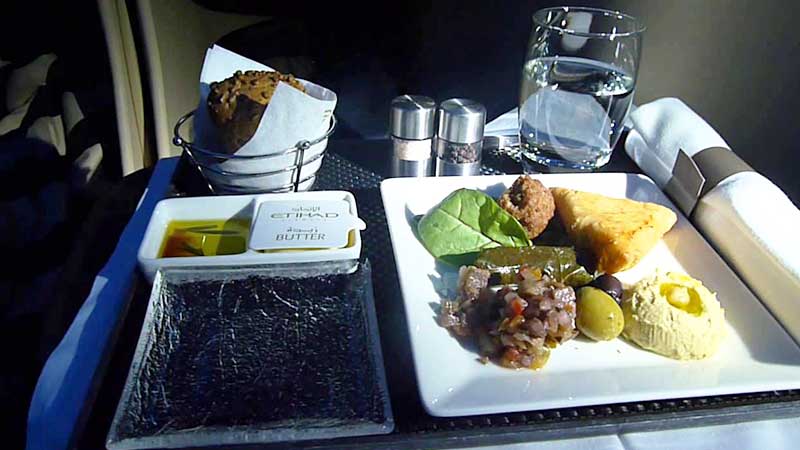 When talking about in-flight meals in Etihad Airways there major goal is to offer an in-flight dining experience which surpassed that of a five star restaurant. The first class passengers of Etihad Airways have an exclusive 'The Mezoon Grille menu' which features a variety of premium delicacies including seafood, beef, chicken, lamb along with delicate sauces and delicious desserts. However, whichever cabin of Etihad you fly, you will surely get delicious in-flight meal.
Air New Zealand
Air New Zealand is another popular airline which serves tempting in-flight meals. This airline is also known for serving native wines apart from delicious meals. Moreover, they also have a self service refreshment bar which contains drinks and snacks which the passengers can enjoy if they feel thirsty or hungry.