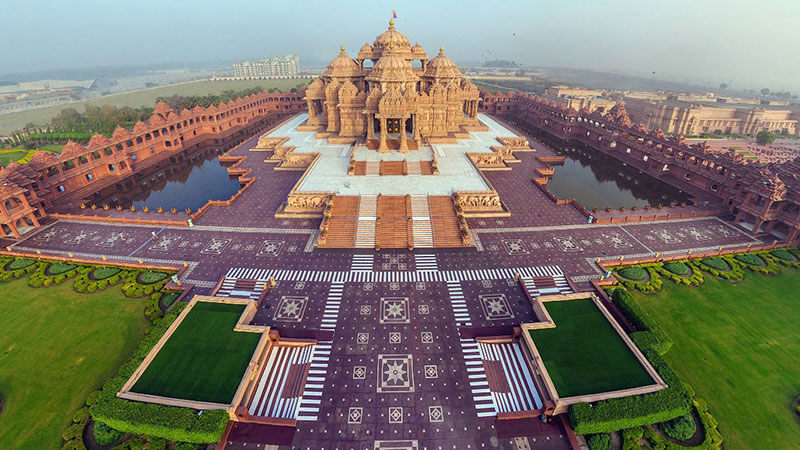 Image: Source
Akshardham Temple is a spiritual complex nestled in New Delhi and is a popular Hindu temple of Delhi. This marvelous temple was constructed in the year 2005 at Noida Mor region of New Delhi and is referred as Akshardham Temple of Swaminarayam Akshardham. The term Akshardham is the combination of two words 'Akshar' means 'eternal' and 'Dham' means 'abode'. On a whole it actually means the abode of eternal values, virtues and principles which are mentioned in Vedas and Puranas of Hindu mythology. Apart from all this, the complex of Akshardham Temple in Delhi displays numerous traditional aspects, beautiful architecture, Indian culture and spirituality. In the centre the main complex is built on the principles of Vastu Shastra and Pancharatra Shashtra which is called as Akshardham Mandir. Akshardham Temple of Delhi is one of the prime attractions in Delhi where one can witness exclusive architectural charm with more than 234 beautifully carved pillars, 9 elaborate domes, 20 quadrangle spires and 20000 sculptures of spiritual personalities from India. It is one of the major attractions for history buffs and art lovers as one can here easily enjoy intricate art and flawless craftsmanship. Moreover, the whole temple is build using Italian Carrara marble and pink sandstone. So, when are you planning your visit to this popular temple of Delhi? If you wish to stay near Akshardham Temple and wish to know more about the places around the temple then you can also book hotels in Delhi.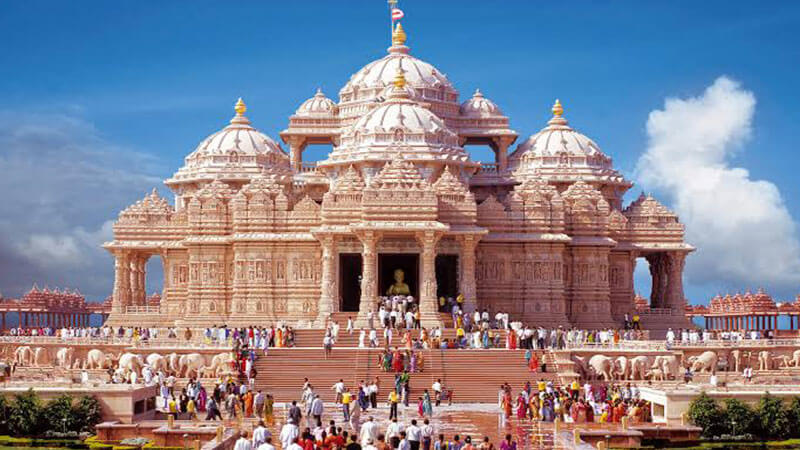 Image: Source
Top Attractions to See in Akshardham Temple in Delhi
The central dome which houses the main temple dedicated to Swaminarayan

Musical fountain show or water show

The cultural boat ride

Welcome gates

Abhishek Mandap

Exhibitions – Sahahjanand Darsham, Neelkanth Darshan and Sanskruti Darshan

Gardens and lawns

Lotus Garden which includes stones engraved with thoughts and quotes given by leaders, philosophers and scientists

Premvati Ahargruh – Vegetarian food court

Narayan Sarovar which has the water of 151 holy rivers and lakes spread across India

Akshardham book and gift center which is the souvenir shop
Visiting Time of Akshardham Temple and Ticket Prices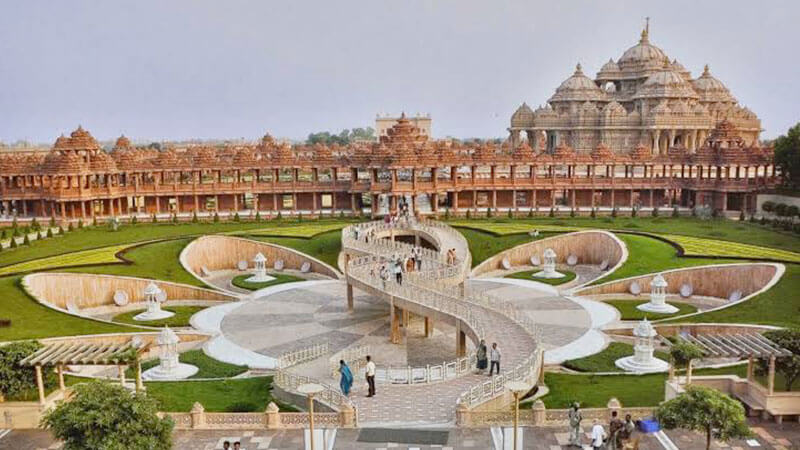 Image: Source
Akshardham being a famous temple in Delhi does not have any entry charges. However, there are several exhibitions for which one has to buy the ticket and the tickets for exhibitions are sold between 10 AM and 5 PM. Apart from all this, the temple opens from 9.30AM to 6.30PM.
Exhibitions at Akshardham Temple
Image: Source
There are total three exhibitions at the Akshardham Temple namely Sahajanand Darshan, Neelkanth Darshan and Sanskruti Darshan. All of them are executed in three different large halls and are a perfect accumulation of culture, art, traditions and latest technologies. Moreover, all the exhibitions are informative, inspirational and educational.
Exhibition Price at Akshardham Temple in Delhi
Children below 4 years - Free
Children below 11 years – INR-100
Adult – INR-170
Senior Citizen – INR-125
Musical Fountain or Water Show at Akshardham Temple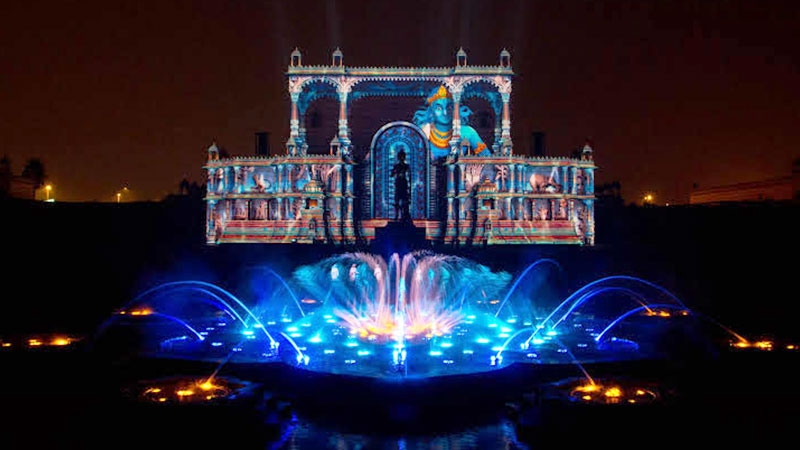 Image: Source
It is one of its kind attractions in Akshardham Temple which is also one of the main attractions of the temple. Below is the ticket price for musical fountain show for different categories.
Children below 4 years – Free
Children below 11 years – INR-50
Adults – INR-80