Top 7 Famous Stepwells in Delhi
With its numerous architectural splendors and ancient monuments, Delhi has emerged as the marvel capital of India. Scattered with primitive designs, this tourist attraction shows exemplary engineering skills. As water is essential to perform everyday tasks; thus, to sustain such resources, people designed several tanks & stepwells. During that historical era, these stepwells were called baolis in Delhi. These structures helped preserve and restore the water as ideal reservoirs. Since then, stepwells, or, baolis became the embodiment of art and architecture in Delhi.
Based on such depictions of the epic past, Delhi became the land of magnificent stepwells. So, if you're ready to explore famous water wells in Delhi. Then here's the //extensive list of 7 stepwells in Delhi that you must visit.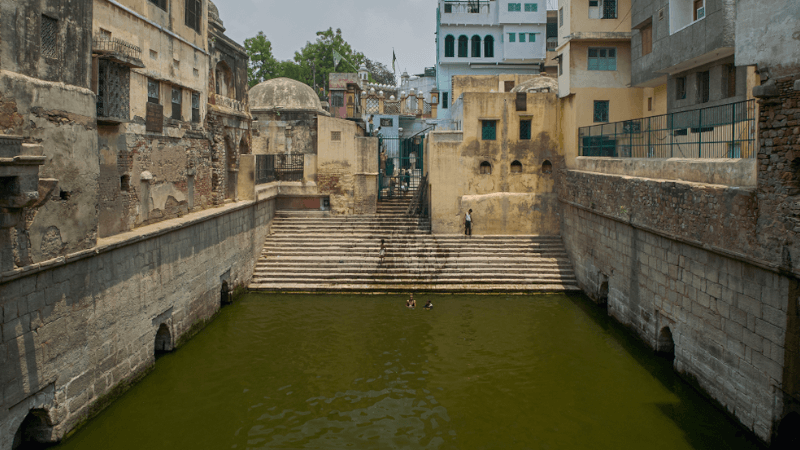 Previously known as Chashma Dilkusha, this baoli was established in the year 1321-22 as a result of a severe dispute amidst Khwaja Nizam-uddin Auliya & Ghiyas-ud-din Tughlaq. During such tense circumstances, the laborers constantly toiled under the supervision of Nizamuddin himself. Therefore, legends express that during construction, the lamps were lit with water instead of oil. The statement symbolizes the enigmatic properties of water. So, to relieve such tales, tourists visit Hazrat Nizammudin Baoli to merit the excursion.
How to Reach
Take Delhi metro to IP Estate Metro Station (blue line)

From Metro station, take auto/rickshaw
Suggested reads- The Essence of Delhi
As per historical explorations, it's witnessed that the majority of the stepwells were formulated during the 14th century. And Tughlaqabad Baoli is one of them, which was constructed to resolve the water scarcity issue. During this phase, Ghazi Malik took initiative to build 13 stepwells. Although, as time faded, the majority of the baolis or stepwells also vanished. Now, if you want to capture a stepwell in Delhi, then you can glare at two baolis situated on the East and West of the fort.
How to Reach-
Onboard at Tughlakabad metro station present on Violet line

Then take an auto to reach the fort.
Agrasen ki Baoli is, hands down, one of the most famous stepwells in India that existed in Delhi. This breathtaking baoli or stepwell is known for its aesthetically-appealing architectural allure. It's stated that it was constructed by Raja Agrasen but there's no factual reports or historical evidence regarding this info. The interesting fact about this stepwell is that it was featured in the PK film. Therefore, tourists are visiting Connaught place to see 104 steps and three-level deep structures.
How to Reach
You can select bus number 894, 743Ext, 442, 957 and 522.

You can also take Barakhamba road metro station

From the metro station you can just walk. .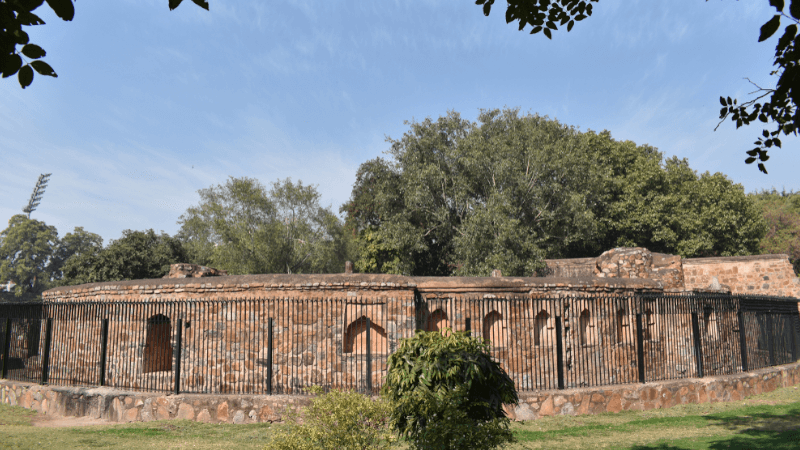 This never-ending encircled structure was specially designed by Feroz Shah. This creation aimed to resolve water scarcity complications apart from eradicating the economic crisis. Presently, this stepwell is fully caged with iron grills and is used to water the grounds of Feroz Shah Kotla cricket stadium. So, if you want to visit the best places in Delhi then add Feroz Shah Kotla Baoli to your itinerary.
How to Reach-
You can take various local transports, such as rickshaws, taxis, and buses.

You can also take Pragati Maidan metro station (Blue Line).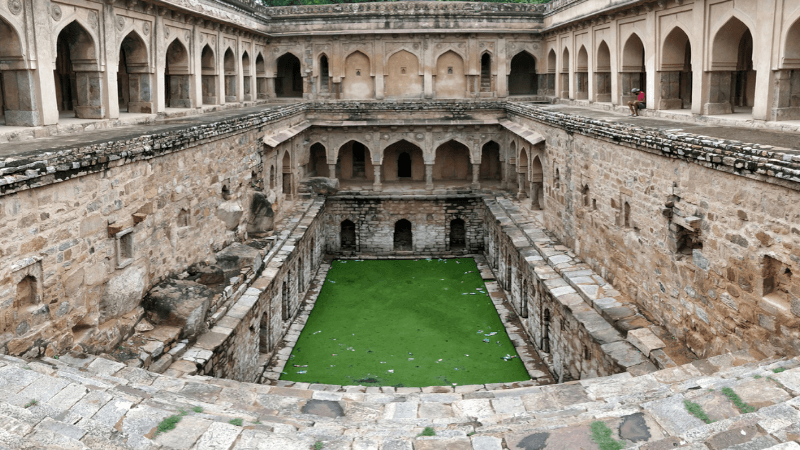 The multi-storeyed and well-maintained Rajon ki Baoli is currently nestled within the proximity of Mehrauli Archeological Park. Since the Lodis reign, this baoli comprises four-level rectangular tanks, which were intricately decorated with limestones. In the past, this boali was used for cooking and drinking purposes by majesties and palace members. People usually travel this baoli to wander the stunning complex and courtyard of this stepwell.
How to Reach
You can take the metro from Qutub minar station (Yellow line).

From there you go for an auto to reach Rajon ki Baoli.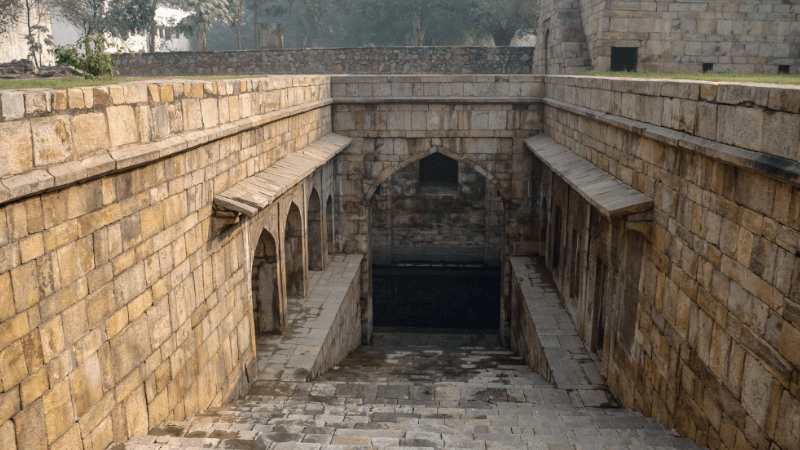 This ideal stepwell is housed amidst the Sher Mandal and Qila-e Koshna to highlight the astonishing water management solution. As per the mythological tale it's stated that it was the capital of Pandavas. Baoli at Purana Qila approximately has 89 steps and the depth was used to gather water supplemented from rainwater and underground springs. Now, this ancient stepwell is usually visited to experience the grandeur, ambience and see the calligraphic inscriptions.
How to Reach
To Reach the destination, choose Pargati Maidan (blue line).

Further you can take an auto to enter the destination.
Suggested read- Adventure Activities in Delhi
This eminent water well in Delhi is perceived as the most visited in India due to its unique L shape structure. This stepwell comprises staircases coming from different two places. Besides this, an interesting fact about this baoli is that it's older than the Red fort itself. Can you imagine what a historical tourist attraction this is? So, if you like to get a glimpse of such a tourist attraction then you must visit it once during your trip to Delhi.
How to Reach
Red Fort Metro Station present on violet line.

After reaching the station you will enter the Red Fort premise.
Apart from these above-mentioned baolis, there are several other unexplored stepwells in Delhi. So, if you want to step in the stepwells while traveling Delhi, then book Delhi Tour Packages with EaseMyTrip. With our extensive services, you can relish hassle-free services and get conveyance/accommodations at affordable prices. Thus, don't wait, just be prepared to kick off your Delhi vacation with EaseMyTrip.